If you have ever visited North Carolina, you are probably dizzy from the selections of both Barbecue AND Slaw. When you visit a barbecue establishment, you'll be asked "white or bbq"? You'll need to know right away which one you want or you'll be looked at like you have three heads. The good news is that you can make Easy Southern Red Barbecue Slaw at home!
I want to save you from the embarrassment of not knowing what "white or bbq" means, so here's the deal. "White or BBQ", means, "Do you want white slaw (mayo based) or bbq slaw (vinegar based and a red color)". Yes, that is a thing here in the South.

If you want to stick with what you know, then order white. Presuming you might want to have a little adventure, then order the barbecue slaw. It too is delicious, afterall.
WHY IS IT CALLED RED BARBECUE SLAW?
For one thing, it is a red color. I've noticed that it is more red in some establishments than others, but the flavor is generally the same.
The red barbecue slaw goes very well with the lexington style barbecue which also has a vinegar base. You can find MY recipe for Lexington Style Barbecue RIGHT HERE.
WHAT DO YOU DO WITH RED BARBECUE SLAW?
You didn't really ask that, did you? The answer is that you put it on your sandwich or perhaps you'll simply eat it up with your fork. Either way, this slaw is delish.
WHAT GIVES RED BARBECUE SLAW ITS COLOR?
The classic red color is due to the ketchup and hot sauce and there's no doubt about that.
TOOLS I USE TO MAKE EASY SOUTHERN RED BARBECUE SLAW
If you don't have a good Food Processor, you'll need a good box grater. (These photos are affiliate links and you can click the photo to go straight through to Amazon so that you can compare prices)
Awesome rubber spatulas are always useful! (This photo is an affiliate link and you can click the photo to go straight through to Amazon so that you can compare prices)
IF YOU ENJOYED THIS RECIPE FOR EASY SOUTHERN RED BARBECUE SLAW, YOU MIGHT ALSO ENJOY….
How to make and can cherry pie filling
How to set up an emergency kitchen box
YA'LL, HELP ME OUT, OK?
Please leave me a 5 star comment below in the comment section, all right? I would LOVE to know if you made this recipe or even if you are planning to! Of course, head on over to Pinterest, Facebook and Instagram and tag me with some photos of your creation!
I can't wait!
Ya'll know I love your comments!! ❤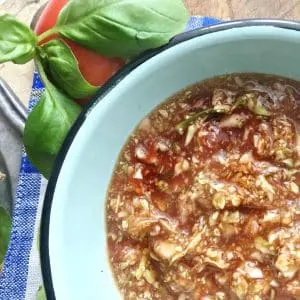 Easy Southern Red Barbecue Slaw
This is a recipe for Lexington Style Southern Red Barbecue Slaw
Print
Pin
Rate
Ingredients
4

cups

cabbage - grated or chopped small in food processor

¾

cup

ketchup

1/2

cup

apple cider vinegar

1/2

cup

sugar

1

teaspoon

kosher salt

1

teaspoon

black ground pepper

1

Tbs

Sriracha Sauce
Instructions
Shred the cabbage with the grater or food processor and set aside.

Mix the ketchup, vinegar, sugar, salt, pepper and Sriracha together in a small bowl.

Pour the mixed ingredients over the cabbage and mix well. Add more salt and pepper to taste.

Stir well before serving (slaw tends to separate and the juices run out. Just mix it up again and it will be fine). Serve on your BBQ sandwich or as a side item. Awesome with hushpuppies.
Notes
Simple recipe for red barbecue slaw
Nutrition
Nutrition Facts
Easy Southern Red Barbecue Slaw
Amount Per Serving
Calories 201
* Percent Daily Values are based on a 2000 calorie diet.
A VERSE TO SHARE
Since I set the world on fire with my last verse to share (Lexington Style Crockpot Pulled Pork Barbecue), I'll be a little less intense. Okay? I'm not sure that I can be less intense, but here we go. Let's talk about something, YOU are a child of God. A precious child of God who's crown has already been paid for and all you have to do is to put it on. That's it. God Loves you and I do to.
PSALM 100: 1-5
Shout for joy to the Lord, all the earth.
Worship the Lord with gladness;
come before him with joyful songs.
Know that the Lord is God.
It is he who made us, and we are hisa];
we are his people, the sheep of his pasture.