I'll admit right now – I got a little camera crazy with this post. It happens. ESPECIALLY when I am only thinking of the crazy good cherry pie that is about to come my way!! This post is all about how to make cherry pie filling and how to can cherry pie filling. Both. YUM!
Do you know where you find pie cherries? I DO! Last year, hubby and I found sour pie cherries at "The Mountain Man" fruit and veggie stand in Cana, VA.
It was a lovely day – and we spent the rest of the afternoon cruising along the Parkway.
The Kind of Cherries you Need for an Excellent Pie
By the way – if you want the best possible cherry pie – you will need to use sour pie cherries. If you taste them, you will say, "No way!". However, add a little sugar and the other ingredients and that will have you saying "YES WAY!".
The sourness of the cherry balances against the sweet sugar, acid lemon and the depth of the almond extract in the most delicious way! If you use sweet cherries, your pie will simply be sweet – HoHum.
Where to Look for Great Pie Cherries
On Saturday morning, Sandy Uselton and I set off to Ararat, VA (about an hour away) in search of Levering Orchard for the very first available day for sour pie cherries.
After winding around on curvy no-line roads 30 minutes from the last sight of civilization (aka – fruit and antique stands) we finally found the orchard – on what seemed like the side of the mountain.
THE CHERRIES WERE GONE!
"We don't have any more already picked cherries" said the boy with the All-American face, "but you can pick your own if you want". Sandy was hungry and felt that she wasn't up to picking cherries without some nourishment first.
We headed back towards the main road and decided to follow a different hand lettered sign, just to see if they had "already picked cherries".
That rickety old sign…
The sign read "Ayers Orchard". I wish I had taken pictures of these signs for you. At the end of several torturous turns we finally found a lady in her driveway selling cherries on a folding table.
When she said, "If you take 20 lbs I'll give them to you for $3/lb". I agreed. She threw in an extra pound.
Important Scientific Discovery by Mark Spraker
This is where I want to make a special point. So read this carefully. READ THIS CAREFULLY. The recipe calls for 10 pounds of pitted cherries. Mark Spraker and I found (through careful scientific discovery) that the pit and the stem makes up about 30% of the cherry weight.
How that plays out…
SO…. If you want to make one single recipe of this cherry pie filling, you will need about 13lbs of whole cherries.
Two batches equals 26 lbs – NOT 20lbs as I had initially thought! So – I was a little short for my double batch of cherry pie filling. Thankfully – with this advice, you won't be.
ON down the road…
Anyway, Sandy Uselton finally found some nourishment in Mt. Airy, NC and then we trekked to Whole Foods to locate the required and necessary tart cherry juice.
We didn't return home until nearly 5pm! You only need a small bottle of cherry juice. Not the four large bottles I bought! I didn't bring my recipe and didn't remember from the previous year!
The next day…
On Sunday, Mark Spraker and I spent most of the day washing, stemming, pitting and preparing the cherry pie filling. 20 lbs is A LOT of cherries (see that cardboard box on my dining room table? It was nearly full!!)
If this is your first experience with pie filling – I suggest making a single batch. I will also give you the measurements for a much smaller batch if you only want to make a single fresh pie with a little left over.
This recipe….
This recipe makes a super fantastic cherry pie that, if you had a grandmother like mine, would remind you of her cherry pie.
Not many people had grandmother's like mine, I'm pretty sure. I'll be happy to share her with you through this cherry pie though.
Suggested equipment
Firstly, you must wash your cherries and they need to be very dry before making the pie filling. I accomplished this with my shiny new salad spinner – OH IF I had only had this years ago.
So simple and a few pushes of the plunger and you are done! This is an affiliate link. You can click the photo an go through to Amazon to compare prices for yourself.

Lets move on…
Here is a picture of the pitted cherries all sitting in the lovely base to my new salad spinner – isn't it pretty!
When I get a chance to spin salad in it – I'll be serving it right in the bowl of the spinner! Of course, you can't spin that many cherries at one time – they were just resting before their next big event!
A cherry pitter.
If you are going to pit a lot of cherries, I recommend purchasing a cherry pitter. You can buy ones that pit a single cherry at a time but that will take you all day long if you are going to pit 20lbs of cherries!
Here is a link to the cherry pitter than I own it works very well, however, it only does 4 cherries at a time despite what the picture looks like. I have a new cherry pitter that I haven't tried yet. As soon as I know how it works, I'll come back and leave a photo/link so you can get one too if it works well. (It is supposed to shoot the pitted cherries out like a machine gun).
Again, this is an affiliate link, you can click through to AMazon to compare prices.
Canning Cherries?
If you will be canning your cherry pie filling – you will also need basic canning tools. See my Strawberry Jam recipe for those, you can find it HERE. Here are the links for those tools: (more affiliate links that you can click through to compare prices)
NECCESSARY INGREDIENT
THIS SECTION HAS BEEN ADDED ON 7/21/16 DUE TO QUESTIONS FROM READERS. THIS IS AN EXAMPLE OF THE CLEAR-JEL CALLED FOR IN THE RECIPE. You can not use Sure-Jell and end up with the same thing.
Please note that this is an affiliate link , you can click through to compare prices. I haven't been able to find this in stores. I buy mine on Amazon.

Here is a picture of my own jar of Clear Jel
Cherry Pie filling requires a water bath canning process which is exactly like the process I described in making my Strawberry Jam – refer to that HERE.
So – now that I am done referring you all over the place to make this pie filling here it is!
IF YOU ENJOYED HOW TO MAKE AND CAN CHERRY PIE FILLING, YOU MIGHT ALSO ENJOY…
Old Fashioned Butterscotch Pie
YA'LL, HELP ME OUT, OK?
Please leave me a 5 star comment below in the comment section, all right? I would LOVE to know if you made this recipe or even if you are planning to! Of course, head on over to Pinterest, Facebook and Instagram and tag me with some photos of your creation!
I can't wait!
Ya'll know I love your comments!! ❤
The Recipe for How to Make and Can Cherry Pie Filling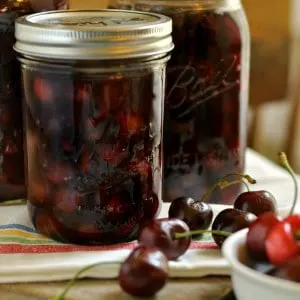 How to make and can cherry pie filling
This is the recipe for how to make and can cherry pie filling
Print
Pin
Rate
Ingredients
Ingredients for the Filling for a single pie:
5 to 6

cups

fresh pitted tart cherries

about 2½ to 3 pounds

1 to 1¼

cups

granulated sugar

4

tablespoons

all purpose flour

Pinch

of kosher salt

½

cup

tart cherry juice

not from concentrate

1

tsp

lemon juice

½

teaspoon

pure almond extract

do not use imitation
Ingredients for canning recipe
10

lbs

sour pie cherries

4

Cups

sugar

1

cup

clear jel

4

pinches

of salt

1 ¾

cups

tart cherry juice

¼

Cup

lemon juice

2

tsp

almond extract
Instructions
Instructions

Wash and remove the stems from all cherries. Dry well.

Prepare the canner, jars and lids (see the instructions for canning strawberry jam for these instructions)

In a large stainless steel sauce pan, whisk together the cherry juice, sugar, clear jel (or flour if making single pie) and salt. Bring to a boil over medium high heat, stirring constantly, once boiling, continue boiling until thickened (it is hard to tell when it has thickened – but 2-3 minutes should do it). After thickened, add the lemon juice and the cherries all at once.

(Once you add the cherries, you will think, how can it boil – I can't even see the liquid – don't worry – the cherries will cook down a little before it boils). Return to a boil and allow to boil for 1 minute stirring constantly. Remove from the heat and add the almond extract.

If you are only making one pie, allow this to cool and place in a container with a lid until you are ready to make the pie. It can be stored for 2-3 days in the fridge and may separate in the fridge – just heat a little and stir it well to reconstitute.

If canning: ladle the hot pie filling into your hot jars, leaving 1 inch of head space. Remove the air bubbles and adjust the headspace as needed. Wipe the jar rims. Center the lids and screw the bands down finger tight.

Place the jars in the canner and ensure they are completely covered by at least an inch of water. Bring to a boil and process both pint and quart jars for 35 minutes. Remove canner lid and wait 5 minutes then remove the jars and store in a cool draft free area for 24 hours.
Notes
This is the recipe for how to make and can cherry pie filling
Nutrition
Nutrition Facts
How to make and can cherry pie filling
Amount Per Serving
Calories 300
% Daily Value*
Carbohydrates 55g18%
* Percent Daily Values are based on a 2000 calorie diet.
Today's verse:
Honor the LORD with your wealth, with the firstfruits of all your crops. ~Proverbs 3:9