Perhaps where you live barbecue is a red sauce shredded pork meat affair, but in North Carolina simply saying the WORD barbecue can start an argument. Some believe that Lexington Style barbecue is the ONLY Barbecue so lets make a Lexington Style Crock Pot Pulled Pork Barbecue.
My house is a different story.

I've already told you about my Summer Party Crockpot Barbecue. It is still my "go-to" recipe for a large crowd. That said, I must also offer my go-to Lexington style recipe because, well, you know, I have a son in law from that area and he LOVES that Lexington Style Barbecue.
WHAT IS LEXINGTON STYLE BARBECUE?
North Carolina is divided into regions based on the lay of the land. You'll see references to the "North Carolina Mountains" or the "North Carolina Piedmont" and of course, we have the Outer Banks and beach areas.
North Carolina is also deeply divided by its barbecue. The Lexington area of the state is widely known for its vinegar based barbecue sauce which is not at all like the thick red sauce we all know from the grocery store.
WHAT ABOUT THE LEXINGTON STYLE BARBECUE DIP?
You'll note that I advise to reserve some of the sauce? The reason is because you will use that as a dip for the barbecue. This wouldn't be a Lexington Style Barbecue without it!

WHAT ABOUT LEXINGTON STYLE BARBECUE SLAW?
Here in the south we have "white slaw" and we have "barbecue slaw". Have you ever heard of two types of slaw? I hadn't, until I moved here. Barbecue slaw is also called "red slaw".
Barbecue slaw
has a red color and also is a vinegar based slaw similar to the barbecue! I covered Red Barbecue Slaw RIGHT HERE, it's easy and you'll love it. Try some today!
The main difference between Barbecue slaw and white slaw is that white slaw uses mayonnaise and barbecue slaw does not use mayonnaise.
TOOLS I USE TO MAKE Lexington Style Crock Pot Pulled Pork Barbecue
I have a large crock pot like this that I use at least weekly and have for the past 10 years. This is an affiliate link – you can click the photo to go straight through to Amazon to compare prices.
IF YOU ENJOYED Lexington Style Crock Pot Pulled Pork Barbecue, YOU MIGHT ALSO ENJOY…
The Secret to Perfect Old Fashioned Pinto Beans
How to Roast a chicken in a crock pot
Slow Cooked Crock Pot Cuban Sandwich
YA'LL, HELP ME OUT, OK?
Please leave me a 5 star comment below in the comment section, all right? I would LOVE to know if you made this recipe or even if you are planning to! Of course, head on over to Pinterest, Facebook and Instagram and tag me with some photos of your creation!
I can't wait!
Ya'll know I love your comments!! ❤
THE RECIPE FOR LEXINGTON STYLE CROCK POT PULLED PORK BARBECUE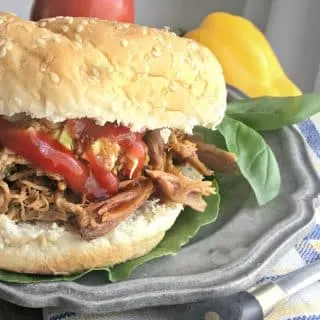 Lexington Style Crock Pot Pulled Pork Barbecue
Lexington Style BBQ does not have the red sticky sauce that most people are familiar with, instead it has a vinegar sauce. This is how you make this type of BBQ in the crock pot.
Print
Pin
Rate
Ingredients
1 5-7

lb

Boston Butt Roast

2

Vidalia Onions cut into quarters

2

heads of garlic cut in half across the equator

no need to remove the papery covering

3

Bay Leaves

2

Tbs

Olive Oil

1

Tbs

Dark Brown Sugar

2

Tbs

Smoked Paprika

1

Tsp

Kosher Salt

1

Tsp

ground black pepper

1 ½

Tsp

liquid smoke

1 ½

Cup

Apple Cider Vinegar

½

Cup

White Vinegar

½

Cup

Ketchup

⅔

Cup

Worcestershire Sauce

2

tsp

red pepper flakes

1

Tbs

Sriracha Hot Sauce

2

tsp

white granulated sugar

3

tsp

dijon mustard

1

tsp

granulated garlic powder

½

tsp

cayenne pepper
Instructions
Place onions, garlic heads and bay leaves in the bottom of a 5-6 quart crockpot.

Mix the Olive Oil,brown sugar, paprika, salt, pepper and liquid smoke together and rub over the surface of the Boston Butt Roast.

Lay the oiled boston butt with the fattest side facing up on top of the quartered onions, garlic heads and bay leaves.

Mix together the vinegar, ketchup, worcestershire sauce, red pepper, sriracha, sugar, dijon, garlic powder, cayenne pepper. RESERVE HALF OF THIS MIXTURE AND PLACE IN THE REFRIGERATOR and gently pour the other half over the boston butt roast into the crockpot.

Set crockpot on low, place the lid securely on top and allow Butt Roast to cook for at least 10 hours. When the meat easily pulls away from the bone it is ready (could take up to 16 hours depending on your crockpot).

When meat pulls easily away from the bone, remove the roast from the crockpot and shred using two forks

or your fingers. Discard any skin and whole fat pieces.

Strain the liquid from the crockpot and discard the onion pieces,garlic and bay leaves. Reserve the cooking liquid.

Place the shredded pork back into the crockpot and gently stir in the reserved liquid but be careful not to tear up the meat too much (so that it doesn't become mushy).

Allow the meat to rest for 20 minutes (to allow time for the liquid to reabsorb).

Serve on slider buns, regular buns or on a plate with bbq slaw or white slaw, corn on the cob and hush puppies. MAKE SURE TO SERVE WITH THE DIPPING SAUCE YOU RESERVED IN STEP 4.
Notes
An easy recipe for Lexington style barbecue
Nutrition
Nutrition Facts
Lexington Style Crock Pot Pulled Pork Barbecue
Amount Per Serving
Calories 330
* Percent Daily Values are based on a 2000 calorie diet.
A VERSE TO SHARE
Let me just say that I NEVER discuss current events in my verse to share, however, this week, I can't help it. What follows IS slightly political, but that is the point, we need to get past the political and instead do what is right: protect our children.
In the wake of yet another school shooting this week, I had a short discussion with my friend Susan. Susan and I were childhood friends and we have found each other again via social media. It is fair to say that Susan and I have differing political views.
WHAT CAN WE AGREE UPON?
There is something that we CAN agree on though. Our children must be protected. The causes of this ongoing American disgrace and tragedy can be debated. I believe it is likely that the cause is woven tightly into the society that we have allowed and removing it and reverting back to a simpler time is probably harder than we think, if not impossible.
In the meantime, our children are being slaughtered while they try to attend school. Let that sink in for a moment. Think about your own school days, did you ever, even ONCE worry that another kid would come into your school room and gun you down? Kids today do.
REGARDLESS
Regardless of whether you are on the side of "gun control" or on the side of "let guns reign" doesn't matter. What matters is finding a way to keep our children safe. We can agree on that, right?
Finding a way to keep the kids safe at school is much easier than figuring out why a kid brought a gun to school and opened fire. Let's circle the wagons then and do something that actually keeps kids safe. We can protect them at school, right? Can we at least agree on that?
WON'T HAPPEN
Just so you'll know, I will not allow any gun debate comments on this post. If you have something thoughtful and reasoned to say, please say it. Please offer a prayer that we, as a nation, can lay our partisan bickering and finger pointing aside long enough to protect our children, then YES, please do that.
If you want to comment about a solution that all sides might be able to agree upon, I am
ALL FOR THAT!
Children are our resource for the future. Without children, we don't have anything at all. We MUST protect our children. It is Biblical.
PROVERBS 24: 10-12
If you falter in a time of trouble,
how small is your strength!
Rescue those being led away to death;
hold back those staggering toward slaughter.
You might say, "But we knew nothing about this,"
does not he who weighs the heart perceive it?
Does not he who guards your life know it?
Will he not repay everyone according to what they have done?