Crispy, Crunchy and FULL of flavor, delicious frozen chicken strips like you never thought you could do at home! I'll show you how to cook frozen chicken strips!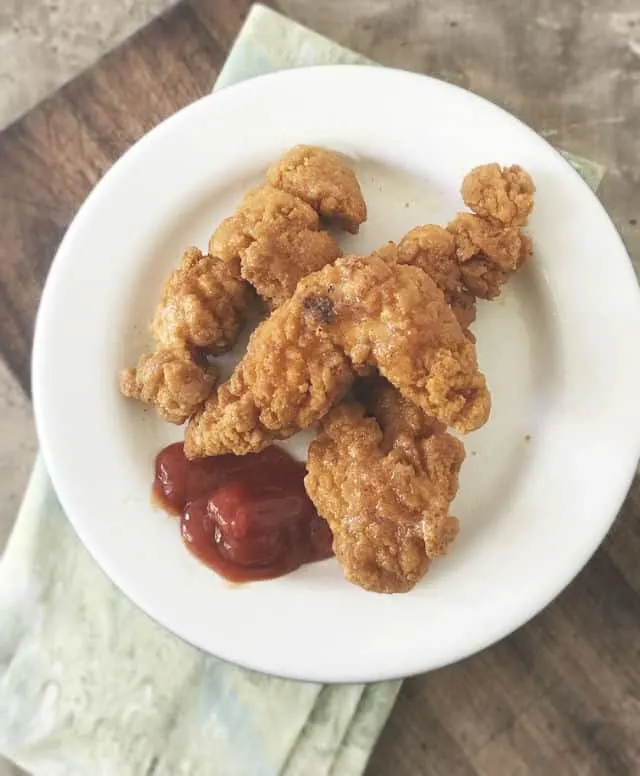 Why This Recipe Works
Fast
Easy
Uses Ingredients You Already Have At Home
Tastes like deep fried but ISN'T!
How It's Done
STEP 1.
Place chicken tenders on a baking sheet.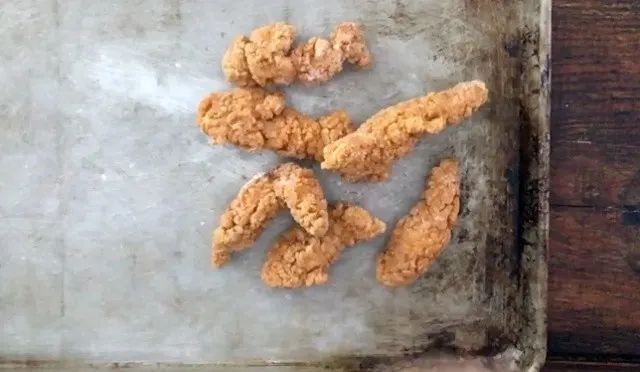 STEP 2.
Pour vegetable oil and seasonings onto the baking sheet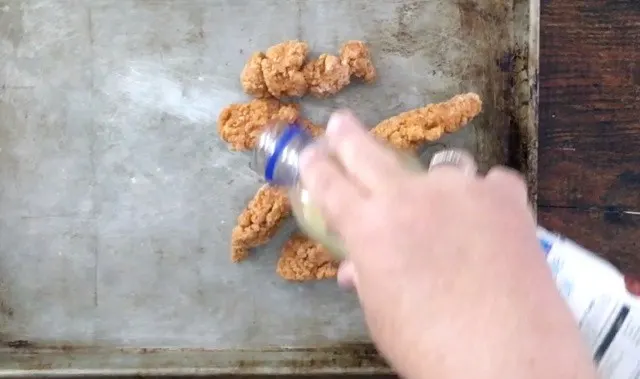 STEP 3.
Mix well with your hands and then bake.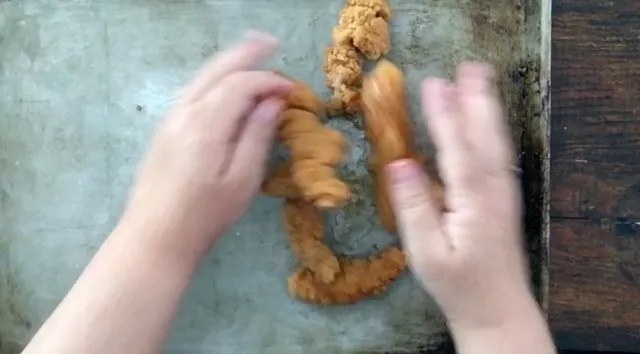 Frequently Asked Questions (FAQ's)
Are Chicken Strips, Chicken Tenders and Chicken Fritters All The Same Thing?
Yes, they sure are! So this recipe works for all three of those things!
How Do I Cook Chicken Strips from Frozen?
Simply follow the recipe outlined in the recipe box below and you'll soon have hot, crispy delicious chicken strips on your plate and ready for snacking!
How Can I Make My Chicken Tenders Crispy?
This recipe will show you how to get Crispy Crunchy and flavorful Chicken Strips every single time.
How Long Can I Freeze My Chicken Strips?
Check the product bag for an end date and follow that. However, your Frozen Chicken Tenders should be good if kept frozen for at least 6 months.
Are Chicken Strips Already Cooked?
This depends on the type of strip you buy. Please look at the package, read the front, it should tell you if the strips are already cooked all the way through.
Can I Get Sick From Eating a Raw Chicken Strip?
Look at the product packaging for the chicken tenders that you have and see if they are precooked or not. If they are, you should be fine but we recommend cooking all chicken thoroughly before eating.
How Long to Cook Frozen Chicken Strips?
18-22 Minutes. Follow the directions below for crunchy, crispy chicken strips.
How Long Are My Chicken Tenders Good For?
Once cooked, your chicken tenders will last for 3-5 days in the refrigerator.
Do Not leave your chicken strips out for more than 2 hours.
Other Seasoning Options…
Sure try any combination of the following for great taste…
Onion Powder

Garlic Powder

Garlic Salt (but don't add any extra salt until you have tasted)

Black Cracked Pepper

Ground Pepper

Parmesan Cheese

Truffle Oil

Tiny pinch of Cayenne Pepper

Dried Thyme

Italian Seasoning

Chicken Seasoning.

Squeeze of Lemon with black pepper.
What Do I Serve With My Frozen Chicken Strips?
We LOVE Onion Rings, French Fries or a Baked Potato with our Chicken Strips.
The Many Ways to Cook Chicken Strips
We recommend cooking your chicken tenders in the oven or toaster oven for maximum crispiness and flavor, however many of you have asked how to make them in other kitchen appliances, so I'll cover that here.
How To Cook Frozen Chicken Strips in an Air Fryer
Preheat your airfryer to 390 degrees.

Spray the basket of the air fryer with non stick cooking spray.

Spray your chicken strips with non stick cooking spray on all sides and then sprinkle with season all salt.

Set two to three chicken strips in the air fryer basket.

Cook for 12 minutes and make sure to flip them at 6 minutes.
How to Cook Frozen Chicken Tenders in the Oven
Check out the recipe below for those instructions. This is the best way, in our opinion, to have crispy, crunchy, delicious tenders (besides deep frying, of course).
How to Cook Frozen Chicken Strips in the Microwave
***NOTE*** Chicken Tenders Cooked in the Microwave will not be Crispy and Crunchy like you would expect them to be.
The coating will likely be soft. We recommend that you follow the instructions for oven baking noted in the recipe card below.
Place the chicken tenders on a microwave safe plate, sprinkle with season all salt and cover with a paper towel

Heat on high for 1 minute.

Check the temperature of your chicken tenders and change their position on the plate.

Repeat for 30 second intervals until your chicken tenders are cooked through.
How to Cook Frozen Chicken Strips in a Pan.
Pour oil into a heavy skillet so that it just covers the bottom of the pan.

Heat over medium high heat untl the surface of the oil is glistening and a drop of water dripped into the pan results in a hot spatter.

Carefully place up to three chicken strips into the pan, allow enough space between them so that they can cook properly (and inch or two between). Do not overcrowd the pan.

Heat for 2-3 minutes on one side, then flip

Heat for another 2-3 minutes on the other side.

Remove to a paper towel covered plate and allow to drain.

Sprinkle with season all salt.
Other Methods for Cooking Chicken Strips
We do NOT recommend attempting to cook frozen chicken strips in an instant pot and we do not recommend trying to cook chicken tenders in a crockpot.
Try Some Of These Other New Cook Recipes at Loaves and Dishes!
How to Cook Frozen Chicken Nuggets
Here's some of our Most Popular Recipes…
YA'LL HELP ME OUT, OK?
Please leave me a comment and 5 STAR ( 🌟 🌟🌟🌟 🌟 ) review, I ALWAYS love to hear from you and your comments MAKE MY DAY! (Plus, it helps me out by letting everyone know that this is the place to find good recipes!)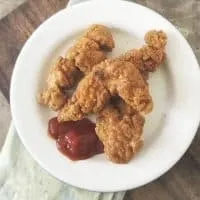 How to Cook Frozen Chicken Strips
Want CRISPY, CRUNCHY AND FLAVORFUL Chicken Strips every time with your favorite frozen variety? No problem, here's how!
Print
Pin
Rate
Ingredients
4

Tbs

vegetable oil

1

tbs

Seasoned Salt

6

Chicken Strips
Instructions
Preheat oven to 400.

Spread the number of chicken tenders you prefer out on a baking sheet.

Pour the vegetable oil over the tenders and sprinkle with the season all salt.

Using your hands coat the tenders well with the oil and salt.

Bake for 18-22 minutes in the oven.

Remove, allow to rest for a few minutes and then serve.
Notes
Check the product package for your chicken tenders and follow oven and time settings.
Different products require different amounts of time/temperature in the oven.
You can try other types of seasonings if you do not have seasoned salt. For example:
Mix
1 tsp onion powder with 1 tsp garlic powder and a pinch of salt and pepper.
1 tsp of garlic salt
½ tsp onion powder, ½ tsp dried thyme and 1 tsp garlic salt with a pinch of cayenne pepper.
If you are concerned with the oil, try spritzing your chicken strips with non stick cooking spray and then sprinkling with the salt and or herbs.
Nutrition
Nutrition Facts
How to Cook Frozen Chicken Strips
Amount Per Serving
Calories 807
Calories from Fat 558
% Daily Value*
Fat 62g95%
Cholesterol 192mg64%
Sodium 7324mg305%
Potassium 1110mg32%
Protein 64g128%
Vitamin A 90IU2%
Vitamin C 3.6mg4%
Calcium 15mg2%
Iron 1.1mg6%
* Percent Daily Values are based on a 2000 calorie diet.