Some super exciting news to announce!  Sarah Uselton (I'm not just dropping names – she is my daughter too!) has challenged me to a duel the next time she comes home! For this duel, you can think along the lines of "Chopped" the popular Food Network show – but instead, it will be an "at home" version and the results will be published here at loavesanddishes.net.  I can't wait!! (my food nerd side is really hanging out here).  Maybe the fresh young beauty hailing from Western Carolina State University will come home and take her haggled old mother to school in the kitchen!  We will just have to wait and see!
In other exciting news – next week we will cover preserving peppers!  So beautiful and tasty! And then… OH THEN…. I have a recipe for you that already has my lips falling off in anticipation!   So, please come back!
And talk about preserving…..
This has been the summer of the blueberry here at Loaves and Dishes. Last summer the  local berries were small and tough like a BB sporting a leather coat. Regarding this, a friend told me that the first blueberries of the season are usually the biggest and tastiest and so this summer, as soon as the local "pick your own" establishment opened, I was in line for 5 gallons of blueberries. Yes, I said 5 GALLONS!  Later in the summer a friend who grows blueberries offered me another gallon for a reasonable price – how could I say no? Then even later in the summer, another friend invited me along to pick blueberries with her for free – the farmer just wanted someone to get the blueberries before the coming big storm ruined them all. Another 5 gallons of plump delicious and delicate blueberries went in the freezer. As it turns out, all of the berries have been plump and delicious, so I am not sure what to make out of my friends' assertion that the first blueberries are the best. Besides that, what in the world am I going to do with 11 Gallons of blueberries? I have no idea – but this pie is one option I'll be making again and again.
PS – lets talk about that – for 11 gallons of blueberries, I paid about $60.  I froze all of them and they are just as good to use in recipes as fresh blueberries.  How much would that much fresh blueberry cost?  Supposing that you could buy a quart of blueberries for $3.00 (which would be a super sale) – the price would be $132.  That is just one example for why  I started preserving my own food wherever I can. We can talk about the other reasons later.
Before I let you read  the recipe, I have some eye-candy for you.  Well, eye-pie.   If you read all the way to the end, there is eye dessert.  Thanks for visiting!  Leave some feedback or contact me if you have questions.  Come back and bring friends next time!
Lets sing a song together while you look at the pictures….
OOOOOOOh, The Lord's been good to me.  And so I thank the Lord for giving me the things I need like the sun and the rain and the Appleseed. The Lord's been good to me.  Amen.
Eat up ya'll!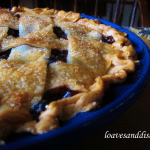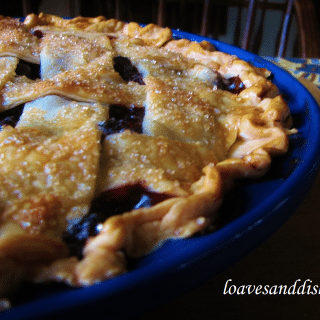 Blueberry BAZINGA Pie!!
A delicious and easy to make blueberry pie that will WOW your friends and family!
Ingredients
2

Refrigerated pie crusts

this is just an easy cheat – but if you like to make your own – by all means, please do!

¾

C

– 1 Cup white sugar – depends on the sweetness of the berries

¼

C

of cornstarch

The zest of one lemon

¼

tsp

cinnamon

1/8

tsp

ground nutmeg

1/8

tsp

ground cloves

1/8

tsp

salt

6

Cups

Blueberries

1

Tbs

butter – cut into tiny pieces- keep refrigerated until ready to use.

1

egg yolk

1

Tbs

heavy cream

2

Tbs

Raw sugar
Instructions
Preheat the oven to 400 – and place a large cookie sheet on the lower rack of the oven to catch drips

Prepare your pie plate with non stick cooking spray. Place one crust into your pie pan. Then set aside.

Stir the sugar, cornstarch, lemon zest, cinnamon, nutmeg, cloves and salt into a large mixing bowl. Add the blueberries and gently toss until blueberries are coated. Turn blueberries out into the bottom layer of pie crust.

Take top crust and make lattice by cutting into strips and weaving onto top of pie. Pinch edges together firmly to make fluted design. If you are unsure how to make a lattice top- simply put the top crust on and cut vent holes into the top of the pie once you have pinched the edges together.

In a small bowl, beat the egg yoke and cream together – paint onto the top crust of the pie. Sprinkle top with the 2 Tbs of sugar. Place the tiny pieces of butter around the top of the pie.

Place pie in the refrigerator for at least 5 mins.

Place pie on the middle wrack of the oven and bake at 400 for 20 mins then decrease the temp to 350 for 35-45 mins.
Recipe Notes
Simple and straightforward Blueberry pie
Nutrition Facts
Blueberry BAZINGA Pie!!
Amount Per Serving
Calories 330
* Percent Daily Values are based on a 2000 calorie diet.
Serving suggestions:
Warmed with vanilla ice cream – of course!
Warmed with carmel ice cream would be an interesting taste.
And, for my faithful readers, I have a special treat – like a blog post dessert. Below is a picture of my daughter's dog, Lyric, when she was a tiny cute little puppy.  Please adopt from your local Animal Shelter – we did and have never regretted it.
<script>
(function(i,s,o,g,r,a,m){i['GoogleAnalyticsObject']=r;i[r]=i[r]||function(){
(i[r].q=i[r].q||[]).push(arguments)},i[r].l=1*new Date();a=s.createElement(o),
m=s.getElementsByTagName(o)[0];a.async=1;a.src=g;m.parentNode.insertBefore(a,m)
})(window,document,'script','//www.google-analytics.com/analytics.js','ga');
ga('create', 'UA-54966896-1', 'auto');
ga('send', 'pageview');
</script>
[contact-form][contact-field label='Name' type='name' required='1'/][contact-field label='Email' type='email' required='1'/][contact-field label='Website' type='url'/][contact-field label='Comment' type='textarea' required='1'/][/contact-form]