Smoky, meaty, juicy, perfectly cooked and ding dang delicious! Today I'm making Smoked Pork Chops on our Pit Barrel Cooker Company Smoker using charcoal briquets and smoking chips.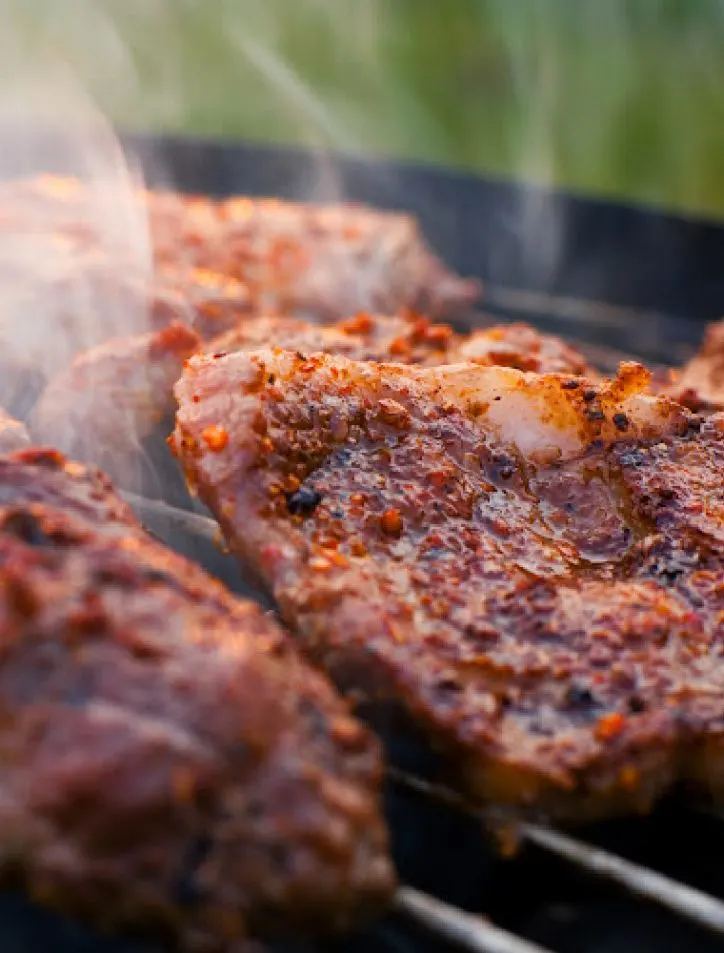 How To Cook Smoked Pork Chops
When I think about pork chops, two problems come to mind: Overcooked, dry pork chops that you chew and chew and chew but can't chew up and… well, that's the problem, isn't it?
Are you having a problem with dry pork chops? If so, smoking them is the WAY TO GO! Smoked pork chops are superior in flavor, juiciness and overall taste.
When you add the marinade that I recommend, you'll find that your pork chop turns out perfectly every single time.
And oh, try some Chili Relleno Casserole or even my Baked Thin Pork Chops!
Should I Smoke a Bone In or Boneless Pork Chop?
You'll always get more flavor with a bone in chop. Period. The bone adds flavor and that's all there is to it and thus, that's what I recommend.
With boneless chops, you run the risk of a drier piece of meat and so you have to be very careful not to overcook it.
You'll notice that the boneless chops also tend to be leaner with less fat marbling and that equals less flavor as well.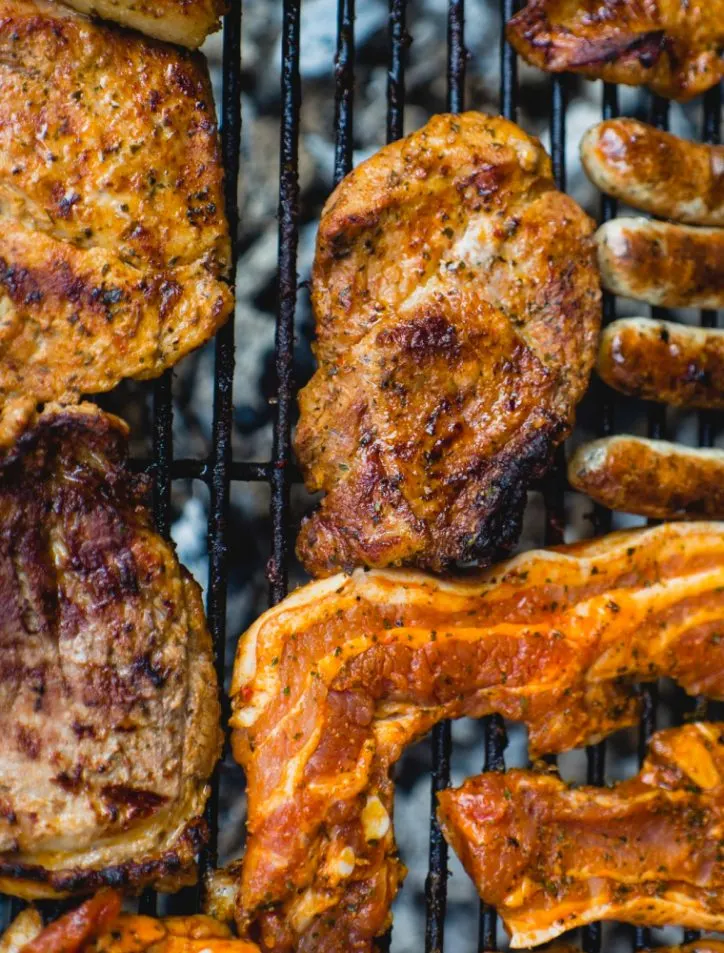 How to Start Cooking Smoked Pork Chops?
The best way to start, is to begin with a great marinade that will help ensure your end success. I recommend this marinade and the ingredients are listed in the recipe below.
Choose the right chop:
Bone in pork chop
Lots of fat marbling
Decent size
1″ thick
Believe me, I know that thick pork chop seems daunting, but at that thickness, it will be nearly impossible to overcook your chop. The end product will be juicy and perfect!
Here's What You'll Need For the Recipe:
Pork Chops – Choose a bone in, fat marbled, 1 inch thick chop. This will help guarantee flavor and juiciness and limit your ability to overcook the chop.
Marinade – I've given you the perfect pork chop marinade in the recipe below, go with that one, it's easy and affordable.
A1 – This is for the actual smoking of the meat, it adds flavor and helps lock in the juiciness. Choose any of the available flavors you prefer. We like the "Thick and Hearty" option.
Here's the Equipment You'll Need: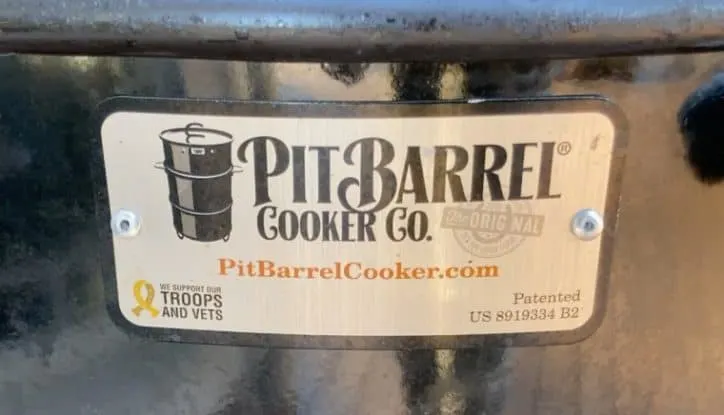 Smoker – I have a Shop Pit Barrel Cooker NOW! " target="_blank" rel="noreferrer noopener">Pit Barrel Cooker Company Smoker but use whatever smoke you have.
Thermometer – a good thermometer is essential for smoking perfect meats. I use one for the ambient temp of the smoker and then another to test the temp of the meats. I only use Thermopen brand.
Basic Process for Smoking a Pork Chop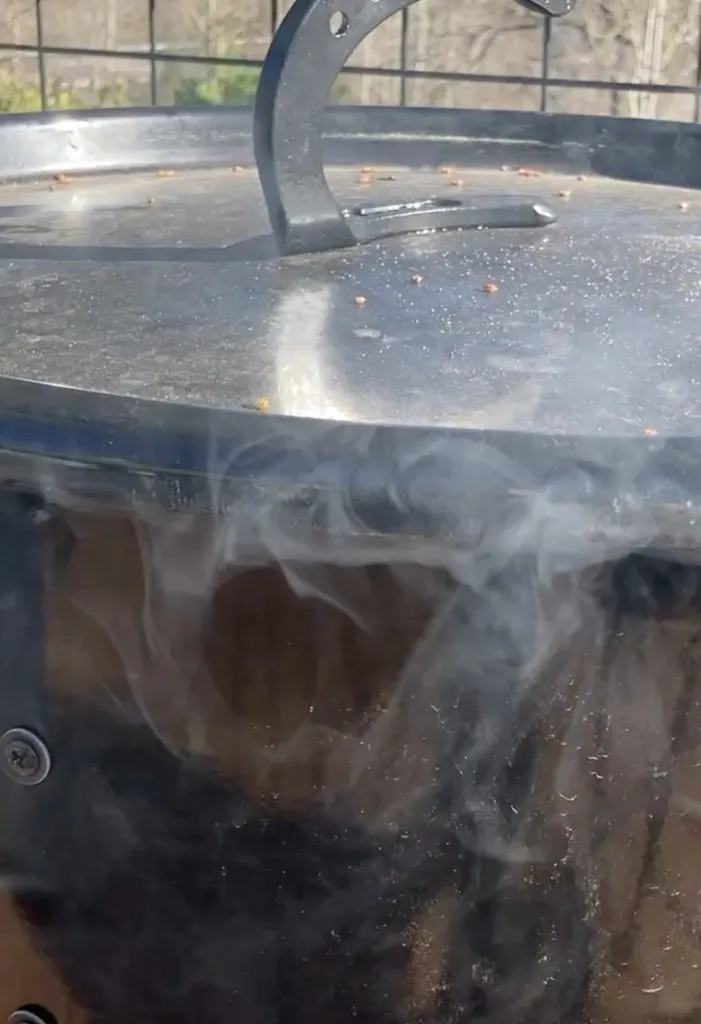 Marinate the pork chops for 2-24 hours before starting the smoke.
Allow the pork chops to rest from the marinade, season and prepare for smoker.
Prepare the smoker.
Smoke the Pork Chops to internal temperature of 145,
How Long to Smoke Pork Chops?
How long you need to smoke pork chops is going to depend on a couple of factors:
Pork Chop Thickness. A thicker chop takes longer to cook but will be juicier in the end.
Does your chop have a bone? Bone in takes a little longer to smoke.
What temperature are you smoking at? A cool smoke of 220 will cook much slower than a hotter 350 smoke.
How stable are you able to keep your smoking temp?
In general, a 1″ bone in chop smoked at 270 will be done in about 30-40 minutes.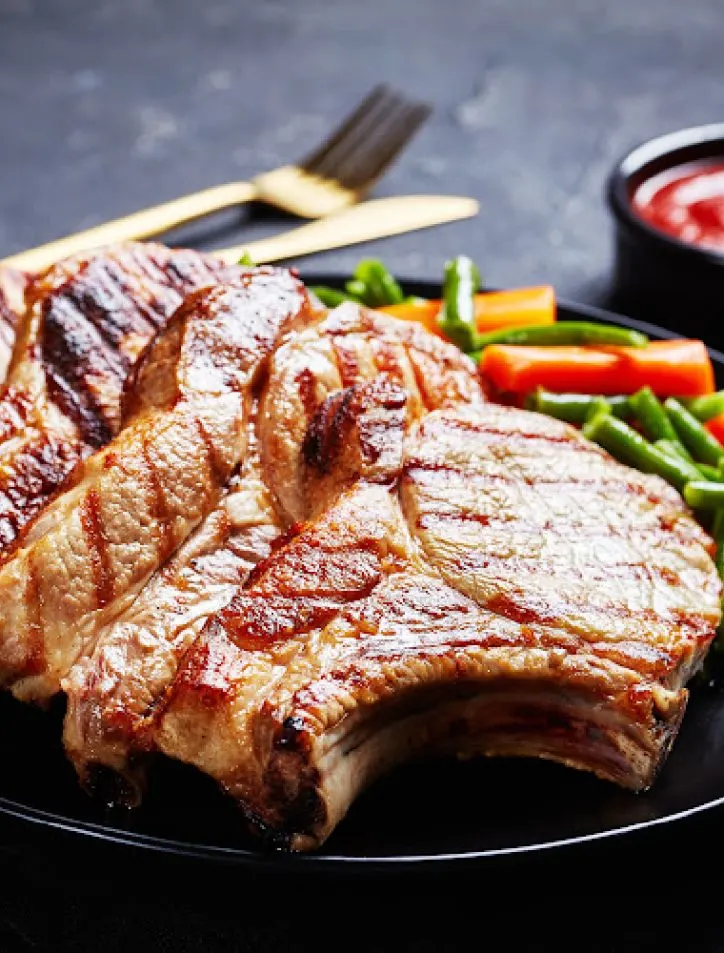 Frequently Asked Questions (FAQ's)
Can I Use a Boneless Chop?
Yes, you can. Do not remove the layer of fat that surrounds the chop, this is your best chance for flavor. You will definitely want to marinate your chop and be very careful not to over cook.
Do Smoked Pork Chops Need a Glaze?
You'll find that if you use a marinade and then top with a little A1 before smoking, you will not need a glaze afterward. You'll have plenty of flavor!
If I Buy the Already Smoked Chops, Are they Already Cooked?
Just like a smoked ham, the smoked chops are already cooked through, you only need to heat them up and do not need to cook them in your smoker.
Do I Need to Turn My Chop While It's Cooking?
No, you don't need to turn your chop. It will cook completely with the smoke rolling. You CAN turn it if you want to.
What Kind of Charcoal Do I Use?
Use a charcoal that does NOT have a starter in it (like the guaranteed to light kinds). I use plain old fashioned Kingsford Briquettes.
What Kind of Smoking Pellets or Chips Do I Use?
Applewood or Cherrywood is a nice flavor with the pork chops but hickory and mesquite work equally well.
What Do I Serve with Smoked Pork Chops?
Anything that you would serve with pork chops cooked any other way. I always think in terms of a starch, a bread and some veggies. So, a creamy rice with peas and carrots sounds colorful and good! How about some mexican corn bread?
Cooking Time for Smoked Chops Depending on Smoke Temp
I thought a smoking cooking time chart would be helpful, so from my own experience at the temps below, your general smoke time should be…
Smoke Temp 225 ……… Time: 60-90 minutes (depending on chop thickness)
Smoke Temp 250 ……….Time: 60-90 minutes (depending on chop thickness)
Smoke Temp 275………….Time: 1 hour (depending on chop thickness)
Smoke Temp 300………….Time: 45-60 minutes
Smoke Temp 330………….Time: 30-45 minutes.
Keep in mind that at the higher temperatures, the meat is exposed to the smoke for a shorter amount of time and this cuts down on the smoky flavor.
We recommend a cooler smoke temp with a longer cook. (Unless you are getting hangry, then, speed that thing up) (or you could just go get a snack and let it smoke for the longest time possible).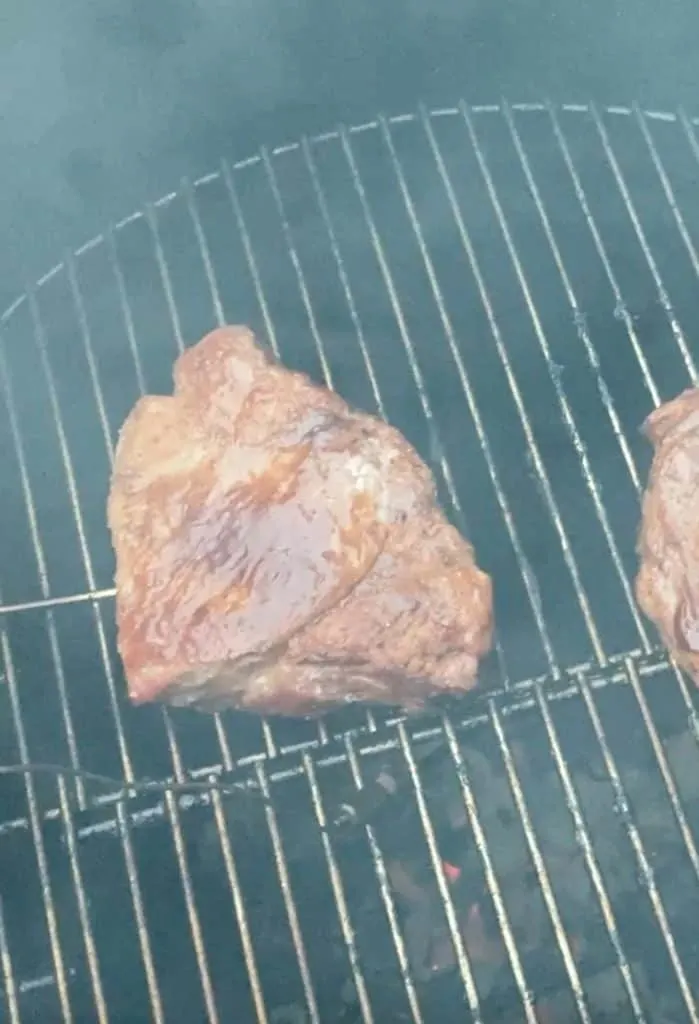 What Kind of Smoker Do I Use?
The Smoker I use comes from the Pit Barrel Cooker Company. It's a heavy duty, quality product that I've been using for a while now.
There are a variety of smokers out on the market, and you'll need one that is right for you.
There are electric smokers, pellet smokers and others. Mine is a charcoal smoker and that is the flavor that I personally prefer. Plus, it's easy to use.
You can learn more about the type of smoker I use here at the Pit Barrel Cooker Company. Just so you know, I believe in them so much that I'm now an affiliate for them, so if you decide to purchase through this link, I do get a commission but that doesn't change your price at all. Thank you!
Smoker Tips and Tricks
Always use a quality thermometer to measure the ambient temp inside the smoker as well as the temp of the meats you are cooking.
If you are cooking a large piece of meat (like a shoulder) then a leave in probe is definitely the answer. A thinner cut like a steak or chop uses an instant read thermometer. Test several pieces before deciding if your cuts are done.
With a flat top smoker like mine, you can warm your dinner plates on top of the smoker as your meat finishes cooking, it's a nice touch.
Plan on side dishes that you can make ahead of time, part of the fun of smoking your dinner is getting to enjoy sitting around the smoker, talking, laughing, playing a game of corn hole and telling jokes as you smell the delicious smoke that will make you exceedingly hungry!
When you remove your dinner from the smoker, always have about 1/2 lb of bacon ready to go on the smoker. You can just put the lid on and let the remaining coals cook the bacon. Wrap it in aluminum foil for a quick heat up during the week. It's perfect on burgers, with breakfast or as a quick snack!
PRO TIP: For extra SUPER good flavor. As you are smoking the chops, melt some butter with garlic and thyme added to it. When the chops are ready to come off of the smoker, brush them with the butter and then let them rest for 5 minutes. YUM!
Watch Me Smoke Chops
Would You Do Me a Favor?
Please leave a 5 STAR comment in the comment section below. This helps others to find the recipes at Loaves and Dishes.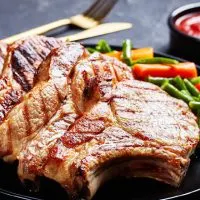 Smoked Pork Chops
Want to make delicious, flavorful, tender smoked pork chops on your smoker? I'll show you how with this easy marinade and tips for how to smoke perfectly. Stay tuned to the end for the PRO TIP!
Print
Pin
Rate
Ingredients
For the Marinade
3/4

Cup

Vegetable Oil

1/3

cup

soy sauce

1

tbs

brown sugar

1/4

cup

Rice Vinegar

2

tbs

A1

1

tbs

lemon juice

1

tbs

whole grain mustard

1

tsp

Kosher salt

1

tsp

black pepper

1

tsp

thyme

1/4

tsp

cayenne
For the Smoker
4

pork chops

bone in, 1 inch thick
Instructions
Mix the ingredients for the marinade together with a whisk. Submerge the pork chops into the marinade and massage into the meat. Seal with plastic wrap into the bowl or pour into a zip top style plastic bag. Refrigerate for 2-24 hours.

Prepare your smoker according to the style smoker you own. See the video listed above for how I prepare my smoker.

While you are preparing the smoker, remove the pork chops from the marinade and allow them to rest at room temp.

Once the smoker is well heated, place the marinated pork chops onto the smoker grates and smoke until the internal temp of the pork chops reach 165.

Remove from the smoker and lightly tent aluminum foil over the top of the pork chops and allow to rest for at least 5 minutes before serving.
Notes
Marinate for at least 2 hours and up to 24 hours.
Always use a thicker pork chop, it is easier to manage the temps with a thicker chop.
Never use the charcoal that has treatment to help it light. This will give your smoked food an off flavor.
Add salt and pepper to taste at the table.
Use a good quality thermometer like a Thermopen.
Nutrition
Nutrition Facts
Smoked Pork Chops
Amount Per Serving
Calories 599
Calories from Fat 450
% Daily Value*
Fat 50g77%
Cholesterol 90mg30%
Sodium 1893mg79%
Potassium 590mg17%
Carbohydrates 7g2%
Protein 31g62%
Vitamin A 109IU2%
Vitamin C 3mg4%
Calcium 25mg3%
Iron 1mg6%
* Percent Daily Values are based on a 2000 calorie diet.
This week I was reading some Shane Claiborne writings and they spoke to me. I have pulled out this verse to really look at and study. It's in red letters in my Bible. Jesus said it. He said it without qualifications.
John 15:17
This is my command: Love each other