Jump to Recipe
So, I bought a beautiful head of cabbage because I had every intention of showing ya'll how to make Mark's mom's stuffed cabbage rolls.  Which are SO delicious!  That said, I just didn't get around to it – because, you know, Christmas, graduation, a trip out of town, life.  It happens.  
Then, the kids were all coming over tonight and I had this head of cabbage staring me in the face.  I didn't have time to put cabbage rolls together but I did have the 10 minutes required to fix some Southern Cooked Cabbage like a good Southern Gal should.  Plus, I knew that southern cooked cabbage would help fill the bellies of my son and my son in law (future)- HELLO beautiful head of cabbage!  
ANOTHER HEAD OF CABBAGE
Guess I'll have to buy another beautiful cabbage head on my next grocery trip to show you how to make stuffed cabbage rolls because on this post, I am only going to show you how to cook up some southern cooked cabbage like the deep south, southern drawl, "come on to dinner now ya'll" kind of Ohio girl that I am!  lol.  
OK – I did grow up in Ohio, but my parents are both from North Carolina and I grew up eating their cooking, so that counts, right? (promise though, as a kid I wouldn't have touched cooked cabbage with a 29 and 1/2 foot pole because I had no idea what was good back then).
INSPIRATION FOR SOUTHERN COOKED CABBAGE
A long many years ago, as  a vegetarian I was very hungry all the time because, guess what?  I didn't like vegetables much and how many days in a row can you eat salad?  For me, it was about 6 months.  Of course, I had never really tried very many vegetables.  So, it served me right to be hungry!
My first husband and I were visiting a friend's mother's house and helping with some heavy lifting and moving work ( 30 years ago).  It was time to eat and the Mama (who was then about my age now) said, "well, I don't know what to feed you folks, but I have some cabbage and potatoes from the garden".  
SO I HELPED HER
As I helped her in the kitchen and she showed me exactly how she cooked cabbage I started to think that I wouldn't like southern cooked cabbage.  However, I was HUNGRY and we were WAY out in the country in Tennessee and there wasn't a grocery, fast food or convenience store anywhere around.  
It is time to learn to eat cabbage.  Period.  This is basically the recipe she taught me that day that you see here, except I add the garlic, Tony Chacere's (season all), vinegar and baking soda.  
Just so you'll know, I started eating that southern cooked cabbage that day and I thought it was about the best thing I ever tried.  Who knows how many helpings I ate.
And another nice thing about cabbage?  Its CHEAP!  You can feed a crowd for almost nothing
RECIPE TIPS FOR SOUTHERN COOKED CABBAGE
There is no point in using your good bacon on this recipe, if you can find the "bits and pieces" of bacon (very inexpensive) available at your store, keep some in your fridge/freezer for these kinds of recipes. Perfect inexpensive solution. ( I bought mine at Trader Joe's, but I have seen them at my local grocery too).

Southern Cooked Cabbage has a smell (it isn't really a nice smell) when it is cooking.  If you can cook it outside, that is ideal.  For example use the burner on the end of  your grill.  I also have a separate burner that I do canning on.  Camp stove anyone?  That way the smell stays out of the house. Today, I cooked the cabbage on my canning burner.

You know to discard the first couple of outer leaves on cabbage, right?  Thought so.
BUT WHAT ABOUT…. YOU KNOW….
Cabbage has the bad reputation of giving people gas.  Here are the ways that I have heard that you can address the gas issue ( no idea if they are accurate or if they work individually – you can see from the recipe what I did):  Add potatoes to your cabbage and cook with the potatoes – the potatoes will absorb the gas making properties of the cabbage, add vinegar to the cabbage while it cooks, add baking soda to the cabbage while it cooks, only simmer the cabbage do not hard boil it.  I do all of these things to my southern cooked cabbage and haven't noticed that the gas is terrible.  Not sure which one works or if it is the combination but my recipe for southern cooked cabbage doesn't seem to give anyone at my house gas.

This southern cooked cabbage – while excellent right away becomes even better if you can allow it to sit in the fridge over night.  All the flavors meld and OH MY GOODNESS!  It is good!

Don't get all freaked out and worried about the bacon grease and butter in this recipe, it stays melted and in the liquids.  You won't actually be eating much of it – its just for flavor.
A VERSE TO SHARE
This verse is ready for any day of the year, not just the holidays.
For to us a child is born, to us a son is given, and the government will be on his shoulders. And he will be called Wonderful Counselor, Mighty God, Everlasting Father, Prince of Peace. ~ Isaiah 9:6
IF YOU ENJOYED SOUTHERN COOKED CABBAGE, YOU MIGHT ALSO ENJOY…
Ultimate Southern Pimento Cheese
Clays' Famous Three Bean Casserole
Southern Sweet Potato Biscuits
YA'LL, HELP ME OUT, OK?
Please leave me a 5 star comment below in the comment section, all right? I would LOVE to know if you made this recipe or even if you are planning to! Of course, tool on over to Pinterest, Facebook and Instagram and tag me with some photos of your creation!
I can't wait!
Ya'll know I love comments!! ❤
THE RECIPE FOR SOUTHERN COOKED CABBAGE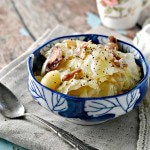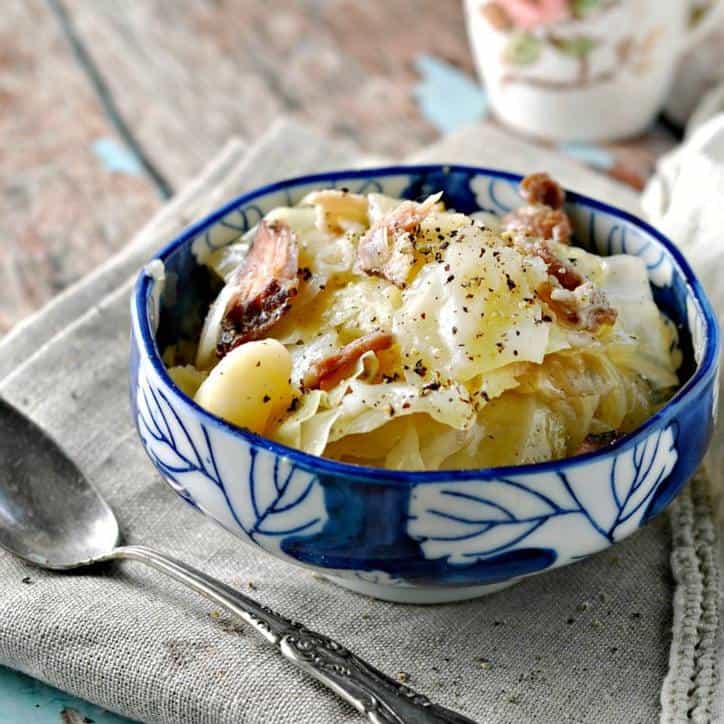 Southern Cooked Cabbage
Easy recipe for southern cooked cabbage just the way you remember it
Ingredients
2

tbs

butter

4

strips of bacon OR see tip after the recipe

1

medium onion

3

cloves

of garlic

2

cups

chicken stock

1

head of cabbage

3

fist sized white potatoes

1

tsp

salt

½

tsp

Tony Cacheres

season-all salt if Tony Chachere's is not available

1

tsp

pepper

splash of Apple cider vinegar

½

tsp

baking soda
Instructions
melt butter over medium heat on the stove top in a frying pan. Cut the bacon into small pieces and fry in the butter. While bacon is frying, give the onion a rough chop and add to the frying pan. Mince the garlic. Just as the onion is becoming translucent (2-3 minutes), add the garlic and cook until fragrant (smells up the kitchen).

Add all of the ingredients (including the melted butter and bacon grease) to a large sauce pot (6 quart or so). Cut up the cabbage as follows: Cut into quarters and then cut into strips that are about 1-2 inches wide (after removing the hard center core) and place into the large sauce pot. Cover the the cabbage with chicken stock - but if not enough stock, add water to cover. Peel three fist sized potatoes and cut into 1-2 inch squares. Add to the stock pot. Add the salt, Tony chachere's (seaon-all) and pepper. Add the apple cider vinegar and baking soda as well.

Cook over medium high heat on the stove top by simmering for 10-12 minutes or just until the cabbage is done (try it to know for sure). You may need to add more salt and/or pepper depending on taste.
Recipe Notes
Simple cooked cabbage recipe