Jump to Recipe
How has the recipe for a delicious Southern Mexican Cornbread eluded these pages for so long?  I have no idea, you tell me!  It wasn't until my recent conversation with Mona that I realized, Loaves and Dishes has no delicious, soft, buttery, spicy, can't stuff your mouth with enough Southern Mexican Cornbread.  So, thanks again, Mona.
Remember a few weeks ago when we cooked up some decadent, smokey, melt in your mouth Pinto Beans?  Boy I do.  The weather cooperated and everything (Rainy and 50).  Well, what goes best with beans?  You got it.  Corn Bread.  Southern Mexican Cornbread.
That is not to say, Cornbread from the Southern parts of Mexico.  Nope.  This is my own Southern Kitchen Interpretation of a Mexican style Cornbread.  However, if what you are interested in is something South of the Border – then I recommend you try the Chori-Pollo – 'cause, MMMM-MMMM – yum! 
Even saying Mexican Cornbread reminds me of when I was a kid and my parents would take me to a favorite restaurant of theirs and one of the bread choices was Mexican Cornbread.  So cute- it was shaped in little corn shapes.  Oh man, the crunchy exterior coated with melted butter.  The soft falling apart and a little spicy center. WHOO HOO!  Just the best.  
The thing with Southern Mexican Cornbread that isn't the thing for my regular cornbread?  Well, lots of things….. The extra fillings for one thing and the sugar for the other.  
Just for kicks, I tried my recipe without the sugar.  I thought it would be just as good.  I was WRONG!  Major meal fail right there.  The sugar is a must!  
The Recipe for Southern Mexican Cornbread
Southern Mexican Cornbread
Author:
Loaves and Dishes
Ingredients
1 cup self rising cornmeal mix (I used Tenda Bake)
½ Cup all purpose flour
2 tbs baking powder
⅔ cup whole milk
2 large eggs
½ tsp salt
⅓ cup vegetable oil
½ chopped onion
1 14 oz can creamed corn
2 whole chopped fresh jalapenos - seeds and ribs removed - chopped.
¼ cup granulated sugar
1 tsp red pepper chili flakes
½ cup grated cheddar cheese
1 4oz can chopped green chilis
½ Cup Monterey Jack Cheese - shredded.
Instructions
Preheat the oven to 350
Spray a 9x9 or 8x8 baking dish with cooking spray and set aside
In a large bowl, combine the cornmeal mix, all purpose flour, baking powder, whole milk, eggs, salt, vegetable oil, onion, creamed corn, jalapenos, sugar and red pepper flakes. Mix well - but don't over mix.
Pour half of the batter into the baking dish.
Sprinkle the cheddar cheese and the green chilis over the top of the batter.
Pour the remainder of the batter over the cheese and chilis.
Sprinkle the monterey jack cheese on top.
Bake for 40 minutes until the top is browned and the cornbread is baked through.
Tips and tricks for Southern Mexican Cornbread
Use oven mitts!  I know – you want to be like me and use your kitchen towels for everything – but honey, we are slinging stuff in a hurry and I don't want you to get burned!

The green chilis.  You might think they are overkill.  "My mama didn't use green chilis".  I'll just say – ya'll know, I am all about flavor and perhaps your mama didn't use green chilis, but she should have.  I'll leave it there.

I'm using some red pepper chili flakes here, but that is only because I ran out of my smoked ancho chili flakes. If you have some of those, use them!

The fresh jalapeno.  You might be thinking, I just don't want that in my cornbread.  But honestly, if you've never tried it – then don't knock it till you do.  It just adds a little crunch and as long as you don't get the white ribs or the seeds in there – it won't make it too hot.  

Try this cornbread with some honey sweetened butter.  You won't be sorry.  Promise.

Reheating cornbread:  Microwave?  NO!  You will end up with cornbread that just grows and grows in your mouth! Eww.  So dry that way.  Instead, heat some butter in a cast iron skillet over medium on the stove top.  When it is melted and hot – put the cornbread on and toast it on both sides.  Then, put a little pat of butter on the top.   OR   toast in the toaster oven with a little butter.  Perfect.
Some other recipes that go perfectly with Southern Mexican Cornbread?  Chili,  Daddy's Drooling again Pot Roast, Crockpot roasted chicken to name a few!
If you are searching for some other yummy bread recipes then you might want to try Banana Pecan Bread or Grandma's Maple Pumpkin Bread or even delicious Mushroom Pullapart Bread!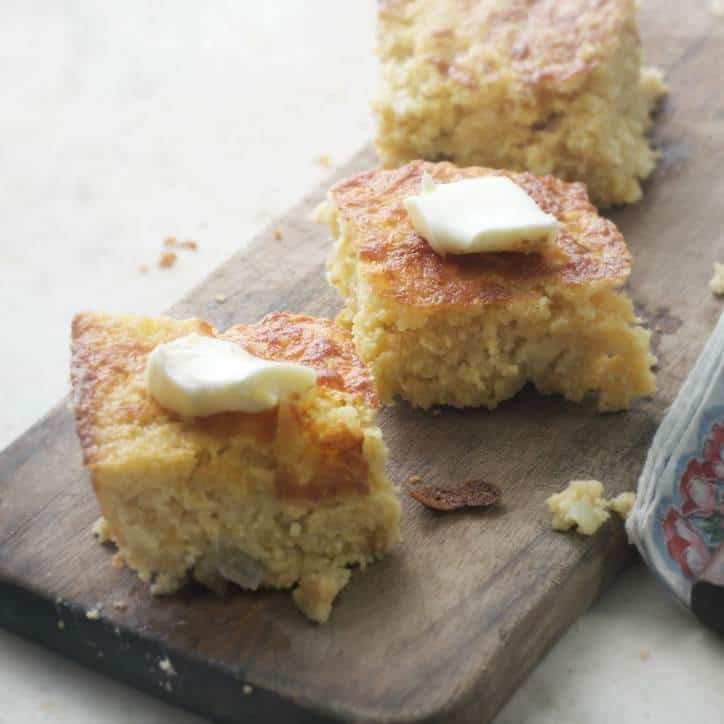 Southern Mexican Cornbread
A VERSE TO SHARE
A friend of mine asked me the other day, "How do you constantly come up with new recipes to share.  How do you do all of that writing and never get tired"?  My answer?  I laughed and said, "what makes you think that I have a constant fountain of ideas and that I don't get tired?".  
I guess if you have hung around here long enough,  you have noticed that sometimes there are NO POSTS for a week or two.  
That is because sometimes life gets in the way.  Sometimes my day job gets in the way.  Sometimes my family gets in the way. Sometimes my own laziness gets in the way.
That is because I am a REAL person!  Just like you.  I don't have a team of bloggers over here dreaming up recipes to show you next.  (Wouldn't that be great though!).  
Nope, just like you.  I have a never ending pile of laundry.  I have a boss at my day job.  I have a home to care for.  I have a garden that still hasn't been planted.  I have weeds growing in my flower beds.  There is A LOT of dust on top of my refrigerator.  
The truth is – those things that get in the way…. Life, job, family.  They aren't in the way.  They are the way.  Because in those things you find Jesus.  
I really wish that I could say that when I go sit in the pew on Sunday morning and hear the preacher that I find Jesus and He finds me and we commune for an hour and then I go home and am good for a week.
I've never had that experience.  Maybe you think that I'm not going to the right church.  But really, I find Jesus to be WAY more real than that.  He doesn't just show up in church.  Most of the time, for me, he shows up on the Monday's when I keep my grandbaby watching him grow and change.  He shows up at a free music festival where a homeless man wants to share HIS cheetos with me.  He shows up when I hear my patients talk about their wishes, dreams and regrets in their own lives.  
He often shows up right here on the pages of Loaves and Dishes.  Ya'll send me the most uplifting and personal and wonderful messages.  You share your faith with me.  You sometimes share your struggles and your blessings!  
Do you know how much this means to me?  Wow.  What a blessing that is.  That is Jesus, my friend.  When we show up for each other.  
That is what keeps me going.  That is what keeps me thinking about new recipes and about showing you things you might like to see.  Well, Jesus and my hungry belly both – but you get the idea.  
Whenever I think I might quit, I think about this verse and it reminds me that everyone gets tired.  Absolutely everyone.  Even you.  Even me.  However, if we put our thoughts and trust in the Lord, He WILL renew our strength.  We will run and not be weary.  Praise the Lord.  Amen?  Amen.
Even youths grow tired and weary, and young men stumble and fall; but those who hope in the LORD will renew their strength. They will soar on wings like eagles; they will run and not grow weary, they will walk and not be faint.
—Isaiah 40:30-31

This mexican cornbread is so southern that it screams Ya'll! Ready in a Jiffy. Easy. homemade. Like the Pioneer woman makes, only better.