Have you ever attempted scalloped potatoes or Au gratin potatoes only to find that your potatoes never fully cooked through? Nothing worse than biting into crunchy tasteless potatoes when your mouth was expecting soft, tangy, cheesy delicious Au Gratin. Have you ended up with clumpy cheese? No worries. I have the secret to perfect every time Au Gratin Potatoes.
The crunchy potato thing has happened to me so many times I can't even count. I couldn't figure out what to do about it until I read in a Cook's Illustrated piece stating that they precook the potatoes. Which, personally, is what I had figured out to do but it had felt like cheating.
I mean, come on, what kind of person who considers themselves a decent cook actually precooks the potatoes for the Au Gratin just to make sure the potatoes are all cooked through? Me. That's who. And apparently – the AWESOME chefs over at Cook's Illustrated.
Frankly, the proof is in the pudding – er – Au Gratin. And ensuring that your potatoes are cooked all the way through is one of THE SECRET TO PERFECT EVERY TIME AU GRATIN POTATOES
WHAT IS THE DIFFERENCE BETWEEN SCALLOPED POTATOES AND AU GRATIN POTATOES?
The difference between scalloped potatoes and Au Gratin potatoes is CHEESE my friend. My good ol friend CHEESE! Every recipe I've ever seen for scalloped potatoes cooks the potatoes in a thickened milky slurry while Au Gratin usually layers in Gruyere Cheese that melts into a cheesy deliciousness making Au Gratin which is one of THE SECRET TO PERFECT EVERY TIME AU GRATIN POTATOES
HOW DO YOU MAKE CHEESY SCALLOPED POTATOES?
Cheesy scalloped potatoes are made by adding delicious melting cheese to the scalloped potatoes, but then, officially the potatoes become Au Gratin potatoes. See how that works? So, making cheesy scalloped potatoes is one of THE SECRET TO PERFECT EVERY TIME AU GRATIN POTATOES.
THE BEST QUESTION IS, HOW DO YOU MAKE HOMEMADE CHEESY SCALLOPED POTATOES OR AU GRATIN POTATOES
If you will hang on through the recipe, I'll tell you how to make homemade cheesy scalloped potatoes or Au Gratin Potatoes, because essentially, they are the same thing, right? You need all of the rest of the secrets of THE SECRET TO PERFECT EVERY TIME AU GRATIN POTATOES.
THE SECRET TO PERFECT EVERY TIME AU GRATIN POTATOES
Slice the potatoes to exactly the same size – 1/8th inch.
Precook the potatoes in flavored water.
Make the sauce in a separate sauce pan and add when putting it all together – this equals CREAMY cheese!
Add everything to the baking dish and bake!
NOW YOU KNOW ALL THE SECRETS for no lumpy cheese and no uncooked potatoes!
THE RECIPE FOR THE SECRET TO PERFECT EVERY TIME AU GRATIN POTATOES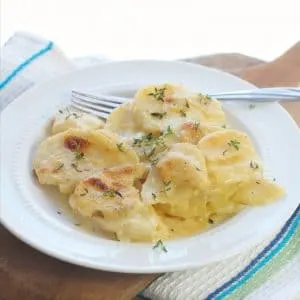 THE SECRET TO PERFECT EVERY TIME AU GRATIN POTATOES
This easy cheesy au gratin is perfect for any family dinner
Print
Pin
Rate
Ingredients
4

large russet potatoes

fist size or slightly bigger

1 ½

cups

water

2

tsp

bouillon concentrate

½

tsp

salt

1

stick of sweet creamed unsalted butter

1

cup

heavy cream

1

cup

shredded Gruyere Cheese - parmesan if you don't have Gruyere

1 8

oz

block of cream cheese - cut into small pieces.
Instructions
Preheat the oven to 350 and spray a 9x13 pan with cooking spray.

Peel the potatoes and then cut into ⅛ " slices. Use a mandolin slicer if you have it.

In a large stock pot, heat the water and the bouillon until boiling over medium heat. Add salt to the water. When water is boiling, gently add the potato slices to the water and return to a slow boil.

Cook the potatoes in the boiling bouillon water until the potatoes are nearly cooked through. Should retain some of the crunch in the center. Do not overcook them till they are soggy and falling apart -0 this is just a pre cook. Every few minutes, GENTLY turn the potatoes in the pan using a large spatula. Use care not to break the potatoes.

While the potatoes are cooking, in a separate sauce pan combine the butter, cream, Gruyere and cream cheese and cook over medium heat until all are melted. Stir frequently to keep it from burning/sticking to the bottom of the pan. Whisk out any lumps.

When the potatoes are nearly cooked through and the cheese is melted, gently scoop the potatoes into the 9x13 prepared pan (use care not to break) and pour the cheese sauce over the potatoes until you have either poured all of it over or until the level of the cheese sauce reaches the top of the potatoes. You may have extra cheese left over.

Bake at 350 until the sauce is bubbly throughout, the potatoes are cooked through and a slightly browned crust develops on the top - about 35-45 minutes.
Notes
Be careful not to overcook the potatoes or they want to fall apart in the oven.
You will note that many recipes have you to slice your potatoes very thin and then bake for a longer time. Personally, I've had inadequate results with that technique and that is why I choose to do mine this way. I think you should too.
Nutrition
Nutrition Facts
THE SECRET TO PERFECT EVERY TIME AU GRATIN POTATOES
Amount Per Serving (1 g)
Calories 150
* Percent Daily Values are based on a 2000 calorie diet.
TIPS AND TRICKS FOR THE SECRET TO PERFECT EVERY TIME AU GRATIN POTATOES
If you do not have a mandolin slicer, then do the best you can with your best kitchen knife. The slices need to be uniform and no thicker than about ⅛ inch.

When you add the potato slices to the boiling water, the water will soon absorb and thicken, by the time you add the potatoes to the baking dish, there won't' be much water left at all.

It is best to test the potatoes for doneness by simply eating one. I know – that might freak you out a little to eat a raw potato – but I'm an advocate of knowing what your dish tastes like at every step – except, of course, for raw meat.

This dish is perfect garnished with some fresh thyme. Thyme would also be good added to the cooking recipe, but I just don't do it that way. You know how picky family eaters are.

If you need a mandoline slicer, this is the top recommended one from Cooks Illustrated, I always trust their recommendations. I won't give you a link to mine, because it is awful and dangerous. It could cause a lost finger tip. Go for the best mandoline! No point in losing digits over Au Gratin! If you click the photo it will take you through to Amazon so you can look at the mandoline slicer. This post may contain affiliate links which won't change your price but will share some commission. I thank you! (Sorry the photo is so small!)
IF YOU ENJOYED THE SECRET TO PERFECT EVERY TIME AU GRATIN POTATOES, YOU MIGHT ALSO ENJOY…
The Secret to Old Fashioned Pinto Beans
The Secret to Perfect Southern Fried Apples
The Secret to Perfect Chicken Fried Steak
The Secret to Perfect Southern Collard Greens
The Secret to Perfect Southern Sweet Tea
Twice Fired Au Gratin Potatoes
Rosemary Root Vegetable Gratin
GIVEAWAY!!
I know I have told you before, but Deiss makes my FAVORITE kitchen hand tools! I have used a Deiss zester and a Deiss peeler in my kitchen for the past year and they are both still just as sharp as the day I took them out of the box! That is saying something for the daily use – near abuse – that my kitchen utensils receive. The handles are grippy and easy to hold when your hands are wet. Besides that, the bright yellow handle on the zester makes it easy to find in the drawer! The peeler even makes tiny cute veggie strips! What more could you want?
For this post, I've teamed up with Deiss to GIVEAWAY a peeler and a zester, just like the ones that I have! You are some LUCKY folks! Deiss will mail the peeler and zester directly to you.
What do you have to do? Just enter below- that's it. Answer a single simple question.
I mean, If you let some friends know about Loaves and Dishes, in addition to answering the one simple question, I would be so happy! You could tell a friend that you love this site. You could share the Loaves and Dishes facebook page and encourage your friends to like it. You could send some friends a link to your favorite recipe. But, you don't have to do anything other than answer the single question. I just appreciate that you are here and that is what this giveaway is all about! Thankfulness!
A VERSE TO SHARE
As we embark upon our Thanksgiving holiday, I hope that all of us will remember who we are giving thanks to. Many today say they are thanking themselves for all of their hard work. Many say they don't believe in a God. Many thank the Universe or luck or ….. Well, frankly, I don't know who they are thanking.
Personally, I am thanking God. God has sheltered me, provided for me and directed me for my entire life. Did I get everything I wanted? Nope. Did I accomplish everything I tried? Absolutely not. Has there been devastating hardships and trials? Of COURSE there has been!
But, even when I thought the skies were the darkest, I knew God was there. I knew it would all work out for his purpose. For that I am thankful. He will always be there for you too.
THE COMING HOLIDAY
As we approach this holiday, I am especially thankful for my family, my health and this blog. My readers are the most wonderful people. I wish ya'll could meet each other, I think you would like each other! I know I like you!
Anyway, thank you for reading this blog. Thank you for sharing your hearts and stories from your life and your kitchens. I hold everything you share dearly. You make me smile every single day. That is why I keep doing this blog. Because I see that it is meaningful to you and to me.
Thank you God for bringing us together. Amen.
Ephesians 5:20
"always giving thanks to God the Father for everything, in the name of our Lord Jesus Christ"