Cool, refreshing and simple. There is NOTHING that is more comforting than a big tall glass of my mama's southern sweet tea. It tastes EXACTLY like home. The Secret to Perfect Southern Sweet Tea is RIGHT HERE!
EASY and READY in less than 30 MINUTES! Simple to follow directions right here!
Why This Recipe Works
Easy
Southern Sweet Tea is the perfect drink for any occasion
Affordable
Ingredients you probably already have.
Here's How It Is Done
Step 1.
Step 2.
Turn off the burner and add the sugar.
Step 3.
Add the tea bags
Step 4.
Put the lid on. When the tea is cooled (at least 15 minutes) , add it to your pitcher and then add the cool water. Drink up! Add a lemon wedge to your drink for fun!
How To Make Sweet Tea
Heat 2 Quarts water in saucepan. When simmering, turn the heat off.

Add 1 Cup of Sugar (for sweet tea) to the warm water and stir until dissolved. Place 4 tea bags or 1 Gallon size tea bag in hot water.
Allow tea to come to room temp. Squeeze tea bags.
Add 2 Quarts of Water to the sweet tea and stir.
WHAT MAKES SWEET TEA "HOME" ANYWAY?
Anyway, in all seriousness, sweet tea is so quintessentially "home" that I thought we could all use a good dose of it today.
In fact, someone wrote to me wanting to know how to make The Secret to Perfect Southern Sweet Tea and that is why you are seeing this recipe today.
WHO CAN MAKE SWEET TEA?
At our house, Mr. Loaves and Dishes is the tea maker.

Therefore, it stands to reason, YOU can make sweet tea!
HERE'S A LIST OF WHAT WE WILL COVER TODAY IN THE SECRET TO PERFECT SOUTHERN SWEET TEA…
You'll be able to make sweet tea without depending on the dark "tea line" on the saucepan.

No more guessing at the amount of sugar.

There will be no more questions about how many tea bags to use.

No more trying to understand when to add the sugar.

I'm sharing ALL of the secrets right here with exact measurements HENCE, YOU'LL HAVE NO more guessing!
Frequently Asked Questions FOR

THE SECRET TO PERFECT SOUTHERN SWEET TEA
This is so straightforward, there really aren't many tricks.

The first tip is USE GOOD WATER. If your water is overpoweringly loaded with chemicals so that it smells like a swimming pool, then use bottled water instead. I remember my dad would always bring some of my grandma's well water home from our visits there to make tea with at home. That is how important good water is!
WHAT KIND OF TEA?
Do NOT USE cheap/discount/ no name tea. It is worth a dollar or so more to get good name brand tea. Trust me on that. (At our house, we prefer Luzianne or Lipton – there are other good brands too – just look around)
Whatever you do, please Do NOT USE instant tea. Just no.
HOW TO HANDLE THE TEA BAGS…
Once you are making the tea, Don't boil the water because that bounces the tea bags around too much.

When you put the tea bags in the water, make sure they sink down, but not so far that you lose the little paper tags.

Don't forget to stir the water with the sugar in it BEFORE you put the tea bag in because that is what finishes dissolving the sugar.
Here is a primary rule about squeezing the tea bags, DO NOT get to fresh with those tea bags when you are squeezing them out because they break easily and hence, if they do you are going to have tea dirt all in your tea. Tea dirt is just used tea leaves and it won't hurt you however, it is gritty and no one likes gritty tea.
WHAT KIND OF PITCHER TO USE.
Use a pitcher that is going to be your "Tea Pitcher" and then keep it meticulously clean! Tea spoils quickly and as my grandmother used to say, tea goes "on the blink" or it gets "blinky"and I still say that. Sweet hubby had never heard that term and didn't know what I was talking about. In fact, he can't taste blinky tea until it is VERY blinky.
We like to use glass tea pitchers at home (I feel like I can get them cleaner). In fact, I'll put a link below if you want to see the exact ones we use because we love them. They pour great and you can make just half a gallon at the time if you want or one pitcher of sweet and one of unsweet (we have a diabetic in our family). I Have two of these (one for sweet and one for unsweet). The large opening is nice, you can get your hand in there to clean them. The lid closes tightly. The handle doesn't stick out so far as to be a problem in the fridge.

That's it – you are are free to make your tea!

The pitcher in the photo here is an Amazon Affiliate link, when you purchase through this link, I earn a commission from the sale. Just click the photo to go through to compare prices.
HOW TO HANDLE DIFFERING TASTES IN SWEETNESS….
One more thing, If you are having friends over who may enjoy MORE or LESS sugar in their tea, you can always make a simple syrup and allow everyone to sweeten their own tea. It is the perfect way to suit a crowd. Simple syrup instructions can be found HERE.
You might also enjoy Russian Nurse Tea if you like hot tea!

Would You Love to Cook the PERFECT Southern Dinner?
IMAGINE YOU, COOKING THESE! YOU CAN DO IT TOO!
Served with (choose one)
Chicken Pie or
And…
Add A little Yum Yum Sauce
Deviled Eggs made with this Easy Peel Hard Boiled Egg
And finish it all off with…
YA'LL, HELP ME OUT, OK?
Please leave me a 5 star comment below in the comment section, all right? I would LOVE to know if you made this recipe or even if you are planning to! Of course, head on over to Pinterest, Facebook and Instagram and tag me with some photos of your creation!
I can't wait!
Ya'll know I love your comments!! ❤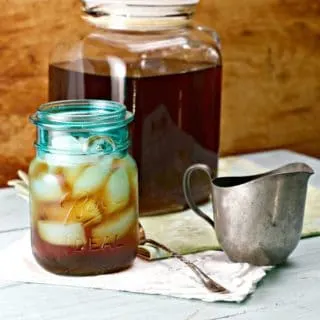 The Secret to Perfect Southern Sweet Tea
Sweet, cold, light and perfectly flavored, this recipe for southern sweet tea gives you ever hint and trick you could ever need to make perfect southern sweet tea!
Print
Pin
Rate
Ingredients
2

Quarts

fresh cold water

1

heaping Cup of Granulated white sugar

4

regular size tea bags or one gallon size tea bag

we prefer Luzianne or Lipton

2

Quarts

fresh cold water
Instructions
In a medium sized stock pot heat 2 quarts of fresh water over medium high heat.

When the water is near a simmer, turn the heat off. Add the 1 Cup of sugar and stir until sugar dissolves.

Place the tea bags into the water, place the lid on the saucepan. Allow to come to room temperature.

Remove the tea bags and gently squeeze to remove any remaining tea. Use care not to tear the tea bags. Discard tea bags.

Pour the tea concentrate into a gallon size tea pitcher and add the remaining 2 quarts of cool water.

Serve over a full glass of ice cubes.
Notes
You will want to use the best quality tea that you can afford for this recipe. We prefer Luzianne or Lipton.
Use the BEST water you can for your tea as well. If you are going to use tap water, I suggest pouring it from the tap the day before you make tea and let it sit. This allows some of the chlorine to expel from the water.
Never boil the water with the tea bag in it. You want the hot water to steep the tea from the leaves. Boiling is far to rough!
Look for the gallon size tea bags (sometimes called family size). This allows you to use one single tea bag instead of 4 little tea bags.
PRO TIP: Sugar is a highly variable taste for most people. If you have people in your family who prefer more or less sugar, I suggest leaving the sugar out altogether and making some simple syrup instead. Then your family can add the amount of simple syrup they prefer to their own drink. You can find that recipe here. Simple Syrup.
Nutrition
Nutrition Facts
The Secret to Perfect Southern Sweet Tea
Amount Per Serving
Calories 1
% Daily Value*
Sodium 23mg1%
Calcium 14mg1%
* Percent Daily Values are based on a 2000 calorie diet.
***This post originally appeared on the pages of Loaves and Dishes May 28, 2019 and has been updated with video, new information, new nutrition info, new photos and how to photos.***
A VERSE TO SHARE
During the floods, the "Texas Navy" and the "Cajun Navy" were hard at work rescuing people. What in the world would we do without brave people who just "KNOW" how to get things done?
We would be sunk, wouldn't we?
I think the difference is that while they might have taken the charge and bravely headed off to lands unknown, they still did so with a prayerful heart.
In Paul's letter to his son, Timothy, he explains this pretty well.
2 Timothy 1: 7
Paul writes: For the Spirit God gave us does not make us timid, but gives us power, love and self-discipline.