Hello creamy thick chicken alfredo smothered fettuccini noodles! It's been a long day, I'm tired and today was rough. This is the perfect comfort food for whatever ails you! Hello Weeknight Fast Chicken Alfredo!!
Sometimes life is hard. Life is fast. Life has ball games and church meetings and town meetings and just fill in the blank and there just isn't enough time to do what we have to do. Especially no time to fix dinner.
It is so easy to run through the drive through and grab a burger and be on to the next place. This recipe though, requires little time and is delicious and simple. Just pair with a quick bag salad and you've got a filling dinner that you made yourself inexpensively too.
This dinner is ready in the time it takes to boil the noodles – about 10 minutes. See how easy that is?
The Recipe for Weeknight Fast Chicken Alfredo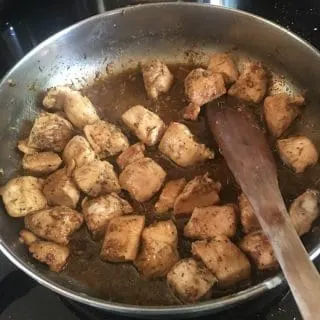 Weeknight Fast Chicken Alfredo
This is a simple weeknight recipe
Print
Pin
Rate
Ingredients
2

tbs

vegetable oil

1

Tbs

minced garlic

1

tsp

dried thyme

1 - 2

lb

package of chicken breast bits

Salt and pepper

1 8

oz

block of cream cheese

1

stick of butter

1

cup

Parmesan Cheese

1

cup

whole milk

1

box of fettuccine noodles - prepared by package instructions
Instructions
Put your noodles on to cook first and then in a frying pan over medium heat, add the 2 tbs of vegetable oil - when the oil is glistening (1-2 minutes), add the minced garlic and thyme and stir until fragrant (about a minute). Add the chicken breast bits and salt and pepper with a pinch of each. Stir frequently until cooked through. When cooked through, set aside.

While the chicken is cooking and the noodles are starting to boil, in a medium saucepan on medium heat, heat the cream cheese, butter, parmesan cheese and milk until melted and starting to bubble. Stir continuously so as not to burn. Once it starts to bubble, remove from the heat and add the chicken to the sauce. Stir well.

When ready to eat, plate the noodles and pour the sauce over each portion.
Notes
Cut the chicken into bite size equal pieces so that they cook quickly and evenly.
Nutrition
Nutrition Facts
Weeknight Fast Chicken Alfredo
Amount Per Serving
Calories 150
* Percent Daily Values are based on a 2000 calorie diet.
TIPS AND TRICKS FOR Weeknight Fast Chicken Alfredo
This is a hearty meal. Serve with something light like a salad and a piece of garlic toast.

This is very filling. Small servings are best for the first helping.

Works best to keep the sauce and noodles separate until ready to serve.

If heating for leftovers, add a little milk and heat on the stove. Will be clumpy if heated in the microwave.

Add herbs of your choice for extra flavor – we like thyme and basil. Rosemary works too.

Kids universally love this dish!

This is a wonderful dish for teens to learn and then they are able to feed their friends something fairly easy when they visit.
IF YOU ENJOYED THIS RECIPE FOR: Weeknight Fast Chicken Alfredo
YOU MIGHT ALSO ENJOY
THE SECRET TO THE BEST CHICKEN SOUP
A VERSE TO SHARE
As a family, we are facing a little challenge. It isn't something that many of you haven't already been through. We have been through similar things with other family members before too. It is a challenge though.
At times like this, I am reminded of the comforts of Ecclesiastes and that all is in God's time and under his watch. There is, in fact, a time for everything.
This is why, if you are on my email list – you have been getting weekly "little gratitudes" from me. A way for me to remind myself that when things go well, we should remember and take note because things can change in an instant.
If you are interested in some heart lifting things coming to your inbox, please join my email list. You can click the red banner and enter your email information. I promise – I will NEVER sell your email to anyone. I hate that stuff too and would never do that. It is just for me and you to have a way to connect.
Many of my readers so far are enjoying it.
Come join us.
Ecclesiastes 3: 1-9
There is an appointed time for everything. And there is a time for every event under heaven—
A time to give birth and a time to die;
A time to plant and a time to uproot what is planted.
A time to kill and a time to heal;
A time to tear down and a time to build up.
A time to weep and a time to laugh;
A time to mourn and a time to dance.
A time to throw stones and a time to gather stones;
A time to embrace and a time to shun embracing.
A time to search and a time to give up as lost;
A time to keep and a time to throw away.
A time to tear apart and a time to sew together;
A time to be silent and a time to speak.
A time to love and a time to hate;
A time for war and a time for peace.
What profit is there to the worker from that in which he toils? I have seen the task which God has given the sons of men with which to occupy themselves.