Crunchy, buttery, thick and zesty with garlic! Who could ask for a butter accompaniment to their meal than 4 Ingredient Easy Texas Toast
Why This Recipe Works
Easy
Cheap
Fast
Butter and Garlic on Thick Toast? What more do you need?
It's one of the GREAT bread recipes here at Loaves and Dishes, like this Mushroom BAcon pull apart bread!
How To Make 4 Ingredient Easy Texas Toast
STEP 1.
Cut a loaf of Italian Bread into 1″ slices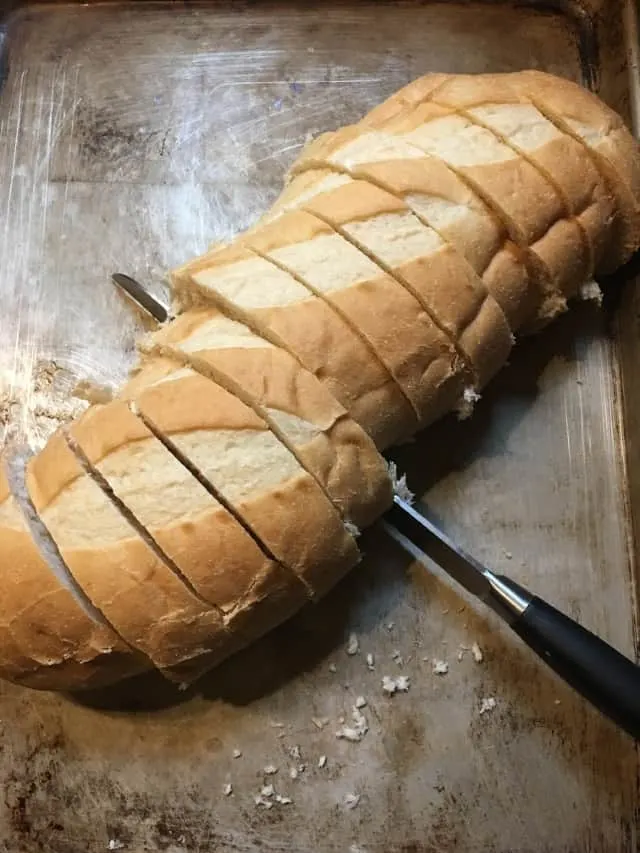 STEP 2.
Mix the room temperature butter with garlic and herbs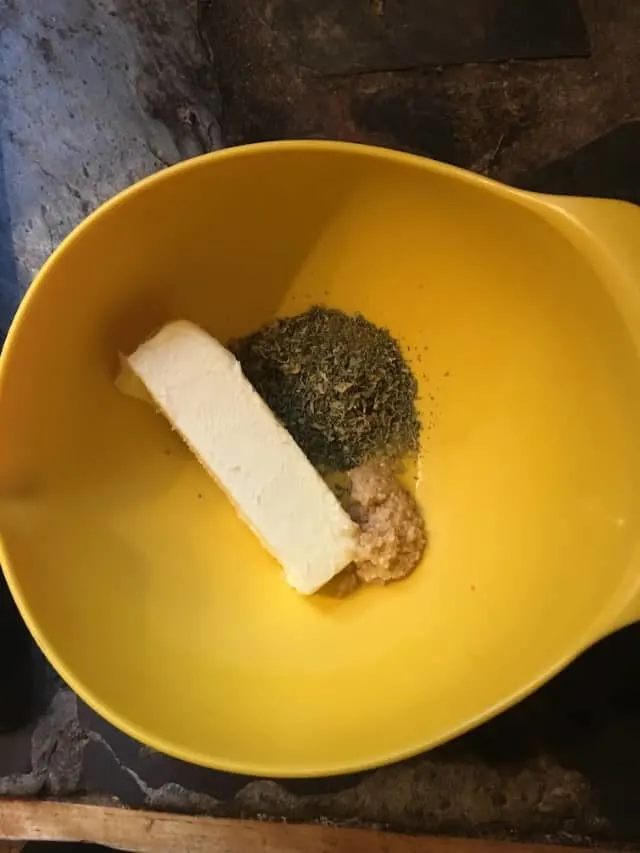 STEP 3.
Using a fork, smash the butter, herbs and garlic together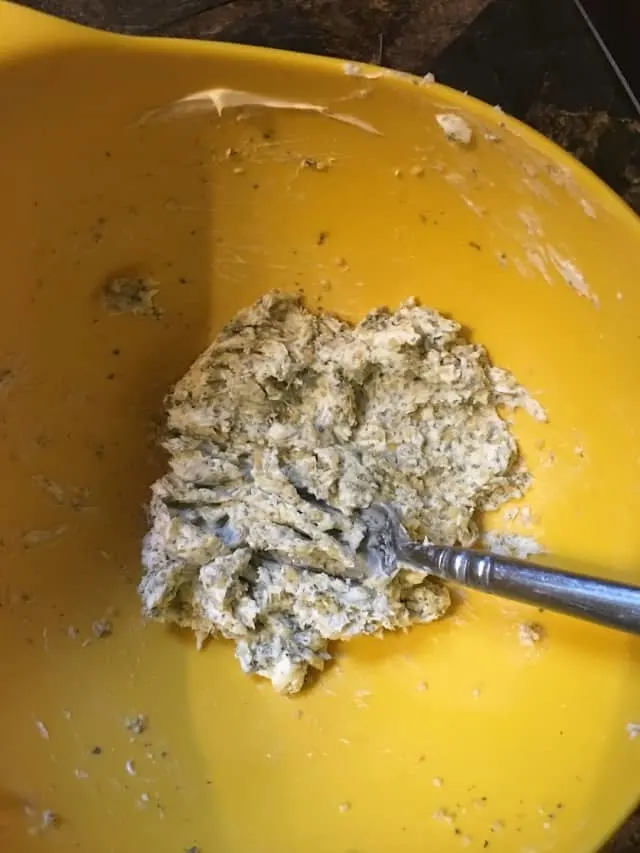 STEP 4.
Spread the herbed butter onto the bread and bake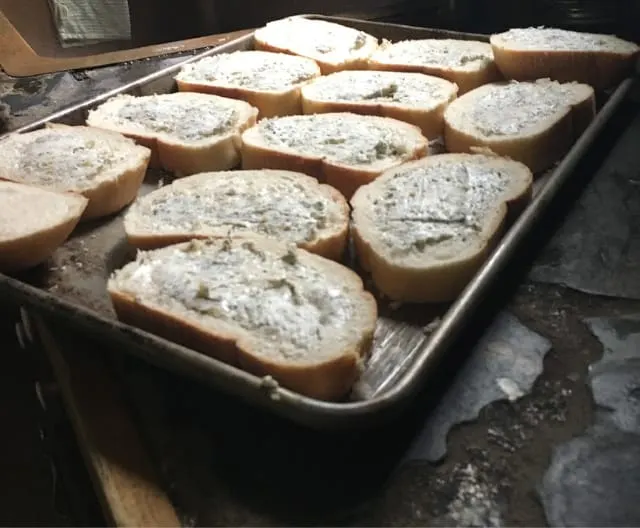 How to Make Easy Texas Toast
To make easy texas toast, slice Italian bread into 1 inch texas toast style pieces. In a bowl, use a fork and mix together well: room temperature butter, garlic and herbs. Spread herbed butter onto bread and toast for 4 minutes in broiler.
Frequently Asked Questions about How To Make Easy Texas Toast
What IS Texas Toast?
Texas toast is a buttered, thick slice of bread (often an italian style bread) that is toasted with butter, garlic and herbs on top.
What temperature do I Toast My Texas Toast?
Set the oven to broil and broil and entire pan of toast for 4 minutes on one side, flip and then another 2 minutes on the other side.
How Thick Is Texas Toast?
Texas Toast is about 1″ thick. Be sure to use a serrated knife to cut texas toast because this will give you the cleanest slice.
Is it Cheaper to Make Your Own Texas Toast?
My local grocery sells 5 slices of Texas Toast that you can bake at home for $2.99 = 0.60c per each. I can buy an entire loaf of Italian bread for $1.99 and a stick of butter costs 0.85c. A single loaf of italian bread makes at least 12 slices of Texas Toast making it cost 0.24c per each.
You decide.
Can I freeze my Texas Toast?
Yes, you can freeze this texas toast at any stage. I recommend freezing the loaf of italian bread and then making it up when you need it. You can also freeze it with the butter applied and ready to bake, but it may be a little messy that way.
How Do I Use the Frozen Texas Toast?
Place the frozen bread onto a baking sheet, bake in the oven on 350 for 10 minutes. Turn once while baking.
BUT WAIT, IS TEXAS TOAST REALLY FROM TEXAS?
According to Wikipedia (it's on the internet, it has to be true!), Texas toast began in Denton, Texas when an order for a thicker slice of bread was too big for the toaster and the wise chef suggested grilling it on the grill instead. Surely, a gentleman after my own heart!
Here's more great info about famous texas toast!
CAN YOU MAKE TEXAS TOAST IN THE TOASTER?
That is just the thing with Texas Toast, right? First of all, it doesn't fit in the toaster, if you could fit it in the toaster, it wouldn't' be Texas Toast, right? As a result, it would simply be buttered toast.
You CAN make texas toast in the toaster oven!
HOW DO YOU COOK TEXAS TOAST?
That part is simple! Just keep scrolling to the recipe and you'll find the simple way to make 4 Ingredient Texas Toast!
WHAT KIND OF BREAD DO YOU NEED TO MAKE TEXAS TOAST?
The kind of bread my family prefers most of all for Texas Toast is Italian Bread, give it a try and see what you think! It is the most noteworthy kind!
Can I Use Margarine or a Butter Substitute Instead of Real Butter.
Yes you can, but we think that real butter tastes best!
Can I Add Anything Else to My Texas Toast?
Yes! We love to add a little cheese on top! Mozzarella is a good choice and so is cheddar.
What Goes with Texas Toast?
We LOVE some of the following with Texas Toast….
Tips and Tricks for Perfect Easy Texas Toast
Fresh bread makes the best texas toast, so always use as quickly as possible when leaving the store.
This bread freezes very well, so, if you only need 1/2 a loaf, freeze the rest and use it in the next 3 months.
Use a serrated knife to cut the bread to keep from squishing it down when cutting.
To really jazz up your Texas Toast, add some cheese on top! You won't be sorry!
FINALLY, IF YOU ENJOYED 4 INGREDIENT TEXAS TOAST, YOU MIGHT ALSO ENJOY….
Or ANY of our delicious side dishes!
YA'LL, HELP ME OUT, OK?
Please leave me a 5 star comment below in the comment section, all right? I would LOVE to know if you made this recipe or even if you are planning to! Of course, tool on over to Pinterest, Facebook and Instagram and tag me with some photos of your creation!
I can't wait!
Ya'll know I love comments!!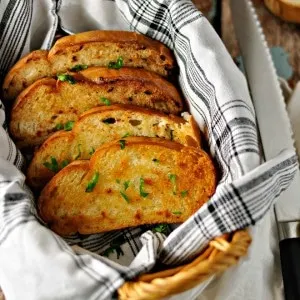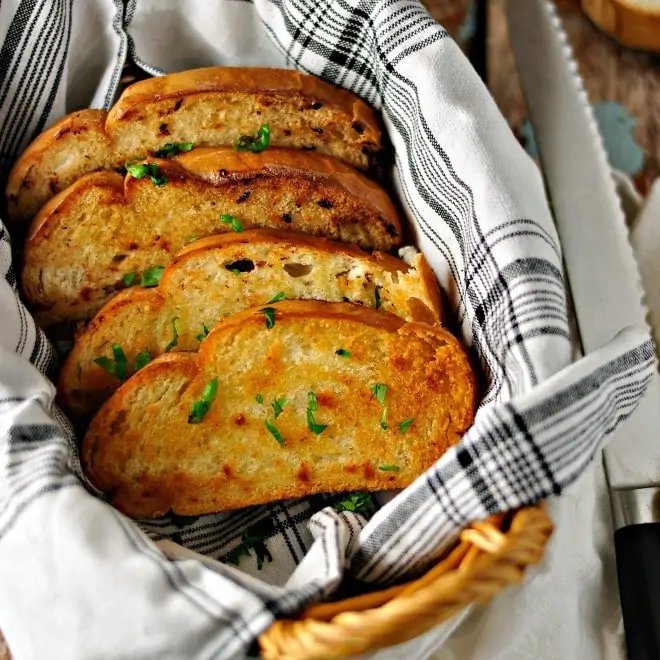 4 Ingredient Easy Texas Toast
This easy recipe for delicious THREE INGREDIENT Texas Toast will have your family begging for more
Print
Pin
Rate
Ingredients
1

loaf Italian Bread

or any bread that you enjoy.

8

Tbs

Butter

room temp

1

Tbs

garlic

minced

1

Tbs

Italian Herbs

dried
Instructions
Slice the bread to the thickness that you enjoy. 1" is about right.

In a bowl, mix together the room temperature butter, garlic and herbs

Spread the butter mixture on the bread.

Cook under the broiler for 4 minutes on one side

Turn the bread and broil on the other side for 1 minute.
Notes
Use a serrated knife to cut the bread to avoid squishing it down.
Mix the butter, herbs and garlic together using a fork, it smashes the butter together well.
Perfectly fine to use jarred minced garlic. If you are mincing yourself, mince very fine.
If you don't have italian dried herbs, substitute a mixture of thyme, rosemary, parsley.
PRO TIP: Add a sprinkle of cheese (cheddar is a good choice) to really jazz up your meal!
Nutrition
Nutrition Facts
4 Ingredient Easy Texas Toast
Amount Per Serving
Calories 333
Calories from Fat 216
% Daily Value*
Fat 24g37%
Cholesterol 20mg7%
Sodium 243mg10%
Potassium 108mg3%
Carbohydrates 25g8%
Protein 4g8%
Vitamin A 244IU5%
Vitamin C 1mg1%
Calcium 10mg1%
Iron 1mg6%
* Percent Daily Values are based on a 2000 calorie diet.
***This post has been updated with "why this recipe works" "FAQ's" step by step photos, video, nutrition information and equipment information. The recipe instructions have been rewritten and clarified. This post was previously updated on April 20, 2018 and originally appeared in 2015***
A VERSE TO SHARE
I pray that out of his glorious riches he may strengthen you with power through his Spirit in your inner being, so that Christ may dwell in your hearts through faith.
THE FULL MEASURE OF GOD…
That you may be filled to the measure of all the fullness of God. Now to him who is able to do immeasurably more than all we ask or imagine, according to his power that is at work within us, to him be glory in the church and in Christ Jesus throughout all generations, for ever and ever! Amen. ~ Ephesians 3:16-21