If you are a seasoned cook you can just keep right on cruising the internet because you probably don't need this recipe for 4 Ingredient Easy Texas Toast.  However, grocery store research tells me that there are A LOT of people who need to know how to make 4 Ingredient Easy Texas Toast!
HOW DOES THIS HAPPEN?
While cruising the freezer section of our local grocery, my 16 year old daughter exclaimed, "Look at ALL THE TEXAS TOAST!  Who in the world doesn't know how to make TEXAS TOAST?"
After observing the giant selection of different Texas toasts in the freezer section, I realize that, evidently, a whole LOT of people don't know how to make 4 Ingredient EasyTEXAS TOAST.
BUT I SWEAR!
I will solemnly swear to you right now.  You do not need to pay $3-4.00 for 6 pieces of Texas Toast.  Seriously, don't do it.  Texas Toast is made more easily and more deliciously yourself for less than half that price. Promise.
People.  It is EASY.  So EASY, in fact, that I hesitate to even call it a recipe.
BUT WAIT, IS TEXAS TOAST REALLY FROM TEXAS?
According to Wikipedia (it's on the internet, it has to be true!), Texas toast began in Denton, Texas when an order for a thicker slice of bread was too big for the toaster and the wise chef suggested grilling it on the grill instead.  Surely, a gentleman after my own heart!
BUT WAIT, CAN YOU MAKE TEXAS TOAST IN THE TOASTER?
That is just the thing with Texas Toast, right?  First of all, it doesn't fit in the toaster, if you could fit it in the toaster, it wouldn't' be Texas Toast, right? As a result, it would simply be buttered toast.
HOW DO YOU COOK TEXAST TOAST?
That part is simple!  Just keep scrolling to the recipe and you'll find the simple way to make 4 Ingredient Texas Toast!
WHAT KIND OF BREAD DO YOU NEED TO MAKE TEXAS TOAST?
The kind of bread my family prefers most of all for Texas Toast is Italian Bread, give it a try and see what you think!  It is the most noteworthy kind! Furthermore, here is a photo.
FINALLY, IF YOU ENJOYED 4 INGREDIENT TEXAS TOAST, YOU MIGHT ALSO ENJOY….
Pepperoni Meatball Sub Casserole
YA'LL, HELP ME OUT, OK?
Please leave me a 5 star comment below in the comment section, all right? I would LOVE to know if you made this recipe or even if you are planning to! Of course, tool on over to Pinterest, Facebook and Instagram and tag me with some photos of your creation!
I can't wait!
Ya'll know I love comments!! ❤
THE RECIPE FOR 4 INGREDIENT EASY TEXAS TOAST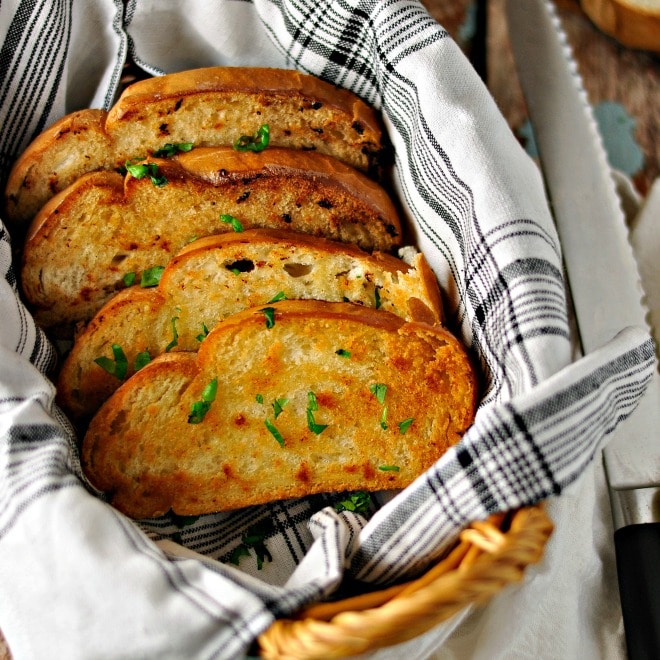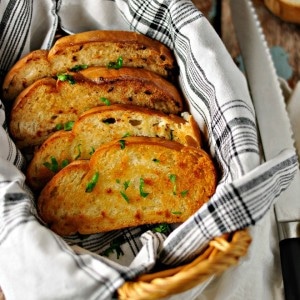 4 Ingredient Easy Texas Toast
This easy recipe for delicious THREE INGREDIENT Texas Toast will have your family begging for more
Print
Pin
Rate
Ingredients
1

loaf Italian Bread

or any bread that you enjoy.

1

clove

of garlic – peeled and smashed

4

Tbs

Butter – room temp.- divided.

Garlic Salt to taste

For Cheese Toast

½

cup

preferred cheese – cheddar

mozzarella, etc.
Instructions
Slice the bread to the thickness that you enjoy.

Put one Tbs of butter in skillet on stovetop – medium heat setting. Allow the butter to melt.


While butter is melting – wipe the bread on both sides with the crushed garlic clove – you don't want to leave garlic on the bread – simply to impart some of the flavor.

Then smear both sides of the bread with a light coating of butter and sprinkle lightly with garlic salt

When butter in the pan is melted, add the bread and allow to toast on one side until a light brown coating appears (lift it up every minute or so to check – will take about 2-3 minutes).

When one side is browned, flip the bread to the other side and allow it to brown in the same way. When that side is browned, remove from the pan and serve. If you want cheese on your toast, continue to the last step instead.

Set oven on Broil and allow to come up to temperature. Sprinkle the top of the Texas Toast with cheese and place on a baking sheet.

When broiler is ready, place sheet of toast under the broiler and allow cheese to melt – keep the oven door slightly ajar and watch constantly – will take about 30sec to 1 minute. When cheese melts and is slightly bubbly, the bread is ready.
Notes
An easy 4 ingredient recipe that will save you money!
Nutrition
Nutrition Facts
4 Ingredient Easy Texas Toast
Amount Per Serving
Calories 250
* Percent Daily Values are based on a 2000 calorie diet.
A VERSE TO SHARE
I pray that out of his glorious riches he may strengthen you with power through his Spirit in your inner being,  so that Christ may dwell in your hearts through faith. And I pray that you, being rooted and established in love, may have power, together with all the saints, to grasp how wide and long and high and deep is the love of Christ, and to know this love that surpasses knowledge.
THE FULL MEASURE OF GOD…
That you may be filled to the measure of all the fullness of God.  Now to him who is able to do immeasurably more than all we ask or imagine, according to his power that is at work within us,  to him be glory in the church and in Christ Jesus throughout all generations, for ever and ever! Amen. ~ Ephesians 3:16-21