Welcome to Loaves and Dishes!  I know.  I KNOW!  If you are a seasoned cook – just keep right on cruising the internet– you probably don't need this recipe for 4 Ingredient Easy Texas Toast.  However, grocery store research tells me that there are A LOT of people who need this blog post!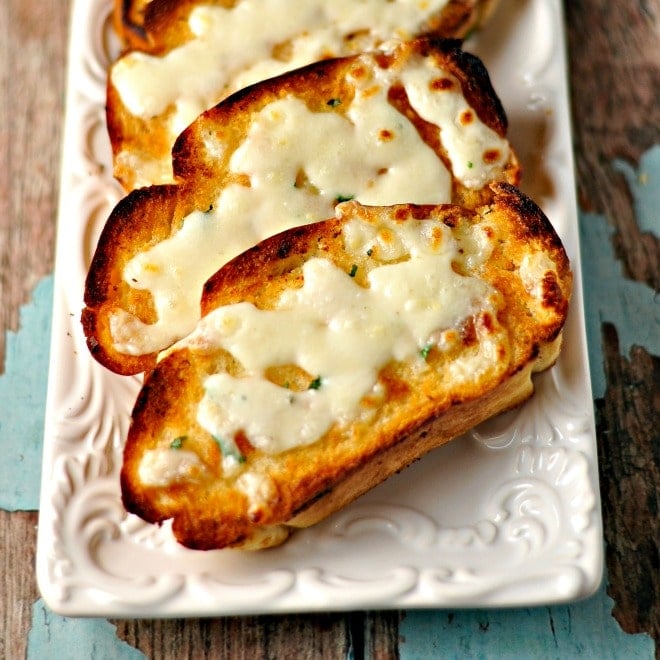 While helping me look for puff pastry in the freezer section of my local grocery, my 16 year old daughter exclaimed, "Look at ALL THE TEXAS TOAST!  Who in the world doesn't know how to make TEXAS TOAST?"  Observing the gigantic space in the freezer section that IS TEXAS TOAST made me realize that, evidently, a whole LOT of people don't know how to make 4 Ingredient EasyTEXAS TOAST.
I will solemnly swear to you right now.  You do not need to pay $3-4.00 for 6 pieces of Texas Toast.  You don't.  You can make it just as easily and more deliciously yourself for less than half that price. Promise.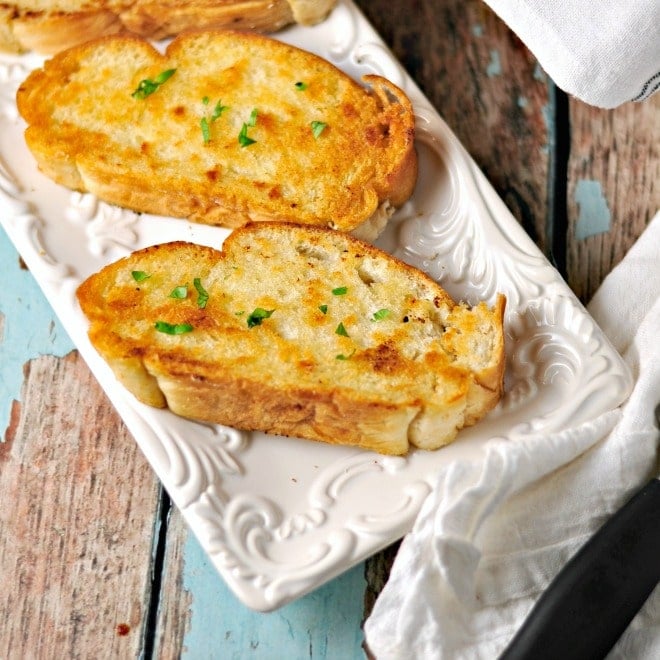 People.  It is EASY.  So EASY that I hesitate to even call it a recipe.
And here are the secrets of  4 Ingredient Easy Texas Toast
Thank you so much for visiting
Don't forget to subscribe to Loaves and Dishes so that I can send you an email notice when the next recipe posts.  I PROMISE to never give (or sell) your email address to anyone else – and I PROMISE not to bug you to death!
Serving suggestions for 4 Ingredient Easy Texas Toast
I always LOVE Texas Toast with anything that has a tomato sauce such as Cheesy Rosemary Meatball Bake,  Best Spaghetti Sauce or Cheesy Creamy Ham Sauce.  YUM!
Now I ask you,  Make Dinner, Not War.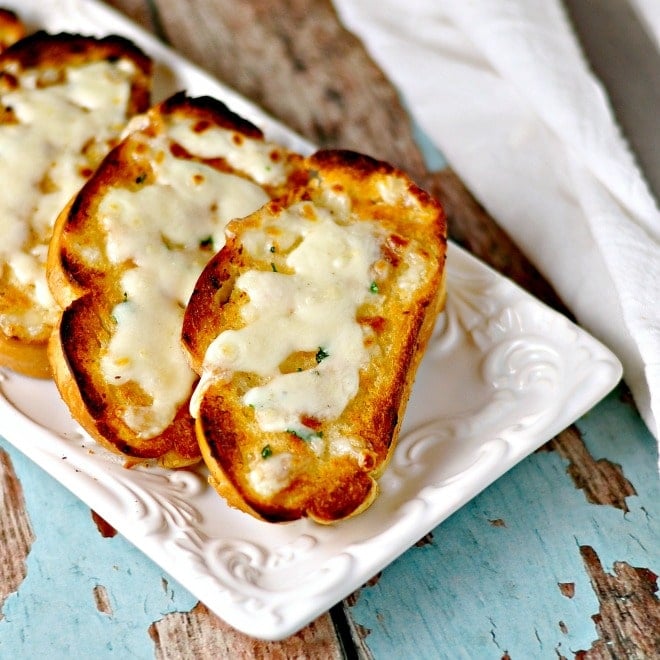 I pray that out of his glorious riches he may strengthen you with power through his Spirit in your inner being,  so that Christ may dwell in your hearts through faith. And I pray that you, being rooted and established in love, may have power, together with all the saints, to grasp how wide and long and high and deep is the love of Christ,  and to know this love that surpasses knowledge–that you may be filled to the measure of all the fullness of God.  Now to him who is able to do immeasurably more than all we ask or imagine, according to his power that is at work within us,  to him be glory in the church and in Christ Jesus throughout all generations, for ever and ever! Amen. ~ Ephesians 3:16-21
4 Ingredient Easy Texas Toast
This easy recipe for delicious THREE INGREDIENT Texas Toast will have your family begging for more
Author:
Loaves and Dishes
Ingredients
1 loaf Italian Bread (or any bread that you enjoy).
1 clove of garlic – peeled and smashed
4 Tbs Butter – room temp.- divided.
Garlic Salt to taste
For Cheese Toast
½ cup preferred cheese – cheddar, mozzarella, etc.
Instructions
Slice the bread to the thickness that you enjoy. Put one Tbs of butter in skillet on stovetop – medium heat setting. Allow the butter to melt. While butter is melting – wipe the bread on both sides with the crushed garlic clove – you don't want to leave garlic on the bread – simply to impart some of the flavor. Then smear both sides of the bread with a light coating of butter and sprinkle lightly with garlic salt
When butter in the pan is melted, add the bread and allow to toast on one side until a light brown coating appears (lift it up every minute or so to check – will take about 2-3 minutes). When one side is browned, flip the bread to the other side and allow it to brown in the same way. When that side is browned, remove from the pan and serve.
Do you like for your Texas Toast to have melted cheese? WONDERFUL! Me TOO!
Set oven on Broil and allow to come up to temperature. Sprinkle the top of the Texas Toast with cheese and place on a baking sheet. When broiler is ready, place sheet of toast under the broiler and allow cheese to melt – keep the oven door slightly ajar and watch constantly – will take about 30sec to 1 minute. When cheese melts and is slightly bubbly, the bread is ready.