Can you really imagine something better than hiding your veggies in cheese pulls and all kinds of wonderfulness? Yeah, I know, we save that for holidays right? Not anymore! Now, Broccoli Cheese Casserole for Two in a Crockpot is not just for a holiday crowd! Besides that it can be prepared in a crockpot, baked or even frozen for later – the details are in here. Don't believe me? Read on my friend, READ ON!

I know that Broccoli Cheese Casserole is one of your favorite holiday dishes, it's one of mine too. We LOVE veggies ensconced in a cheesy gooey layer of wonderfulness that can't be right for anything but a holiday!
But now (don't keel over) Broccoli Cheese Casserole is for EVERY SINGLE DAY – especially if you are a household of just one or two! EVERY DAY PEOPLE. EVERY. SINGLE. DAY!
Well, wait….Not every day. I mean, if we had sunny weather every day then we would get tired of it, right? Just think about that for a second. Hmmmmm……
I hope you will check out my video located just after the first paragraph – see how to make the recipe – see the tiny baby crockpot you use for this recipe and….. see the Encore! Yes! an Encore on a food video!!
Need MORE Broccoli Info?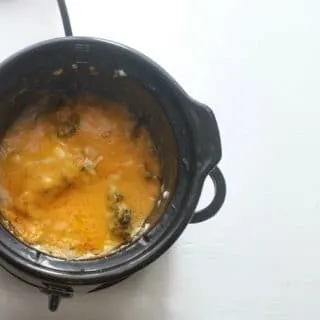 Broccoli Cheese Casserole for Two in a Crockpot
If you enjoyed this recipe - please visit www.loavesanddishes.net
Print
Pin
Rate
Ingredients
7

oz

Frozen Broccoli Florets

this is ¼ of the little 14 oz bag - make SURE to get the florets

½

cup

Frozen chopped onions

fresh is fine

½

cup

Mayo

if you will be freezing this for later - leave the mayo out until ready to cook

½

can condensed Cream of Mushroom Soup

about ½ cup

½

Cup

shredded sharp Cheddar Cheese PLUS another handful

1

egg - beaten

½

tsp

garlic powder

½

tsp

salt

½

tsp

onion powder

½

tsp

pepper

¾

tsp

lemon juice
Instructions
Pour all the ingredients (except the extra handful of shredded cheddar) in a 1-2 quart crockpot/slow cooker and set on low.

minutes before you are ready to serve, place the extra handful of shredded cheddar on top and replace the lid. After cheese melts, the casserole is ready to serve.

There are many more tips listed below - how to make in a baking dish instead of a crockpot, what to do if you want to use fresh ingredients, what to do if you don't like to use canned soup, what if you need the recipe to be for 4-6 people? What if you don't eat condensed soups? What if you need a baby crockpot? What if you want to make squash casserole instead? Just read the tips and tricks section in the post on www.loavesanddishes.net
Notes
Increase the portions to make for more than two people
Nutrition
Nutrition Facts
Broccoli Cheese Casserole for Two in a Crockpot
Amount Per Serving
Calories 280
* Percent Daily Values are based on a 2000 calorie diet.
Tips and Tricks for Broccoli Cheese Casserole for Two in a Crockpot
There really isn't much to this recipe – just mix it together and put it in the crockpot. Lift the lid 5-6 hours later, add a little cheese, put the lid back on, come back in 15 minutes and eat!

If you would like to bake this recipe instead, that works too. Place ingredients in a small baking dish – something like a 1 quart dish and bake at 350 – 30 minutes if ingredients are thawed, 45-50 minutes if ingredients are frozen. You'll know it's done when it's hot and bubbly.

If you want to freeze this recipe – like I did in the video – PERFECT. I would recommend to make one to eat and make one to freeze – that way you use up the entire bag of frozen broccoli and one entire can of cream of mushroom soup!

If you want to use fresh broccoli instead – that's fine – use it. The results will be similar. I wouldn't recommend doing the fresh broccoli to freeze though – because I haven't tried it.

If you want to use fresh chopped onions – be my guest – they will work too. Again, I wouldn't recommend using them for the frozen version – because I haven't tried it – I think the results wouldn't turn out the same.

If you want to make a squash casserole instead – that is fine too – but you should probably use a different recipe (Ya'll have seen the comments around here, right – just sayin).

This recipe works perfectly for 4-6 people if you double it. Cooking time remains the same.

If you want to get by with cooking this for 8 hours or more – just know that the cheese will get a little brown and burnt around the edges – which, I personally enjoy (I mean, come on, yea!), but I know everyone doesn't. Some would even consider that a recipe fail – that is why I am stating the cooking time as 5- 6 hours. It's your choice, really.

If you want to use some substitution for the cream of mushroom soup – please be my guest – just know that your results may not turn out like mine – when I've tried substitutions for the soup – the casserole has turned out – well – soupy. Just sayin.

OK – that is more than enough tips and tricks for such a simple recipe! Go try it!
If you NEED a tiny baby crockpot like mine – then check out this one on Amazon – I mean, come on, they'll bring it right to your door! AND, it's cheap! This is the exact same one that I have…
.
And Hey – one more thing – Loaves and Dishes has been sharing great dinner time dishes with you for a couple of years. I thought I might go back and reshare some older posts….. so……..
1 Year Ago – Easter Cake Pops 2 years Ago – Cream Puffs with Espresso Filling
A VERSE TO SHARE
Have you ever looked at Verse 4: "In him was life and that life was the light of all mankind". That gives me cold chills. Followed by "The light shines in the darkness, and the darkness has not overcome it". OH. AMEN to THAT! YES! Halleluyah.
Whatever happens to you today – in your life – in your day to day – remember that light shines in the darkness and the darkness has not and WILL NOT overcome it.
Let that light shine through you too.
Amen.
John 1: 1-18
In the beginning was the Word, and the Word was with God, and the Word was God. 2 He was with God in the beginning. 3 Through him all things were made; without him nothing was made that has been made. 4 In him was life, and that life was the light of all mankind. 5 The light shines in the darkness, and the darkness has not overcomea] it.
6 There was a man sent from God whose name was John. 7 He came as a witness to testify concerning that light, so that through him all might believe. 8 He himself was not the light; he came only as a witness to the light.
9 The true light that gives light to everyone was coming into the world. 10 He was in the world, and though the world was made through him, the world did not recognize him. 11 He came to that which was his own, but his own did not receive him. 12 Yet to all who did receive him, to those who believed in his name, he gave the right to become children of God— 13 children born not of natural descent, nor of human decision or a husband's will, but born of God.
14 The Word became flesh and made his dwelling among us. We have seen his glory, the glory of the one and only Son, who came from the Father, full of graceand truth.
15 (John testified concerning him. He cried out, saying, "This is the one I spoke about when I said, 'He who comes after me has surpassed me because he was before me.'") 16 Out of his fullness we have all received grace in place of grace already given. 17 For the law was given through Moses; grace and truth came through Jesus Christ. 18 No one has ever seen God, but the one and only Son, who is himself God andb] is in closest relationship with the Father, has made him known.