Cream Puffs with Espresso Cream Filling
Welcome to Loaves and Dishes you beautiful people! I am SO GLAD you are here! This past week my friend, Emily, sends me a picture – just out of the blue – and it is a picture of a very dark chocolaty cupcake with an Espresso Cream Icing. She writes, "I only want the icing". That's all she wrote. I knew what she meant. We are friends like that.
I check out the link – it isn't a recipe – it is a link to a very cool looking eatery that sells these fabulous looking cupcakes. The real problem is, however, that my friend Emily doesn't LIKE CHOCOLATE! GASP! (I know, right?).
On a different day last week I was watching a Food Network show (I'm addicted to that channel) in which children were given various baking challenges. On this particular episode, the children were charged with baking a cream puff and creating different fillings.
Each child in that show knew, right off the top of their little precious heads, how to make a CREAM PUFF! Really! They did! They all executed it beautifully! I was a little jealous actually. I have never even attempted a cream puff.
Then, suddenly…. I smelled smoke! It was the smell of a NEW RECIPE idea going off in my head! Lol. (OK, I didn't really smell smoke – but that is kind of funny, isn't it?). I thought, "a cream puff is the perfect vehicle for Emily's espresso cream icing desire – YES EUREKA!!! – perfect for someone who doesn't eat chocolate – a CREAM PUFF WITH ESPRESSO CREAM FILLING !!! (The sad news is that every single cream puff with espresso cream filling you see in this post is gone – someone <no names mentioned, but he will be featured soon in a 'behind the scenes at Loaves and Dishes article> ate them all before I could deliver them up the street). Oh well. Great excuse to make some more!
So, taking what I learned watching the kids make cream puffs on TV and what I could glean from some internet recipes combined with my vast library of cookbooks. Then adapting an icing recipe I had – way way back here for Pumpkin Spice cupcakes – I came up with my own recipe for Cream Puffs with espresso cream filling!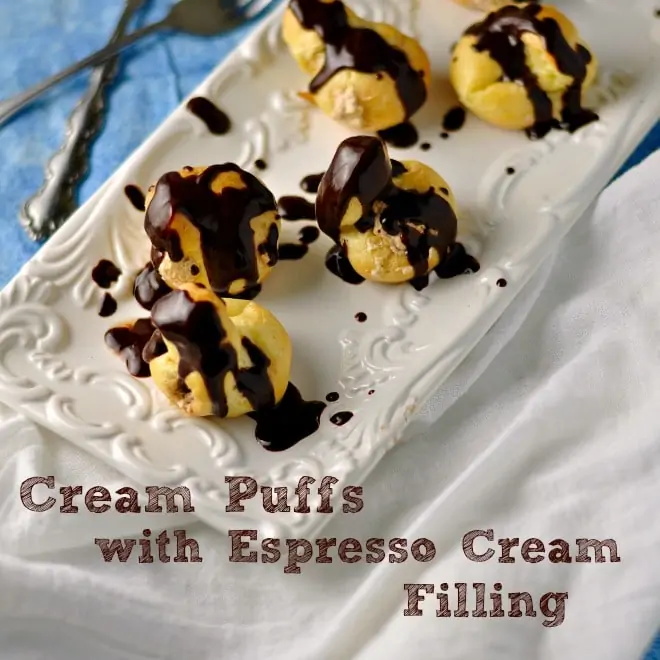 I hope you enjoyed them as much as SOMEONE at my house did! They are light and airy and the perfect little hollow pillows for a rich coffee puff of whipped up cream filling. Look at this photo – see that hollow center? Fill 'er up!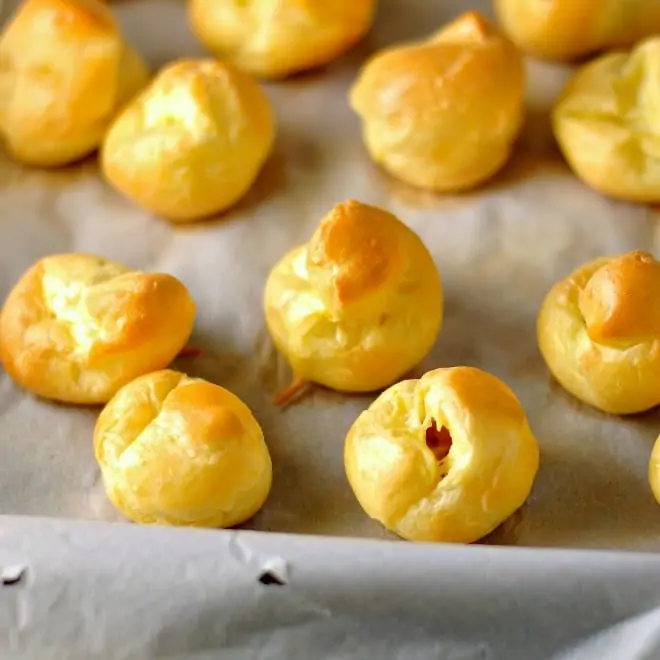 I included detailed instructions, because really, if you have never made these before you need the details. Also – you don't HAVE to have a piping bag and tips, but it makes the job a whole lot easier. You can always cut them in half and spoon the center in. But really, these are pretty inexpensive – and you can use them for other things later! Here is a link and these are very similar to what I have – I love mine!
Wilton Cupcake Decorating I…Shop on Amazon
Thank you so much for visiting
Recipe inspiration for Cream Puffs with Espresso Cream Filling
As I mentioned above, between my friend Emily, my obsession with watching Food Network and my previous icing recipe, I ended up here. And it's a pretty great place to be!
Coming up Next time at Loaves and Dishes
Creamy Ham Sauce – A Don't Miss Recipe!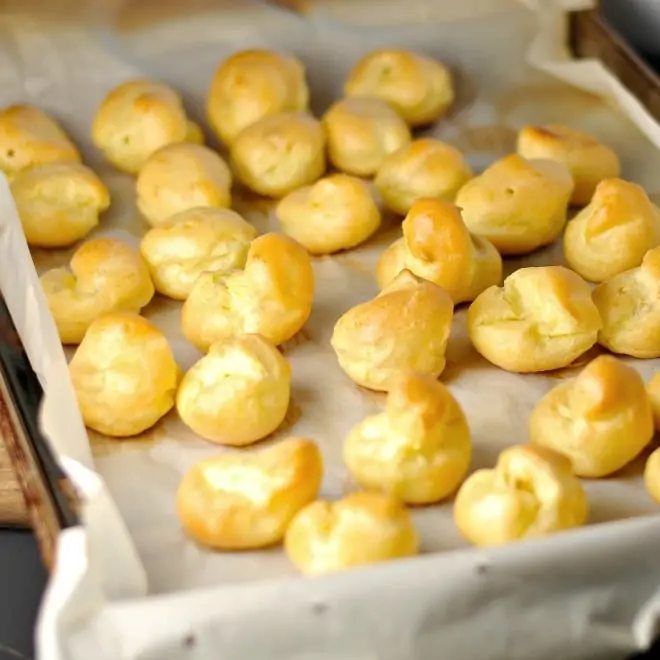 Don't forget to subscribe to Loaves and Dishes so that I can send you an email notice when the next recipe posts. I PROMISE to never give (or sell) your email address to anyone else – and I PROMISE not to bug you to death!
Serving suggestions for Cream Puffs with Espresso Cream Filling
Serve these little cream puffs with a hot cup of coffee. Perfect
Now I ask you, Make Dinner, Not War.
Jesus replied, "I tell you the truth, if you have faith and do not doubt, not only can you do what was done to the fig tree, but also you can say to this mountain, 'Go, throw yourself into the sea,' and it will be done. ~ Matthew 21:21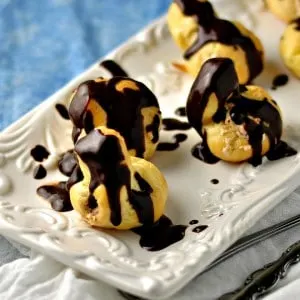 Cream Puffs with Espresso Cream Filling
This recipe for cream puffs with espresso cream filling is easy, light, airy and delicious!
Print
Pin
Rate
Ingredients
For the Cream Puff
5

Tbs

unsalted butter

1

cup

water

¾

Cup

all-purpose flour

3

eggs

beaten
For the Espresso Cream Filling
1 ½

cup

heavy cream

6

Tbs

powdered sugar

2

tsp

instant espresso

½

tsp

unsweetened cocoa

1

tsp

pure vanilla extract

¼

tsp

pure almond extract

For the chocolate sauce

4

ounces

semisweet chocolate broken into smaller pieces

2 ½

Tbs

unsalted butter
Instructions
For the cream puff

Preheat the oven to 400. Place the butter and the water into a small sauce pan on the stove top and bring to a boil. Meanwhile, sift the flour into a bowl to ensure that there are no lumps and the flour is super fine. Once the butter and water has come to a boil – remove from the heat, add the flour and mix well. Return to the heat and heat for 2 minutes. Remove from the heat and place in the bowl of a stand mixer. Allow to cool for at least 10 minutes. You may run the whisk attachment to help the mixture to cool. Do not add the eggs while it is still very hot or the eggs will cook and this won't turn out right.

Once the mixture has cooled, add the eggs by a small drizzle while whisking on a medium speed. Allow mixture to continue whisking at a medium high speed for about 5 minutes. The idea being to whip a lot of air into the batter.

While the mixture is whipping, prepare a half sheet rimmed baking dish with a sheet of parchment paper. Once the batter is done whisking, transfer to a piping bag fitted with a ½ inch plain tip. Pipe into circles the size of a quarter on the parchment paper. Leave some space between for rising. Bake in the preheated oven for 20 minutes. Remove from the oven (this is a VERY important part) and pierce each cream puff with a toothpick or skewer so that the steam can escape from inside. Put the cream puffs back in the oven and allow to bake for another 4-5 minutes. Turn the oven off and open the door. Allow the cream puffs to sit in the oven until cooled.

For the espresso cream filling

Whip together the cream, sugar, instant espresso, unsweetened cocoa, vanilla and almond until thick and creamy.

Using the smaller star tip, pierce the side of each cream puff and fill with cream filling. Use your own judgment concerning when each is filled.

For the chocolate sauce

In a microwave safe dish and the microwave set on high, melt the chocolate and butter together by microwaving for 30 seconds at a time. Chocolate is ready when it is completely melted and combined with the butter.

Using a spoon, drizzle the chocolate across the top of the cream puffs and serve immediately.

**Refrigerate cream puffs if you are not going to eat them immediately – they will last in the refrigerator for about 24 hours.
Notes
These cream puffs are super easy to make, although they look hard.
The taste is light and fluffy.
Best if eaten on the day they are made.
Nutrition
Nutrition Facts
Cream Puffs with Espresso Cream Filling
Amount Per Serving
Calories 220
* Percent Daily Values are based on a 2000 calorie diet.