I KNOW you need one of those delicious fall recipes in which you put EVERYTHING in the crockpot before heading out the door to work and when you come home – like magic – dinner is DONE! Thank you dear Crockpot! Cheesy Zesty Crockpot Chicken and Rice is for you!
The torture for me? I work from home and must sit here in my office all day smelling that delicious concoction cooking in the kitchen! It is almost more than I can take! For you, dear readers, I will endure anything (even the YUMMY smell of Cheesy Zesty Crockpot Chicken and Rice) bubbling away in the kitchen.
I SHOULD share with you that I created this recipe about 2 months ago and I have prepared it twice since then. Each time, I was totally planning on sharing the recipe with you. The problem? We ate every last little bite before I could take a picture. I can't share a recipe with you without also sharing a photo! That just won't work. So… I finally planned ahead enough to be able to share this with you today!
Hopefully, the third time is a charm here and you will be able to feast your eyes on this belly warming tasty recipe!
Serving Suggestions for Cheesy Zesty Crockpot Chicken and Rice
In the interest of ease – I would simply put together a salad for a complete meal. In one of my previous renditions, we had some leftover roasted broccoli, cauliflower and carrots – those made a lovely side dish and really – could have just been mixed into the final product for a colorful and zippy dish!
Recipe Inspriation for Cheesy Zesty Crockpot Chicken and Rice
When I was a little girl, my mother would make chicken and rice in her electric skillet. So so tasty! Total comfort food! I can remember she made her dish with already cooked rice, cream of chicken soup, chicken, broth and ….? I'm not sure. This was my attempt to create something similar but updated and crockpotish!
Coming Up Soon following Cheesy Zesty Crockpot Chicken and Rice
While you are reading this post on Wednesday, Sarah Uselton and I are traveling to Charlotte to catch a plane across our beautiful nation on a trip to Seattle, Washington for the International Food Blogger's Conference! We will be sharing our adventures with you here on Loaves and Dishes so that you can see the sights and keep up with all that is happening while we are away. We will have an afternoon in Seattle to sightsee on Thursday- any suggestions as to what we should do or see? I look forward to hearing your suggestions!
Keep yourselves in God's love as you wait for the mercy of our Lord Jesus Christ to bring you to eternal life. Jude 1:21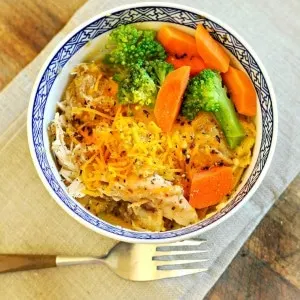 Cheesy Zesty Crockpot Chicken and Rice
A delicious and simple crockpot recipe for chicken and rice. Guaranteed family pleaser
Print
Pin
Rate
Ingredients
2-4

bone in chicken breasts

remove the skin

A single pat of butter for each chicken breast

Salt and pepper

2

cans of cream of chicken soup

1

small can of chopped green chilis

½

cup

grated parmesan cheese

1

cup

white rice

I use Basmati – but simple white rice is fine

1 ½

cups

milk

I use whole but any is fine

1

tsp

onion powder

1

tsp

garlic powder

1

tsp

dried celery

½

tsp

salt

½

tsp

pepper

1

cup

grated sharp American cheese

Garnish with chopped fresh parsley or thyme.
Instructions
Remove the skins from the chicken breasts. Spray a light coat of non stick spray inside of crockpot. Lay the chicken, bone side down in the crockpot and place a single pat of butter on the top of each chicken breast. Salt and pepper each breast as per your taste.

In a medium sized bowl, mix all of the other ingredients together except the American cheese.

Pour the ingredients from the mixing bowl over the top of the chicken breasts in the crockpot. Sprinkle ¾ of the American cheese over the top and reserve the rest for serving. Place the lid on the crockpot.

Set crockpot on Low for 8 hours or high for 4 hours. When ready to serve, shred the chicken from the bone using a fork and mix the meat in with the rice mixture. Discard the chicken bones. Sprinkle the remaining American cheese over the top and serve. Best served with a green vegetable or bright orange carrots - as in the photos here!
Notes
Choose a great flavored cheese as this is what adds much of the flavor to your dinner.
Nutrition
Nutrition Facts
Cheesy Zesty Crockpot Chicken and Rice
Amount Per Serving
Calories 300
* Percent Daily Values are based on a 2000 calorie diet.