Nutella Crazy! I think that is what has happened here. I have gone completely Nutella Crazy! Even so – you should overlook this touch of illness and give my Nutella Jam Cakes a try! So simple and So Yummy – you can't eat just one! Hazelnut, Chocolate Mocha and Strawberry – so GREAT together!
Please don't ask how I came up with the idea for these Nutella Jam Cakes. I am not even a person who likes to eat desserts very often. I have never really appreciated the hazelnut flavor of Nutella BUT I wanted to try the Nutella Acorn Kisses and after surfing some Nutella across my tastebuds, I thought, "I bet that would be good with strawberry jam!" I gave it a go – and guess what – it IS! Like Peanut Butter and Jelly on MASSIVE steroids!
So guess what happened? I LIKE Nutella now!
I am reminded of something that happened at lunch today. We had a quick lunch of hamburgers and hot dogs today before going to Moratok Park to hear Sandy Uselton sing at The Stokes Stomp (a wonderful music and arts festival that takes place annually here in my little town). Anyway….
I bought Whole Wheat Buns for the dogs and burgers because my soon to be son-in-law prefers those. My grandson said, "Are those Whole Wheat Buns? I don't like Whole Wheat Buns!" My husband says, "Have you ever tried Whole Wheat Buns?" I turn my head to look back at my grandson, but he can't answer because his mouth is stuffed full of whole wheat bun and hot dog. He responds, finally, that he knows what he does and doesn't like even if he hasn't ever tried it. By this time, he has finished wolfing down his food – which seemed to go down pretty good, considering that it is something he doesn't like.
So, I guess he takes after me a little. Sometimes, even though I am an adventurous eater, there are things I am sure I won't like – but when I try them – guess what? I DO like them! And thus, Nutella Jam Cakes.
One More Thing Besides Nutella Jam Cakes
Do you know what happens next weekend? The International Food Bloggers Conference!! OH MY!!! So excited! Sarah Uselton and I board a plane for Seattle on Thursday morning in the so early hours. We will be blogging while we are there and can't wait to share everything we learn with you! Please say a prayer for our safe travels!
For even when we were with you, we gave you this rule: "If a man will not work, he shall not eat." ~ 2 Thessalonians 3:10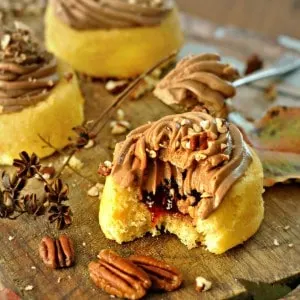 Nutella Jam Cakes
Ridiculously delicious jam cakes made in just a few minutes from premade cakes!
Print
Pin
Rate
Ingredients
6

small sponge cakes

available in the fresh bread aisle of your grocery- about 2 inches in diameter with a depression in the center

6

Tbs

Strawberry Jam

1

stick unsalted butter

6

oz

cream cheese

such as Philadelphia ® - softened to room temp

¼

Cup

Nutella ® Hazelnut Spread

1

tsp

pure vanilla extract

½

tsp

pure almond extract

1

tbs

Espresso instant powder

1-2

Cups

Confectioners Powder – add ½ cup at a time

Finely chopped pecans or peanuts
Instructions
Set each of the cakes out on a plate. Spoon 1 Tbs of strawberry jam into the indention in each cake. Set aside and set up your stand mixer to make the icing.

Using a stand mixer or hand mixer, beat butter on medium until creamy. Add cream cheese, hazelnut spread, vanilla, almond extract and Espresso powder. Beat on low speed until fluffy and all mixed in. Using a spatula, scrape down the sides of the bowl as needed.

Gradually add the confectioners sugar – ½ cup at a time, beating on a low speed until it is well combined. Taste after each ½ cup and stop when adjusted to your tastes

Using either a knife to spread on the top of the jam cake or using a piping bag – spread the frosting. Top with chopped nuts. Serve with ice cold milk or hot coffee (or both!)
Notes
In these photos I have used a piping tip to place the nutella, but you don't have to do that. Spooning the nutella will work just as well.
Nutrition
Nutrition Facts
Nutella Jam Cakes
Amount Per Serving
Calories 250
* Percent Daily Values are based on a 2000 calorie diet.