Welcome to Loaves and Dishes Hungry Meatless Monday Outdoor types!!! It's been yet another WHOLE week since we've chatted! Welcome BACK! Today I have just the thing for your spring hike (whether that be from your car to your desk or outside in your neighborhood or even to a mountain top). Chocolate Cherry Granola is meant to satisfy. Let me tell you – it is DELICIOUS ! It will fuel your tummy, satisfy your sweet tooth and keep you going until dinner. Behind the scenes truth: I've been sneaking in there and eating some of my food model because I can't keep away from it! – ummm – yeah, probably too much information – but it IS THAT GOOD!
My sweet hubby fell in love with a granola mix that is offered in the snack machine at his employer. However, trips to the vending machine will soon kill a budget. Granola is easy to make and much more affordable if you make your own.
Again, Mark Spraker, contributor to Loaves and Dishes decided on the recipe for this granola by sussing through the ingredients in his vending machine favorite and this is the recipe we landed upon.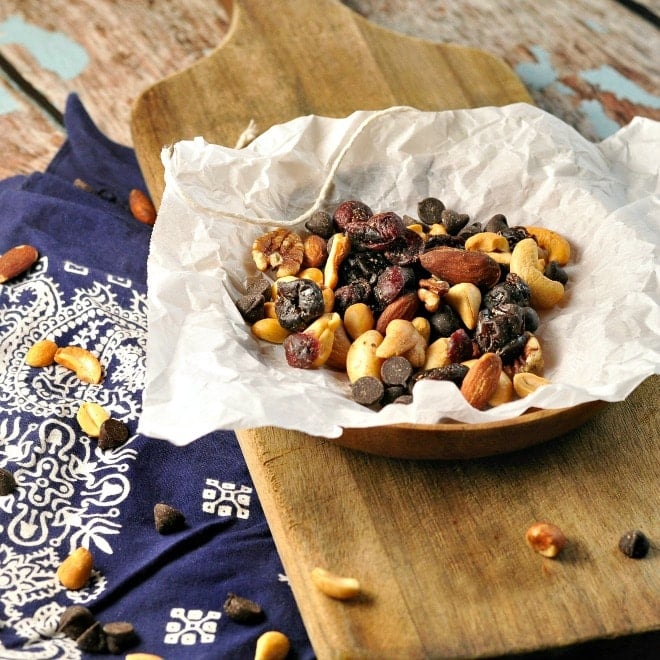 It is spring and because of that I wanted to share a couple of pictures with you. I can not resist the beautiful dogwood tree that blooms outside my kitchen window at this time of the year. I also can not resist the hummingbirds who have a feeder out there as well.
Our hummingbirds have been so hungry! The other day as I ate my lunch standing at the kitchen counter, the humming birds were zooming around coming and going to the feeder. I thought, "I'll set up my camera and get a quick picture to share with everyone". "HAHAHA", said mother nature. No more humming birds visited the feeder – but here is one sitting in the tree. Below is another one in the tree – which you can't really see – but the flowers are lovely – so I am sharing them here.
I hope you enjoy your granola as much as we do – perhaps you can munch on some while you watch the hummingbirds at your house. Besides, the Chocolate Cherry Granola has dark chocolate – it is good for you! Right?
Don't forget to subscribe to Loaves and Dishes so that I can send you an email notice when the next recipe posts. I PROMISE to never give (or sell) your email address to anyone else – and I PROMISE not to bug you to death!
Serving suggestions for Chocolate Cherry Granola
This Chocolate Cherry Granola is PERFECT with a glass of cold milk, a bottle of water (while hiking) or, as I found out this morning, great with a hot cup of coffee! Would probably work well as a side to a fresh green salad as well.
Now I ask you, Make Dinner, Not War.
Praise be to the God and Father of our Lord Jesus Christ! In his great mercy he has given us new birth into a living hope through the resurrection of Jesus Christ from the dead 1 Peter 1:3
Thank you so much for visiting, please come again!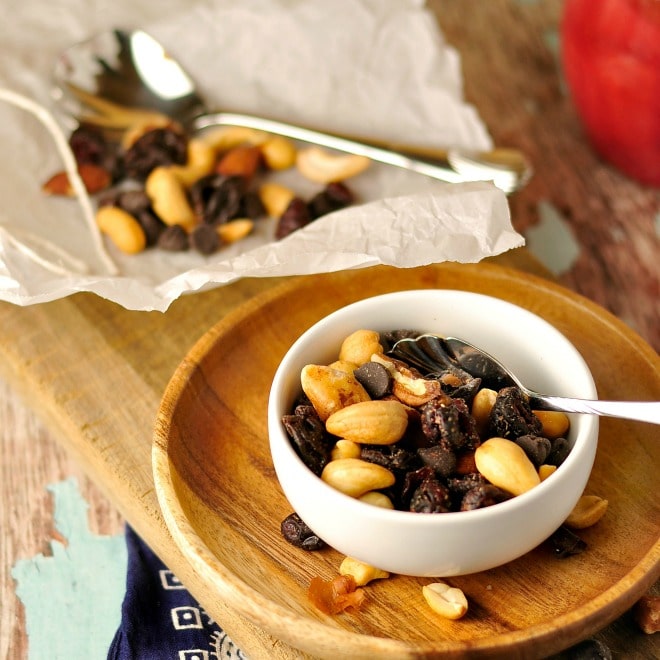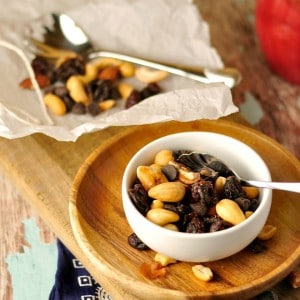 Chocolate Cherry Granola
Chocolate Cherry Granola - quick and easy
Print
Pin
Rate
Ingredients
1 ½

Cups

mixed nuts

we like pecans, almonds, cashews and peanuts – but you pick what you like.

½

cup

dried Cherries

½

cup

dried Cranberries

1

cup

dark chocolate chips
Instructions
Mix all ingredients together well and store in an air tight container (we usually prefer a resalable bag.
Nutrition
Nutrition Facts
Chocolate Cherry Granola
Amount Per Serving
Calories 243
* Percent Daily Values are based on a 2000 calorie diet.