Jump to Recipe
There is a commercial that says, "Deviled Eggs, you can't eat just one!", right?  Oh wait, that is a for something else. If Wendi from Loaves and Dishes the Unapologetic Comfort Food Blog were writing a commercial for Southern Deviled Eggs, that is exactly what it would say!
How many pot luck dinners have you gone to only to find that ALL of the deviled eggs are gone before you even get to the food table?  All of them, right?
Have you ever noticed that ABSOLUTELY EVERYONE makes deviled eggs a little different?  Me too! That is why I am going to show you HOW to make the Best, Classic, Easy Southern Deviled Eggs that you will ever lay on your tongue!
First, though, let's talk chicken about these southern deviled eggs.
WHAT IS A SOUTHERN DEVILED EGGS?
A deviled egg, particularly in the South, is a hard boiled egg that has been halved with the yolk removed.  The yolk is then mixed with other ingredients and stuffed back into the hollow egg half.
WHERE DO SOUTHERN DEVILED EGGS GET THEIR NAMES?
According to my research (Hello Wikipedia), the term "Deviled" orginiated in the late 1700's when the yolk would be mixed with "hotter" spices.  Like the DEVIL, the deviled egg would set your tongue on fire.
CAN SOUTHERN DEVILED EGGS BE MADE THE DAY BEFORE?
Because you make deviled eggs for parties (usually), you probably want to know if you can make the deviled eggs the day before!  The answer is YES! In fact, I think they taste BETTER when you make them the day before.
There are some things you will want to be careful of if making the day before:
Set the eggs in a proper deviled egg tray and place immediately in the fridge.

Keep the deviled eggs covered with plastic wrap or the cover the accompanies your egg tray (if it does).

You can keep your eggs covered by inserting a toothpick into several of the eggs and then gingerly laying plastic wrap in several layers over the top (like a plastic wrap tent for your little eggs).

If your eggs are simply on a dinner plate, place a paper towel beneath them until you arrive at your party.  This will keep them from slipping all over the place PLUS the eggs will sweat and the paper towel will absorb the water.

Give your eggs a fresh sprinkle of Paprika when you arrive so that they look fresh and ready to party.
HOW LONG DO SOUTHERN DEVILED EGGS KEEP IN THE REFRIGERATOR?
Deviled eggs are like the pretty girl at the party wearing the fluffy dress, wearing the beautifully done make up and with the coiffed hair.  She is still just as lovely a person by the next day, but she won't look as fresh by day 2 or 3.
My best advice is to just make as many eggs as you will eat in a day or two and then make more if you need them.  
Deviled eggs will keep several days as long as they remain refrigerated, but they start to weep and sag.  While they taste fine and are still good, visually, they aren't as nice.
HOW DO YOU HARD BOIL AN EGG SO THAT IT IS EASY TO PEEL?
To be honest, I've never eaten a VERY spicy deviled egg.  In fact, the way that I make Southern Deviled Eggs is about the spiciest that I've ever tried.  Perhaps mine are truly "Deviled"! Lol.
Peeling and egg, even a fresh boiled egg is no problem if you follow the instructions in THIS post.  I've already covered that in depth in HOW TO COOK AN EASY PEELING HARD BOILED EGG.
HOW MANY DEVILED EGGS TO I COOK PER PERSON
This depends on what type of function you are preparing for.  That said, I use the following as a general guide:
If going to a potluck, I simply make enough food that it equals what it takes to feed my own family (you know, doing my fair share).  So, I have 2 people in my family right now. I would make 1 dozen eggs into Southern Deviled Eggs (that's more than Mr. Loaves and Dishes would eat ourselves, but you know what I mean).

Are you having a party and want to serve Southern Deviled Eggs as an appetizer or as a side dish?  Then figure 2 Southern Deviled Eggs (4 halves) per person.

Do you regularly feed heavy eaters at your house (I do!).  In that case, I would assume that some of my children and probably Mr. Loaves and Dishes are going to slip into the kitchen and sneak a few Southern Deviled Eggs before dinner.  In this case, I allow for 3 full eggs for the heavy eaters and 1-2 per regular portion eaters.
WHAT KIND OF MAYONNAISE DO YOU USE FOR SOUTHERN DEVILED EGGS?
Seriously?  You want me to start a Southern Revolution by claiming ANY Mayonnaise other than Dukes?  You must think me daft.
That said (whispering), the folks at my house seem to prefer Hellmann's for deviled eggs (did I say that?  It's heresy, I tell you! Heresy!)
Blue Plate is also a fine mayo and I think you should choose whichever flavor you prefer. (How's that for sitting on the fence?)
HOW DO YOU GARNISH A DEVILED EGG?
The potential garnishes for Southern Deviled Eggs are endless really, however, if you want a classic southern deviled egg, go for Paprika.  
Other possible garnishes that are delicious are….
Bacon crumbles

Blue Cheese

Paprika Sprinkles

Chives

Green Onion slivers

Kosher Salt

Green or Black Olives

Pickle Relish
SUPPLIES I USE FOR SOUTHERN DEVILED EGGS
The following photos are affiliate links and if you click the photo, it will take you straight through to Amazon so that you can compare prices and see if these are right for you. As an Amazon Associate I earn from qualifying purchases.  Wickles Pickles may be available at your local grocery, I just want you to know where to find some if they aren't.
TIPS AND TRICKS FOR SOUTHERN DEVILED EGGS
Use the instructions found in my post on How to Make Easy Peel Boiled Eggs.  Otherwise, your boiled eggs will turn out too ugly to make into deviled eggs.

Make the Southern Deviled Eggs following my instructions first.  Once you have mastered that, get creative! Add some things on your own and see what you like!

If you are taking the deviled eggs out of your house, follow my instructions above for using a paper towel under them and tenting with toothpicks.

This is an important tip… When putting the filling into the egg halves, only use a small amount at first, you can always go back and add more later.  You don't want to get to the end and not have enough filling.

If an egg half tears up while you are peeling, simply add the egg what to your filling, it will taste good and you won't have extra left over that you don't know what to do with it.

If you don't have Wickles Pickles, use a good spicy pickle relish or cut up spicy sweet pickles into your eggs.
IF YOU ENJOYED THIS RECIPE FOR SOUTHERN DEVILED EGGS, YOU MIGHT ALSO ENJOY…
The Secret to Perfect Old Fashioned Pinto Beans
The Secret to Perfect Southern Collard Greens
Ultimate Southern Pimento Cheese
YA'LL HELP ME OUT, OK?
Please leave me a 5 star 🌟🌟🌟🌟🌟  comment below in the comment section, all right? I would LOVE to know if you made this recipe or even if you are planning to! Of course, head on over to Pinterest, Facebook and Instagram and tag me with some photos of your creation!
I can't wait!
Ya'll know I love your comments!! ❤
THE RECIPE FOR SOUTHERN DEVILED EGGS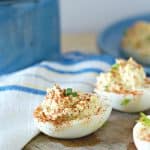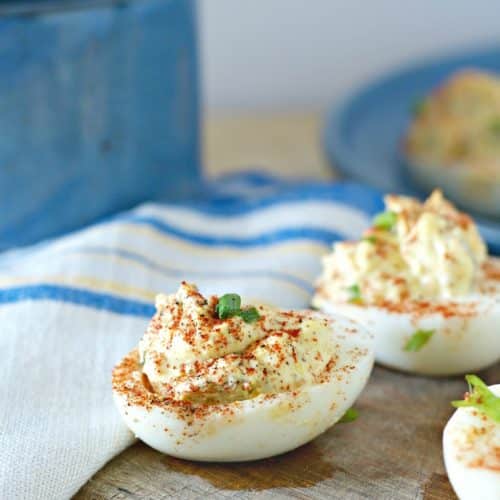 Southern Deviled Eggs
This is a recipe for classic southern deviled eggs
Keyword:
southern deviled eggs, deviled eggs
Ingredients
12

large hard-boiled and peeled eggs

cut in half and yolks removed, whites reserved.

1 ½

teaspoon

good quality whole grain mustard

2

tablespoons

chopped Wickles Wicked Pickles

1/2

cup

mayonnaise

Hellmans, Dukes or Blue Plate only

Salt and pepper to taste

for garnishing paprika

pimentos, pickle relish and black cracked pepper (Choose any or mix and match)
Instructions
In a small bowl, mix together the mustard, chopped small pickles, mayo and the hard boiled yolks.

Lay the egg whites aside on a separate plate.

Using a fork, mash the egg yolk mixture until smooth.

Using a teaspoon, spoon the yolk mix into the egg halves and lay into the specialized egg dish or onto a plate.

Garnish with your choice of paprika, pimentos, pickle relish or black cracked pepper.
Recipe Notes
This is a recipe for classic southern deviled eggs
Nutrition Facts
Southern Deviled Eggs
Amount Per Serving
Calories 150
* Percent Daily Values are based on a 2000 calorie diet.
A VERSE TO SHARE
As a nurse of the elderly, I have spent most of the last 25 years at the bedside of those facing their last days.  I've probably told you before, my own faith is stronger because of what I have witnessed with my patients.
At the end, most of my patients truly have felt that their body is an "earthly tent" that it is time to move on from.  As a Christian, it has been a great comfort to ME to know God has fashioned us for this purpose and given us a Spirit as a deposit on the guarantee of what is to come.
Yes.  I will walk by faith, even when I can not see.  Amen.
2 Corinthians 5: 1-10
For we know that if the earthly tent we live in is destroyed, we have a building from God, an eternal house in heaven, not built by human hands.
Meanwhile we groan, longing to be clothed instead with our heavenly dwelling,  because when we are clothed, we will not be found naked.  
WHILE WE ARE IN THIS TENT…
For while we are in this tent, we groan and are burdened, because we do not wish to be unclothed but to be clothed instead with our heavenly dwelling, so that what is mortal may be swallowed up by life.  
Now the one who has fashioned us for this very purpose is God, who has given us the Spirit as a deposit, guaranteeing what is to come.
WHEN WE ARE AT HOME IN THE BODY…
Therefore we are always confident and know that as long as we are at home in the body we are away from the Lord.  
For we live by faith, not by sight.  We are confident, I say, and would prefer to be away from the body and at home with the Lord.  
THE GOAL IS TO PLEASE HIM.
So we make it our goal to please him, whether we are at home in the body or away from it.  
For we must all appear before the judgment seat of Christ, so that each of us may receive what is due us for the things done while in the body, whether good or bad