Some things that you see here are just absolutely sinful, and this is one of them. Sorry. Not Sorry. I mean, come on, I'm the one sitting here with a full pan of these chocolate, peanut butter, marshmallow, crispy treats right in front of me smelling like pure HEAVEN. Chocolate Nutter Butter Crispy Treats are ready in less than 15 minutes! I just texted my husband to please come home from work and take these away from me because they are D**N good.
I'm not even sure what to tell you about these particular Crispy Treats except to say, you should probably make some, right now. Conversely, you could just come over here to my house and save me from myself by taking them away from me. I DO suggest that you make plans to share some with friends and neighbors rather than try to eat them all yourself.
I took them and shared them at a musical event on Thursday night in my little home town. The dad seemed pretty excited to get them for "the kids". lol.
The Inspiration for Chocolate Nutter Butter Crispy Treats
When I was in Junior High, my friend Lynee taught me how to make Rice Crispy Treats. Her mom, amazingly, never minded us making them either! That was well before the days of microwaves and we heated things on the stove in a HUGE stock pot. Funny, I don't remember washing any of the dishes. Sorry Lynee's mom!!! I have much better manners now!
I simply took what I learned WAY back then and added to it. Thanks ya'll!
The Recipe for Chocolate Nutter Butter Crispy Treats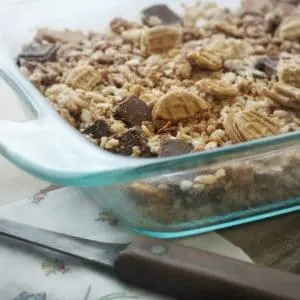 Chocolate Nutter Butter Crispy Treats
Ridiculously easy and delicious crispy treats that will knock your socks off!
Print
Pin
Rate
Ingredients
3

Tbs

Real Sweet Cream Butter

Unsalted

1 10

oz

package of Marshmallows

6

Cups

Rice Krispy Cereal

18

Nutter Butter Cookies - Crushed

2

Large

Movie Size Hershey Bars - broken into small chunks
Instructions
Spray a 9x13 pan with nonstick spray and set aside.

Add the butter and the Marshmallows to a large microwave safe bowl and heat on high in the microwave for 3 minutes.

While the marshmallows are heating, mix the cereal, crushed cookies and broken chocolate bars together in a LARGE mixing bowl.

After the marshmallows are finished in the microwave, mix them carefully with the cereal mixture using a buttered spatula.

Spread the marshmallow cereal mixture into the 9x13 pan and smash down with your hands to push into the corners of the dish. Set aside and allow to cool. Best eaten on same day as making.
Notes
Just understand that it is kind of crazy mixing the rice cereal into the marshmallow goo. Keep working on it and it will finally work in!
Nutrition
Nutrition Facts
Chocolate Nutter Butter Crispy Treats
Amount Per Serving
Calories 250
* Percent Daily Values are based on a 2000 calorie diet.
Tips and Tricks for Chocolate Nutter Butter Crispy Treats
It is SUPER important to spray the 9×13 pan and the spatula you will mix with so that everything isn't sticking to it.

Marshmallows have a tendency to explode in the microwave. If you mind having super sticky stuff on the inside of your microwave, you might try covering it loosely with plastic wrap before heating.

If you are going to save any of your treats for the next day – probably best to wrap them individually with plastic wrap. We don't want them becoming stale!

I know you know this – but, um…… Marshmallows are super sticky – so, just beware.

Kids love this stuff and this is a super great recipe to make for and with kids!

I think this would be super with some nuts in it too – pecans or almonds. YUM! Toasted nuts would be even better!

These are TERRIFIC with MILK or COFFEE!
Thought I would include a little look back here:
1 year ago: Summer Party Crockpot Barbeque
1 1/2 years ago: Triple Chocolate Mocha Brownie
2 years ago: Strawberry, Toasted Pecan and Goat Cheese Salad
2 1/2 years ago: How to Season a Cast Iron Skillet
So – I had an interaction with a friend of mine the other day. This particular friend is an atheist. Did I just shock you? Yes. I have friends who are atheists. I have friends who are all manner of religions and some who are of no religion.
Anywho. This friend poked a little fun at me by sharing a photo of a man who looks like Jesus with a sign around his neck that says, "Will work for loaves and fishes". His comment was, "So close". I responded that Jesus works here every day. He is a volunteer. He is like that.
His response? He wishes more people acted like Him and followed His principles. I couldn't agree more.
Did you ever think about that? How, if you are a Christian, your every action is a reflection of your Christianity?
When you pass by a beggar and pretend you don't see them, when you change lanes without signaling, when people in your world are hungry, dirty, homeless and hurting and you don't help – it is a reflection on Jesus.
You may say, "Well, I can't help with everything" or you might say, "I think we should help the veterans before we help the foreigners". Ok. Fine. I get it. None of us can save the world on our own.
I'm just saying that while you are proselytizing and/or condemning with your words, your actions speak so much louder. I've often had a conversation that "acts won't save you". True. There is much more to Christianity than acts. There is faith. But faith isn't all there is.
There must be action. Because it is in your actions that your true faith is known, right? My mom used to have a saying, "Your actions are speaking so loud that I can't hear what you are saying". Truth
I'm including all of James 2 here today – because I think it is pertinent and needs to be heard. As you know, I loath quoting of single scriptures as proof of this or that. I think that at the very minimum you should get the gist of the entire chapter, if not the whole book.
I simply ask that you read in peace and practice even more peacefully.
Amen.
James 2: 1-26
My brothers and sisters, believers in our glorious Lord Jesus Christ must not show favoritism. Suppose a man comes into your meeting wearing a gold ring and fine clothes, and a poor man in filthy old clothes also comes in. If you show special attention to the man wearing fine clothes and say, "Here's a good seat for you," but say to the poor man, "You stand there" or "Sit on the floor by my feet," have you not discriminated among yourselves and become judges with evil thoughts?
Listen, my dear brothers and sisters: Has not God chosen those who are poor in the eyes of the world to be rich in faith and to inherit the kingdom he promised those who love him? But you have dishonored the poor. Is it not the rich who are exploiting you? Are they not the ones who are dragging you into court? Are they not the ones who are blaspheming the noble name of him to whom you belong?
If you really keep the royal law found in Scripture, "Love your neighbor as yourself,"[a] you are doing right. But if you show favoritism, you sin and are convicted by the law as lawbreakers. For whoever keeps the whole law and yet stumbles at just one point is guilty of breaking all of it. For he who said, "You shall not commit adultery," also said, "You shall not murder." If you do not commit adultery but do commit murder, you have become a lawbreaker.
Speak and act as those who are going to be judged by the law that gives freedom, because judgment without mercy will be shown to anyone who has not been merciful. Mercy triumphs over judgment.
What good is it, my brothers and sisters, if someone claims to have faith but has no deeds? Can such faith save them? Suppose a brother or a sister is without clothes and daily food. If one of you says to them, "Go in peace; keep warm and well fed," but does nothing about their physical needs, what good is it? In the same way, faith by itself, if it is not accompanied by action, is dead.
But someone will say, "You have faith; I have deeds."
Show me your faith without deeds, and I will show you my faith by my deeds. You believe that there is one God. Good! Even the demons believe that—and shudder.
You foolish person, do you want evidence that faith without deeds is useless?Was not our father Abraham considered righteous for what he did when he offered his son Isaac on the altar? You see that his faith and his actions were working together, and his faith was made complete by what he did. And the scripture was fulfilled that says, "Abraham believed God, and it was credited to him as righteousness,"and he was called God's friend. You see that a person is considered righteous by what they do and not by faith alone.
In the same way, was not even Rahab the prostitute considered righteous for what she did when she gave lodging to the spies and sent them off in a different direction? As the body without the spirit is dead, so faith without deeds is dead.