This EASY Chipotle Chicken Salad has a dressing that whips up in less than 5 minutes, is hearty, healthy (shhhh, I won't tell anyone) and will satisfy the grumpiest of meat and potatoes people. Trust me, I know, I live with a house full.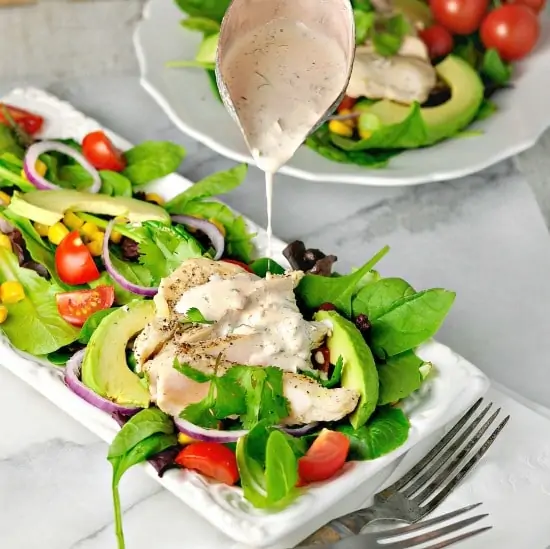 Chipotle Chicken Salad Recipe
Do you live with someone who notices if there isn't a minimum of 6 ounces of meat on the plate at night (uh-hmmm <throat clearing> you know who you are)?
Me too, but honey, we are gonna fool them tonight with a filling recipe that is ready in less than 30 minutes from beginning to end!
There's lots of options for ingredients and you can probably make this with what you have in the pantry and fridge. What could be easier? Nothing, trust me.
You'll feel like a super hero when your family licks the plate clean and you know you've fed them something filling and good for them!
Here's What You'll Need:

1/4 – 1/3 lb boneless skinless chicken breast per person.
Greek yogurt or sour cream
The canned chipotle chilis in adobo sauce.
cumin
chili powder
lime juice
salt and pepper
oil
lettuce
tomato
avocados
black beans
corn
Here's How It's Done
Mix up the dressing (just dump it in a bowl and whisk it, then let it set to thicken slightly).
Cook up the chicken (Here's an article on how to cook chicken pieces in a pan, if you need it). See the recipe notes for substitutions.
Assemble the salad (see recipe notes for substitutions).
Sit down to dinner and ENJOY!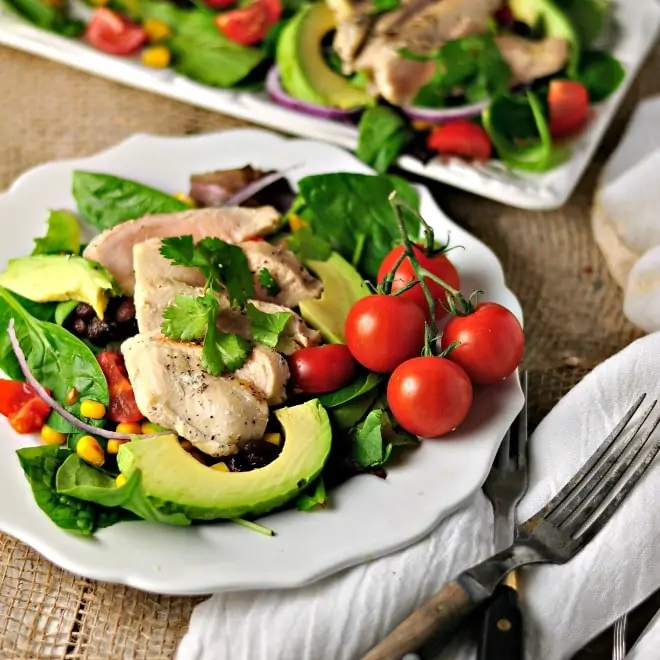 What To Serve With Chipotle Chicken Salad
I recommend serving this salad with a small piece of crusty bread and a cool glass of iced tea. Delish! Of course, you could include a wonderful dessert or a small side dish.
Tips and Tricks
There are lots of ways to change this chipotle chicken salad recipe up. Substitute canned chicken for fresh if cooking from your pantry (hello "stay at home" orders), use rotisserie chicken, etc. Check out the "notes" section of the recipe for more ideas.
Increase the heat of the dressing by increasing the adobo sauce.
The veggies in the recipe aren't all that you can do. If you like another veggie more, add it. Can't stand cilantro, remove it. It's really that easy.
Here's info on safe food handling for chicken.
If You Enjoy This Chicken Recipe, You Might Also Like…
Pressure Cooker Chicken and Dumplings
Frequently Asked Questions (FAQ's)
How Long Does the Dressing Keep?
The dressing, if kept in the fridge covered, will keep for about 5-7 days.
Can I Freeze the Dressing?
No, don't freeze the dressing, it separates when you thaw it back out and is a yucky oozy mess.
How Do I Keep My Salad From Being Watery?
Usually when your salad is watery, you washed the veggies but didn't get them dry enough. I suggest a salad spinner, however, if that isn't possible for you, wrap your washed veggies in a dry kitchen towel, hold it tight and sling it around like a wild west lasso. Make sure that you've got ahold of all edges of the towel, or it could wind up a mess.
Can I Freeze Salad?
No. The lettuce and other fresh veggies get all wilted and slimy and gross when you thaw them.
Can You Help Me Out?
Please leave a 5 STAR comment in the comment section below. This helps others to find the recipes at Loaves and Dishes!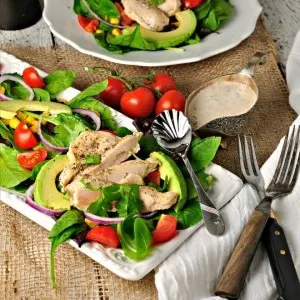 Chipotle Chicken Salad
This EASY Chipotle Chicken Salad has a dressing that whips up in less than 5 minutes, is hearty, healthy (shhhh, I won't tell anyone) and will satisfy the grumpiest of meat and potatoes people. Trust me, I know, I live with a house full.
Print
Pin
Rate
Ingredients
For the Dressing
1/3

cup

chopped cilantro

2/3

cup

greek plain yogurt

or sour cream

1

tbs

minced chipotle chilis

canned in adobo sauce

1

tsp

ground cumin

1

tsp

chili powder

4

tsp

fresh lime juice

¼

tsp

salt
For the Chicken
2

tbs

olive oil

Salt and Pepper to Taste

2

cups

chopped roasted boneless chicken breasts

2 breasts
For the Salad
4

cups

fresh lettuce – any type

1

cup

cherry tomatoes cut in quarters

½

cup

diced and peeled avocados

1/3

cup

thinly sliced onions

1

can black beans- rinsed and drained

1

can whole kernel corn – rinsed and drained

Salt and pepper to taste
Instructions
For the Dressing
Mix the dressing ingredients together in a medium bowl with a whisk. Allow to sit out on the counter at room temp until the rest of the salad is ready. This allows time for the flavors to meld. If not using immediately, place in the fridge.
For the Chicken
Heat 2 tbs of olive oil in a frying pan over medium heat. Season the chicken breast with salt and pepper. Cook the chicken breast in the frying pan – about 3-5 minutes per side.

While chicken is cooking, mix salad ingredients together in a bowl.
For the Salad
Cut the veggies and toss together in a large salad bowl or on a platter.

When chicken is done (juices run clear and the meat is no longer pink in the center), assemble the salad. Salad topped with chicken – Pour dressing over the top or serve on the side.
Notes
If you do not like cilantro, just leave it off or serve on the side.
Plain yogurt or sour cream is acceptable substitution for the greek yogurt.
Chipotle Chilis in Adobo sauce can be found in the international section of the grocery and come in a small can (they are powerful, be careful).
Bottled lime juice works as well as fresh.
Use any cut of chicken or even a shredded rotisserie chicken. For a situation where you have no other choice, canned chicken will work too. No need to cook it first.
Any type of lettuce or tomato will work.
Purple onions look the prettiest, but any kind will work.
Really, just about any veggies will work on this salad, but the corn and beans do add a lot of heartiness and help to fill you up.
If you like the dressing more spicy, add more adobo sauce from the can.
Serve with lime wedges for an added twist.
Nutrition
Nutrition Facts
Chipotle Chicken Salad
Amount Per Serving
Calories 236
Calories from Fat 117
% Daily Value*
Fat 13g20%
Cholesterol 50mg17%
Sodium 316mg13%
Potassium 611mg17%
Carbohydrates 10g3%
Protein 21g42%
Vitamin A 1179IU24%
Vitamin C 13mg16%
Calcium 78mg8%
Iron 1mg6%
* Percent Daily Values are based on a 2000 calorie diet.
***This article originally appeared on the pages of Loaves and Dishes in March 27, 2015 and has been updated with a new format, new photos, video, "heres what you'll need", "Heres What to Do", Tips and Tricks, Equipment, Recipe Notes and Substitutions.
It's important to remember to be forgiving with one another and this is one of the reasons why.
The Lord our God is merciful and forgiving, even though we have rebelled against him. ~ Daniel 9:9