Jump to Recipe
This one is for you Marilyn! (smile). If someone asks you to come up with a recipe for Cinnamon Roll Cake from Scratch, you might say, "I have no idea how to make a Cinnamon Roll Cake from Scratch", like I did.

Then again, if that someone has been super nice to your daughter and never fails to ask about how your website is going, you simply MUST come up with a recipe for Cinnamon Roll Cake from scratch. A recipe for Pound Cake or Pumpkin Praline Cake simply won't due!
It seems that most of the recipes out there for Cinnamon Roll Cake involve a cake mix and while that is fine and dandy with some people, it isn't for others. We want cake from scratch instead, we want to enjoy the entire cake process and we want a cinnamon roll cake FROM SCRATCH!
WHAT IS CINNAMON ROLL CAKE FROM SCRATCH?
Cinnamon Roll Cake from scratch is a home made cake with the flavors you normally find in a delicious bakery style cinnamon roll. Fluffy cake with a buttery crusty top and a delicate cream cheese icing that drips in gooey delicious wonder down the sides. Hello Cream Cheese!
HOW DO YOU MAKE A CINNAMON ROLL CAKE FROM SCRATCH?
Simple! Just follow the recipe where you will…
 Make a cake
Top with a buttery cinnamon swirl
Cover with delicious cream cheese icingSee? That is simple!
PHOTO PROCESS OF HOW TO MAKE A CINNAMON ROLL CAKE FROM SCRATCH
TOOLS I LIKE FOR CINNAMON ROLL CAKE FROM SCRATCH
For this cake, I really appreciated my
SPRINGFORM PAN  – it is non stick and well made.  This is an affiliate link because I am an affiliate of Amazon. You can click the photo to go through to Amazon and see if you like it or not.  I have used mine for years and it still looks like new.

My  PARCHMENT PAPER is a must and this is the kind I have. If you click the photo you'll go through to Amazon for a better look.  This is an affiliate link.

I have a very inexpensive DISPOSABLE PIPING BAG AND TIPS like these.  Again, this is an affiliate link.
TIPS AND TRICKS FOR CINNAMON ROLL CAKE FROM SCRATCH
This cake puffs up really tall and you really shouldn't try to make it in a typical cake pan because that would lead to drips all over the bottom of your oven.  I suspect it smells terrible burned on the bottom of the oven like that.

When you are putting the cinnamon butter on, jab it partway down into the cake batter so that it sinks in good.  

The cinnamon butter will sink in anyway, but you want to give it all the help you can.

Just know that this cake does NOT have layering of the cinnamon butter all the way through – that part stays near the top of the cake.

Start checking this cake at about 40 minutes.  When it is not jiggly and it is starting to brown, it is done.

Let it cool completely before you put the icing on, otherwise, the icing will slide off and onto whatever you are holding your cake on.  I don't know about you, but I like the icing ON my cake.

Be ready for OOOoooos and Ahhhhhhs and near fights.  When I took this cake to a church cake auction the results was that two ministers were vying for it.  My CTO – Chief Tasting Officer (Mr. Loaves and Dishes) is still mad at me because he didn't get to have any of this cake. "I see how it is", he says.
IF YOU ENJOYED THIS POST FOR CINNAMON ROLL CAKE FROM SCRATCH, YOU MIGHT ALSO ENJOY…
Creamy Artichoke Baked Chicken
READERS SUBMISSIONS:
One of the readers here at Loaves and Dishes made this cake and then sent me a photo!  Here is Rita's cake and photo!  WHOOT WHOOT Rita!  I LOVE IT!  (If you have made one of my recipes and would like to show me the results, just email me or tag me on facebook.  I would LOVE to see it!)
YA'LL, HELP ME OUT, OK?
Please leave me a 5 star comment below in the comment section, all right? I would LOVE to know if you made this recipe or even if you are planning to! Of course, head on over to Pinterest, Facebook and Instagram and tag me with some photos of your creation!
I can't wait!
Ya'll know I love your comments!! ❤
THE RECIPE FOR CINNAMON ROLL CAKE FROM SCRATCH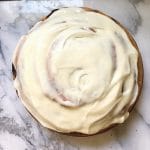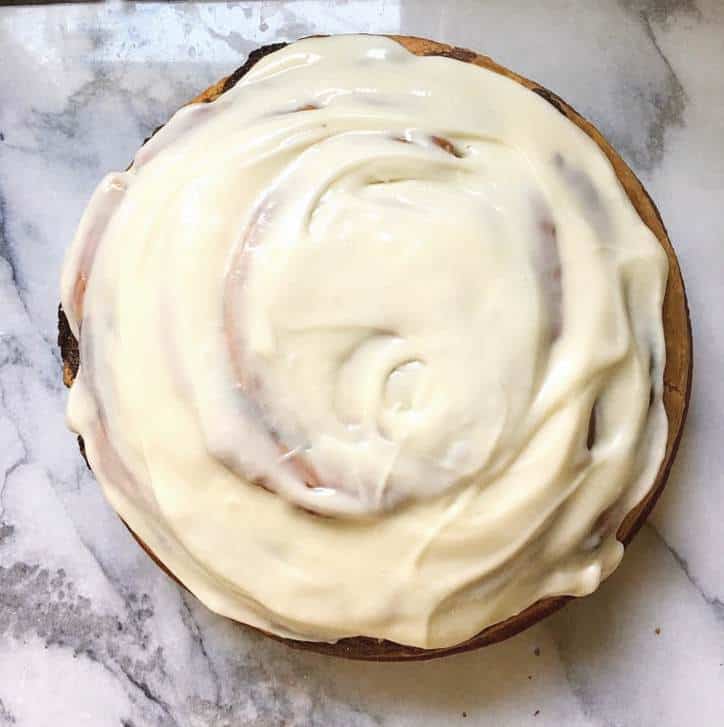 Cinnamon Roll Cake From Scratch
A scratch made cinnamon roll cake that has all the wonderful flavors of a happy cinnamon roll
Keyword:
Cinnamon Roll Cake, scratch cinnamon roll cake
Ingredients
Cinnamon Butter Filling:
½

cup

unsalted butter

at room temperature

½

cup

packed brown sugar

1

tablespoon

all purpose flour

2

tablespoon

ground cinnamon

1

tsp

nutmeg
For the Cake:
3

cups

all purpose flour

1

cup

granulated sugar

4

teaspoons

baking powder

¼

teaspoon

salt

1½

cup

whole milk

2

eggs

room temperature

2

teaspoons

real vanilla extract

1

tsp

real almond extract

½

tsp

orange flavoring

use zest of ½ an orange if flavoring unavailable

½

cup

vegetable oil
For the Icing:
2

cups

powdered sugar

4

tablespoons

whole milk

½

cup

4 oz = ½ block cream cheese at room temperature

1

teaspoon

real vanilla extract

½

tsp

real almond extract

¼

tsp

orange flavoring
Instructions
Preheat the oven to 350. Cut a circle in parchment paper the size of the bottom of your springform pan. Prepare your springform pan using baking spray or butter and flour. Place the parchment paper circle in the bottom of the pan.
Make the Cinnamon Butter Filling:
Cream together the softened butter, brown sugar, flour and cinnamon in a medium bowl until evenly combined. Use a stand or hand mixer if you have one.

Transfer the cinnamon filling to a piping bag fitted with a medium tip. Then set this all aside until the cake batter is made.
Make the Cake Batter:
In a medium bowl, whisk together the dry ingredients: flour, sugar, baking powder and salt.

In a large bowl, whisk together the milk, eggs, vanilla, almond and orange and oil.

Pour the wet ingredients into the dry ingredients and stir with a rubber spatula or wooden spoon until a smooth batter is created.

Pour the cake batter into the prepared springform pan. Starting in the center of the cake, pipe the cinnamon filling in a spiral pattern pushing the tip down into the batter at least half way. Spiral out to within 1 inch of the edge of the pan. (The butter mix will sink into the batter as it bakes and create that classic cinnamon roll look)

Bake for 45 minutes - 1 hour. Start checking at 45 minutes. The cake is done when it no longer jiggles in the center, it is browned on top and a cake tester comes out clean.
Make the Icing
While the cake is cooling, make the icing.

Heat the cream cheese in the microwave for 30 secs on high

Mix all the icing ingredients together using a mixer or beat by hand until smooth. If Icing is too thick, add more milk 1 tbs at a time.
Recipe Notes
Made from scratch Cinnamon Roll Cake
Nutrition Facts
Cinnamon Roll Cake From Scratch
Amount Per Serving
Calories 400
* Percent Daily Values are based on a 2000 calorie diet.
A VERSE TO SHARE
Have you ever read that passage in Matthew about Jesus warning of the "Yeast of the Pharisees".  He tells the disciples to be careful of this and the disciples think he is talking about bread.
It always makes me wonder, if they heard Jesus say "Pharisees" and they knew that he was ALWAYS talking in parables, why in the world did their minds jump to bread.  However, I just have to say, "whatever". That is where the discussion went.
Jesus' comeback…
Jesus comes back with his retort, "Oh for heaven's sakes, you have so little faith, I wasn't talking about BREAD you ding dongs, I was talking about the Pharisees and what gets them bubbling.  How could you even worry about bread and what you will be eating? Don't you remember that I made sure you had something to eat when there was only 5 loaves of bread? I'm not going to let you go hungry.  He says, "I was talking about being careful around the Pharisees and Sadducees" (Jesus does eye roll).
Great Liberties…
You know I am taking great liberties with the scriptures, as you know,  I think of Jesus as a very real person in my everyday life and this is exactly what someone I am friends with would say.  So, that is my interpretation of this verse.
It Holds True…
It holds true today, doesn't it?  Be very careful what kind of news and information you "feed" yourself with or it will bubble up in you like yeast. Guard your ears dear friends from pollution.  Rule for Life #2, Stay Away from Poison.
Matthew 16: 5-12
When they went across the lake, the disciples forgot to take bread. "Be careful," Jesus said to them. "Be on your guard against the yeast of the Pharisees and Sadducees."
They discussed this among themselves and said, "It is because we didn't bring any bread."
You of Little Faith…
Aware of their discussion, Jesus asked, "You of little faith, why are you talking among yourselves about having no bread?  Do you still not understand? Don't you remember the five loaves for the five thousand, and how many basketfuls you gathered?  
What about the…
Or the seven loaves for the four thousand, and how many basketfuls you gathered?  How is it you don't understand that I was not talking to you about bread? But be on your guard against the yeast of the Pharisees and Sadducees."
Then they understood that he was not telling them to guard against the yeast used in bread, but against the teaching of the Pharisees and Sadducees.