Jump to Recipe
Trust me, you are going to be super happy about this Southern Fried Corn recipe and you are going to cook it over and over again. Nothing could be more easy and yet taste so divine! Put this recipe in your back pocket so that you'll have it as soon as good corn on the cob is available in the spring!
Be sure to watch the video in the recipe card for a handy trick in cutting the corn kernels from the cob. Fried corn is delicious but it involves being able to catch the darn kernels. This recipe for fried corn is simply the best that I know.
WHY THIS RECIPE WORKS
This Fried Corn cooks up quickly and uses simple ingredients that are right in your fridge.
Fried Corn uses fresh corn on the cob, so what could be more summery than that?
You get the fresh Southern Fried corn, but you don't have to chew it off the cob and end up with pieces stuck in your teeth!
FREQUENTLY ASKED QUESTIONS
WHAT IS FRIED CORN?
Fried corn is a favorite southern dish that uses simple fresh ingredients for a lot of kick and flavor. Fried corn is an old southern dish using fresh cut corn nibblets from the cob and jalapeno (or other peppers), butter and fresh ingredients.
WHAT GOES WITH FRIED CORN?
We love any summery dish with our Southern Fried Corn.
Try some
CAN I LEAVE COOKED CORN OUT OVERNIGHT?
Corn tends to sour quickly. It's best to refrigerate corn within two hours of cooking.
CAN FRESH CORN ON THE COB STAY OUT OVERNIGHT?
Fresh corn on the cob sours super fast! As soon as you have fresh corn on the cob, take it home and refrigerate it.
If you don't have time to shuck it and care for it now, that's fine. Just put it all in a bag and put the bag in the refrigerator.
This is especially true if you bought your corn from someone on the road side. That type of fresh corn spoils even quicker than what you buy in the grocery.
You will want to consume or prepare any fresh corn on the cob that you have within 24 hours of purchase.
CAN I FREEZE FRIED CORN?
Yes, you can freeze your fried corn. Simply place it in a freezer safe container, remove as much air as possible and place in the freezer for up to 3 months.
HOW LONG IS FRIED CORN GOOD IN THE REFRIGERATOR?
Your fried corn will keep up to 5 days in the refrigerator.
HOW TO MAKE FRIED CORN USING CORN FROM A CAN.
Simply drain the corn very well and then follow the directions as listed in the recipe for Fried Corn.
We prefer the shoepeg corn if using canned corn.
WHAT ARE SOME OPTIONS WE CAN USE WHEN COOKING?
You can make your fried corn with bacon! (crisply cook 4 strips of bacon and then cook the corn in the bacon grease instead of in butter.) Crumble the bacon on top near the end of cooking.
Make your fried corn with tomatoes! Cut up some fresh tomato and sprinkle over the top at the end of cooking).
Fried corn with okra is a possibility too! Toss the okra with the corn and saute.
Southern Fried Corn with Onions is a treat! Cut up some sweet onions and saute with the corn.
TIPS AND TRICKS FOR SOUTHERN FRIED CORN
When cutting the corn from the cob – try to get as much of the corn kernel as possible. The juice that is down near the cob is delicious!

As stated before, if you are into "no fat" or "low fat" recipes, you can substitute the butter for margarine – but again – I prefer to go with natural ingredients. You could try Olive Oil if you are really just against the butter. Your choice. But the calorie and fat content will be similar. You might be SURPRISED if you check out the new nutrition label BELOW! This dish isn't that fattening for one serving! I promise, it is better than you probably thought.

If you just can't get past the heavy cream, you could also try a little milk instead – the cream just gives the corn a…. Well, a…. Creaminess. You won't be able to recreate that creaminess with milk – and certainly not with coffee creamer (sometimes people ask this question – I've had it more than once).
Safety
OK – THIS IS A SAFETY WARNING – If you let your pan get too hot when you put the butter in, you will get black butter, acrid smoke AND HOT CORN POPS! No kidding! It does – just watch the movie all the way to the end if you don't believe me! If you are trapped sitting on your knees beneath a tripod that holds your most expensive camera – it can be particularly dangerous – just saying….

If you like a little spice in your dish – add the jalapeno – if spicy isn't for you – leave it out. Certainly, when my grandmother used to make this dish, she didn't add jalapeno. I can only imagine the look she would give if someone had suggested adding a jalapeno to the recipe. Lol. That makes me laugh thinking about it.

Serving suggestions – Personally, I think Southern Fried Corn goes with everything. Hamburgers, yes. Fried chicken – ummm, of course. Pork Chops – yep. A hispanic dish – yes! Lasagna – well, yeah – lets try it! You might think differently. I would guess that for most palates, it goes best with grilled meats and standard family dinners. Let me just say, Southern Fried Corn with a meal of fried chicken, mashed potatoes, gravy and home canned green beans? You have a meal fit for a KING!

Can this be made with canned corn? Yes. Of course it can. Just drain the corn very well. The fresh corn will taste better though – so if you can get fresh corn – use that.
LET'S SEE HOW THIS GOES…
First dice up the jalapeno…
Then cut the kernels from the cob
Then heat butter in a pan
Then add the corn and jalapenos to the butter..
Add the seasonings…
Then cook till heated through and add cream
YA'LL HELP ME OUT
Please leave me a 5 star 🌟🌟🌟🌟🌟 comment below in the comment section , all right? I would LOVE to know if you made this recipe or even if you are planning to! Of course, head on over to Pinterest, Facebook and Instagram and tag me with some photos of your creation!
I can't wait!
Ya'll know I love your comments!! ❤
THE RECIPE FOR SOUTHERN FRIED CORN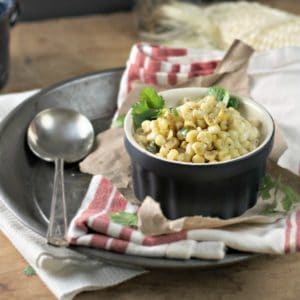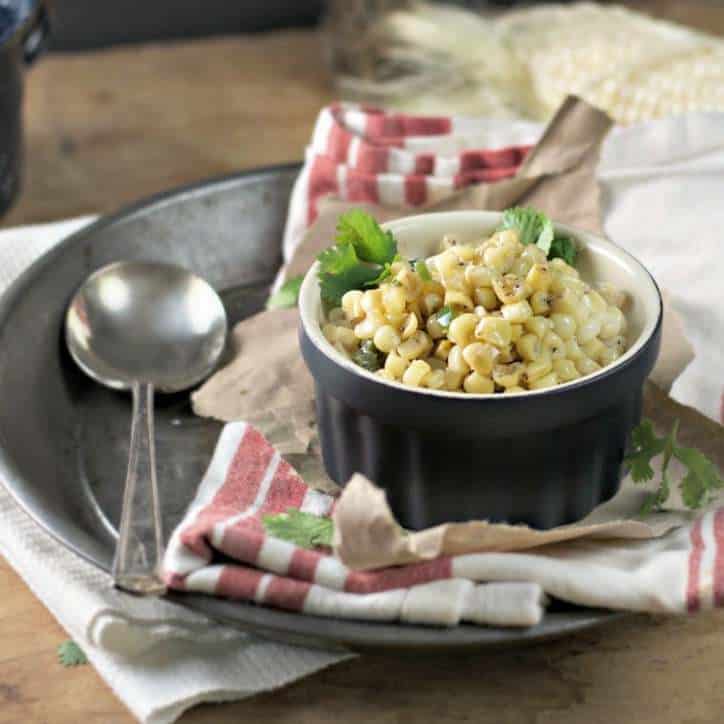 Southern Fried Corn
This recipe for Southern Fried Corn is from Loaves and Dishes.net Come back and find more recipes that you will love!
Print
Pin
Rate
Ingredients
4

ears of fresh corn on the cob

2

tbs

unsalted sweet cream butter

½

tsp

salt

½

tsp

pepper

¼

Cup

heavy cream

OPTIONAL: 1 jalapeno pepper - seeded

spine removed and chopped very small.

OPTIONAL: Cilantro for garnish
Instructions
Cut the kernels of corn from the ear - carefully.

Melt the butter over medium heat in a frying pan. Add the corn kernels to the melted butter in the hot pan. Add salt and pepper.

Allow the corn to cook until it starts to brown slightly - about 10 minutes. - stir every minute or so. If you are using the optional jalapeno - add that now as well.

Add the cream and stir.

When the cream is mixed in well, remove from the heat. Allow to rest for a few minutes and then serve warm. Garnish with Cilantro.
Notes
Substitutions?  Of course...
Cream - sub milk, whole milk or half and half. 
Butter - sub margarine, bacon grease, vegetable oil or olive oil.
Corn on the cob - substitute canned corn but be sure to drain very well. 
Add other ingredients?  Sure add any of these, mix and match, jalapenos, onion, bacon, ham, okra, tomatoes.... get creative! 
Nutrition
Nutrition Facts
Southern Fried Corn
Amount Per Serving
Calories 200
* Percent Daily Values are based on a 2000 calorie diet.
***This recipe first appeared on Loaves and Dishes July 16, 2016 and has been updated with video, photos or new information January 5, 2019***
A VERSE TO SHARE
Matthew 5: 21-26
"You have heard that it was said to the people long ago, 'You shall not murder,and anyone who murders will be subject to judgment.'
But I tell you that anyone who is angry with a brother or sister will be subject to judgment. Again, anyone who says to a brother or sister, 'Raca,' is answerable to the court.
And anyone who says, 'You fool!' will be in danger of the fire of hell."Therefore, if you are offering your gift at the altar and there remember that your brother or sister has something against you, leave your gift there in front of the altar.
First go
and be reconciled to them; then come and offer your gift. "Settle matters quickly with your adversary who is taking you to court. Do it while you are still together on the way, or your adversary may hand you over to the judge, and the judge may hand you over to the officer, and you may be thrown into prison. Truly I tell you, you will not get out until you have paid the last penn