Eat the soup! EAT THE SOUP!!! For years I have said, "But, I don't like Chicken Noodle Soup!" You know the kind I'm talking about, the weak broth, the stringy worm-like little nothing noodles and the tiny pieces of stringy overcooked chicken that are something akin to wet burlap. Yuck. I don't like it. However, when I have been sick and someone made THE SOUP, I ATE THE SOUP. ewww. Let's don't do that to sick people anymore. OK? ok! Easy Homemade Chicken Noodle Soup is delicious, meaty and is simple to make yourself in about 45 minutes.
I've been thinking about easy homemade chicken noodle soup because my youngest is sick with some kind of viral something. My co-worker is sick too. Really, if we didn't live so far apart (we work from home), I would make some Easy Homemade Chicken Noodle Soup and take it to her. She needs it. I hate to think about someone warming up a store bought can of chicken noodle soup when they are sick. Does the kind in the can really do that much to help you feel well? I don't know – maybe not.
So, if you need a good recipe for Easy Homemade Chicken Noodle Soup (that even I like!), try this one. You could make some and take it to your neighbor! The recipe is RIGHT here so that the recipe seekers don't have to look too far down the page. The rest of us can meet up after the recipe insert and chat about Tips for Easy Homemade Chicken Noodle Soup, Recipe Inspirations for Easy Homemade Chicken Noodle Soup and maybe some other stuff. Grab your soup bowl and meet me after the recipe…
THE RECIPE FOR EASY HOMEMADE CHICKEN NOODLE SOUP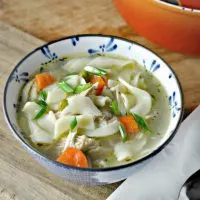 Easy Homemade Chicken Noodle Soup
Resistance is futile, easy homemade chicken noodle soup is simple AND delicious. You'll be eating in minutes a delicious homemade meal!
Print
Pin
Rate
Ingredients
2

tbs

unsalted butter

2

large carrots - diced

2

large celery sticks - diced

3

cloves

garlic minced

2

large shallots chopped

¼

tsp

salt

¼

tsp

pepper

5

quarts

of water

2

bay leaves

2

large or 3 medium sized chicken breasts

bone and skin on

1

tsp

salt

1

tsp

black pepper

½

tsp

Cumin

½

tsp

dried thyme

½

tsp

onion powder

½

tsp

garlic powder

1

small bag of egg noodles

4 -6 Cups

1/2

cup

frozen small peas

Salt and Pepper to Taste

Garnish with shredded cheddar or green onions or both!
Instructions
In the bottom of a heavy bottomed stock pot, melt the butter over medium heat on the stove top. Add the carrots, celery, garlic and shallots and cook until the shallots and garlic are aromatic and the carrots have begun to soften (3-4 minutes). Sprinkle with the ¼ tsp each of salt and pepper. Stir frequently.

Add the water to the stock pot and place the chicken breasts in the water. Add the bay leaves, salt and pepper as well. Add Cumin, thyme, Onion Powder and Garlic Powder. Lower heat to medium-low and simmer the chicken breasts until they are done and starting to fall apart (about 30 minutes).

Remove the chicken breasts from the water to a platter. Using two forks, shred the chicken meat into bite sized pieces. Set aside the skin and the bones and discard. Remove the bay leaves from the stock pot and discard.

Place the chicken meat back into the stock pot and return the water to a simmering medium-low. Add the egg noodles (the amount here really depends on how many noodles you like in your soup - we like a lot - but its entirely up to you). Add the peas. Cook until the noodles soften (5 minutes or so). Add salt and pepper to taste. If you like a creamier soup, add a little cream or milk to the soup and heat through. Your soup is ready to serve. I recommend grilled cheese with this - but you be the judge.
Notes
Make things easy and choose precooked chicken like rotisserie, frozen precooked or leftover!
Nutrition
Nutrition Facts
Easy Homemade Chicken Noodle Soup
Amount Per Serving
Calories 200
* Percent Daily Values are based on a 2000 calorie diet.
TIPS FOR MAKING EASY HOMEMADE CHICKEN NOODLE SOUP
If you only have boneless skinless chicken breasts – you could use those – however the skin and bones (in my opinion) adds a lot of flavor to the soup as it cooks. If you use the boneless/skinless chicken – you might want to add a couple chicken bouillon cubes to the soup to add a deeper chickeny flavor

When dicing the carrots and celery – dice to about the same size – I do mine about pea sized so that they cook well and through.

If you aren't a fan of cumin – you don't have to add – but I am a fan and think that cumin really sets off the taste of chicken. If you don't like it – just leave it out.

Noodles – let's talk noodles, shall we? I like those huge fat egg noodles. I mean. They are the best! If that isn't what you like – use whatever kind of noodle you like!

This soup freezes well. So, make a big pot and if you have leftovers, just freeze the rest in single serving zip lock bags – and then you have some that you can simply use for lunch or a quick supper.

This might only be me – but I LOVE the taste of some shredded cheddar cheese in my chicken noodle soup. Is that weird? It might be. But I definitely think you should try it!
RECIPE INSPIRATION FOR EASY HOMEMADE CHICKEN NOODLE SOUP
I think that this sounds kind of crazy – but as far as I know – I never ate a homemade soup except vegetable beef until I was an adult. In fact, I didn't even realize that you COULD make homemade soups OF ALL KINDS until I was an adult. (I"m a little slow sometimes, really, it's true). One day maybe 30 years ago, perusing my old standard cookbook – Better Homes and Gardens – which has a recipe for every basic thing you could ever want to make – I found a recipe for chicken soup. It hit me on the head like a brick, "Wow, you can make all kinds of soups!" lol. I've been making soups on my own ever since. The secret? Pick the kind of meat you want and the veggies and boil them to make a stock (sometimes you brown them in the pan first). Then add the other stuff – is it going to be a noodle soup? Add those. Is it going to be a creamy soup ? – make it creamy. It's pretty much as simple as that. Go for it! Make any kind of soup your heart desires!
In fact, I would love to hear about what kind of soup is your favorite? How do you make your chicken noodle soup? Did you try my recipe? How did it turn out? What did you do differently? Give me a shout out and let me know! I LOVE comments and they come directly to my cell phone – so, unless I have temporarily lost my phone or have gone kayaking or something, your comment will come right to me and I can answer right away in most cases.
Have a question? Comment below and I'll do my best to answer quickly so that you can get right back to cooking!!!
Thanks for visiting and come back soon. Stay away from sick people and wash your hands often. Eat the chicken soup because it tastes good – not because you are sick!
Praise be to the Lord, the God of Israel, because he has come and has redeemed his people. ~ Luke 1:68