Jump to Recipe
Is there anything more southern than smoky slow cooker green beans with bacon? No, there isn't. So, if you have ever wondered how to make green beans with bacon in a crockpot, here it is.  In no time, you'll be remembering meals with your grannie PLUS, you'll have a terrific dish to share without heating up your kitchen or taking up a burner on the stove.
While you might think that smooth silky smokey soft and slow cooked green beans might feel like "home" to everyone, you couldn't be more wrong.  Some people only cook green beans until they are barely bright green and still crispy!  I KNOW, right?  In my world that is called blanching.  
A college friend of mine from Canada introduced me to green beans cooked in such a way (or not really cooked at all, I should probably say).  All I could say was, "Dorothy, you aren't in Kansas anymore, you are in Tennessee and this is NOT how we cook green beans".  Instead, I politely ate my beans and imagined eating beans straight from the garden in the warm summer time – very pleasant indeed.  But if you want your beans cooked then….
HOW LONG DOES IT TAKE TO COOK CANNED GREEN BEANS IN A CROCK POT?
You might be asking, why does it take so long to cook canned green beans in a crock pot?  Essentially, green beans are already cooked when you open them, right?  Right.  You don't really have to cook them at all.
The question is, really, do you want that deep smoky flavor?  Do you want silky soft green beans that cry out, "As God as my witness, I'll never be hungry again!"?  If so, then at least 6 hours with good quality bacon and the other ingredients listed in the recipe.
HOW DO YOU MAKE GREEN BEANS WITH BACON?
You might just want to know how your grandmother achieved such depths of flavor!  How, afterall, do you make green beans with bacon?  That is the question, right?  The answer – in a crockpot – that is the best way!
You can, in fact, make this same recipe on the stovetop.  Simply follow those directions listed in the tips and tricks section.  No problem.  You'll get the most flavor if you cook them in the crockpot, however.
HOW LONG DOES IT TAKE TO COOK GREEN BEANS IN A CROCKPOT
You might be asking, how long does it take to cook green beans in a crockpot.  The answer is the same, about 6-8 hours if you want the slow cooked delicious and silky smooth flavor that we are after.
THE RECIPE FOR SLOW COOKER GREEN BEANS WITH BACON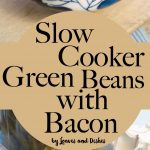 Slow Cooker Green Beans with Bacon
This recipe is for slow cooker or crockpot green beans with bacon
Ingredients
1

quart

jar of green beans or 2 14.5 oz cans of green beans drained

2

cloves

of garlic

or 1 tsp, minced

2

Tbs

unsalted sweet cream butter

1

tbs

brown sugar

2

strips of bacon - raw - cut into 1-2 inch pieces

1

cup

chicken broth

Salt and pepper to taste

Usually about 1 tsp salt and ½ tsp pepper
Instructions
Mix all of the above listed ingredients together in the crockpot and set on low.  Cook for 6-8 hours.
Recipe Notes
This is a slow cooker or crockpot recipe for southern style green beans with bacon
Nutrition Facts
Slow Cooker Green Beans with Bacon
Amount Per Serving (1 g)
Calories 30
* Percent Daily Values are based on a 2000 calorie diet.
TIPS AND TRICKS FOR SLOW COOKER GREEN BEANS WITH BACON
It is ALWAYS best to use home canned green beans for the best taste.  If you have never canned green beans and would like to try you can find my directions HERE.  

If you don't have home canned green beans – commercially canned are fine.  I personally like to use Allens or Margaret Holmes.  Seriously though, there probably isn't that much difference in store bought beans.  Especially if you are making slow cooker green beans with bacon.

I like to use the thick sliced applewood smoked or the cherry wood smoked bacon – I think it has the best flavor.  If you are using thin sliced or the most inexpensive bacon – the kind that is stringy and falls apart when you try to take it out of the package – then please add 4 slices of bacon to the recipe.

You might be asking yourself WHY there is sugar in this recipe. The answer?  Because this is how most every grandma you ever met in the south makes any vegetable – by adding sugar.  Believe me, it makes a difference.  You don't exactly taste the sugar – but it adds a little somethin somethin.

Using brown sugar vs white sugar.  Yes, I know, your grandma used white sugar (mine probably did too).  However, I've found that the brown sugar just gives a little more depth of flavor and that is what I am going for, after all.  The flavor.  

Usually when I do recipes like this, someone will comment, "WHY would you put RAW bacon in a recipe???  THAT IS DANGEROUS".  In fact, no, it isn't dangerous.  The bacon cooks right along with the beans – believe me – after 6-8 hours in a crockpot – EVERYTHING Is cooked.  The bacon imparts a lot of smoky goodness to the beans as it cooks.  That is why it is in there! If you are afraid of the bacon – then just don't eat it.  Eat the beans – for they are delicious!

You might ask, "can I use water instead of chicken broth since you only call for a cup?".  The answer is "of course you can".  However, the chicken broth is going to add flavor and that is what we are going for here.  You might want to use chicken broth that comes in the box with the pour spout – that way you can use it in EVERYTHING to add flavor!  That is what I do (If I don't have any that I canned myself – you can find that HERE).
IF YOU ENJOYED SLOW COOKER GREEN BEANS WITH BACON, YOU MIGHT ALSO ENJOY…
The Secret to Perfect Old Fashioned Pinto Beans
Easy Green Bean Canning for Busy People
7 Secrets to the Richest Most Flavorful Cowboy Baked Beans Ever
Clay's famous Three Bean Casserole
A VERSE TO SHARE
You are special, do you know that?  You are!  Look at what you have accomplished!  Just take a single moment and say to yourself, "Self, look at what you have been able to do!  Isn't it amazing?"  
I hope as you take this assessment you will also say, "How was I able to make this happen?' and find it in you to thank THE ONE who is responsible.  We are all made in His image and that is a wondrous thing, is it not?  I think so.
As we think of what we have accomplished, I hope we will also take stock of how we are able to help one another.  What can you do to reach out?  Do you know someone struggling?  I do.  
It is important to remember that the person struggling is as precious in God's eyes as you are. Beyond that, it is upon each of us to help one another.  We all reap what we have sowed.  
Thank you for being the special you that you are!  I appreciate you and I know God holds you in his heart.  
Galatians 6: 6-10
Brothers and sisters, if someone is caught in a sin, you who live by the Spirit should restore that person gently. But watch yourselves, or you also may be tempted.  Carry each other's burdens, and in this way you will fulfill the law of Christ.  If anyone thinks they are something when they are not, they deceive themselves.  Each one should test their own actions. Then they can take pride in themselves alone, without comparing themselves to someone else,  for each one should carry their own load.  Nevertheless, the one who receives instruction in the word should share all good things with their instructor.
Do not be deceived: God cannot be mocked. A man reaps what he sows. Whoever sows to please their flesh, from the flesh will reap destruction; whoever sows to please the Spirit, from the Spirit will reap eternal life.  Let us not become weary in doing good, for at the proper time we will reap a harvest if we do not give up.  Therefore, as we have opportunity, let us do good to all people, especially to those who belong to the family of believers.