Sour, Sweet, Crunchy and Satisfying! PLUS, EASY FAST AND AFFORDABLE! This German Sauerkraut Recipe fits the bill perfectly with how to cook canned sauerkraut!
Why This German Sauerkraut Recipe Works…
FAST
EASY
FLAVORFUL
Crunchy and PERFECT with Kielbasa, smoked sausage or brisket!
Perfect SWEET AND SOUR taste with the seasonings that are added.
Here's How It's Done…
STEP 1.
Melt the butter in a pan, add the garlic and onion (if using garlic and onion powder, then simply add the canned sauerkraut first).
STEP 2.
Add all the seasonings and the apple pieces.
STEP 3.
Heat until heated through and simmering. Serve warm
Frequently Asked Questions (FAQ's)
Can I use sauerkraut from a bag or from a jar for this recipe?
YES! Of Course! Canned sauerkraut, jarred sauerkraut or chilled bagged sauerkraut works fine! You'll need to account for any size changes by increasing the other ingredients as needed.
Can I cook this sauerkraut recipe in the microwave?
Absolutely! Do the following:
Add all of the ingredients to a microwave safe bowl (first drain the sauerkraut).
Heat on high heat for 1 minute, remove and stir.
Heat for 30 second intervals until heated through.
Can I Make This Quick Sauerkraut Recipe in the Oven?
Yep! You CAN!
Pour the water out of the

sauerkraut.

Put all of the ingredients into an ovenproof baking dish. Cover with aluminum foil
Bake at 350 degrees for 20 minutes. Remove from the oven and stir.
How Do I Cook Canned Sauerkraut on the Stove?
Just follow the recipe listed below!
Does Canned Sauerkraut Even Need To Be Cooked?
Actually, canned, jarred and refrigerated sauerkraut does not have to be cooked before you eat it. Essentially, you are just heating it up.
What Are the Benefits of Eating Sauerkraut?
Sauerkraut is one of the oldest ways to preserve cabbage and it is loaded with good stuff! I recommend checking out THIS article about the health benefits of sauerkraut.
Can I Just Heat Up Sauerkraut to eat it?
Yes, absolutely you can! It is good that way. The recipe that I am giving you is simply enhancing the flavors of the basic sauerkraut to bring out the best!
Tips & Tricks for Making This Quick Sauerkraut Recipe
Drain the sauerkraut well and if you are concerned about salt at all, then rinse well with cool water as well. Squeeze the water out before beginning the recipe.
If you do not have any chicken stock, it is ok to just use water, but the flavor won't be as good.
If you don't like caraway seeds, it's ok, just leave them off. HOWEVER, I have to say, you'll be missing an important taste! Caraway in this dish placed against the apple and the sauerkraut is simply delicious! Give it a try!
Cut the apple into small pieces that are roughing the same size. Pencil eraser size is the best.
Check out my Crockpot Sauerkraut and Weiners!
PRO TIP: Sauerkraut is WONDERFUL with kielbasa, polish sausage or smoked sausage. Try one of those with this recipe. Cocktail weiners cut in half and added to this recipe is also VERY GOOD!
What Can I Serve With Canned Sauerkraut?
My family LOVES Bacon Wrapped Hot Dogs or Meatloaf with this dish!
Try Some of My Other Canned Food Recipes Today!
How To Cook Canned Pinto Beans
How To Cook Canned Black Beans
YA'LL HELP ME OUT, OK?
Please leave me a comment and 5 STAR ( 🌟 🌟🌟🌟 🌟 ) review, I ALWAYS love to hear from you and your comments MAKE MY DAY! (Plus, it helps me out by letting everyone know that this is the place to find good recipes!)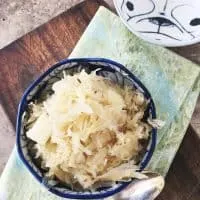 How To Cook Canned Sauerkraut
20 minutes and you have the best german sauerkraut recipe around!
Print
Pin
Rate
Ingredients
2

tbs

butter

½

onion (minced)

or 1 tsp onion powder

2

garlic cloves (minced)

or 1 tsp garlic powder

2

15 oz

cans sauerkraut

1

Cup

chicken stock

1

tsp

granulated sugar

½

tsp

ground black pepper

¼

tsp

caraway seeds

1

sweet apple

(Gala is a good choice) cut into small cubes ( pencil eraser size and peeled.)

Salt per taste
Instructions
In a medium sized saucepan over medium heat, melt the butter and then add the minced onion and garlic until softened.

While the onion and garlic are cooking, drain the sauerkraut.

When the onion and garlic are softened, add the drained sauerkraut, chicken stock, sugar, black pepper, caraway seeds and apple chunks.

Heat over medium heat until simmering and the dish is heated through.

Taste and add salt as needed.
Notes
If you are using onion powder and garlic powder like I am in the video, you will just put the sauerkraut in the pan first, then add the garlic and onion powder. Add the butter as well.
If you want to make this recipe for just 2 people, make it like I do in the video using just one can and cutting the other ingredients in 1/2.
Caraway seeds aren't to everyone's liking, however, I recommend you try them in this recipe because they are super tasty!
Feel free to substitute any other sugar sweetener for the granulated sugar (maple syrup, honey, etc.).
PRO TIP: This recipe is amped up about 10x by adding some fatty cured meat such as bacon pieces, kielbasa, smoked sausage, cocktail wieners, etc. You can just put them right in the saucepan with the sauerkraut! YUM! Especially great on a cold winter day.
Nutrition
Nutrition Facts
How To Cook Canned Sauerkraut
Amount Per Serving
Calories 86
Calories from Fat 63
% Daily Value*
Fat 7g11%
Cholesterol 17mg6%
Sodium 141mg6%
Potassium 83mg2%
Carbohydrates 5g2%
Protein 2g4%
Vitamin A 175IU4%
Vitamin C 1.5mg2%
Calcium 6mg1%
Iron 0.1mg1%
* Percent Daily Values are based on a 2000 calorie diet.