Crunchy edges, flavorful mouth popping bits of potato with that fresh sauteed onion is the best taste in the world! Try Southern Fried Potatoes and onions!
Southern Fried Potatoes and Onions Recipe
Step 1. Use a heavy frying pan (not non stick). A Cast Iron Skillet is recommended.
Step 2. Soak the potatoes.
Step 3. Pat dry the potatoes well and heat the butter and oil to very hot.
Step 4. Put the potatoes and onions in the pan and LEAVE THEM ALONE. Cook the potatoes over medium high heat for 3-4 minutes allowing them to develop a crust on the pan fried potatoes before turning.
Step 5. Turn and let them cook on the other side. Remove to a paper towel to drain.
How to cook Potatoes and Onions on the stove
There isn't much that could be more simple than Fried Potatoes and Onions on the stove. First, you will want to gather your equipment and ingredients.
A heavy frying pan (a well seasoned 9" Cast Iron frying pan) is best. Do not use a non stick pan for this job. If all you have is stainless steel – ok – but it sticks worse.

Good quality peanut oil and some unsweetened sweet cream butter. Olive oil is not the best oil for this job. Vegetable oil works because of its high smoke point.

Salt and Pepper

Potatoes and onions
That's it!
OK – well maybe a little paprika and basil – but that is just me.
The main problem with potatoes is that they are sticky. They LOVE to stick to the pan. Follow my recipe with the tips and tricks that you find below the recipe and you'll have the best chance at no sticking, crispy and tasty fried potatoes and onions.
How to make cubed potatoes
People have asked how to make cubed potatoes and it is simply how you cut the potatoes. If you like yours in cubes, then cut into cubes. How about chip-like slices? Then cut into slices. It is entirely up to you.
Personally, I find cubes easier to deal with during cooking, but it is more work cutting them up. There is also a way to make really crispy fried potatoes, but I already covered that once before.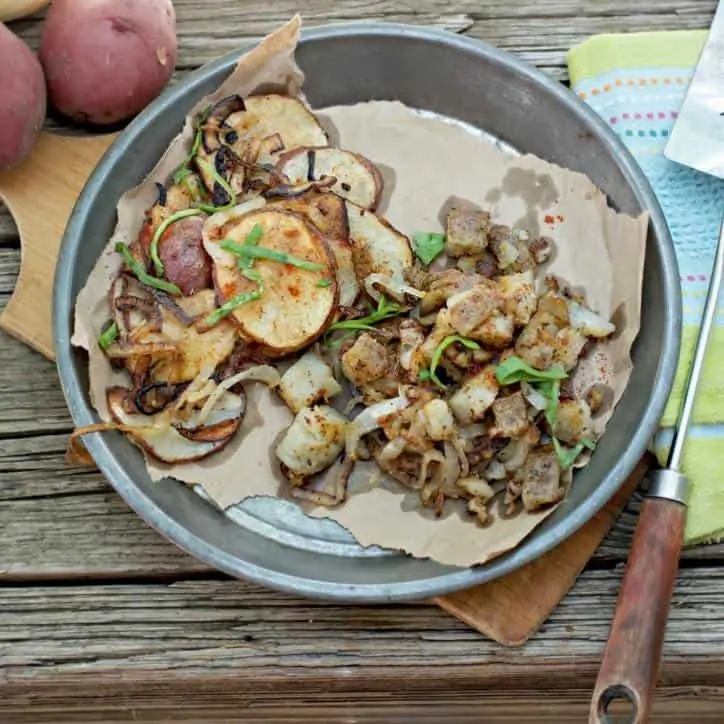 Southern Fried Potatoes and Onions
Frequently Asked Questions (FAQ's)
Do You Have to Soak Potatoes Before Frying?
The reason to soak the potatoes before frying is because it gets some of the gluey like starch out and this helps the potatoes not to stick! So, if your goal is perfectly browned potatoes, then yes, soak them before frying.
Can You Fry Potatoes Without Boiling Them First?
The short answer? Yes. You CAN fry potatoes without boiling them first. This recipe requires a quick soak first but not a boil. Boiling is for par-cooking the potato before frying which also works fine.
How Long Do You Soak Potatoes Before Frying?
5 Minutes. Soak the potato slices for 5 minutes before frying them to remove the sticky starchy contents. This helps the potatoes not to stick to the pan.
How Do You Make Fried Potatoes Not Stick?
To help potatoes NOT stick to the pan do the following….
Use a good heavy cast iron skillet to cook with.
Soak the potato slices for 5 minutes before cooking them.
Be sure to dry the potato slices VERY WELL before cooking.
Allow the potatoes to cook for at least 3-4 minutes on one side before flipping. Allowing them to develop a slight crust will help them to release from the pan.
Tips and Tricks for Southern Fried Potatoes and Onion
You are going to ask if you can use some other oil. The answer is yes you can use a different oil – however, peanut oil and butter have a wonderful taste that is true south.

Can I use a different potato? The answer is – yes. Use any potato you like

You are also going to ask if you have to peel the potato or not. The answer is – whatever tastes good to you. I like to use red potatoes because the skin is thin and you almost never have to peel it off. I don't like peeling potatoes – so that is a great plus in my book.

Do you have to soak the potatoes in salted water? No, you don't have to – but it works better if you do.

Southern Fried Potatoes and Onions are terrific when made from already baked potatoes. Mr. Loaves and Dishes use a lot of our leftover baking potatoes this way!

What about other seasonings? Use what you like – you might want to try some garlic salt!

One important thing – this is VERY IMPORTANT – oil and water do not mix. Hot oil and water can start a fire. MAKE SURE TO DRY THE POTATOES OFF VERY WELL BEFORE PUTTING THEM IN THE HOT OIL!

The cooking time is variable depending on your potato – how thickly you slice them – the type, etc. Cook them until they are browned the way you like – if you like a mushier potato then cook for a shorter time – if you like a more crunchy potato then cook for a longer time.

It is important to add the salt as soon as you remove from the oil. The salt will stick to the oil but that oil will drain off shortly and then you have missed your window of opportunity.

Want to know a LOT more about potatoes? Check out the national potato council!
Want to TRY Something REALLY Delicious?
Slather Some of THESE Gravies over the top of these potatoes!
Or how about one of these delicious side dishes?
YOU WON'T BE SORRY!
TRY These OTHER Potato Recipes by Loaves and Dishes!
The Secret to Au Gratin Potatoes
YA'LL HELP ME OUT…
Please leave me a 5 star 🌟🌟🌟🌟🌟 comment below in the comment section, all right? I would LOVE to know if you made this recipe or even if you are planning to! Of course, head on over to Pinterest, Facebook and Instagram and tag me with some photos of your creation!
I can't wait!
Ya'll know I love your comments!! ❤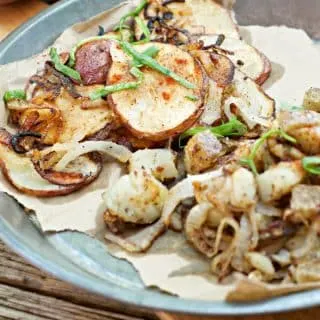 Southern Fried Potatoes and Onions
Simple recipe for Southern Fried Potatoes and Onions
Print
Pin
Rate
Ingredients
Enough peanut oil to wet the entire bottom of your pan

2

tbs

unsalted sweet cream butter

1

lb

Idaho

Russet or Red potatoes (I like Reds - but that is just a personal preference)

Salted water

½

medium sized sweet onion

like Vidalia

Salt and Pepper to taste

Garnish with paprika and fresh basil
Instructions
Place a heavy 9" cast iron skillet over medium heat (just a little more than medium on my electric stove).

Pour oil into the skillet and add the butter as well. Allow this to heat until the oil is shimmery on the surface - not smoking - if it starts to smoke, pull it off the heat and let it cool some until it is shimmery again.

Cut up the potatoes into pieces that are the same size - chips or cubes - your choice.

As you cut, place into 4 cups of water that has 2 Tbs of salt mixed in.

Cut up onion into bigger chunks than you cut the potato.

After 5 minutes, drain the potato VERY WELL and dry with paper towels

When the oil is ready (shimmery) put the potato and the onion into the oil. Do not crowd the potatoes. If there isn't enough room for them to lay side by side, then let some cook, remove them to drain on a paper towel and then cook the rest.

Cook for about 4 minutes on one side then flip and cook for another 2-4 minutes on the other side.

Drain on a paper towel. Salt and pepper as soon as you remove from the oil

Garnish and serve hot.
Notes
Be sure to cut the potatoes into like sized pieces so that they cook evenly.
It is super important to dry the potatoes very well after soaking. If you don't, the oil could flare up when you put the potatoes in. That could be dangerous.
Sweet Onions include Vidalia and Texas Sweets. They should be labeled "sweet onion" at the grocery.
Either Russets, yellow or red potatoes will work with this recipe.
Nutrition
Nutrition Facts
Southern Fried Potatoes and Onions
Amount Per Serving
Calories 77
Calories from Fat 27
% Daily Value*
Fat 3g5%
Cholesterol 8mg3%
Sodium 5mg0%
Potassium 261mg7%
Carbohydrates 12g4%
Protein 1g2%
Vitamin A 89IU2%
Vitamin C 4mg5%
Calcium 12mg1%
Iron 1mg6%
* Percent Daily Values are based on a 2000 calorie diet.
**This post originally appeared on Loaves and Dishes on July 16, 2017 and has been updated with new information*** "
VERSE TO SHARE
Personally, I think we (yeah, us Christians) have a credibility problem.
Do you remember that song you sang at church as a child? "This little light of mine, I'm gonna let it shine. This little light of mine, I'm gonna let it shine, let it shine, let it shine, it shine". (I heard you singing) <smile>.
Matthew 5: 14-16
"You are the light of the world. A town built on a hill cannot be hidden. Neither do people light a lamp and put it under a bowl. Instead they put it on its stand, and it gives light to everyone in the house. In the same way, let your light shine before others, that they may see your good deeds and glorify your Father in heaven