Clearly I fell on my head at some point in the past 3 ½ years because how did I manage to leave My Mom's Meatloaf off of the recipe list at Loaves and Dishes, the CENTER of the unapologetic comfort food world on the internet? What is My Mom's Meatloaf if it isn't comfort food?
This, my friends is the classic meatloaf I grew up eating. My mom's meatloaf is juicy, has delicious flavor and that red sticky sauce on the top (I didn't like that part when I was a kid, but now, honey, I can't get enough).
WATCH WENDI MAKE HER MOM'S MEATLOAF HERE!
WHAT YOU WILL LOVE ABOUT MY MOM'S MEATLOAF
This classic meatloaf recipe has so many great qualities that you expect in a classic meatloaf, but these are the best….
This recipe is easy.

The meatloaf holds together well

Did I say moist?

How about a ton of flavor?

It's old school. Seriously, this is THE CLASSIC meatloaf.

You can change it up with some things that you might like to add to your own meatloaf and make it entirely your own recipe! What a great cook you are!
PRO TIP: Make SURE to get some of the sauce that slides off of the meatloaf and lands near the corner of the baking dish and gets crusty brown/black. HELLO wonderful taste!
CONFESSION ABOUT MY MOM'S MEATLOAF
Just to be fair, I have put my own tiny spin on my mom's meatloaf. My family doesn't like little pieces of onion in anything like hamburger, so I use onion powder (because I don't want to eat this whole thing myself – which, now that I think about it might be a pretty good idea but I'll need to save that for a super hungry day!). I DO recommend using ½ an onion minced rather than the powder though.
TIPS AND TRICKS FOR MY MOM'S MEATLOAF
The changes I made to my mom's meatloaf recipe? Just a couple, as I said, I removed the minced onions, my family doesn't like those.

Many people like green bell pepper in their meatloaf, if you do, feel free to add ½ -1 green pepper diced. Again, my finicky family doesn't like that flavor.

In updating this recipe, I added a few ingredients for a kick. I think they enhance the rest of the recipe.

Did you know that you can overwork meatloaf? When you add the ingredients and mix them together, don't get all crazy with it. Just mix it gently until everything is spread around pretty good. If you overwork it, the meatloaf will become tough.

If you like more glaze and use it like a gravy, then feel free to double or triple that part of the recipe.

Perhaps a tasty dip is in order for you and yours? Make an extra recipe of the glaze and keep it at the table for dipping.

Think about your mom when you eat this meatloaf. You'll be carried directly to 1974, promise. 🙂
IF YOU ENJOYED MY MOM'S MEATLOAF, YOU MIGHT ALSO ENJOY…
KITCHEN TOOLS I USE TO MAKE THIS RECIPE
This recipe is so simple that if you have a big bowl, a baking dish and your hands, you'll be fine. I do own this 9×13 baking dish and it is perfect for taking something like meatloaf to a pot luck supper. (This is an affiliate link, you can click the picture to go through to Amazon so you can compare prices).

These large stainless steel mixing bowls are super nice as well, they stack easily, clean up is a breeze and they are light weight so they are easy on your wrists!
YA'LL, HELP ME OUT, OK?
Please leave me a 5 star comment below in the comment section, all right? I would LOVE to know if you made this recipe or even if you are planning to! Of course, head on over to Pinterest, Facebook and Instagram and tag me with some photos of your creation!
I can't wait!
Ya'll know I love your comments!! ❤
THE RECIPE FOR MY MOM'S MEATLOAF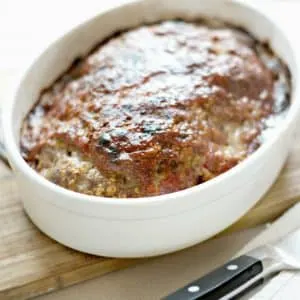 My Mom's Meatloaf
This is my mom's meatloaf recipe. This meatloaf is simple, juicy and wonderfully classic
Print
Pin
Rate
Ingredients
FOR THE MEATLOAF
2

lb

ground beef

½

lb

good quality pork sausage

2 ½

teaspoon

salt

½

teaspoon

ground black pepper

2

tsp

ground onion powder

2

tsp

ground garlic powder

¼

tsp

red pepper flakes

2

lightly beaten eggs

16

oz

canned diced tomatoes

DRAINED

1

cup

quick cooking oats
FOR THE GLAZE
⅔

cup

ketchup

4

tablespoons

brown sugar

2

tablespoon

Dijon mustard
Instructions
Preheat the oven to 375

Spray your meatloaf pan with cooking spray
For the Meatloaf
Mix the beef, sausage, salt, pepper, onion powder, garlic powder, red pepper flakes, eggs, drained tomatoes and oats. Just mix until you can see that the ingredients are mixed together well, do not over manipulate (this makes the meatloaf tough)

Transfer the ingredients into the baking dish and form into a loaf shape.
For the Glaze
Mix the ketchup, brown sugar and mustard together well and spread on the loaf. Feel free to make more glaze if you like it to be more of a "gravy" than a glaze - double or triple the glaze recipe according to your own tastes.

Bake for one hour at 375. Serve hot.
Notes
This is a simple classic meatloaf that is always juicy and perfect and has that classic ketchup topping
Nutrition
Nutrition Facts
My Mom's Meatloaf
Amount Per Serving
Calories 330
* Percent Daily Values are based on a 2000 calorie diet.
A VERSE TO SHARE
I wonder why one of the 10 commandments isn't "Never judge a book by its cover". Perhaps I'll petition God to see if I can get that added.
Thinking about that again, maybe I shouldn't because I am perpetually guilty of this. I can feel the eternal fires tickling the soles of my feet now.
This week someone a little avante garde sat down next to me and struck up a conversation. In my "looking at the book's cover" mode, I immediately decided that this person was a little lost, has a sordid past and maybe the parents didn't love her like they should.
JESUS PLEASE HELP ME
Sweet Jesus, please help me to stop doing this.
Thank GOODNESS I kept talking to her and discovered more about her. Her outer appearance didn't match the truth at all (which is another thing, but still, none of my business).
The truth? She LOVES Jesus and feels personally the gifts He has given her. (I didn't know this because of something I did, instead I found out because she brought it up). She is a mother, a hairdresser and writer. Her parents are wonderful.
What do I know.
Nothing, apparently.
WHAT GOD DID SAY…
I suppose God DID say, "Don't judge a book by its cover" when Jesus brought to us the new laws. You know the one, "Love your neighbor as yourself". That one? That means we look past the cover, right?
Makes me wonder what she saw when she looked at me? I hope she saw something better than what was peeking out at the time.
Mark 12: 30-31
Love the Lord your God with all your heart and with all your soul and with all your mind and with all your strength.' The second is this: 'Love your neighbor as yourself.' There is no commandment greater than these."