The cookbooks for the giveaway on this post are a gift from Kix Brooks but the cookbook review and the recipe are all mine. I have a Major MAJOR dilemma! There is something I REALLY want to do tonight when I get off work!!! However, I DO need to fix SOMETHING for the Mr and me to eat. That's one thing about married life. A relaxing dinner of crackers, brie and wine is not on the list for dinner anymore. I did that? Yes I did. Guilty (not guilty) face. So, I'm sharing my secret "fast dinner" with you today, my world famous BBQ Chicken Nachos!
I wrote that last night, but….The BEST part about what I'm doing is that I get to share it with you! Isn't that killer? I'm spent my evening reviewing a The NEW COOKBOOK by Kix Brooks, "Cookin'It with Kix, The art of Celebrating and the Fun of Outdoor Cooking". You know that guy, right? Brooks & Dunn Fame? AND, I'm giving away THREE special copies RIGHT HERE on Loaves and Dishes! ENTER DAILY!!
So, go fix up these BBQ Chicken Nachos and go curl up on the couch and read that cookbook cover to cover, K? (You DO like reading cookbooks like a book, right?). I do. Again, that probably tells you more about my life than I should share, but there it is. Join me after the recipe for a chat about the book, the giveaway and other SUPER FUN stuff! (You think I'm fun, right?)
BBQ CHICKEN NACHOS RECIPE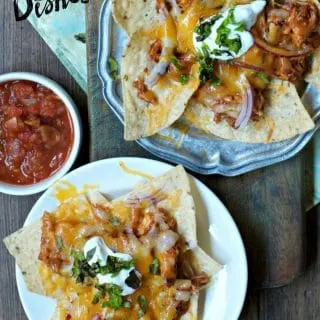 BBQ Chicken Nachos
If you enjoyed this recipe, come on back to www.loavesanddishes.net. When you become a member of the Loaves and Dishes community, you'll be making dinner's that will have family BEGGING FOR MORE!
Print
Pin
Rate
Ingredients
1/2

store-bought roasted chicken

½

cup

BBQ sauce

I prefer Sweet Baby Ray's Honey Chipotle Sauce

½

bag tortilla chips

¼

Cup

thinly sliced purple onion slices

½

Cup

shredded pepper Jack Cheese

½

Cup

three cheddar shredded cheese
Instructions
Preheat the oven on broil. Using ½ of your store-bought roasted chicken, pick off and shred the meat from a breast, thigh and leg. Place in a microwave safe bowl and mix well with the BBQ sauce. Heat this mixture in the microwave on High Heat for 1 ½ minutes. Remove from the microwave and set aside.

On a sheet pan or on a large oven safe dish, spread out the tortilla chips. Sprinkle the BBQ Chicken mixture around over the top of the chips. Follow by sprinkling the onions and cheeses around as well.

Place in the oven under the broiler for about 2 minutes until the cheese is melted and bubbly. Garnish with Cilantro and/or green onion slices and Sour Cream.
Notes
Spice it up and substitute pork or beef for the chicken.
Use whatever toppings you like best!
Nutrition
Nutrition Facts
BBQ Chicken Nachos
Amount Per Serving
Calories 300
* Percent Daily Values are based on a 2000 calorie diet.
TIPS AND TRICKS FOR BBQ CHICKEN NACHOS
Make these nachos your own. I like the nachos I have described here (I ate them THREE TIMES this week already – guilty face [not guilty]), but you could just as easily add more ingredients like diced tomatoes, avocado slices, olives, other cheeses, diced fresh jalapenos, salad greens. The trick is to even out the meat/cheese/fresh green!

Usually at Loaves and Dishes, we go for "make your own" foods. You could make this recipe with a crockpot roasted chicken and that would be easy AND delicious. You can find that recipe HERE.

If you don't have Pepper Jack cheese or don't like spicy flavors – then no worry – just use a white cheese like a mozzarella or a provolone or even a swiss would be great!

When you are spreading those tortilla chips around – just make sure to really spread them – otherwise, you'll get toppings on only a few chips and a big nothing on the other chips. That always makes me mad.

You can totally skip the oven proof dish if you don't have one – just make these on a cookie sheet. Same directions. You can put them on your plate when they come out of the oven. No probs.

Oh – Nachos are HOT when they come out of the oven and will burn your mouth. Just sayin.
PROCESS PHOTOS FOR BBQ CHICKEN NACHOS
THE COOK BOOK REVIEW FOR COOKIN' IT WITH KIX
So, you might be wondering if these Chicken Nachos are in the Kix cookbook. Nope. These BBQ Chicken Nachos are my recipe. Something I can fix quick when I've got something else to do . Kix has some equally terrific recipes though.
On my first thumb through, I noticed that my readers would LOVE the home cooking, whole ingredient recipes that Kix has put together. I found everything from Pimento Cheese recipes to Coconut Cake to Carnita Taco's. In fact, I was starting to think that Kix is my brother from a 'nother mother or something….. that is until I read his recipe for squirrel stew. It's in there too.
Who knows, maybe I'll get around to squirrel on Loaves and Dishes one day….. when I run out of other recipes to try. Sorry Kix. Everything else though….. Yep all of it….. Looks RIGHT ON POINT to me. Believe me, I know a good recipe book when I see one!
One other thing. The photos. Gorgeous gorgeous photos. He even makes me want to try a brussel sprout with those photos! The brownies – AWWWW MAN – the Brownies look devine! And OH MAN! The ribeye and the strip steak! I'm ready to go fire up the grill right now! Drooling they look so good.
Kix's Cookbook is 8 Chapters packed to the brim with recipes so delicious that you can taste them just from the photos. If you like the recipes at Loaves and Dishes, you will LOVE Kix's recipes too. Promise.
WANT TO BE A KITCHEN ROCKSTAR COOKING LIKE THIS EVERY NIGHT?
Once you join the Loaves and Dishes Community, you will be preparing terrific tasting dinners like this that your family will scarf down like a wild animal (only with better manners). Skip the straight to the trash dinner disasters!
You'll get a quick look at every recipe from Loaves and Dishes as soon as it is published.
Simply sign up below with your email. I promise – hand to God – that I will NEVER EVER share your email address with anyone. I hate spam too.

A VERSE TO SHARE
I told ya'll that I've been struggling with something that happened. I keep digging. I hope my digging helps someone else too.
For the message of the cross is foolishness to those who are perishing, but to us who are being saved it is the power of God. For it is written:
"I will destroy the wisdom of the wise;
the intelligence of the intelligent I will frustrate."
Where is the wise person? Where is the teacher of the law? Where is the philosopher of this age? Has not God made foolish the wisdom of the world?For since in the wisdom of God the world through its wisdom did not know him, God was pleased through the foolishness of what was preached to save those who believe. Jews demand signs and Greeks look for wisdom, but we preach Christ crucified: a stumbling block to Jews and foolishness to Gentiles, but to those whom God has called, both Jews and Greeks, Christ the power of God and the wisdom of God. For the foolishness of God is wiser than human wisdom, and the weakness of God is stronger than human strength.
~ 1 Corinthians 1: 18-25.