What could be cuter! I ask you? (Ok, well surely a Nutella Acorn Kiss is nowhere as cute as my soon to be born grandson, but its all I've got right now!) While we wait, I know that you – like me – need a little treat to take to a party or to a friends house this fall! This is the PERFECT and easy party treat. No cooking required! EASY! Little Nutella Acorn Kisses are the perfect sized dessert OR cupcake topper!
I know you have been wondering, "Where is Wendi?" Fear not! The Spraker family had a whirlwind trip to Tennessee last weekend followed by a massively busy week this week with the day time paying job – which left ZERO time for Loaves and Dishes! So – I apologize – I didn't mean to leave you hanging, but sometimes life gets in the way of food blogging!
I didn't forget about you though and I thank you for waiting patiently! I have some delicious nutella jam cakes coming as well as a zippity doo daa good crockpot recipe! The kind where you simply put everything in the crock pot in the morning, turn it on, come back at dinner and it is DONE! I LOVE those kinds of recipes! I would have had this recipe ready for you earlier but each time I have made it, we ate it all before I could take a picture! Good news for the recipe. Bad news for the blog.
I'm not taking any chances with these Nutella Acorn Kisses, I made them and I have hidden them in the kitchen until it is time for me to get my camera out to take their little pictures! Do you have any idea how hard it is to hide a Nutella Acorn Kiss from yourself? First world problems, I know. The struggle is real though – I assure you it is!
Recipe Inspiration for Nuttela Acorn Kisses
I have seen similar little kisses all over the internet. Maybe you have too. I have no idea who came up with the idea first. I have seen them with an entire Mini Nutter Butter Cookie as a top. Half of a Nutter Butter as a top. With Peanut Butter used as "glue". With a butterscotch chip as a stem. Lots and lots of ways to make these – you get the idea. I invite you to be creative and try one yourself! Please leave me a comment and tell me how you will use yours!
You might also enjoy Nuttella Jam Cakes!
COMING UP NEXT WEEK
Want to know why that heading is in all CAPS? BECAUSE I AM SO EXCITED I CAN BARELY STAND IT! Next week, Sarah Uselton and I will board an airplane in Charlotte, NC at the early crack of dawn on Thursday for SEATTLE! We are going to attend the International Food Bloggers Conference!! YIPEE!
Until next time when I return with Nutella Jam Cakes. YUM! Take care!
We continually remember before our God and Father your work produced by faith, your labor prompted by love, and your endurance inspired by hope in our Lord Jesus Christ. ~ 1 Thessalonians 1:3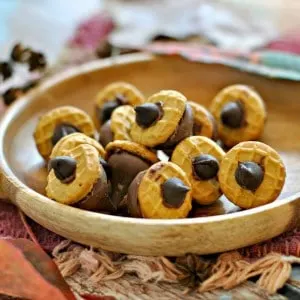 Nutella Acorn Kisses
These easy and simple treats are so much fun to put together and EAT!
Print
Pin
Rate
Ingredients
1

bag of miniature Nutter Butter Cookies

3

tsp

Nutella spread

1

bag of Hershey Kisses – regular sized

1

bag of chocolate chips
Instructions
Separate the miniature Nutter Butter cookies. One half will have the peanut butter attached – this is ok. Unwrap the Hershey kisses.

Using a small knife, spread a small amount of nutella on the inside half of the nutter butter cookie. – if you have the half with the peanut butter – just spread the nutella on top of the peanut butter filling. Press the flat side of the Hershey kiss to the nutter butter.

Place a tiny amount of nutella on the center of the top of the nutter butter cookie. Attach the chocolate chip on the flat side to the nutella on the top of the cookie.

Serve these little acorns as a topper for cupcakes, on a cake, as a treat with coffee or milk!
Notes
As an alternative to the nutella, if that isn't just the thing for you, you could try peanut butter instead and the results would be just as good!
Nutrition
Nutrition Facts
Nutella Acorn Kisses
Amount Per Serving
Calories 200
* Percent Daily Values are based on a 2000 calorie diet.