Welcome to Loaves and Dishes, I am so very glad that you are here.
Are you needing an inspiration for Valentines Day? Something rich, creamy and oh so delicious – but not so much that it will overwhelm you?
I present to you…..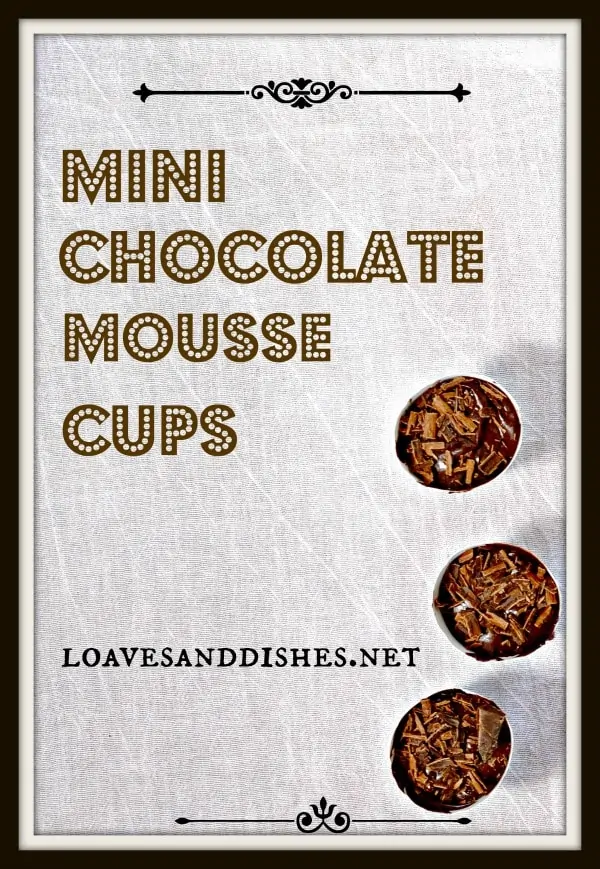 I have the perfect recipe for you – easy to make and it only takes about 10 minutes of your time – Mini Chocolate Mousse Cups! The perfect sweet treat after a large meal – and just enough to tingle your taste buds but not enough to cause you to end up rubbing your belly asking your sweet heart "why did you let me do that?"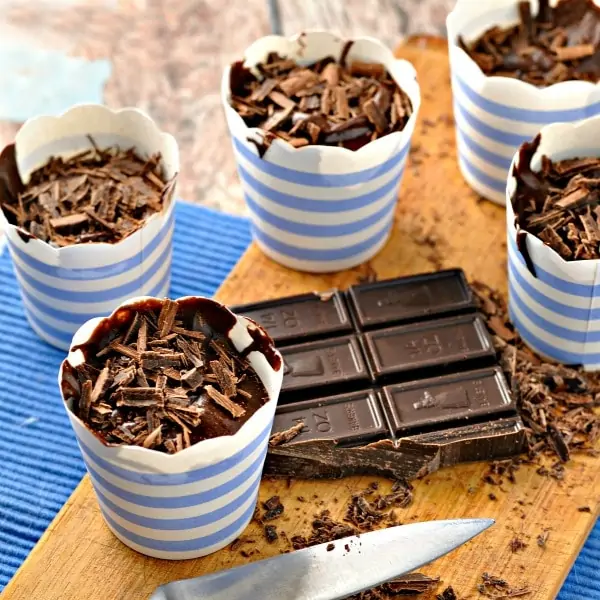 You could certainly make this recipe in larger containers – these are some small cups I found in the baking section of the store. A small ramekin would work just as well – but I warn you, these are very rich desserts and a small amount is the right amount.
Making this recipe reminds me of my son, Jason, who is all grown up now and has children of his own. As a 4 year old little boy he LOVED to argue with me about anything I said. One Saturday I was cooking with some unsweetened baking chocolate. He thought I had a giant candy bar. He asked if he could have some and I told him that it wasn't a candy bar but instead is baking chocolate, which is very bitter and yucky tasting. He said, "Nuh-uh, its GOOD!" and proceeded to keep insisting that he should have some. Finally, I said, "OK, go ahead and get a really big bite". He did. I chuckled to myself as he ran around the house trying to wipe his tongue with a tissue to remove the taste. I didn't say anything else about it and neither did he.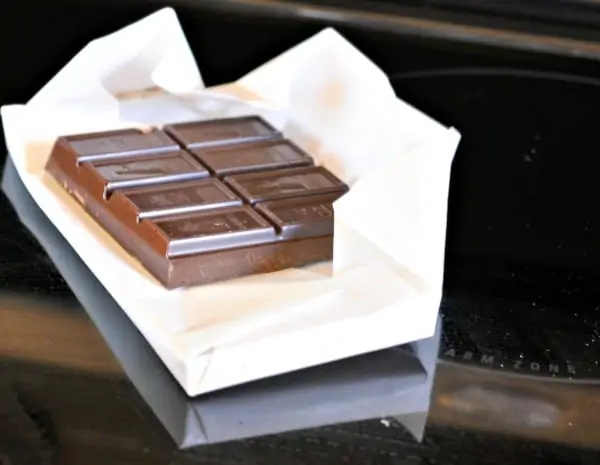 THIS chocolate, though, is good right out of the wrapper. We won't tell Jason that though. <smile>.
A few other things you need to know about this recipe. If you have never whipped egg whites into stiff peaks, you should know that you simply use a whisk and move it in a very fast back and forth fashion for about 5 minutes (as fast as your hands/arms and wrist will go). My arms got very tired doing this and I decided to dump them in the Kitchenaid mixer which I placed on the top speed using the whisk attachment. They were ready in about 1 ½ minutes. You can tell the egg whites are ready when they start too look like marshmallow cream and make a popping sound when you stir them with a regular spoon. Alternately, when you lift them with a spoon – stiff white peaks appear.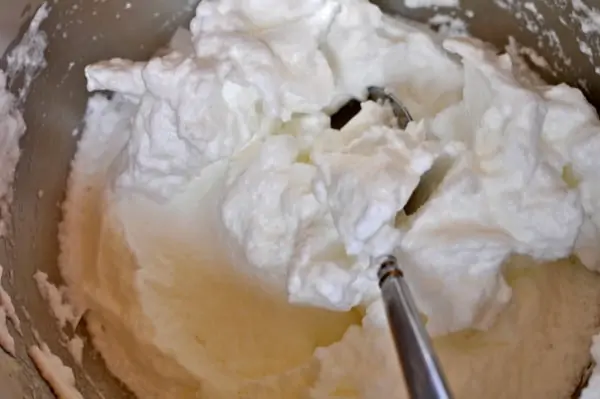 You should also know that when you first add the egg yolks the chocolate will get hard to stir and will NOT be creamy – just keep stirring – it will smooth back out.
Finally, when you add the egg whites, it takes a while to stir them into the chocolate and has a white speckled strange appearance– just keep stirring and it will become creamy again.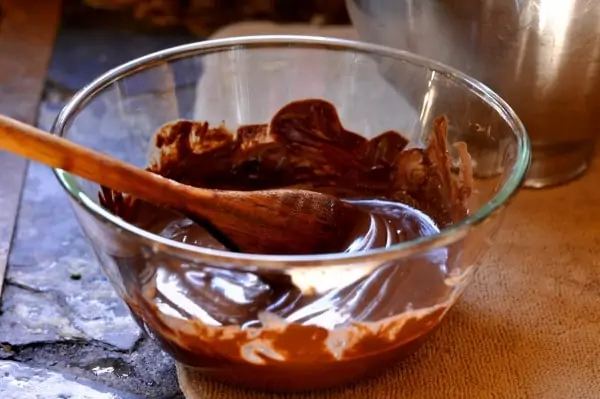 Thank you so much for visiting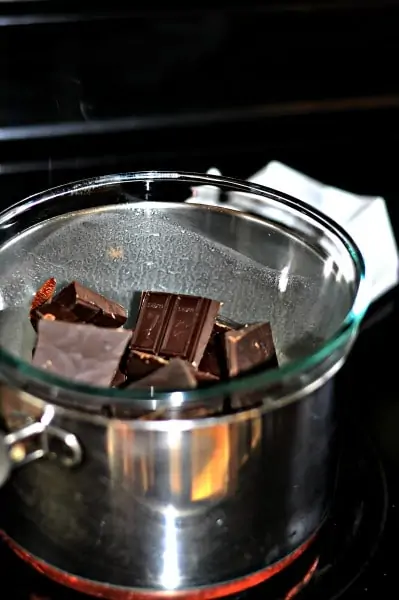 Inspiration for Mini Chocolate Mousse Cups
Adapted from The Bistro Cookbook – Chocolate Mousse
Coming up next time on Loaves and Dishes
Cheesy Enchiladas with homemade enchilada sauce. YUM!
Don't forget to subscribe to Loaves and Dishes so that I can send you an email notice when the next recipe posts. I PROMISE to never give (or sell) your email address to anyone else – and I PROMISE not to bug you to death!
Serving suggestions for Mini Chocolate Mousse Cups
This dish is lovely following a dinner of Rosemary Meatball Bake with Roasted Orange and Lemon Salad
Now I ask you, Make Dinner, Not War.
Taste and see that the LORD is good; blessed is the man who takes refuge in him. ~ Psalms 34:8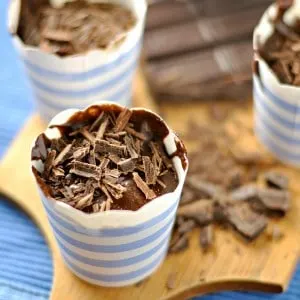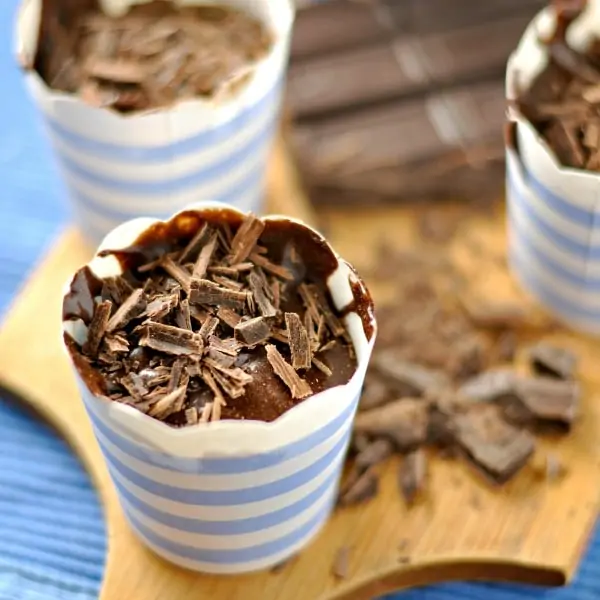 Mini Chocolate Mousse Cups
This deliciously rich Mini Chocolate Mousse cup is just the right amount to tickle your sweet tooth without over indulging your belly.
Print
Pin
Rate
Ingredients
10

oz

Semi-Sweet Chocolate – plus finely chopped pieces for garnish

1 ½

tsp

unsalted butter

1/8

tsp

instant espresso

4

eggs seperated
Instructions
Place chocolate in a double boiler with water simmering in pan below. Add the butter and melt with the chocolate. Add the instant espresso as well. Stir gently while melting but DO NOT get water into your chocolate or the chocolate will seize. When melted, remove from the heat and set the top of your double boiler aside to cool for a moment. As cooling, add the egg yolks and beat until smooth.

In a separate bowl, beat the egg whites until they form stiff peaks. Gently fold the egg whites into the chocolate mixture.

Spoon chocolate into small serving bowls or ramekins. Refridgerate for at least 4 hours before serving.

Serve with garnish of chopped chocolate pieces.
Notes
This makes a tiny amount of mousse, but is the perfect finish to a large dinner.
You can often find small baking cups that this works perfectly for.
Nutrition
Nutrition Facts
Mini Chocolate Mousse Cups
Amount Per Serving
Calories 330
* Percent Daily Values are based on a 2000 calorie diet.