Jump to Recipe
Do you have any memories of a favorite restaurant from your childhood?  Do you remember a sweet custard cream pie? Something that would remind you of Hoosier Pie or Indiana but was actually in Ohio? Oh wait.  Those are my memories, not yours. Such sweet memories of  Old Fashioned Sugar Cream Pie from Gerschuh's in Greenville, Ohio.
I have several sweet memories of Old Fashioned Sugar Cream Pie from a little diner over in a neighboring town.  There were shiny chrome bar stools, the huge plate glass windows and the pleather covered chrome edged booths.  
Mostly though, I remember the smiling owner, George, coming out to greet guests and ask them how their dinner was and to invite guests to try his pie.  Believe me, you didn't want to miss the pie – especially the Old Fashioned Sugar Cream Pie.  
GERSCHUH'S IN GREENVILLE, OHIO FOR OLD FASHIONED SUGAR CREAM PIE
This Old Fashioned Sugar Cream Pie was one of the understated and elegant crown jewels of an establishment called Gerschuh's in Greenville, Ohio. I do remember that it was always a big decision to choose between the Butterscotch Pie and a few others.  
This, however, is the pie that I have a recipe for thanks to some of my friends from home.  Thank you Facebook!  And so, as is our new tradition, we will allow the recipe hunters to pick up the recipe.  If you want any recipe tips or to know anything about Gerschuh's or if you simply want to share pie stories, please read on after the recipe – I'll be waiting for you.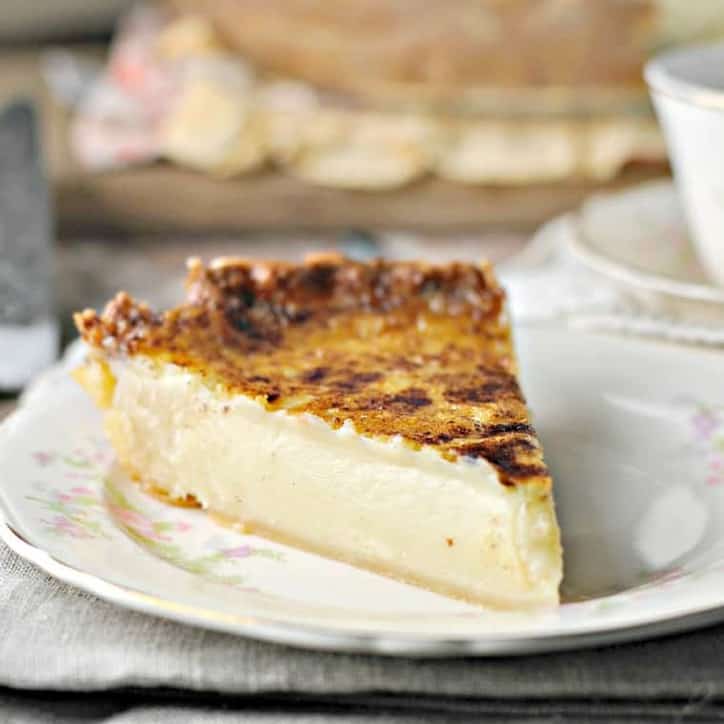 Old Fashioned Sugar Cream Pie
Recipe Inspiration for OLD FASHIONED SUGAR CREAM PIE

As I told you, this recipe for Old Fashioned Sugar Cream Pie is directly from Facebook where a friend directed me towards Food.com to find the source as well as a few other facebook pages. The source indicates that the recipe was given to him by the owner of the Gerschuhs establishment.

I compared several of the recipes found from various sources all claiming to have George's original recipe.  The recipes mostly matched and thus, here it is.  There are no changes to the ingredients because I simply rewrote the directions in my own words explaining as best I could as I went along.  Thank you, George.

Thank you people who graciously shared the recipe.  Believe me when I say, you don't often taste pie like this.  Delicious!     
Tips and Tricks for Old Fashioned Sugar Cream Pie
The first time I made this Old Fashioned Sugar Cream Pie, I forgot to put the flour in – that was a big mistake – it took it 3 hours to stop jiggling in the center – and then the pie shell was WAY overdone!  lol.

The second time I made this pie, I wasn't sure what to expect, because it was so loose the first time.  So, I divided it into 2 pies.  Both delicious and perfect, but a little too thin.  So, yes, it will make two pies, but they will be skinny little things.
MAKE SURE…
When making for a single 9" pie shell, make sure to put your pie plate on a cookie sheet in the oven, the filling fills it to the brim and you don't want it to bubble over.

I noticed that facebook had a lot of questions about how long to cook the pie.  I have a standard oven and the pie was done in my oven after an hour and 15 minutes.  The pie was STILL jiggly – but not sloppy loose.  As a cream pie, it will "set up" more as it cools.

Allow the Old Fashioned Sugar Cream Pie to cool completely before you cut it – or you will likely have watery pie mess all in your pie plate.  

In my humble opinion – this pie is best served ice cold out of the fridge.
THE ORIGINAL INSTRUCTIONS..
The original instructions from George say that when the pie has "bubbled through" for 10 minutes, it is done.  That made no sense to me on first reading the instructions.  After making this pie several times, what you need to know is that about an hour in, the pie starts to boil and bubble – all the way across the pie.  Once it starts doing this, let the bubbling happen for 10 minutes and then the pie is done – regardless if it is jiggly or not.  It will set up later in the fridge.

IF YOU ENJOYED OLD FASHIONED SUGAR CREAM PIE YOU MIGHT ALSO ENJOY….

If you are interested in Pie – delicious Pie – try some of my other pie recipes too…

Fudge Pie with Salted Caramel drizzle
The Recipe for Old Fashioned Sugar Cream Pie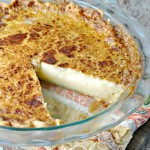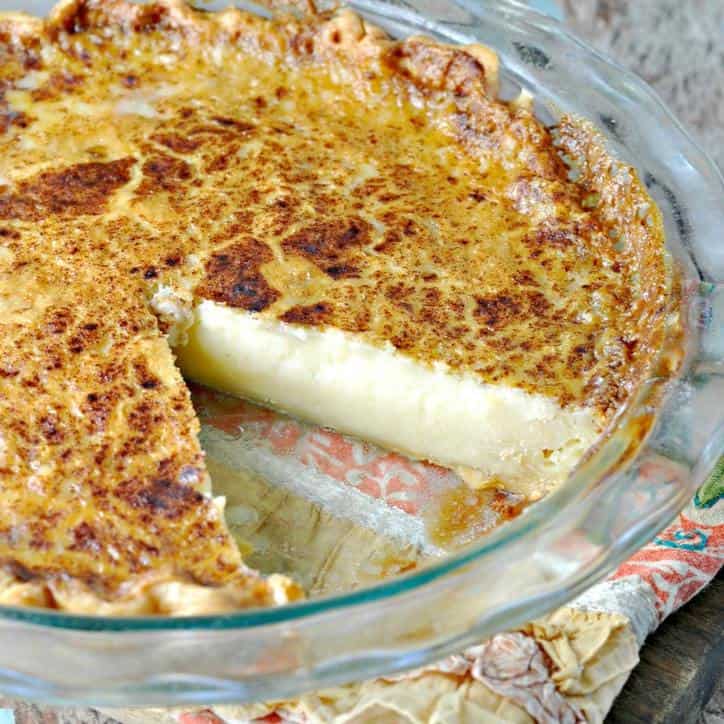 Old Fashioned Sugar Cream Pie
A simple old Hoosier recipe from Gerschuh's in Greenville, NC
Keyword:
sugar cream pie, hoosier pie
Ingredients
1

Cup

Granulated Sugar

5

Tbs

All purpose flour

dash of salt

2

cups

heavy whipping cream

1

cup

half and half

may use half cream/half whole milk

2

egg yolks

1

tsp

vanilla

1 9

inch

pie shell

2

tbs

butter - cut into pea sized pieces

½

tsp

ground cinnamon
Instructions
Mix the sugar, flour and salt until evenly blended. Add the 2 cups of whipping cream and mix well.

Mix the half and half, egg yolks and vanilla together well.

Mix the egg yolk mixture into the sugar mixture and blend together well - do not beat.

Pour the mixture into the pie shell and dot the butter around evenly on top of the pie

Sprinkle the top of the pie with cinnamon

Bake at 350 "Until it bubbles through for 10 minutes" (in a regular oven - about an hour, but check the pie by wiggling the edge of the pie plate - if the pie is still loose in the center, it isn't quite done - as soon as it no longer loosely and sloppily jiggles, it is done - it will still be jiggly like Santa's tummy in the center). If you have more questions, check the "Tips" section on the blog post at www.loavesanddishes.net
Recipe Notes
A simple and easy recipe from Gerschuh's restaurant in Greenville, OH
Nutrition Facts
Old Fashioned Sugar Cream Pie
Amount Per Serving
Calories 400
* Percent Daily Values are based on a 2000 calorie diet.
A VERSE TO SHARE
Shout for joy, O heavens; rejoice, O earth; burst into song, O mountains! For the LORD comforts his people and will have compassion on his afflicted ones. Isaiah 49:13