***this recipe for old fashioned butterscotch pie originally appeared on Loaves and Dishes on June 24, 2016 and has been updated with new information***
A tree never grows far from its roots. Who said that? ME! I said that! I made it up just now! My roots are why you are seeing Old Fashion Butterscotch Pie today! Also, because a reader asked for a Butterscotch Pie recipe. Remember back a couple of months ago I showed you a recipe from Gerschuh's Restaurant in Greenville, OH? Yep!
REMEMBER GERSCHUH'S?
I knew you would remember because I told you all about George Trittschuh who greeted all of the guests, asked how the meal was (and meant it) and then encouraged you to try the pie. Rumor had it that he came in early and made all of the pies himself (including Old Fashion Butterscotch Pie and Old Fashion Sugar Cream Pie).
If I had visited Gerschuh's today they might have given me a piece of pie for my birthday – whooo hoooo – what a big decision that would be! Thank goodness I can make my own since Gerschuh's isn't around anymore. Does that get a 🙁 emoji or a 🙂 emoji, I've confused myself with that statement.
I don't know if George came in early and made the pie's himself, but I wouldn't doubt it! If you could have SEEN those pies! The Old Fashion Butterscotch Pie was always so impressive with its BIG TOP HAT of massive meringue. It would jiggle and glisten as he carried it out to the table to show you what he had available.
WAY BACK WHEN…
As a kid I always thought it would be so funny if some of that tall meringue on top of Old Fashion Butterscotch Pie fall off and SPLAT on the floor- but it never did. Not that I saw anyway. Now, thanks again to my old friends from home, I have another Gerschuh's recipe to share.
Seems like this is mostly a Southern Recipes kind of place, but believe me, those Northerners can cook too and hence, this Old Fashion Butterscotch Pie is Proof!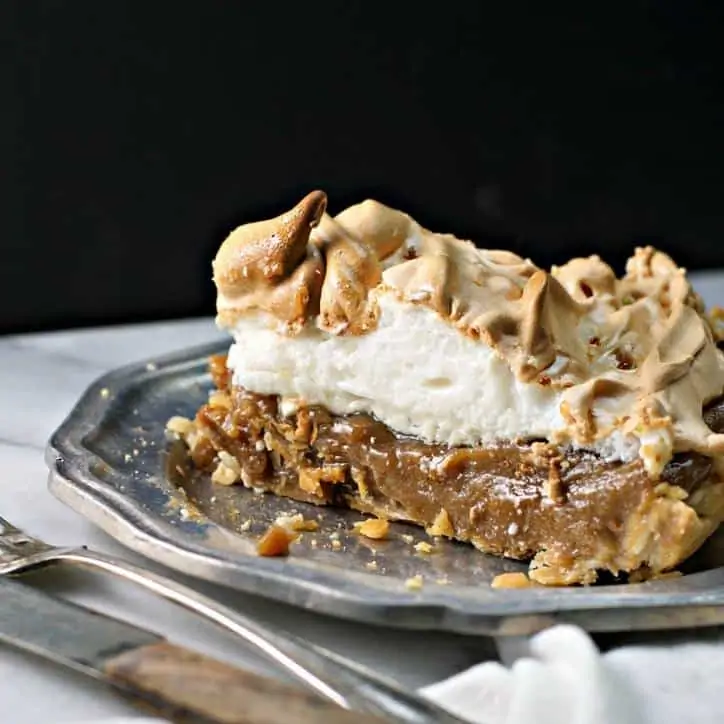 Old Fashion Butterscotch Pie
Questions you might have about Old Fashioned Butterscotch Pie…
WHAT IS BUTTERSCOTCH PIE?
Butterscotch pie is an old fashioned type of pie that uses butter and sugar that has been cooked to a golden brown and turned into a type of butterscotch as a pie filling.
WHY IS MY BUTTERSCOTCH PIE RUNNY?
Generally, in my own experience, runny butterscotch happens in two cases…
When the butterscotch wasn't cooked long enough.
When the pie has been allowed to sit out at room temperature for too long.
HOW THICK SHOULD THE PIE FILLING BE?
When you are cooking the pie filling, it should become about as thick as a pudding. As the pie filling cools, it will become slightly thicker.
CAN I FREEZE BUTTERSCOTCH PIE?
It is best to just go ahead and use your butterscotch pie within a few days. I've found that when I freeze a butterscotch pie, it becomes wet and gloopy upon thawing it. It is still edible, but not very appetizing.
HOW TO STORE A BUTTERSCOTCH PIE.
Once your pie is cooled, place plastic wrap loosely over the top, and seal around the edges of your pie plate. Place the pie into the refrigerator and keep cool until ready to serve.
TIPS AND TRICKS FOR OLD FASHION BUTTERSCOTCH PIE
Is this recipe hard? No. It isn't hard yet, it DOES, however, require organization. Which, if you are like me, makes it difficult for me. I have never been very organized and so we really had to think our way through this recipe.

Read the recipe through several times before you embark upon making it.

Make some mental notes about when you will do what. That always makes things easier.

Most of all, Pour/prep all of your ingredients before starting, especially the first time you make this recipe. You will have several things going at once and you need to have your ingredients ready to go.
INGREDIENTS…
Regarding the ingredients for this pie make sure to use the best ingredients that you can. I use my own hen eggs which are very eggy. The french butter has a very deep flavor. The Butter in BUTTERSCOTCH is KEY
Have your pot holders ready! There are LOTS OF HOT THINGS in this recipe and I don't want any of my precious readers burning themselves!
THE FILLING…
When you cook the filling in the double boiler, it will become the consistency of a custard. Now, many of us have never had a custard! It is like the cream filling of a cream filled donut. Just a tiny bit thinner than a pudding.

You may notice a few tiny lumps in the filling as you stir it in the double boiler but don't worry and just keep stirring because they will work themselves out.
IF I DON'T HAVE INGREDIENTS OR THINGS…
If you don't have a mixer, don't worry, you can whip the egg whites by hand. In fact, THAT IS WHAT I HAD TO DO! My old grandmotherly KitchenAid mixer STOPPED WORKING just as I got ready to beat the egg whites hence, I grabbed the whisk and just kept beating as fast as I could until the meringue formed peaks.

What about if you have never made a meringue before? Because you can do a lot of reading about it but I followed the instructions given by George to the Dayton Daily News, "Just dump everything together (egg whites and sugar) and then beat the hell out of it". It works.
WHAT IS?….
I did add vanilla to the meringue, which was not in the original recipe because I like it that way, but you might want to leave it off because it is entirely up to you.

Scalded milk is milk that has been heated to just the point of boiling but not boiling yet.
IF YOU ENJOYED OLD FASHIONED BUTTERSCOTCH PIE, YOU MIGHT ALSO ENJOY…
Homemade Chicken and Drop Dumplings
Pumpkin Pie with Pecan Drizzle
EQUIPMENT I USE TO MAKE OLD FASHIONED BUTTERSCOTCH PIE
The following photos are links to Amazon, you can click the photo and go straight through to Amazon for price comparisons. I am an Amazon associate and will earn a commission if you decide to purchase.
THE RECIPE FOR OLD FASHION BUTTERSCOTCH PIE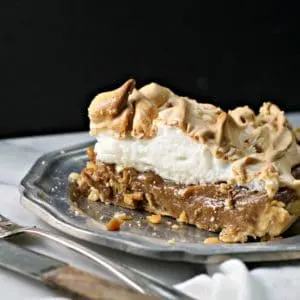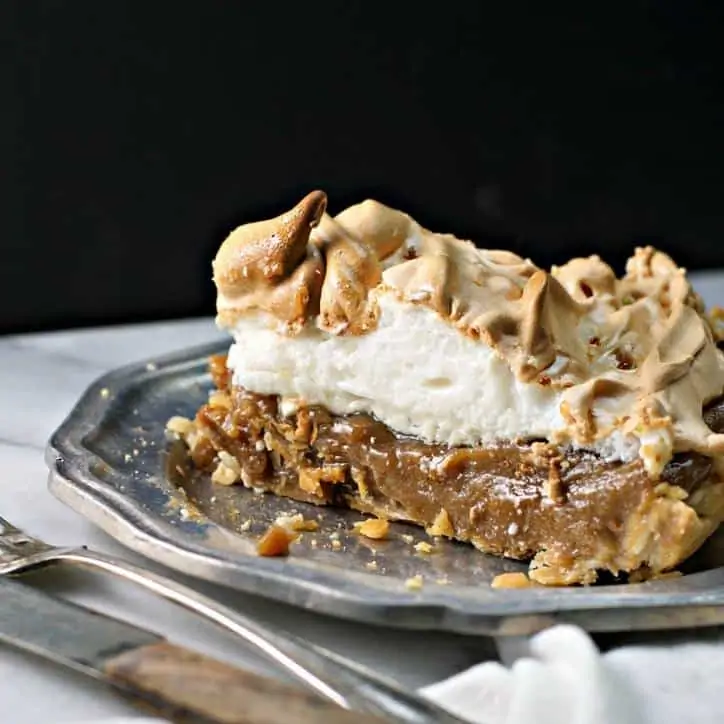 Old Fashion Butterscotch Pie
A recipe for Gerschuh's Old Fashioned Butterscotch Pie
Print
Pin
Rate
Ingredients
For the Pie
1

refrigerated Pie Crust

I use the one in the red box

8

tbsp

Good Quality Butter

1 ½

Cups

dark brown sugar

4

egg yolks

save the whites for the meringue

5 ½

Tbs

all-purpose flour

¼

tsp

kosher salt

1 ½

Cups

scalded milk
For the Meringue
4

egg whites

½

cup

granulated sugar

1

tsp

vanilla extract. Instructions
Instructions
Preheat the oven to 350. Measure out all of the ingredients and have placed nearby ready to add in at the appropriate time. Place the pie crust into a 9inch pie plate and flute the edges to hold the pie. Prick holes in the bottom of the crust with a fork and place on the middle rack in the oven and prebake the shell for 15 minutes. When done, remove from the oven and set aside. Leave the oven on 350 when you remove the pie crust.

While the crust is baking, set out 2 sauce pots (one small and one medium) on the stove top and also a double broiler with the bottom filled with water. Start heating the water on high until water comes to a boil. When it comes to a boil, place the top pan of the boiler on top and cut the heat to medium - the water beneath should still boil - but at a lower level.

When the crust is baking and the water is heating in the bottom of the double broiler, Place the milk in the small sauce pot and heat over medium heat until just about to boil - make sure to stir frequently so as not to burn the milk.

In the medium sized sauce pot, while the crust is baking, the milk heating and the water in the double broiler is heating, melt the stick of butter over medium heat and then remove from the heat. Add the sugar and then stir in the egg yolks, flour, salt. When the milk almost boils, add it to this mixture. Set it back on the burner on medium and while stirring, bring it back to a boil. (By this time, the double boiler should be boiling).

Pour this butterscotch filling into the top of your double broiler and cook stirring occasionally for 15 minutes. It will thicken some and turn a little darker colored. After 15 minutes. Pour this pie filling into the prebaked pie crust.

For the meringue, pour the meringue ingredients into the bowl of your mixer and mix on a medium speed until the egg whites become HUGE and fluffy. When you are able to take a spoon and easy lift into a peak - the meringue will be a glossy white - then it is ready. Gently pour this meringue onto the pie filling that you have put into the crust. Pile it on high and using your spoon, swirl the meringue around a little and lift into little curly ques so that it browns nicely when you bake it

Bake the whole pie at 350 for about 15 minutes , until the meringue peaks are a nice brown on the top.
Notes
A recipe for Gerschuh's Butterscotch Pie
Nutrition
Nutrition Facts
Old Fashion Butterscotch Pie
Amount Per Serving
Calories 400
* Percent Daily Values are based on a 2000 calorie diet.
A VERSE TO SHARE
How often do you watch movies? It seems to be a favorite past time around here, although I am not personally a huge fan of movies. Have you ever noted the roll that women often play? How often are women honored or respected in movies? The number of times that women are degraded, sexually exploited or even raped in a typical storyline is appalling to me.
Of course, one could argue that women choose to play those rolls, women are paid well for these rolls and the American public demands these types of movies to which I would have to say, "you are right".
SO WHICH IS IT?
At the same time, what you watch, you are desensitized to. That is a fact.
Regarding this VERY phenomenon, I had a conversation with a man the other day where oddly enough the story line of the movie in question involved MEN being raped. Hmmmmm. The man I was speaking with found this "disgusting" but doesn't find movie plots of women being exploited disturbing.
Is it disgusting for a man to be raped and not a woman?
IS IT ENTERTAINMENT?
Why is rape and exploitation called entertainment at all?
I'll tell you something, it isn't entertainment.
WHAT YOU WATCH AND DO IS WHAT YOU BECOME.
Instead, this is one way that we foster violence in our society and desensitize our population thus making it "ok" to degrade women. It really has to stop. We are better people than that. Stand up for what is right and avoid wicked things.
BUT, don't take my word for it.
Proverbs 24: 1-4
Do not envy the wicked,
do not desire their company;
for their hearts plot violence,
and their lips talk about making trouble.
By wisdom a house is built,
and through understanding it is established;
through knowledge its rooms are filled
with rare and beautiful treasures.