Jump to Recipe
Without a doubt, the best part of fried chicken is that crispy skin! Don't you agree? You better! I just took one of those tests on Facebook and it told me that I am a greater percentage mean than I thought! I'm bringing up crispy chicken skin because I want you to remember back when I almost burned my kitchen down trying to make the best ever fried chicken? I remember it vividly! Back then, I told you that I would soon share with you my recipe for oven baked fried chicken and here it is!
When I almost burned my kitchen down, I was holding my new grandbaby and dunking chicken into the peanut oil and letting it fry away. When one batch was done, I would put more in. The problem? My oil became bubbly and it bubbled right out onto the stove top. Imagine Mr. Loaves and Dishes surprise when, before he could even put his work stuff down, a baby was being shoved into his arms and his wife was hollaring, "TAKE THE BABY!!" It was a little scary. I decided right then and there that I should also give you a much safer (if a tiny bit less crispy) version of fried chicken. This chicken is quick and easy – a perfect recipe for after a hard work day when what you need is a little rest! I invite you to visit with me after the recipe!
THE RECIPE FOR OVEN BAKED FRIED CHICKEN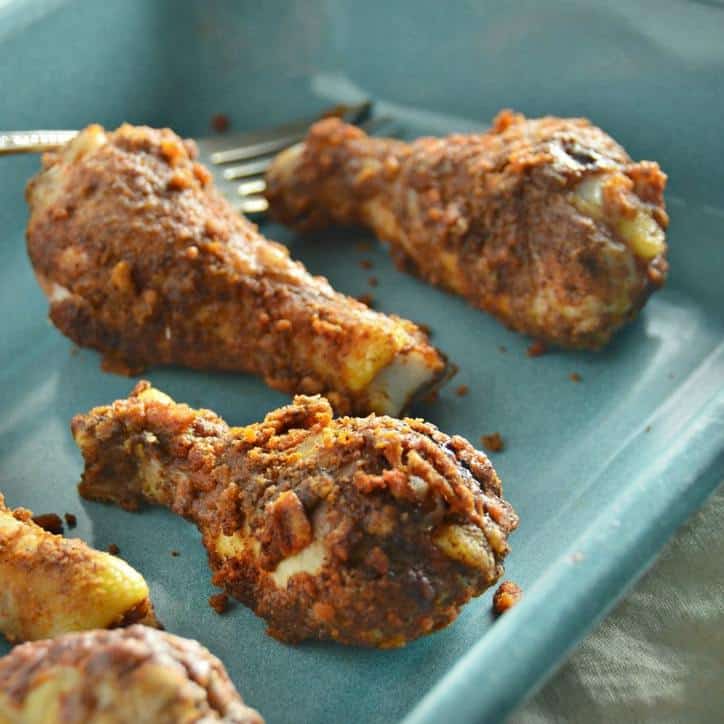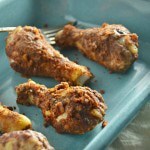 Oven Baked Fried Chicken
Keep this recipe pinned to your fridge for the next time you want a quick dinner but don't want to compromise on delicious.
Keyword:
oven baked fried chicken
Ingredients
8

pieces

of bone in/skin on chicken

we like dark meat

1

stick of unsalted sweet cream butter

½

Cup

all purpose flour

1

packet of medium heat taco seasoning

1

packet powdered Ranch dressing

1

cup

potato chips crushed

1

tsp

Kosher salt

1

tsp

black ground pepper
Instructions
Preheat the oven to 350. Place a rack inside of a rimmed baking sheet and set aside. Melt butter in the microwave in a small microwave safe dish. Remove the chicken from the package and pat dry using paper towels. In a medium sized bowl, mix together the flour, the taco seasoning, ranch dressing, crushed potato chips salt and pepper.

Brush each piece of chicken with the melted butter and then using your hands pat the flour mixture onto the chicken and pat it into the skin as well as possible so that it adheres well.

Lay each piece of chicken on the rack in the rimmed baking sheet and allow an inch or more between each piece so that the air in the oven can circulate. Once all chicken is coated, place the baking sheet into the oven on the middle rack and bake for 35-40 minutes. Chicken is done when the juices run clear. Allow to rest for 5 minutes before serving.
Recipe Notes
This works for any cut of chicken
Nutrition Facts
Oven Baked Fried Chicken
Amount Per Serving
Calories 300
* Percent Daily Values are based on a 2000 calorie diet.
TIPS AND TRICKS FOR OVEN BAKED FRIED CHICKEN
You can use any cut of chicken you would like but you may need to adjust the baking time. I haven't tried this with boneless skinless chicken and my thought is that it would be done in about 20 minutes.

If you are really concerned about the butter, you can use yogurt or egg or buttermilk. Honestly though, the butter works best because it helps to crisp the skin a little. You won't be having that much butter on each piece any way.

Back before I had a cooling rack, I made this chicken by just baking it on a cookie sheet or by baking it in a baking dish – and that worked fine. The only issue is that the skin doesn't crisp as much and the chicken will lay in any drippings that happen making it a little soggy and oily – but that isn't the end of the world.

If you don't have any potato chips, you can also use crunched up corn flakes cereal, crackers, breadcrumbs – just about anything that will make a crust – but at the Loaves and Dishes house, we like potato chips!
OTHER STUFF BESIDES OVEN BAKED FRIED CHICKEN
Sometimes I feel like I just drone on and on about what is happening around here and I almost never get to hear what is happening in your life. I really would love for you to share your stories and experiences too! I told you about how my Sarah was married in February. I've told you about my house, the teenager hangout and place to eat. I've told you about sweet hubby, Mr. Loaves and Dishes threatening me if I don't stop cooking stuff that tastes so good he might leave because he is sure that I am trying to kill him. (I don't hold a gun to his head and tell him that he has to take more than one helping!).
I don't think I told you yet about my fabulous friends from "down under" at Delishogram. We (Delishogram and some other food bloggers) are collaborating on a cookbook! I have had the pleasure of becoming acquainted with the fine folks ad Delishogram and have been working with them for quite a while submitting my recipes and photos to their food sharing website. I am so honored that they asked me to take part in this project! Hopefully, you will see the first cookbook for sale here on Loaves and Dishes soon and then you can look for another cookbook to come monthly with a different theme.
Isn't it COOL to be collaborating with other foodies around the world who love the same thing as me? I had the opportunity to peek around in the other authors folders yesterday and there are some pretty interested recipes coming with some beautiful photos. Very exciting!! Best of all? The price? AFFORDABLE! I hope you will check it out. Oh – by the way – the recipes in the cookbook are not found anywhere else. I didn't just pull a recipe from my site and submit it and neither did anyone else. So, if you buy the cookbook, you are getting the exclusive recipe for that dish! Whoot whoot!
OK – now, on to you. Tell me what is going on? Anything new happening? Any family drama? I love to hear about other people's family drama 'cause it makes me feel so normal. Lol! And one more thing – I have friends who call/email/text all the time with recipe questions. You can do the same and I'll be happy to help – just leave me a comment in the comment section and I'll do whatever I can!

Peace I leave with you; my peace I give you. I do not give to you as the world gives. Do not let your hearts be troubled and do not be afraid.~ John 14:27