Hello sweet smell of summer! Do you smell it too? Fresh green grass. Summer rain in the air. The green smell of tomato plants heavy with fruit. Round full beautiful peaches at the fruit stand? But wait till you smell this Peach Pie with a Pecan Brown Sugar Crumble. Seriously.
You can't find something much better than fresh peaches baked into a soft creamy custard and topped with nutty beautiful brown pecans and brown sugar. Can you? I didn't think so.
Has talking about those peaches made your tummy growl? Mine too! The sad part? I can't even go have a piece of this pie because I gave it away! We will just have to imagine.
So anyway, I'll just tell you about this pie. It is made with WHITE PEACHES which are sweeter than usual peaches, but you are welcome to use standard peach colored ones. Aren't these peaches BEAUTIFUL?! I think so too.
Look at the insides!!! WHOA!!
Now you know why I had to make a Peach Pie with a Pecan Brown Sugar Crumble !
You might be asking, "well what about THIS OTHER PEACH PIE that you were so crazy over?"
The answer? I still love that pie! I have room in my heart to love ALL KINDS OF PIES! No pie haters here. Both are good, lovely and wonderful pies in their own ways! In fact, that pie was the inspiration for this pie. They are similar – but not quite the same.
I'm a pie lover from WAY BACK! In fact, go check out ANY of these pies…
Old Fashioned Cranberry Orange Pie
RECIPE FOR Peach Pie with a Pecan Brown Sugar Crumble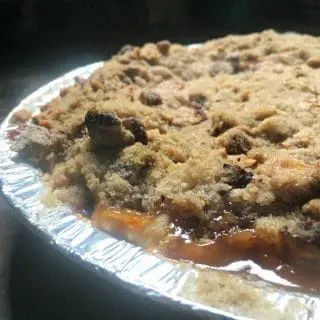 Peach Pie with a Pecan Brown Sugar Crumble
Luscious and creamy, I have never regretted making two of these at the same time. You won't either.
Print
Pin
Rate
Ingredients
1

refrigerated pie crust

I use the Pillsbury Crust found in the refrigerated section
For the Filling
3

Cups

only 3 sliced fresh peaches - cut into mouth sized bites

1

Cup

white granulated sugar

⅔

Cup

Sour Cream

3

egg yolks

2

Tbs

all purpose flour

1

tsp

Real Vanilla extract

½

tsp

real almond extract

1

inch

grated fresh ginger
For the Crumble
½

Cup

COLD sweet cream unsalted butter

½

Cup

Dark Brown Sugar

⅓

Cup

All Purpose Flour

½

tsp

Cinnamon

½

Cup

Chopped Pecans
Instructions
Preheat the oven to 350.

Line a 9" pie plate with the refrigerated pie crust and crimp on the edges.

Scatter the peach pieces into the bottom of the pie crust.

In a medium sized bowl, combine the sugar, sour cream, egg yolks, flour, vanilla, almond and fresh ginger and mix well. This will make a thick custard like sauce. Pour this over the peaches.

Bake this pie on the center rack of your oven until the custard is set (see tips and tricks noted below). The top of the pie should be browned. This takes about 30-50 minutes depending on several factors.

Mix the crumble: In a food processor or by hand (see tips and tricks), pulse the butter, sugar, flour and cinnamon. Mix in the pecan pieces by hand. Set this mix aside.

Remove the pie from the oven when set and sprinkle the crumble over the top of the pie - more or less depending on how you like crumble. Return to the oven and bake for an additional 15 minutes.

Cool on a rack or folded towel until cooled to warm. Serve warm with cold good quality vanilla ice cream. Refrigerate when cooled.
Notes
So, the crumble if you make according to the recipe will more than cover the top of your pie. If you like LESS crumble (what kind of monster are you?) - lol - anyway, if you like LESS then just use less and save the rest and put it on your pancakes or something.
Nutrition
Nutrition Facts
Peach Pie with a Pecan Brown Sugar Crumble
Amount Per Serving
Calories 340
* Percent Daily Values are based on a 2000 calorie diet.
TIPS AND TRICKS FOR Peach Pie with a Pecan Brown Sugar Crumble
It is IMPORTANT to ONLY use 3 cups of peaches. I've made the mistake of thinking, "If 3 cups is good then 4 cups will be better". UMmm. No. Don't do it. You will have a soupy mess on your hands. (See, that's why you come here – because I make all the mistakes for you!).

For the topping use COLD butter. COLD. Did I say COLD? Otherwise, it gets too melty.

This pie makes a TON of topping and you will find it a challenge to get it all on the pie. I LOVE lots of crunchy topping. That might not be what you like so much. If you like less, then just don't use all of it. Sprinkle it on judiciously if you want. You can save the rest in the freezer and put it on something else later – I'm thinking that there might be extra peaches left over that you could whip up a batter for and make these in ramekins!

Conversely, if you know that you don't like a lot of topping, then just half the topping recipe.

The way you know that this pie is done and ready to come out of the oven is by gently bumping/shaking the pie. If the pie is still jiggly loose in the center then it isn't done yet. When it stops jiggling and only wiggles a little, it is done. Your oven might take more/less time than mine did. Start checking at 30 minutes.

If you have a food processor, then use it to make the crumb topping. If you don't have one, but you DO have an immersion blender, then DO NOT use that. The immersion blender will turn the pecans into a butter – while delicious, it isn't what we are going for! Instead just chop up the pecans by hand and mix as well as you can with a fork. It's not going to matter a great deal if it is mixed up very well.

If you only have frozen peaches, it is fine to use them, just cut them into edible chunks that you can fit in your mouth easily.

Just as a thing – I always remove peach skins by cutting an X on the bottom of the peach and then boiling it for a minute or so and then submerging in an ice bath. That didn't work too good with these peaches. The skin was on VERY tightly! Had to break out the vegetable peeler – which I now wish I had just done to begin with.
Regarding the white sugar in the recipe. For the filling only use white sugar – raw sugar doesn't bake up quite right in applications like this. However, if you wanted to substitute raw sugar for the brown sugar in the topping, that would probably work – but I haven't tried it like that.
Please ONLY use real vanilla and real almond extract – if you only have imitation – then just leave it out. The imitation has an "off" cloying taste that just isn't good in this pie.
Please ONLY use fresh ginger – not dried ginger in this recipe – if you can't find it – then leave it out.
A VERSE TO SHARE
World events can be pretty scary sometimes, eh? I'd say we are in a scary one right now. What do you think?
Yeah, the President warning of fire and fury certainly raises concern for everyone.
While this might be a newer problem for the U.S., it isn't a new problem in the world. People have been warring with each other for as long as there have been people. Remember Cain and Abel?
Anyway, our God understands this and has this in hand. All things will be used for His glory. Frankly, worrying about it won't do any good anyway. What we can do is, be still.
What happens when we are still?
What Happens?
We can:
Settle our mind.

Breath in deep breaths

Calm our nerves

Assess what is happening

Rest

Listen

Pray
Isn't that what God encourages us to do? Have faith and believe in Him? Be still and know?
Reminds me of a verse from a song by
The Fray, "Be Still"
When darkness comes upon you
And colors you with fear and shame
Be still and know that I'm with you
And I will say your name.
When I pulled up Psalm 46, the "be still and know that I am" psalm, I realized that the entire Psalm is appropriate RIGHT NOW. So, that is where we are going today.
The final answer though is, "Be Still and Know that I am God" and that gives me peace.
Psalm 46: 1-11
God is our refuge and strength,
an ever-present help in trouble.
Therefore we will not fear, though the earth give way
and the mountains fall into the heart of the sea,
though its waters roar and foam
and the mountains quake with their surging.
There is a river whose streams make glad the city of God,
the holy place where the Most High dwells.
God is within her, she will not fall;
God will help her at break of day.
Nations in Uproar
Nations are in uproar, kingdoms fall;
he lifts his voice, the earth melts.
The Lord Almighty is with us;
the God of Jacob is our fortress.
Come and see what the Lord has done,
the desolations he has brought on the earth.
He makes wars cease
to the ends of the earth.
He breaks the bow and shatters the spear;
he burns the shields with fire.
He says
He says, "Be still, and know that I am God;
I will be exalted among the nations,
I will be exalted in the earth."
The Lord Almighty is with us;
the God of Jacob is our fortress