Jump to Recipe
Just trying to remember the last time I had chess pie baked by one of the ladies at church when I was a kid.  It had to be in the early 80's.  Is that showing my age?  Yeah, probably.  Don't care.  My gray hair is screaming anyway!  Old Fashioned Chess pie is one of the most delicious and simplest pies on the planet enjoyed by gray hairs, no hairs and baby hairs alike.
There are all kinds of chess pies.  They are like a "class" of pies that include Brown Sugar Pie, Lemon Chess Pies, Vinegar Pie and even…. Pecan Pie!  YUM!  Is your mouth watering yet? Chess pies are a southern favorite and  each is a simple pie that includes the following:
WHAT IS A CHESS PIE
A chess pie is made of a sugar base – like syrup, sweet tea, molasses, brown or white sugar with eggs and butter added.   A satiny smooth perfect pie is the result!  
You know that delicious gel that forms on the bottom of a pecan pie?  It is the gelatinous wiggly gooey sweet deliciousness that defines a chess pie and brings back sweet memories from childhood, am I right?
WHERE DID THE WORD CHESS COME FROM?
A quick google search reveals that chess pies are named that because of the "chest" where originally stored.  I have also read that perhaps "chess" came from someone in the south saying, "It's just pie" – with a southern drawl, 'it's just" sounds a lot like "chess".
I have no idea, but I do know that chess pies are classic favorites. It is hard to find someone who says, "Chess pie?  YUCK!".  
INSPIRATION FOR OLD FASHIONED CHESS PIE
I think I've told ya'll about a million times about an old church cookbook I have.  My mother bought one from our church when I was a child and then saved it and gave it to me as a gift when I was married.  Such nice memories in that cookbook.  Memories of people I've known and loved.  Many of them are gone now.  
Anyway, there is a recipe for chess pie in there.  I updated it a little with addition of some almond flavor  and what you are left with is my own pie.  OK – that is a pretty sad update – adding almond flavor – but I love almond with vanilla and how can you improve perfection anyway?  I hope you enjoy!
THE RECIPE FOR OLD FASHIONED CHESS PIE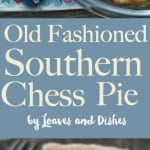 Old Fashioned Chess Pie
Ingredients
1

refrigerated 9 inch pie crust

or use your own recipe

2

Cups

of granulated white sugar

2

Tbs

all purpose flour

4

large eggs

½

tsp

real vanilla extract

½

tsp

real almond extract

1

stick

½ cup melted sweet cream unsalted butter
Instructions
Preheat the oven to 400.

Line a 9 inch pie plate with crust and crimp the edges. (Or if using the frozen pie crust that is already in a pie pan - just thaw).

In a large bowl, combine the sugar, flour, eggs, vanilla and almond - mix well using a whisk.

Melt the butter in the microwave in a microwave safe bowl and allow to cool.

If adding the butter while still hot - then temper the egg mix by pouring a small amount of the butter into the egg mix while whisking. Whisk for a minute and then add more. Whisk again and keep repeating until fully incorporated.

Place the pie on the middle rack in the oven at 400 and bake for 10 minutes then lower the heat to 350 and bake for another 30 - 35 minutes.

The pie is done when golden brown on top and when the pie wiggles only a little when you bump it from the side of the pan.

Place the pie on a cooling rack and allow it to completely cool before serving.
TIPS AND TRICKS FOR OLD FASHIONED CHESS PIE
Usually you need to beat eggs before you add them to something like this – but one of the beauties of this pie is that you simply put it all in and mix it up!  

You will want to melt the butter and let it cool before you add it to the mix.  

If the butter is a little warm at all – then you will want to do what is known as "tempering" the egg mix.  If you simply pour hot butter into the egg mix – it will scramble your egg mix – eww.  Instead add a little drizzle of the hot butter while whisking the egg mix.  Keep whisking.  Then add a little more while whisking.  Whisk some more.  Then add more – and so on until the hot butter is completely added.  

You will want the butter to be completely melted – not with bits and parts that are not melted because it will make spots in your pie.

Do not use imitation vanilla or imitation almond extract – use real.

Don't cut the pie while it is still warm or it could ooze.

Don't forget to cut the temp down or the top of the pie will be over done and the inside of the pie won't be fully cooked.

I can't think of a single extra tip – this pie is really "easy as pie".   
A VERSE TO SHARE
Right now, I'm struggling with making a big decision.  Big decisions come with a ton of self-doubt.  
You say to  yourself, "Is this really the right thing to do?"  "Am I making the right move?" "what if it all turns out bad?".  
The truth is, you don't know.  Neither do I.  No one knows the future.  The best you can do is to do what you think is right.  
I searched scriptures trying to find some answers to my big decision.
The main message?  Keep God centered in your heart and follow that.  Are you making a move for your own motivations? Then that is probably the wrong move.  
Are you doing what you believe God would have you do?  Then that is probably right.
This isn't a new conundrum.  King Solomon was collecting sayings about this 900 years before Christ – so, yeah, big decisions are heavy universally and have been for eternity.
I suppose that is helpful, right?  To know you aren't alone in worrying and wondering about your future.  
Perhaps the best answer is to pray.  Pray for guidance.  Pray to follow the will of God.  Pray for humility.  Pray that God's will be done.  
Ask a friend to pray with/for you.  I'll pray for you – shoot me an email – instant addition to my own prayer list.  
That's what I'm doing- asking for prayers, praying myself and asking for discernment.  
Here's Proverbs 16: 1-9 – but honestly, the entire chapter is about this subject, you can see for yourself.  Here's a sample….
To humans belong the plans of the heart,
   but from the Lord comes the proper answer of the tongue.
All a person's ways seem pure to them,
   but motives are weighed by the Lord.
Commit to the Lord whatever you do,
   and he will establish your plans.
The Lord works out everything to its proper end—
   even the wicked for a day of disaster.
The Lord detests all the proud of heart.
   Be sure of this: They will not go unpunished.
Through love and faithfulness sin is atoned for;
   through the fear of the Lord evil is avoided.
When the Lord takes pleasure in anyone's way,
   he causes their enemies to make peace with them.
Better a little with righteousness
   than much gain with injustice.
In their hearts humans plan their course,
   but the Lord establishes their steps.