FAST, EASY and the flavors are RIGHT ON THE MONEY! My family stands around this pressure cooker buffalo chicken dip waiting for their turn to get more and then nearly lick the bowl clean. I bet yours will too.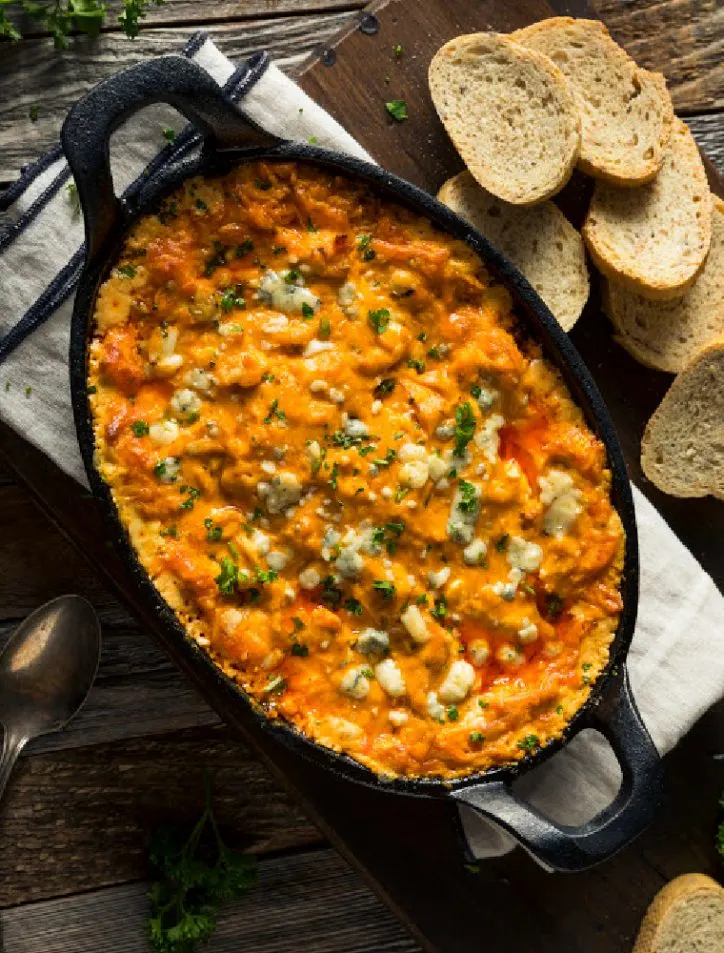 Instant Pot Buffalo Chicken Dip
What could be easier than throwing all the ingredients into the pressure cooker or instant pot (frozen even), pushing a few buttons and then walking away?
Come back in 10 minutes, pour the pressure cooker buffalo chicken dip in a serving bowl and you are party ready!
So easy, delicious and fast that you'll be making this for every game day, family gathering or maybe just for yourself to enjoy (and I'm not telling so just go ahead!).
Can I Make Buffalo Chicken Dip in the Pressure Cooker with Frozen Chicken?
You sure as heck can make buffalo chicken dip with frozen chicken! That's what I did in this recipe which is based on my regular buffalo chicken dip that everyone loves.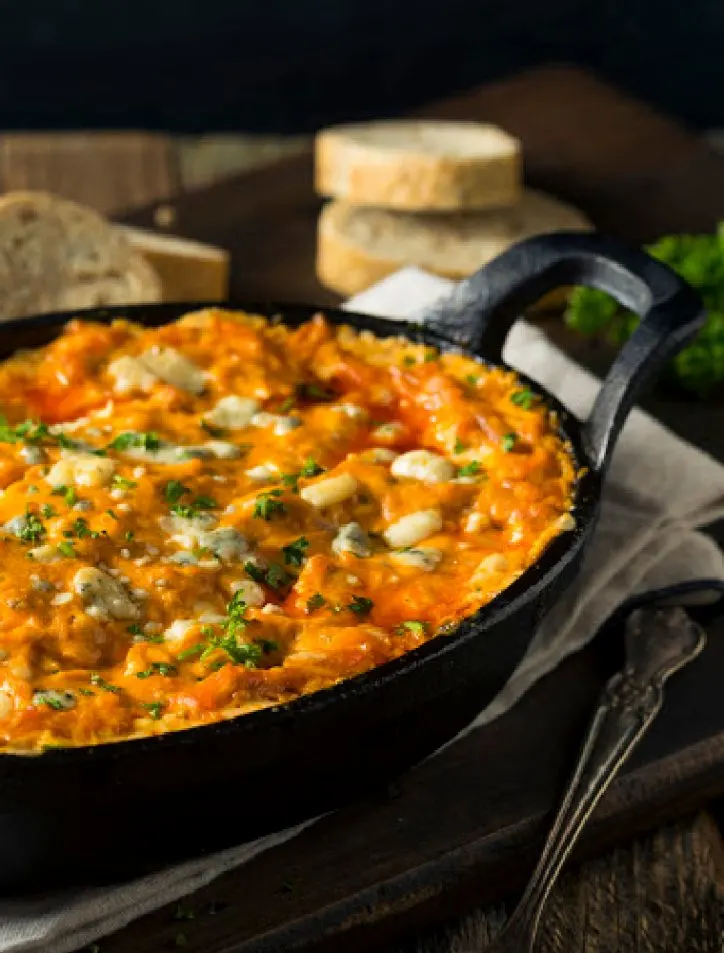 What's the Best Way to Serve Pressure Cooker Buffalo Chicken?
Be sure to serve it in a dish with low sides so that everyone can reach in and get a big ol dip easily!
Many people enjoy this dip on crusty bread pieces or tortilla chips.
For fun, it's a great addition to a baked potato bar.
Serve as an appetizer or a game day center of attraction.
It's great to offer some ranch dressing, carrot sticks and celery on the side to help cool off more sensitive mouths.
For those who like it a little more hot, set the Franks Hot Sauce out with your dish as well.
The green flavors are a wonderful addition, offer chopped green onion as a topping.
Just fyi – my family loves this dip on little slider buns if I add more chicken to the dip.
Here's What You'll Need

Boneless, skinless chicken thighs – makes for easy cooking, they are forgiving if you get it over done and they are more juicy and flavorful.
Franks Buffalo Sauce – it is seriously the best.
Butter
Full Fat Homemade Chicken Stock OR Chicken Stock Concentrate (Better Than Bouillon is the best) – I give substitutions in the comments.
Hidden Valley Ranch Seasoning Packet
Cream Cheese
Shredded Cheddar
Garnish: Shredded Cheddar, Blue Cheese chunks, Green Onion or Parsley
Here's How It's Done
Put all of the ingredients in the pressure cooker.
Cook on high pressure (select manual pressure on the instant pot) for 10 minutes.
Pour into a serving dish, sprinkle with cheese and set under the broiler for 1 minute. Then Garnish.
Serve hot.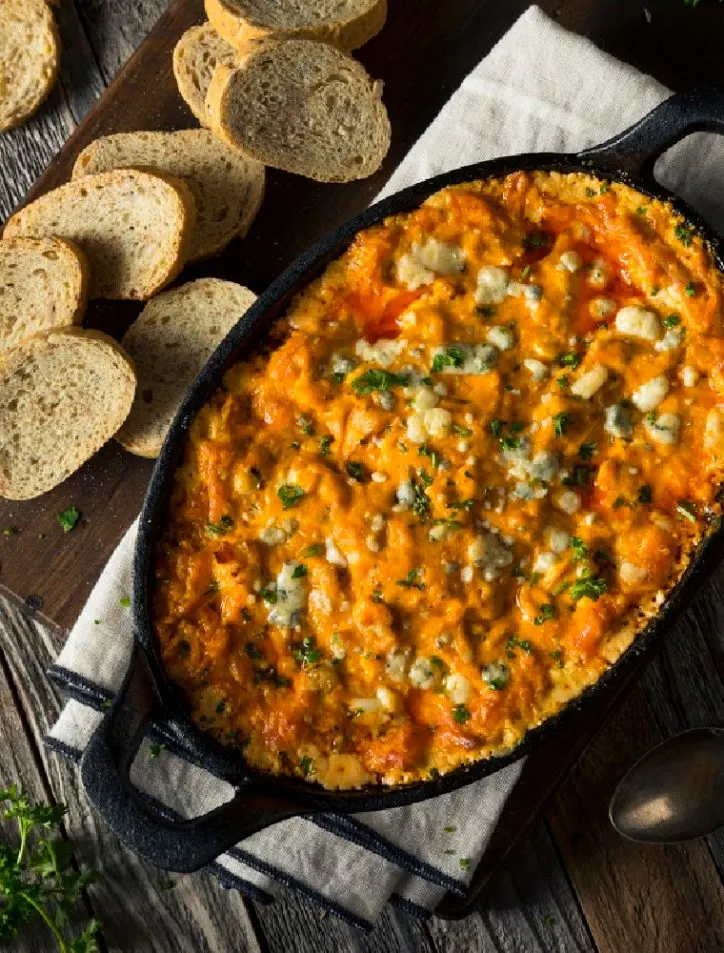 Frequently Asked Questions (FAQ's)
What Kind of Chicken Do I Use?
You can use any cut of boneless skinless chicken you like, I call for thighs because they remain moist and flavorful throughout cooking.
Is there a Vegetarian Substitute?
Yes, you can use the Quorn chicken substitute or tofu, however, cut the pressure time to 1 minute.
Can I Use a Different Hot Sauce?
Yes. You can use a different hot sauce. You can use any hot sauce you like, however, it won't have the best flavor. The best flavor for any buffalo dish is Franks Buffalo Sauce.
I'm not a fan of Blue Cheese, Can I Leave That Off?
Sure! My family isn't either, so I almost never add it, but it is the traditional flavor.
Can I Freeze Buffalo Chicken Dip?
You actually can freeze it, but the consistency is different when thawed and it is a bit unappetizing that way.
How Long Does Buffalo Chicken Dip Last?
It will last about 5 days if you keep it covered in the fridge.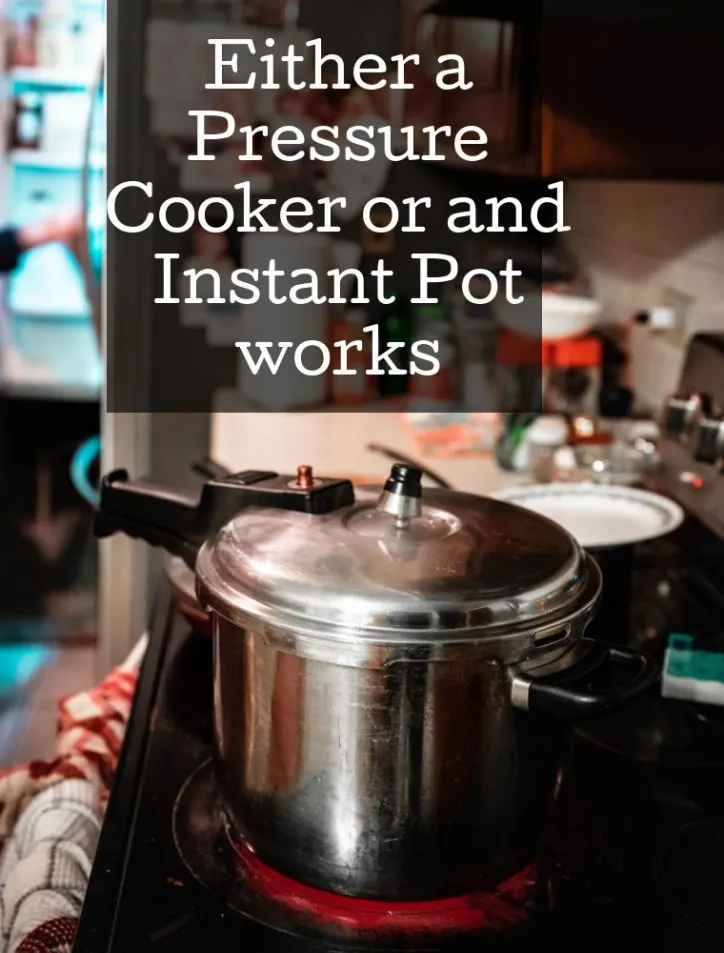 Tips and Tricks
If using frozen chicken, add it to the cooker first so that it is closest to the heat source.
There are many substitutions you can make for this recipe, check those out in the notes on the recipe.
If you are concerned about putting frozen chicken in the pressure cooker, simply remove the lid when the pressure releases and use an instant read thermometer to check the temp. It should be at least 165. If it isn't done enough, simply put the top back on and cook for another few minutes. It won't take as long to reach pressure a second time and you'll feel safe that way.
Here's a link to a good brand of instant read thermometers. love mine, I think you will too. (#ad, affiliate link).
You can use this recipe in a stove top pressure cooker or electric pressure cooker either one.
See the recipe for lots of great serving ideas and garnishes to make this one special just for you and your friends.
Watch Me Make This Recipe
Would you Give Me A Hand?
Please leave a 5 STAR comment in the comment section below. This helps others to find the recipes at Loaves and Dishes.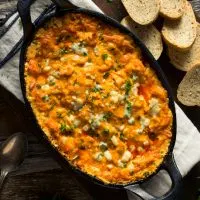 Pressure Cooker Buffalo Chicken Dip
Fast & Easy! Just throw it all in (even frozen) and it's done in 10 minutes then garnish and put under the broiler for a minute and you are on your way to a game day favorite!
Print
Pin
Rate
Ingredients
2

lb

boneless skinless chicken thighs

16

oz

cream cheese

2 blocks, cut into 1" pieces

1/3

cup

chicken stock

see substitutions if needed

1/2

cup

Franks Buffalo Hot Sauce

see substitutions

1

packet

hidden valley ranch seasoning

1

cup

sharp cheddar cheese

shredded, divided

1/3

cup

blue cheese

optional

2

stalks

green onion

chopped thin, both white and green parts.
Instructions
Add the chicken, cream cheese, stock, hot sauce and ranch seasoning to the pressure cooker. Cook on high (full) pressure for 10 minutes (see notes if using frozen chicken as I did in the video). Allow a natural release. Preheat the broiler on the oven.

Add 3/4 cup of the shredded cheese (reserve 1/4 cup) to the dish and mix well breaking up the chicken as you are mixing it.

Pour the mixture into a low sided oven save dish. Top with the remainder of the shredded cheese and sprinkle the blue cheese over the top. Broil for 1 minute or until the cheese is melted on the top.

Remove from the oven allow to cool slightly and sprinkle with the chopped green onion. Serve hot.
Notes
Use boneless skinless chicken thighs for this dish because they add lots of flavor, you can't over cook, are juicy and moist. See below for substitutions.
Franks Buffalo Chicken Hot Sauce works best for this recipe, however, there are substitutions you can make if you don't have or can't find it, see those below.
The pop of fresh flavor on the top really brings out the dish so make sure to add the green onion or some fresh flavor (chives would work or even some fresh diced tomato but don't do parsley).
This makes a great game day recipe or family get together recipe. Serve with crusty bread, slider rolls, tortilla chips, corn chips, carrots, celery, extra ranch dressing, extra hot sauce or some combination of those extras and people will be delighted.
***Important note: If you are using a pressure cooker larger than 5-6 quarts, add another 1/2 cup of broth.
SUBSTITIONS
You can use bone in and skin on chicken, but then you'll have to pull the chicken out and remove the bones and skins before mixing it all together.
Substitute already cooked chicken such as frozen chicken pieces for recipes, rotisserie chicken, canned chicken but you'll need to decrease the cooking time down to 2-4 minutes.
Vegetarian substitutions include tofu and Quorn frozen imitation chicken, reduce cook time to 2-4 minutes. Also, use a vegetable stock instead of chicken stock.
For the cream cheese, you can use Neufchatel or the lower fat cream cheese options.
If you can't find Franks, use any standard hot sauce and then add 1 Tbs of butter.
If blue cheese isn't your vibe, just leave it out.
No chicken broth? No problem. Get the Better than Bouillon chicken flavor and add 1/2 tsp plus 1/2 cup water to your pressure cooker instead.
PRO TIP:
Want to really wow your friends? Pour this into several small ramekins, one per guest and then offer with a charcuterie board stocked with things that go with the dip like pepperoni, crispy bacon slices, celery, carrots, hot peppers, various kinds of dippers like crostini, chips, etc and some extra sauces like ranch dressing and hot sauce. You will always be known as the hostess with the mostest!
Nutrition
Nutrition Facts
Pressure Cooker Buffalo Chicken Dip
Amount Per Serving (0.3 cup)
Calories 280
Calories from Fat 180
% Daily Value*
Fat 20g31%
Cholesterol 126mg42%
Sodium 791mg33%
Potassium 269mg8%
Carbohydrates 3g1%
Protein 20g40%
Vitamin A 669IU13%
Vitamin C 1mg1%
Calcium 133mg13%
Iron 1mg6%
* Percent Daily Values are based on a 2000 calorie diet.
Have you noticed how divided we are lately? We take up sides against one another and for what cause?
We are facing world wide problems and we really need each other to face them. I urge you to put down your swords, drive them into plow shares and work to feed one another.
Because one day, we will all be in the fearful presence of the Lord and our quibbles won't matter.
Isaiah 2: 1-22, it's all worth a read.