"Hands down this is the BEST Carrot Cake I've EVER eaten!" exclaimed my daughter in law. Of course, you might think she HAS to say this because, well, she is my daughter in law. Therefore, I'll let you be the judge. Give this Southern Carrot Cake with Cream Cheese Icing a try and you'll be exclaiming it too.
WHY IS CARROT CAKE CALLED CARROT CAKE?
You might be wondering why carrot cake is called carrot cake! However, after you make THIS Carrot cake you'll know, because your arm will be tired from working the box grater grinding up about 8 carrots!
Carrot Cake is called carrot cake because it has carrots in it! A LOT of carrots. It's funny that you don't taste the carrots though, they just blend into the batter making this cake SUPER MOIST.
WHAT IS A JAMAICAN CARROT CAKE?
It's funny that you ask what a Jamaican Carrot Cake is and the answer is that it is a carrot cake amped up with the warm spices of cinnamon and nutmeg, which coincidentally is the SAME as my own Southern Carrot Cake with Cream Cheese Icing! Can you believe that? Me either.
Here I thought my recipe was Southern but not quite as southern as Jamaica. But, hey, great minds think alike, right? Turns out we both know flavor.
HOW DO YOU GRATE THE CARROTS FOR CARROT CAKE?
Do you have a box grater? If not, I'll list one below in my list of items I use to make my Southern Carrot Cake with Cream Cheese Icing. Anyway, avoid the LARGE holes and go with the next size down.
This will grate the carrots into tiny pieces that are a little smaller than a number 2 pencil lead. (Weird description, I know). Be very careful not to grate your own fingers.
Just keep grating until you have a total of three cups of carrot gratings. Be ready to grate up about 6-8 full size carrots for this amount.
CAN YOU GRATE CARROTS IN A BLENDER OR FOOD PROCESSOR?
Don't try to grate your carrots in a blender. That will likely tear up your blender and your carrots. You may use a food processor using the grating tool/cut. Again, look for very small pieces of carrot.
WHAT KIND OF OIL TO USE FOR SOUTHERN CARROT CAKE WITH CREAM CHEESE ICING?
I know that someone is going to ask if you can use Olive oil for this cake rather than vegetable oil. The answer is no. Please don't. Olive oil is lovely for some other uses but in this carrot cake, it will give a flavor that isn't in keeping with the lovely light carrot cake flavor. Please use vegetable oil.
HOW LONG DOES CARROT CAKE KEEP?
Carrot Cake should be kept in the fridge and will keep for about 5 days or so. I will admit that I have left mine on the kitchen table under the dome of the cake plate for 3 days without any problem, however, that is not what I recommend.
CAN CARROT CAKE BE FROZEN?
As with most cakes, you can freeze the cake itself prior to adding the icing without any problem. It will keep in the freezer for a number of weeks as long as it is wrapped up very well. Simply add the icing once thawed out.
If you want to freeze the cake with the icing on it, wrap it up very well in plastic wrap and then freeze. Set out on the counter to thaw. The icing will not be quite the same consistency when thawed back out but it is still edible.
I do not recommend freezing the raw batter for the cake.
TIPS AND TRICKS FOR SOUTHERN CARROT CAKE WITH CREAM CHEESE ICING
Do NOT think that simply spraying your cake pans with cooking spray will be enough. Make sure to line the pans with parchment paper first. It is a pain, I know, but believe me it isn't as big a pain as making a cake and then having it stick to the pan.
Either spray or butter and flour your cake pans IN ADDITION to using the parchment paper liner. This is STICKY cake batter.
THE CARROTS…
Grate the carrots on the medium sized holes on a box grater – NOT the large holes.

This will require 6-8 full size carrots.
THE EGGS…
You do not need to beat the eggs first or premix any of the ingredients. Just dump everything in the stand mixer and mix it up.

Begin checking the cakes at about 25 minutes. They bake up completely in my oven in about 28 minutes. Some ovens it may take as much as 40 minutes. Just be careful and don't overbake. When a toothpick or cake tester comes out clean, they are done.
THE ICING…
Be careful with the icing and don't use TOO MUCH between the layers or you might not have enough to do the outsides of the cake with.
You HAVE to make the icing using room temperature butter. It doesn't work with refrigerated butter grated on a box grater like works for cookies.
ITEMS I USE TO BAKE THIS SOUTHERN CARROT CAKE WITH CREAM CHEESE ICING.
These photos are affiliate links for Amazon where you can click the picture to go through to Amazon to compare prices. As an Amazon Associate I earn from qualifying purchases.
IF YOU ENJOYED SOUTHERN CARROT CAKE WITH CREAM CHEESE ICING, YOU MIGHT ALSO ENJOY…
Pumpkin Spice Cupcakes with Pumpkin Cream Cheese Icing
YA'LL HELP ME OUT PLEASE…
Please leave me a 5 star 🌟🌟🌟🌟🌟 comment below in the comment section, all right? I would LOVE to know if you made this recipe or even if you are planning to! Of course, head on over to Pinterest, Facebook and Instagram and tag me with some photos of your creation!
I can't wait!
Ya'll know I love your comments!! ❤
THE RECIPE FOR SOUTHERN CARROT CAKE WITH CREAM CHEESE ICING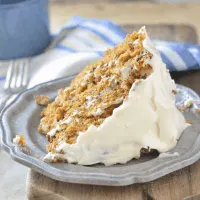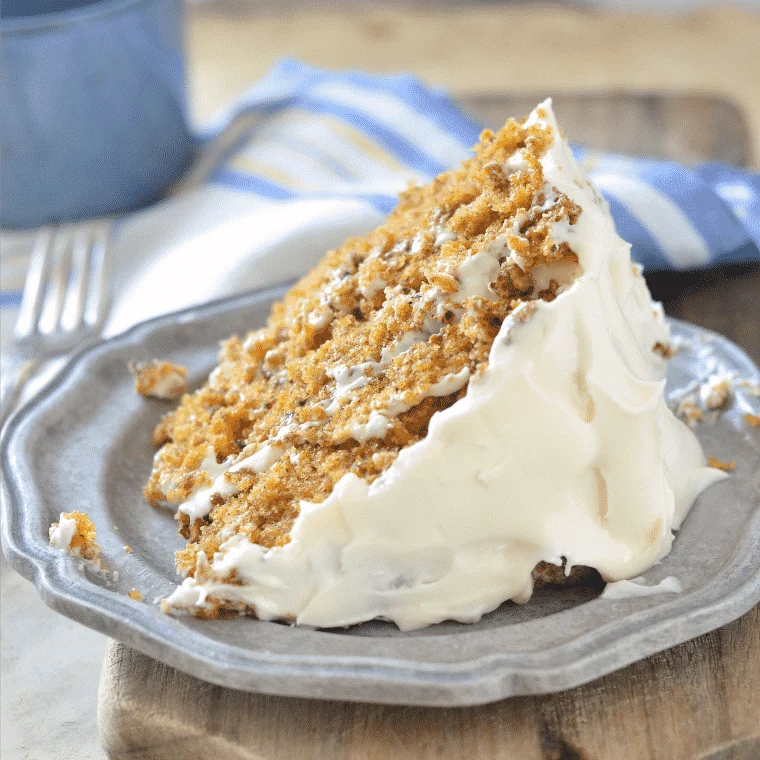 SOUTHERN CARROT CAKE WITH CREAM CHEESE ICING
This is a recipe for southern carrot cake with cream cheese icing
Print
Pin
Rate
Ingredients
For the Cake
2

cups

all-purpose flour

plus more for pans

2

cups

granulated sugar

2

teaspoons

baking soda

½

tsp

baking powder

2

teaspoons

ground cinnamon

1

tsp

ground nutmeg

1

teaspoon

salt

4

eggs

1 1/2

cups

vegetable oil

1

tsp

real vanilla extract

½

tsp

almond extract

½

tsp

orange flavoring

3

cups

grated carrots

1 1/2

cups

chopped pecans

optional
For the Icing
3

blocks of room temperature cream cheese

1 ½

sticks room temperature whole butter

8

oz

powdered sugar

1/4

Cup

Sour Cream

1

tsp

vanilla extract

½

tsp

almond extract

milk

to thin, if needed.
Instructions
Preheat the oven to 350. Prepare 3 9inch cake pans with either butter and flour or baking spray. Cut three parchment paper disks to insert into the bottom of each cake plan and then place them on top of the baking spray.

In a stand mixer, add the flour, sugar, baking soda, baking powder, cinnamon, nutmeg, salt, eggs, vegetable oil, vanilla, almond extract, orange flavoring, carrots and pecans and mix on low until well combined (about 1 minute).

Using a measuring cup, measure out even portions of the batter into each of the three cake pans (about 1 ⅓ cups each).

Bake at 350 until the cake is set and a toothpick or cake tester comes out clean.

Remove the pans from the oven and allow to cool on a baking rack until cool.

Mix together the cream cheese, butter, powdered sugar, sour cream, vanilla extract and almond extract until blended creamy (if consistency is too thick, add milk one tablespoon at a time to thin)
Icing the cake
Run a butter knife around the rim of the first cake to release it from the side and then Turn the first cake pan upside down into the palm of your hand. When the cake is removed, peel the parchment paper from the bottom.

Lay the cake on the plate of your cake stand upside down and spoon out about ½ - ¾ cup icing onto the cake. Smooth with a spatula.

Repeat the release of the cake and remove the parchment from the second cake laying it upside down atop the second cake and repeat with the icing.

Repeat the release of the third cake and remove the parchment laying it upside down on the second cake. Spoon the remainder of the icing onto the cake and spread out using a spatula. Carefully smooth the icing over the sides of the cake.
Notes
This is a recipe for carrot cake with cream cheese icing please see the post for all of the tips and tricks for the recipe
Nutrition
Nutrition Facts
SOUTHERN CARROT CAKE WITH CREAM CHEESE ICING
Amount Per Serving
Calories 437
Calories from Fat 126
% Daily Value*
Fat 14g22%
Cholesterol 55mg18%
Sodium 422mg18%
Potassium 222mg6%
Carbohydrates 74g25%
Protein 6g12%
Vitamin A 5433IU109%
Vitamin C 2mg2%
Calcium 44mg4%
Iron 2mg11%
* Percent Daily Values are based on a 2000 calorie diet.