Jump to Recipe
I'm just going to be super honest with you here. I tried to come up with something witty to say about the typical dinner one is served when going to a public meeting and how this recipe is a much better option than many of the side dishes you will typically taste. Then I erased that and started in on an "as American as Apple Pie" Apple Pie Baked Apples theme. I gave up on that too. The truth is, we are having a wedding around here this weekend and while I WANT to be witty and cute, right now I am just feeling anxious which isn't cute at all. I hope to have some fun photos to share with you sometime next week and by then I'll be feeling happy, teary and super glad that everything is done and that guests are safely home But right now, I'm kind of nervous and I hope you will just hang in there with me. Believe me when I say, these Apple Pie Baked Apples are Delish and Super Easy. I hope you will give them a try.
For the recipe seekers, I won't hold you any longer. Here is the recipe for the Apple Pie Baked Apples. They are quite delicious and juicy and even good the next day. Tastes just like an Apple Pie with more of what you love – the APPLES! These are EASY and you can whip them up in just a minute, then serve them hot and crackling and your guests will only imagine that you slaved over them all day! (The best kind of dish, really).
THE RECIPE FOR APPLE PIE BAKED APPLES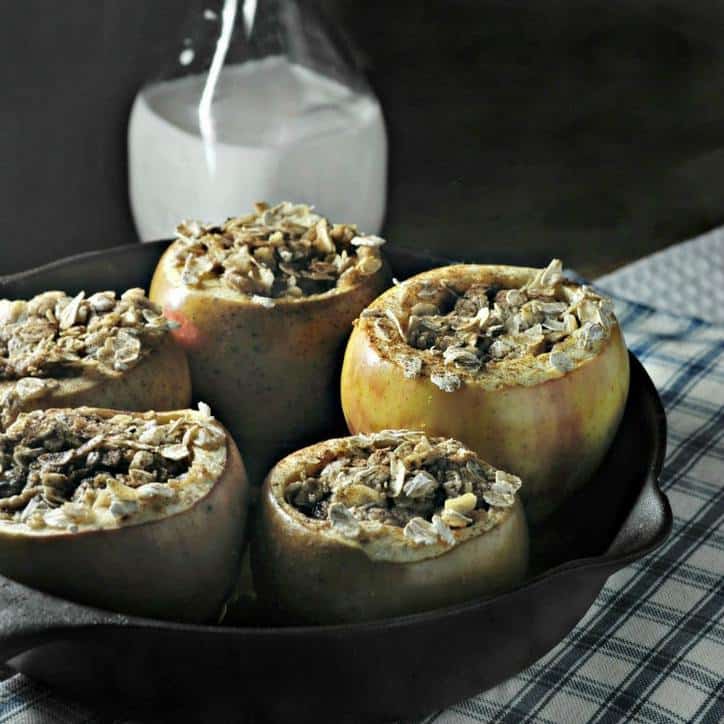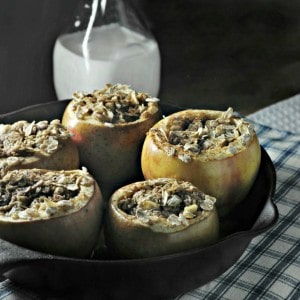 Apple Pie Baked Apples
This recipe for apple pie baked apples is the perfect dessert for healthy concerns and delicious apple pie taste!
Print
Pin
Rate
Ingredients
5-6

Sweet Apples

I used Fuji

For the first filling:

3/4

Cup

Dark Brown Sugar

1/2

tsp

ground cinnamon

For the topping

1/3

C

Dark Brown Sugar

1/4

tsp

ground cinnamon

1/3

Cup

quick cooking oats

oatmeal

1/3

Cup

all purpose flour

4

tablespoons

sweet cream unsalted butter softened.

1/4

tsp

kosher salt

zest of one orange

1/2

cup

orange juice

3

Tbs

honey
Instructions
Preheat the oven to 350. Using a sharp knife, cut off the top 1/2 inch of each apple. Then using a coring tool, remove the cores. Then using a small scoop, scoop out about 1/3 of the meat of each apple. Place the apples in a 10 inch skillet.

In a medium bowl, mix the brown sugar and cinnamon and place by spoonfuls into the bottom of each apple cup. Then, once that bowl is empty, in the same bowl, mix the oats, flour, butter, salt and orange zest together. Use your fingers and crumble the mix together, then pack by spoonfuls into the remaining space in the top of each apple. Once full, make sure each apple is up right in the pan.

Gently pour the Orange juice and honey into the bottom of the pan and place the skillet in the oven.

Bake for 30-40 minutes until the apples are easily pierced with a knife. Drizzle the pan juices over the apples before serving.
Notes
Use a tasty apple that you like for this recipe.  
Nutrition
Nutrition Facts
Apple Pie Baked Apples
Amount Per Serving
Calories 220
* Percent Daily Values are based on a 2000 calorie diet.
PHOTO PROCESS FOR MAKING APPLE PIE BAKED APPLES
RECIPE INSPIRATION FOR APPLE PIE BAKED APPLES
Remember when I told you about a magazine that my bestie, Marcia sent me for Christmas? It is the magazine with cast iron skillet recipes. Everything in there looks tasty! I mean, I would want to eat it all, right now if I had any appetite at all. But as I said, it is wedding time and I am feeling a little quakey in my middle section! Anyway, baked apples were in the magazine and I thought that they looked like a simple and tasty something that I could doctor up a little. How can you go wrong with sweet apples, brown sugar and butter? I mean, really? Anyway, the name of the magazine is: "Southern Cast Iron Winter 2016" from Hoffman Media Publications.
OTHER STUFF THAT HAS NOTHING TO DO WITH APPLE PIE BAKED APPLES
I don't really have any tips and tricks for this recipe – it is too simple to have any of those. I will mention that the N on my keyboard seems to not be working very well – so if you see some typos, please disregard and just know, I meant the best! With that, I'll skeedattle, 'cause I am writing this on my lunch break from the day job and I only have a few minutes left. Take care and I have my yummy new chicken recipe coming up next and then oh then – next week, my four cheese pasta!!! Oh MY GOSH!!! So excited to share that with you!
And as a shout out to my sweet hubby, from our conversation this week:
Proverbs 4:23 Be careful how you think; your life is shaped by your thoughts.