Jump to Recipe
Don't you love something fun and different that everyone gobbles down and asks for more?  Me too! That's my favorite kind of recipe! Candied Bacon Wrapped Smokies are EXACTLY the ticket!
These candied bacon wrapped smokies are an "oldy but goody" that I've updated with some zing for our taste buds.  I served these bacon wrapped goodies to my gang on our regular Tuesday night get together last week and everyone agreed, "These are Bomb-digity"  
You might be thinking that these are similar to my Maple Bacon Andouillle bites, and you wouldn't be wrong, but yet, they are different..  Give 'em a try!
Amazingly, bacon wrapped smokies hold up well for toting around in the world (hello pot luck dinner) as well as for chilling in the fridge and warming up later (hello late night snacks!).  
The problem is, there won't be any leftovers.  Sadly, there just won't. So, you have to be a tiny bit devious.  As soon as these little smoky friends are cool enough to touch and before you hollar, "Come and Get It!", put a few candied bacon wrapped smokies on a saucer and hide them in the fridge for yourself later.
"Is that what YOU do?", you are asking.  The answer is, "I'll never tell", but at least you have a way to find out what yummy leftovers these make!  
Let's talk for a few minutes about some of the questions you might have…
CAN YOU MAKE CANDIED BACON WRAPPED SMOKIES AHEAD?
The wonderful answer is that YES!  You can make these little wonderful bacon wrapped smokies ahead!  They are just as delicious cooled off and room temp as they are hot out of the oven.  
Simply follow the recipe as written and then store your little smokies in the fridge.  When you are ready to serve your smokies, gently heat them in a 325 oven for 20 minutes until warm and then serve.  
You can make these a day or two before you plan to serve.
HOW TO REHEAT CANDIED BACON WRAPPED SMOKIES
To reheat these smokies, simply heat the oven to 325, place your smokies on a piece of parchment paper on a rimmed baking sheet and reheat for 20 minutes.  
CAN BACON WRAPPED SMOKIES BE FROZEN?
In the unlikely event that you have leftover bacon wrapped smokies, then yes, they can be frozen.  You can…
Place them into a freezer bag, remove as much air as possible and freeze.

Place them on a baking sheet, place them in the freezer uncovered just until they freeze (about an hour) then place them in a freezer bag, remove the air and place back in the freezer.  This keep them from sticking together and you will be able to pull just a few out to reheat for a quick treat.
If you want to use the entire frozen batch at once,you will want to thaw them to in the fridge and then reheat following the above instructions.
TIPS AND TRICKS FOR BACON WRAPPED SMOKIES
It is absolutely imperative that you completely line your rimmed baking dish with aluminum foil.  These little smokies are VERY STICKY and I'm not sure that the sticky would EVER come off if it got into the corners of your pan.

You will absolutely want to serve these smokies with a toothpick OR offer forks to your guests because these little boogers are STICKY and no one wants to go around with sticky fingers.

If you are serving these smokies as an appetizer, you might want to consider also serving other appetizers as well.  A light or vinegary appetizer would go well with these. I would suggest olives, pickles or something like that.

These work really good with Hot Cheesy Bacon Party Dip,  Salted Chocolate Bark, and Hot Wing Popcorn if you are looking for fun party snacks!
EQUIPMENT I USE FOR THIS RECIPE…
There IS ONE thing I recommend for this recipe and it is as follows:
 A good rimmed cookie sheet.  You want a light weight rimmed half sheet baking sheet that you can cover completely with aluminum foil.  I use this one.  I bought it from Sam's Club.  This is an Amazon Affiliate link.  You can click the photo to go straight through to Amazon to compare prices, I recommend buying a good quality one locally if you can, but if not, Amazon will bring it right to your door!
THE RECIPE FOR BACON WRAPPED SMOKIES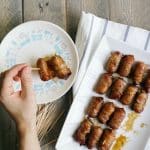 Candied Bacon Wrapped Smokies
The perfect party dish or even late night snack!
Keyword:
Bacon Wrapped Smokies, Smokies Recipe
Ingredients
1

lb

of bacon

cut into thirds

1

lb

of little smokies

8

Tbs

of butter

one stick

2

Cups

of brown sugar

1

tsp

Cayenne Pepper

1

Tbs

cider vinegar
Instructions
Preheat the oven to 375

Completely wrap the surface of a rimmed half sheet baking pan with aluminum foil.

Wrap each little smokie with a ⅓ piece of bacon and line up with the seam side down on the baking sheet.

In a medium sized saucepan, melt the butter over medium heat.

Add the brown sugar, cayenne and cider vinegar to the melted butter and stir well, continue to heat over medium heat until the brown sugar is completely melted.

Pour the butter and brown sugar mixture evenly over the smokies.

Place the baking sheet into the oven on the center rack. Bake for 15-20 minutes until heated through. Turn the heat up to broil and give the smokies a few more minutes (don't leave the oven and keep peeking in there to see what's happening). They are ready when the bacon starts to crisp. (about 5 minutes).
Recipe Notes
A simple party dish that everyone loves. These are ready in no time and a perfect for a pot luck because they carry well and are as good at room temp as they are straight out of the oven.
Nutrition Facts
Candied Bacon Wrapped Smokies
Amount Per Serving
Calories 100
* Percent Daily Values are based on a 2000 calorie diet.
A VERSE TO SHARE
This week, while looking for other information, I fell upon Matthew 15.  If you have ever wondered about the humanity of Jesus, then you should absolutely read Matthew 15.  
The pharisees call Jesus out and ask him why his disciples are breaking the tradition by not washing their hands before they eat. It's a practice we certainly encourage today.  It seems a little humorous to me that THIS is the point that the old pharisees want to argue.
Anyway, Jesus snaps right back at them pointing out how they themselves have broken a commandment by not honoring their father and mother.  
OH SNAP!
Then, Jesus does something completely BOLD!  He calls a group of people around himself and says, basically, "Let me tell ya'll something.  It ISN'T what goes into your mouth that defiles you, it is what COMES OUT that defiles you". (I'm taking liberties with Jesus' words -but the basic idea is there).  
Later, the disciples say, "Hey Jesus, guess what?  The pharisees didn't like that you said at that public thing there".  To which Jesus replied, "Psshhh. Don't mind them. Every plant that my Father has not planted will be pulled up by the roots.  They are blind guides and with the blind leading the blind, both will fall in the ditch soon enough".
WHAT DID THAT MEAN?
Peter then asks Jesus to explain what he meant when he was preaching in the street.  Jesus replies, "Don't ya'll get it? Whatever you put in your mouth goes right on through BUT what comes out of your mouth is an indication of your heart"  He goes on to point out all of the hateful stuff that can come out of your mouth that gives everyone a good look at the contents of your hateful heart.
Having a heart FULL of hatefulness is what makes you rotten, not what you put in your mouth.  
Amen Jesus, Amen.
We see that all the time today, don't we?  Jesus gave us a new commandment to love one another as He loved us.  I hope we can all delve deep to find that love so that love will be reflected in what we say to one another and how we behave.
Amen.
Matthew 15:18-20
But what comes out of the mouth proceeds from the heart,and this defiles a person. For out of the heart come evil thoughts, murder, adultery,sexual immorality, theft, false witness, slander.  These are what defile a person. But to eat with unwashed hands does not defile anyone.