Welcome to Loaves and Dishes – today is the day we get our popcorn freak on! WHOOT WHOOT! Freaky Hot Wing Popcorn.
Remember eating caramel popcorn as a kid? Cracker Jacks, if you are as old as me? Ever wonder what the lovechild of a freakish marriage between the Cracker Jacks Sailor and a Buffalo Hot wing would be? Just a little curious? (Don't say 'UH, No!" to me). OK – I never wondered that either. Until…..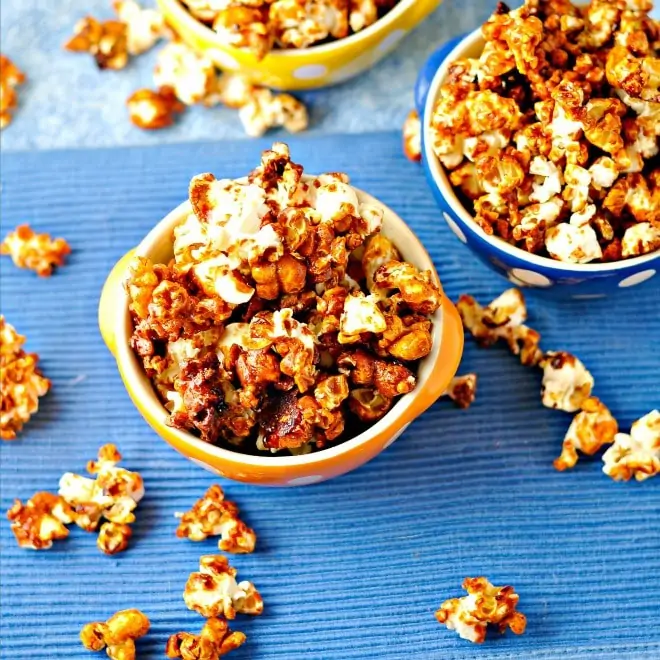 I never wondered about that kind of freaky until I received last month's issue of Bon Appetite Magazine and saw the article for "A Food Lover's Guide to the Super Bowl". I've had my mind on this Freaky Hot Wing Popcorn ever since and now that I have sampled some – I can't stop eating it either.
We are lucky there are even pictures on this post! Someone keeps eating the Freaky Hot Wing Popcorn food model. (I'm the only one home– and ever since the "Roasted Chicken Incident", I make Pete Spraker go outside when I am taking photos for the website). So, I guess we know who the culprit is and who can't stay out of the Freaky Hot Wing Popcorn!
Not this guy this time….
That said, this recipe isn't for everyone. In the interest of fairness I will share that my 16 year old said, "EWW!! These are sweet, salty AND spicy! I thought they were just going to be hot like a chicken wing". She is not a fan. To which I said, "GOOD! More for me!"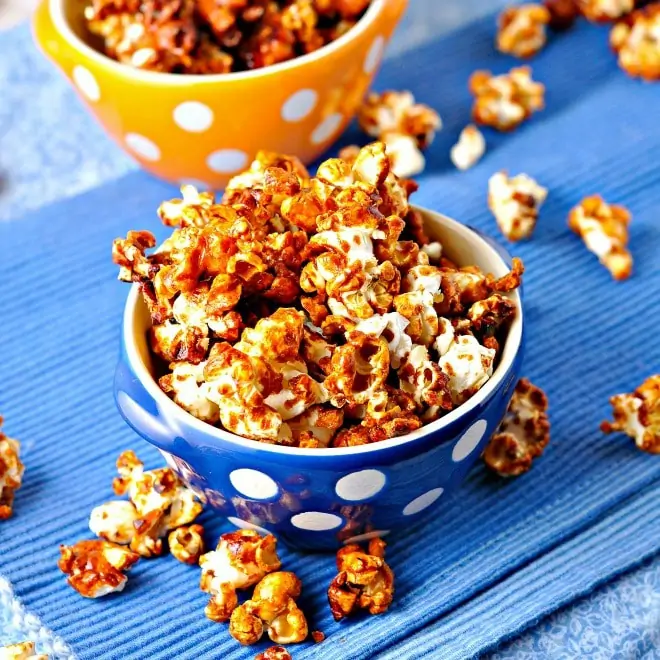 I hope you will give these a try. Use my previous recipe for "How to make perfect homemade popcorn" and you can't go wrong. You can also use microwave popcorn – however, get the kind with NO BUTTER. You wouldn't want the "already on there flavor" to mess with the flavors you are going to make.
Words of Caution:
1. When doing the final bake – remove the popcorn from the oven exactly on time – even if it doesn't seem dry – it will get dry. Don't sweat it. You are going to eat it all almost immediately anyway – trust me on that.
2. As soon as you are finished with any of the bowls or pans for this dish – run water in immediately. While you are waiting for the popcorn to bake, wash your dishes out. Otherwise you will be left with a candy like concrete that is no fun to remove.
Thank you so much for visiting
Recipe inspiration for Freaky Hot Wing Popcorn
As stated earlier – the recipe comes from Bon Appetite magazine's "A Food Lover's guide to the Super Bowl" article 'Buffalo Wing Popcorn' . You can find it here.
Don't forget to subscribe to Loaves and Dishes so that I can send you an email notice when the next recipe posts. I PROMISE to never give (or sell) your email address to anyone else – and I PROMISE not to bug you to death!
Serving suggestions for Freaky Hot Wing Popcorn
Serve with a cold drink and a napkin.
Now I ask you, Make Dinner, Not War.
Now faith is being sure of what we hope for and certain of what we do not see. ~ Hebrews 11:1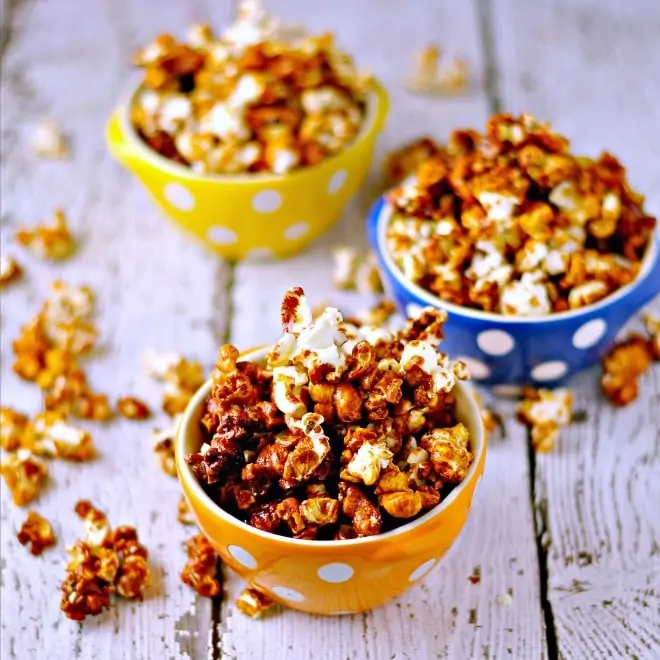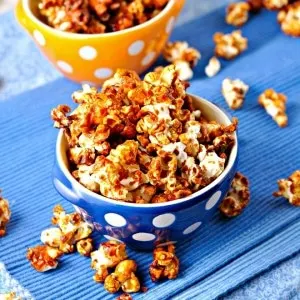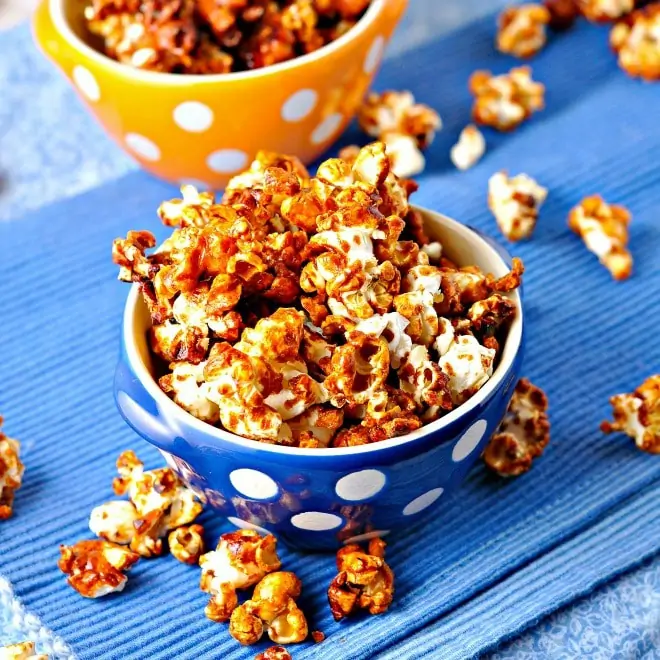 Freaky Hot Wing Popcorn
This recipe for Freaky Hot Wing Popcorn will have you wondering why you didn't try salty, sweet, spicy popcorn before!
Print
Pin
Rate
Ingredients
Nonstick vegetable spray - vegan use vegan spray

Popcorn from recipe found here

Or 8 cups of plain popped popcorn - or pop your own -like Orville Redenbachers

¾

Cups

granulated sugar

¼

Franks Red Hot Original Sauce - If vegan use vinegar based vegan hot sauce

3

Tbs

unsalted butter cut into tiny pieces - if vegan use vegan butter

1

tsp

kosher salt

½

tsp

baking soda

¼

tsp

cayenne pepper
Instructions
Preheat the oven to 300. Line a rimmed baking sheet with parchment paper – allow enough that you can fold the sides and ends up. Coat the parchment paper and a large kitchen bowl with cooking spray. Bowl should be large enough to hold all of the popcorn – this is where you will coat the popcorn. Set the bowl and the baking sheet aside. Have the popcorn in a separate bowl for now.

Bring sugar and ¼ cup water to a boil over medium high heat in a sauce pan. Stir to dissolve the sugar. Once the mixture is boiling – lift the pan and give it a swirl every 30 secs or so. Do not mix with a spoon and do not try to scrape what forms on the sides of the pan into the mix. Just swirl. In 10-12 minutes the mixture will turn a deep amber caramel color. Remove the pan from the heat now.

Stir in the butter and hot sauce. This will cause a lot of sizzling noise and the mix will bubble furiously. Return to the stove top and return to a boil for another 3 minutes. Remove from the heat and working quickly add the salt, baking soda and cayenne and stir those in. When you add the baking soda a strange reaction will happen and the mix will change to an orange color – don't worry – it is supposed to do that – just keep working.

Into the prepared bowl, add some popcorn and a little sauce, then more popcorn and more sauce. Make about 4 layers. Then with a spatula or wooden spoon gently mix the popcorn so that it all become coated with the sauce. Pour the popcorn into your prepared baking dish and continues to stir to coat the popcorn. (Immediately put your sauce pan and your bowl in the sink and run warm water into them).

Spread the popcorn out onto the baking sheet and place into the oven. Bake for 10 minutes, remove the tray and mix the popcorn. Place back in the oven and bake for another 5-10 minutes. Allow to cool slightly before serving.
Notes
A flavorful easy popcorn recipe
Nutrition
Nutrition Facts
Freaky Hot Wing Popcorn
Amount Per Serving
Calories 200
* Percent Daily Values are based on a 2000 calorie diet.