Sweet, fluffy,comforting, EASY and AFFORDABLE! Made with ALL THE THINGS that make a holiday dish delish! Canned Sweet Potato Casserole made with Pecans and Marshmallows!
Why This Recipe Works…
Easy
Fast
Affordable
DELICIOUS!
Sweet potatoes, marshmallows, pecans, butter, cinnamon…. what's not to love?
How Canned Sweet Potato Casserole is Done
STEP 1.
Open the canned yams/sweet potatoes and drain them. Place them into a sauce pan with the other ingredients. Heat over medium heat until everything can be mashed and mixed together well.
STEP 2.
Pour the mashed ingredients into the baking dish and sprinkle the marshmallows over the top. Bake at 375 for 20 minutes.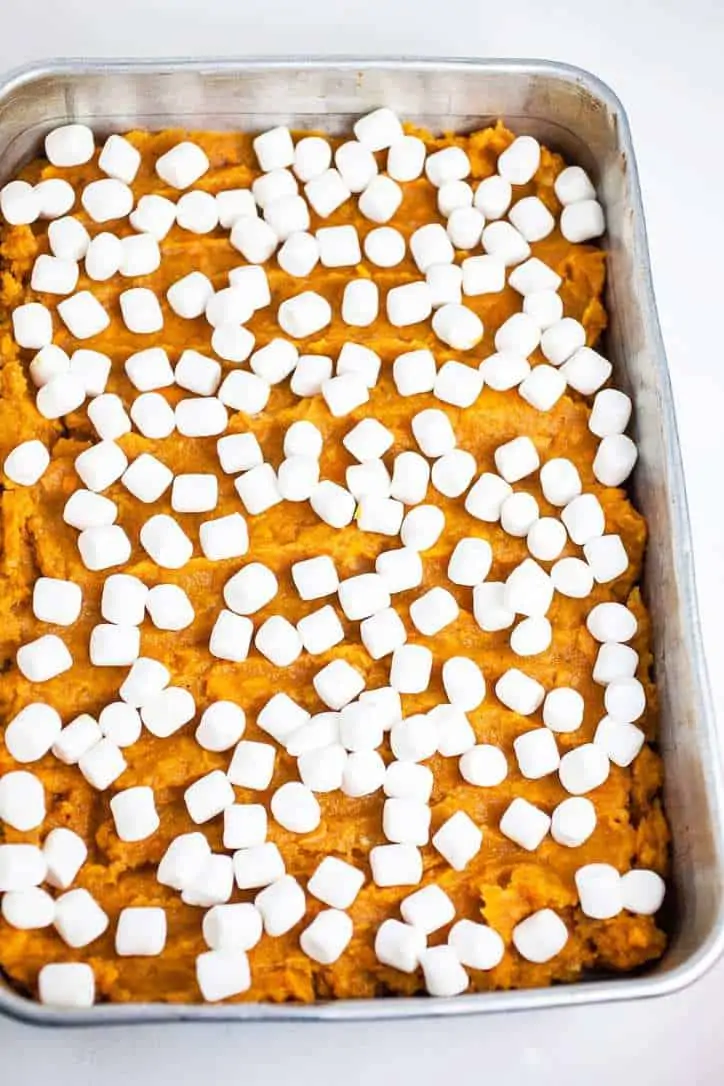 STEP 3.
Remove from the oven when the marshmallows are soft and turning golden on the top. Serve hot.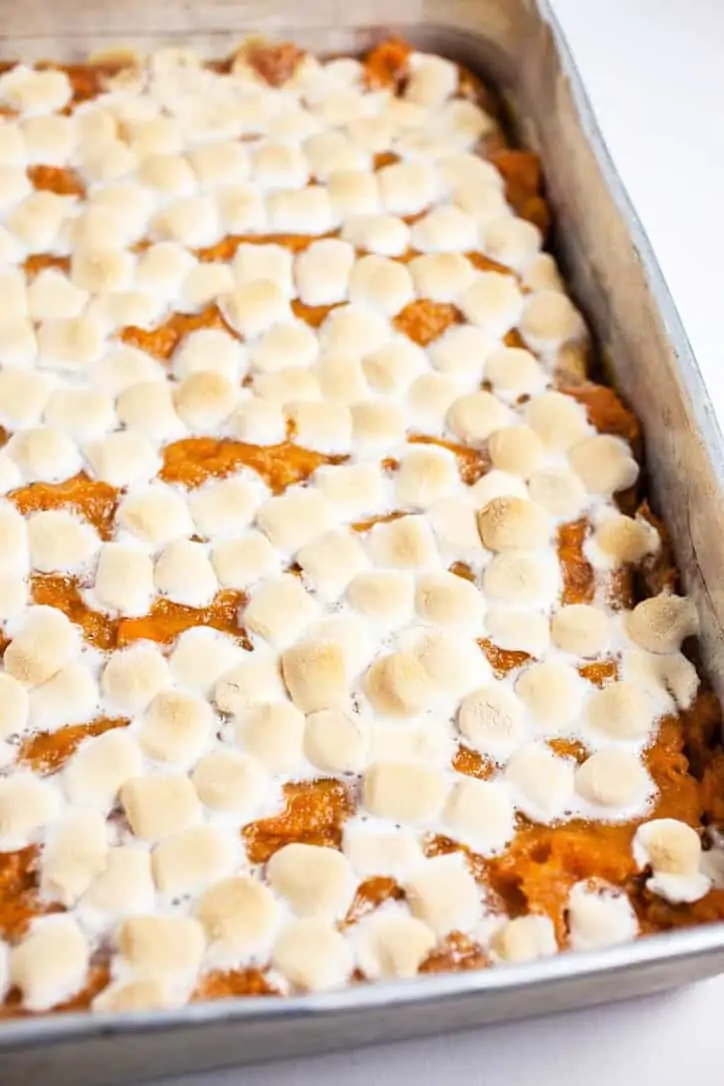 Frequently Asked Questions (FAQ's)
Are Canned Yams and Canned Sweet Potatoes The Same Thing?
Yes! (Well, technically, no – but for this recipe, YES!). You can use either canned yams or canned sweet potatoes for this recipe!
Is This Canned Sweet Potato Casserole Recipe Healthy?
I know you are looking for a Healthy Sweet Potato Casserole Recipe! So, depending on your diet, YES, this casserole may be just the one you are looking for!
Why Would I Use Canned Sweet Potatoes Instead of Fresh Sweet Potatoes?
Using Canned Sweet Potatoes simply removes one of the biggest jobs related to fresh sweet potatoes!
NO PEELING, CUTTING OR BOILING is required! Shortens the whole job by about an hour!
How Long Is Canned Sweet Potato Casserole Good For?
This recipe will last in the refrigerator for at least 5 days!
Don't let it sit out at room temperature for more than 2 hours!
Can I Freeze This Recipe?
Yes! You CAN freeze this recipe and keep it for up to 3 months in the freezer.
Can I Make This Recipe Ahead?
Yes! Absolutely! Make up to 2 days ahead but do not bake until you are ready to serve.
Is This Canned Sweet Potato Casserole with Canned Yams?
Yes! It IS! Either Canned Yams or Canned Sweet Potatoes work!
Do I Use the BIG Marshmallows Or The Little Marshmallows?
You can use either! However, you will want to cut large marshmallows up into 4 pieces to mix into the mashed sweet potatoes.
Tips & Tricks for Canned Sweet Potato Casserole
Drain the sweet potatoes or yams very well before moving forward with your recipe.
Cut the marshmallows you mix into the sweet potato mix up very small if you are using the large marshmallows (so they can melt easily).
Substitute marshmallow creme for the mixed in marshmallows if you prefer.
Use real butter rather than butter substitute for more flavor.
Try enhancing your casserole with some homemade vanilla extract!
PRO TIP: The salt and pepper you add to the recipe make the sweet of the recipe balance perfectly, so don't leave those out.
What Goes with Canned Sweet Potato Casserole?
OH BOY! We LOVE the following with our Sweet Potato Casserole!
If You LOVE Sweet Potatoes, try these other recipes by Loaves and Dishes
YA'LL HELP ME OUT, OK?
Please leave me a comment and 5 STAR ( 🌟 🌟🌟🌟 🌟 ) review, I ALWAYS love to hear from you and your comments MAKE MY DAY! (Plus, it helps me out by letting everyone know that this is the place to find good recipes!)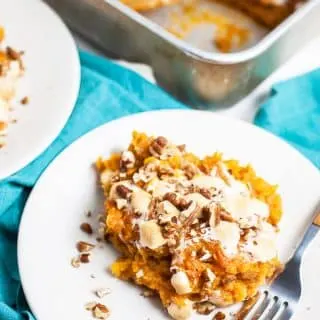 Canned Sweet Potato Casserole
An easy recipe for Canned Sweet Potato Casserole
Print
Pin
Rate
Ingredients
15.5

oz

Canned Yams or Sweet Potatoes

1/4

Cup

packed dark brown sugar

2

Tbs

butter

whole, unsalted

1/2

Cup

mini marshmallows

1/2

tsp

lemon juice

2

Tbs

maple syrup

1/4

tsp

kosher salt

¼

tsp

black pepper

1/4

tsp

real vanilla extract

1/4

tsp

almond extract

¼

cup

finely chopped pecans

1/2

cups

mini marshmallows
Instructions
Preheat the oven to 375.

Drain the canned yams/ sweet potatoes then Place them into a medium saucepan on the stovetop with the heat set on medium.

Add the brown sugar, butter, 1/2 Cup marshmallows, lemon juice, maple syrup, salt, pepper, vanilla, almond extract and pecans and use a potato masher (or mixer) to mash the potatoes and mix all the ingredients together with the potatoes as they warm. Allow the potato mix to warm until all of the butter is melted and the marshmallows have become soft, sticky and are mixing into the mashed potatoes. Do not allow to boil or to cook hard enough to stick to the pan.

Spray a 1 quart baking dish with cooking spray and pour the contents of the sauce pan into the baking dish. Top with the remaining 1/2 cup of mini marshmallows.

Bake at 375 for 20 minutes until the tops of the marshmallows are golden brown.

Serve warm.
Notes
It is ok to substitute margarine for the butter if you need to, but I don't recommend it.

It is ok to substitute full size marshmallows if you need to, but cut them into smaller pieces to mix into the sweet potato mixture so that they melt easily.

Be sure to use real vanilla not imitation. The imitation will give a fake yucky vanilla taste.

You can always add more pecans if you want.

It is fine to make this the day or two before your event.

T

his freezes well, but I haven't tried it myself.

It does make lovely leftovers.

Reheat in the oven or in the microwave.
PRO TIP: Be sure to add the lemon juice, this does NOT give a lemony flavor, instead, it brightens the other flavors and helps them meld together better
Nutrition
Nutrition Facts
Canned Sweet Potato Casserole
Amount Per Serving
Calories 340
Calories from Fat 189
% Daily Value*
Fat 21g32%
Cholesterol 31mg10%
Sodium 442mg18%
Potassium 1925mg55%
Carbohydrates 124g41%
Protein 5g10%
Vitamin A 660IU13%
Vitamin C 38mg46%
Calcium 91mg9%
Iron 1.7mg9%
* Percent Daily Values are based on a 2000 calorie diet.
***Photo Credit Christine Rooney***
A VERSE TO SHARE
Sometimes we look at a situation in our own lives and think, "God must hate me for this to have happened".
I have to admit, there are still things in my life that I cannot fathom to have a good purpose for God. The fact is, I don't have a choice and I just have to have faith and to trust.
Sometimes that means that I can't see the good that has come from a negative thing, but I do see that I lived through it and I am ok. Mostly, it is my attitude that needs to improve. I bet you are a lot like me.
Romans 8:28
And we know that in all things God works for the good of those who love him, who[a] have been called according to his purpose.