Canned yams are NOT just for holidays. We often think of yams on Thanksgiving and Christmas, but honestly that sweet southern goodness is terrific for any holiday like summer birthdays, Independence Day, Memorial Day and Wednesdays! Let me show you how to cook canned yams on the stove, it's EASY!
In today's post, we will cover all the ways that I usually cook yams for How to Cook Canned Yams on the Stove: on the stove top, in the oven, in a crockpot and even in a microwave. But first, let's answer some burning questions about Yams.
WHAT IS A YAM?
A yam is a tuberous (that means its a rooty part of a climbing vine) plant that is native to Africa and Asia and has a bark-like skin with orange flesh. As a result, It looks kind of like a sweet potato, but isn't. Check it out on Wikipedia if you don't believe me!
ARE YAMS AND SWEET POTATOES THE SAME THING?
I'm gonna give it to you straight here. Yams and Sweet Potatoes are not the same thing. Usually what you find at a typical American grocery is a sweet potato.
It seems like There are two main types of Sweet Potatoes found in groceries in the United States, one with a pale flesh and the other with a more orange flesh. These potatoes have an elongated shape and tapered ends.
ARE CANNED YAMS GOOD FOR YOU?
We will start by assuming that you are actually talking about sweet potatoes (see previous headings). Most noteworthy, Sweet potatoes are loaded with Vitamin A and Vitamin C.
You'll also note that sweet potatoes are low in fat and calories while being high in fiber. Consequently, most people feel that sweet potatoes are GREAT for you!
That said, if you are on a low carb diet, sweet potatoes are not low in carbs unless your nutritionist has told you to subtract off the amount of fiber.
Like most things, therefore, it depends on the type of diet your are trying to follow. For most people though, the answer would be "yes" sweet potatoes/yams are good for you.
HOW DO YOU MAKE CANDIED YAMS?
Candied Yams (the kind that you have at Thanksgiving) are simply canned yams with brown sugar and marshmallows added.
If you are interested in that recipe, you can spread 1 (29 oz) can of yams and spread in a baking dish. Cut ½ cup butter into tiny pieces and dot those around the top of the yams.
Top with ½ to ¾ cup dark brown sugar. Then, sprinkle 1 ½ cups of small marshmallows around the top of the dish. Bake at 400 for 25 minutes.
HOW TO MAKE CANNED YAMS IN THE OVEN
Using the recipe below for How to Cook Canned Yams on the Stove, simply mix the ingredients together and place into a 1-2 quart baking dish that has been sprayed with non stick spray. Bake at 350 for 40-50 minutes.
HOW TO MAKE CANNED YAMS IN THE CROCKPOT
Using the recipe below for How to Cook Canned Yams on the Stove, simply mix the ingredients together and place into a small 2 quart crockpot that has been sprayed with non stick spray. Cook on low for 4-6 hours.
HOW TO COOK CANNED YAMS IN THE MICROWAVE
Using the recipe below for How to Cook Canned Yams on the Stove , simply mix the ingredients together and place into a medium sized microwave safe bowl. Cover with a paper towel to avoid spatters in your microwave. (Do not seal with plastic wrap). Microwave on high for 1 minute, remove, stir and repeat heating for 1 minute at a time until heated well throughout.
TIPS AND TRICKS FOR HOW TO COOK CANNED YAMS ON THE STOVE
Canned yams are pretty sweet without having anything done to them at all. Therefore, the main idea is to compliment that sweet flavor with other flavors that will richen and deepen the yams.
Be careful not to overcook your yams, or they will fall apart and become mushy, but then again, maybe you like your yams mushy. You do you honey.
Although I give a number of ways to cook Yams in this post, I recommend the stovetop method which is listed in the recipe card below.
As with most things you cook, the yams will taste best if you find a good balance between sweet, salty, spicy, fat and acid. Try experimenting with increasing some of the ingredients or decreasing others until your favorite flavors emerge.
IF YOU ENJOYED HOW TO COOK CANNED YAMS ON THE STOVE, YOU MIGHT ALSO ENJOY….
How to cook zucchini on the stove
YA'LL HELP ME OUT NOW, YA HEAR?
Please leave me a 5 star 🌟🌟🌟🌟🌟 comment below in the comment section, all right? I would LOVE to know if you made this recipe or even if you are planning to! Of course, head on over to Pinterest, Facebook and Instagram and tag me with some photos of your creation!
I can't wait!
Ya'll know I love your comments!! ❤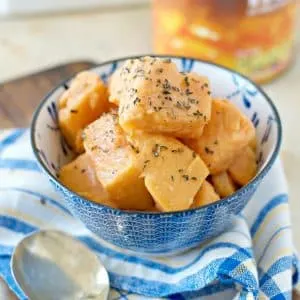 How to Cook Canned Yams on the Stove
A simple recipe for cooking canned Yams
Print
Pin
Rate
Ingredients
2

Tbs

real butter

1 15

oz

can of yams

drained

½

tsp

ground cinnamon

¼

tsp

ground nutmeg

2

tbs

heaping brown sugar

¼

tsp

salt

½

tsp

lemon juice

Pinch

cayenne

optional

Pinch

of pepper
Instructions
In a medium sized saucepan over medium heat, melt the butter in the bottom of the pan.

Add the canned yams, cinnamon, nutmeg, brown sugar, salt, lemon juice, cayenne and pepper.

Stir gently and continue to heat until heated through stirring frequently (5-7 minutes).
Notes
Simple canned yam recipe. See the tips and tricks section on the website.
Nutrition
Nutrition Facts
How to Cook Canned Yams on the Stove
Amount Per Serving
Calories 200
* Percent Daily Values are based on a 2000 calorie diet.
A VERSE TO SHARE
When you read the words of Jesus, can you hear yourself or a friend speaking? I mean, does Jesus say things that you might say yourself? I think so.
Given, the text was written long ago and for the most part, that isn't how we speak anymore, but the sentiment is there.
HE KNOWS HOW I FEEL
Matthew 11 reminds me of how it feels to do my own job now. The people who knew Jesus didn't necessarily believe that he was the answer to the prophecies. Here they witnessed all that he could do and still they didn't repent or do what they should.
Jesus became pretty irritated with that, I would too, wouldn't you?
THEY JUST WON'T REPENT
I just love Matthew 11 when Jesus says (I'm really paraphrasing here), "Hey you hard heads, I came over to your towns and I did all kinds of miracles and you refuse to admit that I complete the prophecy. Well, I'll tell you one thing, I'm going to remember it and so is my Father".
"When judgement day comes around, you'll see what its about then. That's ok, you are so smart now, but we will see".
SAYING A PRAYER
Then, Jesus prays thanking God for hiding the truth of who he is from the smarty pants folks and instead revealed them to the humble. That next part REALLY gets me. I bet it does you too.
The next time you are frustrated with someone not believing in you or wishing that management would see the value of your work, remember, even Jesus had those problems.
YOU AREN'T THE FIRST ONE TO HAVE THOSE PROBLEMS
That's pretty comforting if you ask me. Simply do what Jesus did and believe in yourself and know where your strength comes from. God is on your side so how could you go wrong?
Matthew 11: 27-30
"All things have been committed to me by my Father. No one knows the Son except the Father, and no one knows the Father except the Son and those to whom the Son chooses to reveal him.
REST IS ON THE WAY
"Come to me, all you who are weary and burdened, and I will give you rest. Take my yoke upon you and learn from me, for I am gentle and humble in heart, and you will find rest for your souls. For my yoke is easy and my burden is light."