This recipe isn't for chocolate moderates. You know who you are. People who sit on the fence saying things like "Ooo, I'll only have a tiny little bite – you know – bathing suit season". <Laughing>, Chocolate Blackout Bars are DEFINITELY NOT for those people. Chocolate Blackout Bars are for people who want their brains tingling in near blackout condition from all of the chocolate and sugar. That's who this recipe is for. (High Five to Us!).
Chocolate Blackout Bars are adapted from a delightful old recipe that I found in Richie's grandmothers recipe box for Chattanooga Chew Chews. That's an innocuous enough name, right? Well, I couldn't leave good enough alone. I drove that train straight off the sugar mountain pass.
During my Sunday afternoon of questionable judgement with Christmas cookie baking, I messed with the recipe. Frankly, I'm not sorry either because what I've created here is something that is PERFECT for the chocolate LOVER on your Christmas list.
If you EVER worried about…
So, if you have EVER worried about one dessert causing a problem with your jeans fitting. If you have EVER thought that you should only eat one bite of a candy bar because your workout would be messed up if you ate the whole thing or if you find that you MUST exercise off the sweets you eat – then just go on to another post. You'll have to exercise like a maniac for days in penance for this one and I just can't do that to you.
If however, you are the person who sneaks little pieces off of the dessert while your mom is getting the rest of the dinner ready. If you have already lost all of your teeth from your sugar intake or if you can't get past 3pm every day without saying, "I believe I'll have some chocolate to keep me going" then Chocolate Blackout Bars ARE FOR YOU!
A Sad Admission…
I'm one of those people (I still have all of my teeth though, thank you), it's a good thing that these Chocolate Blackout Bars are now all gone – because I found myself at every single excuse – or even with none at all – wandering into the kitchen to get a "small" bite – cursing Richie's grandmother all the way in there for even having this basic recipe and then whispering sweet nothings into my napkin all the way back to my desk.
Now that you know all of the borderline craziness that happens around here, I'll just move along to the recipe.
THE RECIPE FOR Chocolate Blackout Bars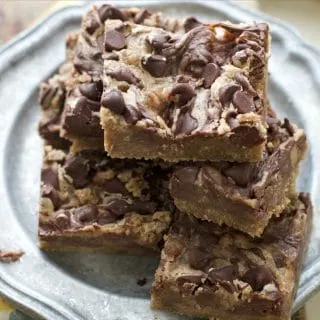 Chocolate Blackout Bars
Simple chocolate cookie bar recipe
Print
Pin
Rate
Ingredients
2

Cups

all purpose flour

1

Cup

firmly packed dark brown sugar

½

cup

melted real sweet cream unsalted butter

1

pinch

of kosher salt

1

cup

of finely chopped pecans

1

Cup

of real sweet cream unsalted butter

¾

Cup

dark brown sugar

1

tsp

real vanilla extract

½

tsp

real almond extract

12

ounces

semi-sweet chocolate chips

I used Ghirardelli
Instructions
Preheat the oven to 350

Make the crust by mixing the flour, 1 cup of brown sugar , the ½ cup of melted butter and the pinch of kosher salt together in a medium sized bowl.

Press this mixture into a 9x 13 baking dish.

Sprinkle the chopped pecans around evenly over the top.

In a saucepan on the stovetop over medium heat, melt the 1 Cup of butter and the ¾ Cup of brown sugar until it comes to a low boil. Boil like this for 1 minute stirring constantly. Pour this mixture over the crust and pecans. Bake for 20-25 minutes.

Remove from the oven and sprinkle quickly and immediately with the chocolate chips. Use a small rubber spatula to gently swirl the chocolate chips to give that marbled appearance.

Cool to room temp (this will take hours) before cutting to eat.
Nutrition
Nutrition Facts
Chocolate Blackout Bars
Amount Per Serving
Calories 140
* Percent Daily Values are based on a 2000 calorie diet.
TIPS AND TRICKS

Chocolate Blackout Bars
There aren't really many tricks – these are simple. Anyone can do this recipe.

The biggest tip is – if you are sharing these with others – cut them TINY and put them in the small cupcake wrappers – that is about the right size for a bite of this. SO… a single pan of these makes a LOT of servings. They crumble easy – so you are being nice to someone by putting it in a cupcake wrapper for easy handling.

Just so you know – the crust likes to crumble and you may have some of it laying in your pan when you are done.

These would make perfect Christmas Cookies where you were going to divide them up among several bags or tins of cookies with a taste of this and little of that.
IF YOU ENJOYED THESE CHOCOLATE BLACKOUT BARS YOU MIGHT ALSO ENJOY…
Blissful Salted Chocolate Bark
A VERSE TO SHARE
There is something I really want to say to you. Yes, YOU!
I don't know how familiar you are with how a food blog works, but many many visitors to this blog come just to grab a recipe and then leave. These people don't read the post. They don't have any interest in a story or to hear about the taste of the recipe. They will figure it out themselves.
That's fine. In fact, I appreciate those people very very much! They make up the greatest volume of the visits to this site.
The Background
As you know, earlier this year, I was able to quit my full time, big pay, big vacation, big 401K job and take a part time no benefits nursing job instead. Without that super highway of visitors coming to pick up a recipe, I wouldn't be able to do that. The great numbers of those visits pay the bills here. So – I am very grateful to them.
However, there are other visitors here who are FAR more important. If you are reading this – then, I am talking to YOU! You come here and invest a portion of your life and I am just WOWed by that. It stuns me every single day that you are so amazing! You read what I have written, print or bookmark the recipe, share it on social media and leave a comment. Sometimes you send me an email.
Precious…
I can't even tell you how I covet those emails and comments. They are PRECIOUS to me like my favorite coffee cup or grandmother's quilt. They comfort me and keep me warm when things feel a little too uncomfortable. They spur me forward when I start to feel like, "Why do I do this?".
I know why I do this. (I'm changing the names here). I have Jane out there who lives alone and these posts feel like a friend to her when they arrive keeping her company – she knows she can drop me a line and I will drop her one back. I have Suzie who is often reminded of the recipes that her mother made – she misses her mother very much. There's Linda who has an ongoing illness that causes her to be confined to the bed for long periods and she finds the spiritual messages lift her up – she likes cooking but she LOVES to hear the word of God. I could go on and on with this list.
YOU…
So – YOU – Jane, Suzie, Linda and everyone else like you – YOU are the reason this column exists. YOU are the reason I keep going. Whatever you get out of this column, I get WAY more in knowing that you are eased, helped, comforted and lifted up. I really love ya'll. Isn't that what makes the world go around? I think so.
We each have our own gifts, especially given by God. Every time we honor each other, keep our spiritual fervor, practice hospitality and share we are pleasing to God. It is grace that has given to each of us and in serving God we give to each other.
Romans 12: 1-13
Therefore, I urge you, brothers and sisters, in view of God's mercy, to offer your bodies as a living sacrifice, holy and pleasing to God—this is your true and proper worship. Do not conform to the pattern of this world, but be transformed by the renewing of your mind. Then you will be able to test and approve what God's will is—his good, pleasing and perfect will.
By Grace…
For by the grace given me I say to every one of you: Do not think of yourself more highly than you ought, but rather think of yourself with sober judgment, in accordance with the faith God has distributed to each of you. For just as each of us has one body with many members, and these members do not all have the same function, so in Christ we, though many, form one body, and each member belongs to all the others. We have different gifts, according to the grace given to each of us. If your gift is prophesying, then prophesy in accordance with your faith; if it is serving, then serve; if it is teaching, then teach; if it is to encourage, then give encouragement; if it is giving, then give generously; if it is to lead, do it diligently; if it is to show mercy, do it cheerfully.
Love must be…
Love must be sincere. Hate what is evil; cling to what is good. Be devoted to one another in love. Honor one another above yourselves. Never be lacking in zeal, but keep your spiritual fervor, serving the Lord. Be joyful in hope, patient in affliction, faithful in prayer. Share with the Lord's people who are in need. Practice hospitality.