I promised to blow your mind! Here it is! Hold on to your hat – you don't want it to go floating away with your mind! Have you ever made something so delicious that you just wanted to smear it on everything? Ummm….. Well, yeah…. That is this. I made a delicious – truly, even if I say so myself, Artichoke Dip for my book club meeting. I smeared it on bread for that meeting and ended up having some left over at home. That poor dip was soon smeared on everything else in site! That is how we come to have Creamy Artichoke Baked Chicken!
So, using the basic artichoke dip recipe, I simply added a few more ingredients and thought, "I bet this would be excellent as a baked chicken rub" sort of like Sarah's recipe for "Mama's Most Juicy Chicken" which our family lovingly calls "Sludge Chicken". Now, we have it in Artichoke form and call it Creamy Artichoke Baked Chicken. OK you recipe seekers, here you go, the recipe – right up front. Do I have anyone left who loves to chat? If so, please meet me after the recipe for some tips and tricks related to the recipe.
THE RECIPE FOR CREAMY ARTICHOKE BAKED CHICKEN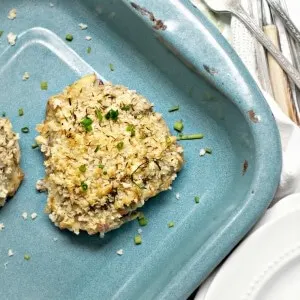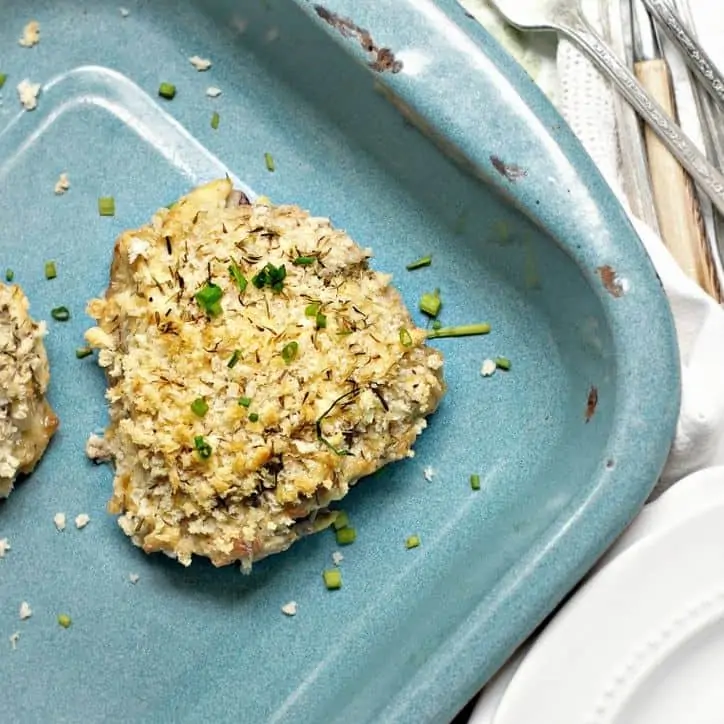 Creamy Artichoke Baked Chicken
Crunchy and just the right flavor exploding in your mouth. Everyone needs this recipe.
Print
Pin
Rate
Ingredients
4

oz

artichoke hearts

drained and chopped (not marinated - the ones in water).

1

tbs

melted butter

3

TBS

panko bread crumbs

1/4

cup

sour cream

1/2

cup

mayonnaise

4

oz.

softened cream cheese

¾

cups

grated parmesan cheese

2

clove

garlic

minced

1/2

tsp

lemon juice

1/2

tsp

Sriracha Sauce

1/2

tsp

salt

1/2

tsp

pepper

½

tsp

dried Thyme

4

chicken thighs

skin removed. Bone in
Instructions
Preheat the oven to 350. Prepare a baking sheet by covering with aluminum foil or parchment paper. Mix the melted butter and the bread crumbs together and set aside. Remove the artichoke hearts from the can using a slotted spoon and place in the bowl of a stand mixer. Mix on a slow speed for 1-2 minutes. The artichoke pieces will become quite small.

Add the sour cream, mayo, cream cheese, parmesan cheese, garlic, lemon juice, Sriracha sauce, salt, pepper and thyme to the mixer and cream together. When mixed well, smear each piece of chicken well and cover thoroughly with the mix and place on the prepared baking sheet. Sprinkle the breadcrumb mixture over the top. Bake for 35-45 minutes until juices run clear.
Notes
Make sure to bake skin side up.
Nutrition
Nutrition Facts
Creamy Artichoke Baked Chicken
Amount Per Serving
Calories 300
* Percent Daily Values are based on a 2000 calorie diet.
TIPS AND TRICKS FOR CREAMY ARTICHOKE BAKED CHICKEN
I used chicken thighs for this recipe, but you could use any cut of chicken you like. Simply remove the skin – because the skin will be rubbery if you just bake it with the skin on . and… ewww…. Just don't go there. So – skin off – you are good. If you use boneless skinless chicken breasts – cut your baking time down to 20 minutes or so. Check and make sure all the juices are running clear and you are good.

You know the part of the recipe that says, place aluminum foil or parchment paper on your baking sheet? That is a really good idea. Clean up is so easy. This is a drippy kind of recipe and the stuff will stick and then you will get mad when you are trying to clean your pan and you will never want to have this again. Don't do that to yourself. You need to know that I removed the chicken from its original baking dish and put in this dish for the picture. Don't get the idea that I baked the chicken in this dish – the baking pan that I used for the chicken is quite spattered and stuff is stuck on – not the best for a photo. (Now I've told nearly all my secrets!).

This dish is excellent with a flavorful rice! I can't wait to get my "Almost no stir risotto" recipe on here. OH GOSH – that stuff is so good. But anyway, this would be perfect with that. Until then, some plain ol' rice cooked in your rice cooker with butter, salt and a tasty herb would be delish! OH – and let's not forget a lovely green veggy. Asparagus is good this time of year! Try that! Perfect with this.
Speaking of Asparagus, are you as excited about spring as I am? I don't' even have my garden out yet and am kind of ashamed of myself about that. I have the boxes mostly ready (I do a raised bed garden), but I need to repair the garden fence and put a little more dirt and manure in the boxes before I plant anything. I'm planning on tomatoes (of course – my fav), squash, zucchini, potatoes (Irish and sweet), beans and peppers this year. I'll be sharing a few photos as soon as I have it in the ground. How about you? What are you planting in your garden? How do you keep the deer out? I'll show you our most recent trick for that too. Leave me a comment and let me know how this recipe turned out for you and about how your garden is doing!!! I LOVE to hear from you! It MAKES my day!!!
So neither the one who plants nor the one who waters is anything, but only God, who makes things grow. ~ 1 Corinthians 3:7