In a perfect world, I would come home from work, change clothes, go to the kitchen and lazily make a lovely healthy dinner for my family. The children would good-naturedly do their homework at the dining room table while they waited (maybe they could sing songs together since this is getting so dreamy) and my husband would go get things ready so that he could mow the yard after dinner? Uh-huh. I don't know who you are kidding, but is your house like that? Mine isn't either. Need a dinner for real life?
You know, REAL LIFE. Life where you run in the back door after work with a screaming toddler on your hip, breakfast dishes and maybe last night's dinner dishes too are still in the sink. You trip over shoes, find that the dog has been in the trash – again – and then go to your bedroom to find that you don't even have decent dirty clothes, much less clean clothes to put on? Crockpot Chicken Fajitas are for you (and me) and they couldn't be simpler.
Recipe Inspiration for Crockpot Chicken Fajitas
A few weeks ago as I was scrolling through facebook, I saw one of those cute little videos in which someone put most of these ingredients and maybe a few more – or less – I'm not really sure – into a crock pot for their own version of crockpot chicken fajitas. I really do need to do a better job of paying attention to where I see these things. I apologize to whoever originally put that video up. I have gone back looking for it – but haven't seen it since! Hats off to you – your are a crockpot GENIUS!
I didn't really think of it again until the other day when I had already thawed out chicken, the night before, but we ended up needing to run to town, so I didn't make the fried chicken I had planned. We all know CHICKEN WAITS FOR NO MAN (or woman). That bird will start to stink in NO TIME! The next morning, as I peered into the fridge trying to figure out what I could make so that Mark and Sandy wouldn't be left on their own for supper, (cause believe me, that could be something of a concern) that video came to mind.
I couldn't remember the assigned ingredients, but undaunted, I made up my own, threw this in the crock pot –and EUREKA! It was GOOD! I forced what was left on a friend and she said her family enjoyed it too – I hope she wasn't just being nice! 'Cause, I'm gonna share it with you next!
I hope you enjoy this EASY dinner. If you are like me, I love crockpot meals where you can throw everything in the crockpot in the morning and come home to dinner that has cooked itself! Thank you crockpot!
Something you need to know about Crockpot Chicken Fajitas
I do have a word of advice for you. When you come home, you are going to look in the crock pot and say, "that will NEVER work – it is TOO soupy!". Trust me on this. Take your fork, remove the chicken from the crock pot and shred it with the fork then put it all back in the crock pot and give it a stir. Turn the crock pot off and let it set for 15-30 mins. Go do something else at home for a little bit. When you come back, the chicken will have absorbed all of that extra juice and will be wonderful.
Serve crockpot chicken fajitas with shredded cheddar cheese, sour cream, chips, lettuce, tomatoes. I ate mine over corn chips – YUM! Your choice – make it your own!
Hold fast to love and justice ~ Hosea 12:4
The Recipe for Crockpot Chicken Fajitas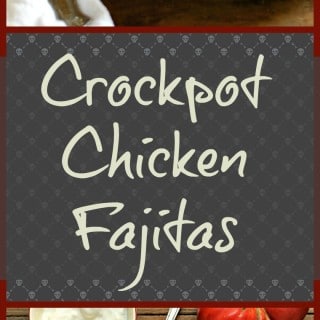 Crockpot Chicken Fajitas
Easy recipe for crockpot chicken fajitas
Print
Pin
Rate
Ingredients
1

onion – cut in half and then cut into slices

1

green or red bell pepper – cut into slices

1

can of black beans

1

package of fresh chicken breasts

3-4 breasts

1

small can chopped green chilis

2

packets of taco seasoning

½

tsp

salt

½

tsp

black pepper
Instructions
Place ½ of the onions in the bottom of the crock pot, followed by half of the bell pepper and half the can of black beans. Lay the chicken breasts over the top of this.

Cover the chicken breasts with the other half of the onion, bell pepper and beans. Empty the can of chopped green chilis over the top as well as the tack seasoning, salt and peppers. Give a little stir to the things on top (I don't know if this is necessary – but it is what I did – I had to feel like I was doing something).

Place cover on the crockpot, set on low and come back in 8 hours. Turn the crock pot off. Remove the chicken breasts to a plate and shred with a fork. Place the chicken breast meat back in the crockpot and stir. Allow to set for 15- 30 minutes to absorb the extra liquid. Serve with taco shells, soft taco shells, chips, salsa, tomato, lettuce, sour cream and cheddar cheese.
Nutrition
Nutrition Facts
Crockpot Chicken Fajitas
Amount Per Serving
Calories 300
* Percent Daily Values are based on a 2000 calorie diet.