Welcome to Loaves and Dishes you grooving reader! I have the BEST 1970's recipe for you here today – although I missed the end of my own 1970's week with it! So delicious, tasty and filling – and a super easy weeknight fix too! Taco Pie, a salad and a drink – and you have the perfect meal.
I distinctly remember my mother fixing this for our family for the first time in the very late 1970's. I can remember her saying, "I have no idea how this is going to taste but Carla at work hasn't stopped talking about it since she fixed it last week". IT WAS DELICIOUS! So delicious, in fact, that I am still making it myself 40 years later!
This dish brings back a lot of memories for me – because honestly – this represents the REAL comfort food of my childhood. This is one of the first dishes I learned to cook as a teenager and I made it a lot for my mom and myself when I was in high school. Cooking as a relaxing stress reliever – two words – taco pie!
Don't forget to subscribe to Loaves and Dishes so that I can send you an email notice when the next recipe posts. I PROMISE to never give (or sell) your email address to anyone else – and I PROMISE not to bug you to death!
Serving suggestions for Taco Pie
As noted above, a fresh salad and a cold drink are all that is needed to accompany Taco Pie
Now I ask you, Make Dinner, Not War.
The crowds that went ahead of him and those that followed shouted, "Hosanna to the Son of David!" "Blessed is he who comes in the name of the Lord!" "Hosanna in the highest!" ~ Matthew 21:9
Thank you so much for visiting, please come again!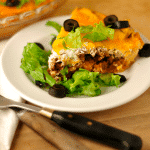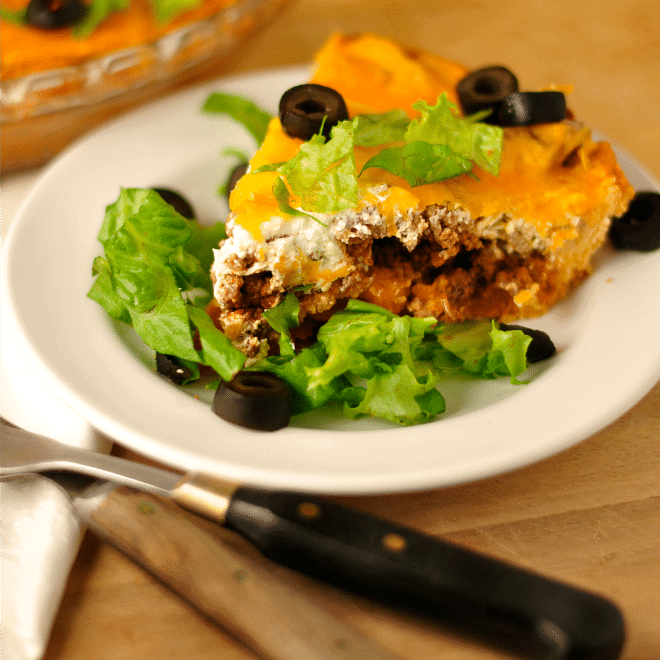 Taco Pie
My mother's recipe for taco pie and it is delicious!
Ingredients
1

lb

of hamburger

½

medium onion – small chop

2

cloves

garlic - minced

1

packet of taco seasoning

1

can crescent rolls or biscuits

1

cup

regular fritos

1

cup

shredded sharp cheddar cheese

½

cup

sour cream

Salsa

olives and spring onions for garnish
Instructions
Preheat oven to 350. Over medium heat in a frying pan, brown the hamburger, onion and garlic together until hamburger is cooked through and onion is soft. Add the packet of taco seasoning and ¼ cup of water, stir well and put the lid on the pan. Continue to heat stirring 2-3 times over a 4-5 minute period.

Meanwhile, press the crescent rolls/or biscuits (use whichever you have or prefer – personally I prefer the crescent rolls – but it is up to you – I have had this both ways and both are yummy) into a pie plate. Bake at 350 for 5 minutes then remove and set aside.

Once hamburger mixture is done, put the corn chips in the bottom of the pie plate. Cover with the hamburger mix. Spread the sour cream over the hamburger and then the cheese over the sour cream. Bake at 350 for 20 minutes until cheese is melted and starting to brown. Remove from the oven and allow to rest for 5 minutes. Garnish and serve.
Recipe Notes
Spread those biscuits out just right because that is what makes the crust so delicious!
Nutrition Facts
Taco Pie
Amount Per Serving
Calories 300
* Percent Daily Values are based on a 2000 calorie diet.