Hello September!! September is Emergency preparedness month! It makes sense to prepare for emergencies with this first breath of fall. Let's be ready in case the power is out over the winter. Is this crazy "prepper" talk? I don't think so. I think it is always a good idea to be prepared for emergencies. Having good clean drinking water is essential. Therefore, today, rather than showing you an eye popping recipe, I want to show you how to can water for emergencies. You might be glad that I did!
In honor of emergency preparedness month, over the next month, here are some things that you can do to prepare for emergencies. Let's also look at resources for where you can look to find more instructions about emergency preparedness in your particular area of the country or the world. It is important to have a plan and to be at least minimally prepared for all kinds of emergencies.
Why worry about How to Can Water for Emergencies?
Let's discuss water. Water is essential for life. You knew that already. Where does your water come from? Do you use your own well?
If so, you probably understand too well that if the power goes out, the well pump doesn't work and there will be no water coming up out of the ground unless you do something specific, like attach a running generator. Does your water come from a city water supply?
WHAT IF THERE WERE A DISASTER?
If there were a disaster and there was no power for a number of weeks to your local water supply? Guess what? You wouldn't have water either because that too requires a pump.
Therefore, it is important to keep some clean drinking water on hand. For several years now, my family and I have had some store bought gallon jugs of water stored away. We usually keep a case or two of bottled waters in our pantry and we have several 5 gallon water jugs filled with water.
Until now, I thought this plan was sufficient. It IS good to have the water on hand but honestly the water in those blue jugs tastes TERRIBLE because it tastes like plastic! yuck!
Our supply of water bottles regularly runs low because we buy those at our local big box store and only make trips there occasionally.
The Research…
This led me to research canning water myself. I have a friend who told me about a friend of hers who keeps a store of canned water. Honestly, I thought that was kind of weird but you know to each his own.
Then, recently in my duties as a town councilman I learned about my own water system in the town where I live and our ability to provide water to residents in the event of a large scale emergency. Suddenly, it seemed a VERY GOOD idea to have enough canned water on hand to last for a couple weeks in case of disaster.
Sometimes things have a funny way of turning out. I didn't mention anything about this as I was speaking to an 80+ year old lady I know last week and she told me that she had been canning water in preparation for a disaster.
INVERSION CANNING
We talked about canning in general. I let her know that I too am an avid canning enthusiast and asked about her method of canning water. She told me that she uses "Inversion Canning" to can water and that is the only method she has ever used to can anything.
Once she told me the process and I verified what she told me with what I could find on the web, I was pretty surprised! Although I wouldn't use this method to can my food items it does seem good enough for water as it does produce a solid seal.
What special tools do I need for How to Can Water for Emergencies?
The process could NOT be easier! You DO NOT need any special tools that you don't already have other than the canning jars. I was lucky enough to find 1/2 gallon jars for sale 1/2 price on the internet and you could too.
Quart jars will work fine too. You can buy canning jars at your local grocery, Dollar General Store, hardware or even on Amazon.
The local Grocery may be less expensive than this ad for Amazon (when you add shipping). Jars are about $12 for a box of 12 quart jars at my grocery.
***VERY IMPORTANT*** Buy REAL Canning jars. Do not buy the decorative jars that do not have seal-able lids. (You can click the photo here and it will take you to Amazon where you can compare prices – this is an affiliate link)
How much Water do I Need to Can for a Disaster?
The general rule of thumb is that you need a gallon per day per family member. In the event of a disaster, do not skimp on water. Drink what you need for the day and then work on finding more water. Most resources indicate that you should plan to have water to last you for 3-5 days. Use your own judgement for this.
You know how much storage room you have and how likely it is that emergency services would be in place in your area quickly. I live in a remote unpopulated area and it's not likely that in the event of a large scale disaster that anyone would be sending emergency resources here very quickly. Several weeks of water stored away for my family isn't unreasonable.
Other Tips and Hints for How to Can Water for Emergencies
In researching this item, I found that many people who do canning regularly keep canned water anyway.
Consequently, When one has empty space in the canner while canning something else, fill the empty spaces with jars of water. This helps to keep all of the other jars upright and the bonus is a canned jar/s of water at the end.
and In everyday use of canned food items, simply wash the used jar and instead of storing the empty jar in a shed or box, use the clean empty jar to can some water and place it back on the shelf where it sat with the food item. This keeps the jar clean until time for its next use and presents you with the potential for canned water should you need it! (Plus it keeps the spiders and dust out of your jar! BIG BONUS if you ask me!).
ADD TO THE WATER..
Some of the resources I read suggest adding an 1/8 of a tsp of sugar or salt to the water before canning. Without the sugar/salt the water may taste flat after canning. I did not do this, but thought I would mention this here in case this appeals to you. I figured I could add sugar or salt later if needed.
IN ADDITION, Some sources recommend shaking the water well before drinking as this re-aerates the water – which is what your mouth is probably more used to drinking.
FURTHERMORE, If you have an overabundance of canned water on hand – remember it is good for washing out cuts and sores since it is sterile.
ALSO, If you need to open jars and pour out the water because you need the jar, remember your plants and animals. They would rather have it than for it to go down your drain.
FURTHERMORE, Many of the resources I consulted suggested keeping already previously used lids and reusing them for canning water – if the seal doesn't hold during canning, it is no real loss and can simply be run back through on the next load with a new lid. Seems pretty resourceful to me.
How Long Will Canned Water Keep? How Long is Canned Water Good For?
FINALLY, Canned water, like other canned goods should be good for at least a year. However, since we are all canning with very clean water to begin with and then boiling it for 5 minutes, it seems to me that it should be good indefinitely.
I hope and pray that you will never need to use your stores of canned water – but I will be so happy if you have some to use should you need it!
IF YOU ENJOYED HOW TO CAN WATER FOR EMERGENCIES, YOU MIGHT ALSO ENJOY…
Setting up an Emergency Kitchen Box
Green Bean Canning for Busy People
How to Make your Own Terrific Laundry Soap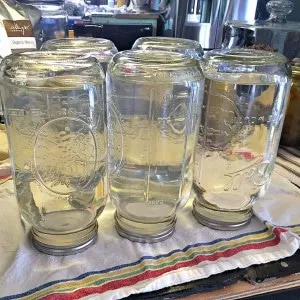 How to Can Water for Emergencies
This is a summary of how to can water for emergencies
Print
Pin
Rate
Instructions
Fill your stainless steel cooking vessel with water and heat on the stove top on high until boiling. Boil for at least 5 minutes. This is the water you put into jars.

There are three different ways to heat your canning jars. 1. in the oven at 175 or 2. wash in the dishwasher just prior to your canning project and use the jars while they are still hot. 3. You can also heat your jars by submersing them in the water your are starting to boil in the large stock pot.

Have your lids and rings ready - do not need to preheat

When water has been boiling for 5 minutes and your jars are preheated, dip the water into the jars with a pyrex measuring cup or with a ladle and fill the jars to within 1/2 inch of the rim.

Screw the lids/bands down onto the hot jar (be careful not to burn yourself) until finger tip tight.

Turn the jars upside down immediately and place in an out of way place. Do not set directly onto a hard surface, put a kitchen towel down first. Allow the jars to stay upside down until cool. Jars will seal while upside down. When turning right side up, check to make sure the lid sealed by pressing the center of the cap - if it doesn't pop in and out, it is sealed. If it didn't seal, empty contents and use jar again for the next batch.

When cooled, mark the lid with the date and "water"
Notes
Use Clean water from your usual water source.
There's no need to can water that is already bottled and sealed by an outside source.
Keep your sealed water for up to a year.
Use the water for plants, animals, making tea, etc. When you use it up, just make some more.
Conversely, you can can jars of water while you are canning other things. If you have a blank spot in your canner, simply add a jar of water.
Fill up empty spots in your canning cabinet with jars of water, this helps hold their place and keeps the jars clean until next use.
You can can jars of water with either a water bath or a pressure can at any time frame you are using for other items.
Nutrition
Nutrition Facts
How to Can Water for Emergencies
Amount Per Serving
Calories 1
* Percent Daily Values are based on a 2000 calorie diet.
A VERSE TO SHARE
"Those who walk righteously and speak uprightly,
who despise the gain of oppression,
and who wave away a bribe instead of accepting it,
people who stop their ears from hearing of bloodshed
and shut their eyes from looking on evil,
they will live on the heights;
their refuge will be the fortresses of rocks;
with their food will be supplied, their water assured." ~ Isaiah 33: 15-16