I know, I know – you can't eat Laundry detergent – so WHY would I put a recipe for Laundry detergent on a food blog??? I'll tell you why! Because when I know how to save you (and me) a TON of money, I'm going to SHARE! You can do just that by learning How to make your own TERRIFIC laundry soap!
After 4 years of making my own laundry detergent, I PROMISE you, this laundry detergent is TERRIFIC AND that you will save a TON of money by making your own!
In the past 4 years of DIY style making my own laundry soap with this recipe, I believe I have saved about $1,200-$1,500! You can do it too! It's easy and takes only a few minutes to SAVE a bundle!
WHY THIS WORKS:
It has all of the essential cleaners involved
Makes enough to last for 6 months (family of 4 with the usual amount of laundry)
Stains are no problem
YOU control how much scent is involved.
$25 worth of supplies will last for 6 months!
WHERE TO FIND THESE INGREDIENTS
If you have been using standard laundry detergents it's likely that you've never seen a box of super washing soda or even fels naptha soap! No worries. All of these ingredients are available on Amazon and can be shipped right to your home.
My own local Wal-Mart stocks these items together on the laundry detergent shelves. I've checked at three different Wal-Mart's and found the same thing. Apparently make your own washing powder is a thing!
WHAT INGREDIENTS WILL I NEED?
To make this detergent you will need the following ingredients PLUS a cheese grater and a box to store it all in! If you are buying locally, the ingredients cost about $25. If ordering through Amazon, it will be a little more (but then again, you don't have to go to the store either and can, instead, shop from your computer with a mug of coffee in your hand!).
The following links are Amazon affiliate links and I am an Amazon affiliate and will earn a commission if you choose to order through one of these links. You can click the photo to go straight through to Amazon to comparison shop. If you choose to order this way, I thank you. If not, that's ok, feel free to open another tab and order at your own convenience.
You'll need one of these….
and one of these….
You will need this size Oxi Clean, but it doesn't have to be odor blaster, it can be regular or one of the other special formulas if you prefer.
Then any scent of unstoppables if you even WANT a scent. If you want to leave it unscented, then just leave this ingredient off…
This size Borax…
You will need TWO of these bars of Fels-Naptha…
And you will need to grate the fels-naptha on a cheese grater like this…
Then you will need something to keep it in. If you watch the video, you'll see I keep mine in a large plastic box, but you might like this pretty glass container…
A NOTE CONCERNING THIS DETERGENT
This detergent makes almost NO SUDS. This makes it a perfect detergent for an HE machine like I have.
As a people, we have come to believe that only soaps that make an enormous amount of suds are actually working (crafty marketing people). That just isn't true.
What a lot of suds are actually doing is making it harder for your machine to rinse your clothes to get the soap out! Don't believe me? Ask anyone who has ever washed clothes on an old fashioned washboard.
HOW MUCH DETERGENT DO I USE TO WASH MY CLOTHES?
It only takes 2 Tbs per load. That's right, just 2 Tablespoons. If you use more than that, you are wasting it. If you have an HE machine, just put it right in the tub with your clothes. Easy.
HOW LONG DOES THIS DETERGENT LAST?
You might be saying, "this costs a LOT MORE than my regular laundry detergent". That's true. But if you are like me a bottle of laundry detergent lasts about a month or so, right? For me a $15 bottle lasts less than 1 month.
This detergent costs about $25 to make and lasts for at least SIX MONTHS!
WOW!
Big savings!
HOW DO I ADD THIS SOAP TO MY MACHINE?
Simply put the detergent right in with your clothes in the washing tub. Do NOT try to add this soap via the portal for liquid detergent, that won't work.
A VIDEO OF WENDI MAKING THIS TERRIFIC LAUNDRY SOAP!
If you enjoyed this post, you might also enjoy….
How to season a cast iron skillet
How to Clean a Microwave without chemicals
How to cook canned green beans on the stovetop
Yield: 300 loads
How to make your own TERRIFIC Laundry soap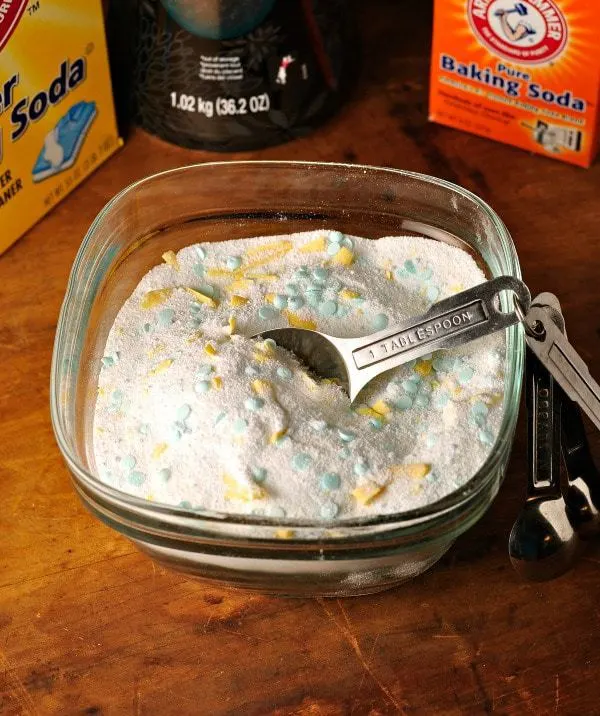 This is instructions for making your own low suds, cost effective, excellent, HE laundry detergent.
Materials
1 4 lb 12 oz box of Borax
1 3 lb 7oz box of Arm & Hammer Super Washing Soda
1 3 lb container of Oxyclean
2 Bars of Fels Naptha Soap
4 lbs of Arm & Hammer Baking Soda baking aisle ( just add up the ounces until you have enough if you can only find smaller boxes.) (16 ounces equals a lb).
1 31 OZ large bottle of Downy Unstoppables OR equal amount of smaller bottles, the more you add the more smell it gives the laundry. If you don't want any scent then just leave it out.
Tools
1 Kitchen grater like you would use to grate cheese
1 large container to keep your soap. The container needs a lid.
Instructions
Grate the Fels Naptha Soap
Mix all of the ingredients together and place in a reseal-able container. Mix well. It will take some arm muscle. (keep the lid on the container – it does tend to clump after 4 or 5 months if you leave the lid off).
Notes
Sometimes you will be unable to find Arm and Hammer Baking soda in the 4lb box. It is fine to use the smaller boxes just add up the amounts until you have 4 lbs.
At times you will not be able to find exactly the size stated, just get as close as you can. You aren't baking a cake here, it doesn't have to be exact.
If you like a LOT of smell to your laundry then add MORE unstoppables if you like less or none then decrease the amount or cut it out completely.
You can clean your cheese grater by putting it in the dishwasher and then its safe to use for food again.
How to make your own TERRIFIC laundry soap
***This recipe first appeared on May 6, 2015 on Loaves and Dishes and has been updated with new information and republished***
A VERSE TO SHARE
At the Last Supper, Jesus tells everyone seated with him that he is giving them a new command. This new command will let everyone know that you are His followers.
What if there was just ONE thing that you could do to show that you follow Jesus?
How would YOU demonstrate that you love Jesus and are patiently waiting for his return?
Would you riot, fight, wave a flag, argue, make meme's to post on facebook, call out those who act and think differently than you or hand out "get saved" pamphlets or leave them in public places?
What?
You mean, Jesus didn't say to convince others through these means ?
Nope.
He gave us one last and NEW command.
It's to Love One Another.
Love one another.
I love you.