Quick and easy, these beautiful bright tasty glazed canned carrots are just the thing to brighten up a quick to put on the dinner table meal! Sweet and spiced just right, you'll be nodding "YES!" as you gobble down this delicious dinner treat! Let me show you how to cook canned carrots!
These simple and delicious canned carrots will make you smile with their sweet and spicy take on the glazed carrots that might have taken your grandma some real time to make. You'll whip these up in just a few minutes.
WHY THIS RECIPE WORKS
It uses canned carrots to make quick work of dinner.

The recipes is both sweet and spicy

This recipe has a lot of options based on what you have in the pantry

Canned carrots retain much of their natural vitamins and minerals!

These canned carrots taste GREAT!
IN THIS RECIPE FOR HOW TO COOK CANNED CARROTS…
I'll show you how to make these carrots…
On the stovetop.

In a frying pan

In the oven

Quickly in the microwave

In a few hours in a crockpot or slow cooker!
I don't recommend this recipe for a instapot or instantpot because the canned carrots are already cooked and cooking them again in the instapot would make them too soft.
WATCH WENDI IN THIS QUICK VIDEO OF HOW TO COOK CANNED CARROTS…
HOW TO COOK CANNED CARROTS IN A FRYING PAN
Using the recipe card below, follow the instructions for cooking in a saucepan, simply use a frying pan instead. Note that the frying pan may use more water and if you note that your carrots are drying up before they are cooked through, then add ¼ – ½ cup water to the pan.
HOW TO COOK CANNED CARROTS IN THE OVEN
Mix the ingredients from the recipe card below in a small oven safe dish that has been prepared with non stick spray. Bake at 350 for 15-20 minutes till heated through. Stir well and allow to rest for 5 minutes before serving. Stir again before serving.
HOW TO COOK CANNED CARROTS IN THE MICROWAVE
Place all of the ingredients from the recipe below into a microwave safe dish. Microwave on high for 1 minute. Stir well. Microwave in 1 minute intervals stirring each time until heated through.
HOW TO COOK CANNED CARROTS IN THE CROCKPOT OR SLOW COOKER
Using a small 1-2 quart crockpot for 1 can of carrots, add all of the ingredients listed, set crockpot on low and allow to cook for 3-4 hours. Stir well before serving.
LETS SEE HOW THIS IS DONE
First drain you can of carrots and pour the carrots into a pan on the stovetop…
Next add water and then butter…
Add the honey….
Add the spices to the canned carrots
Stir well and bring to a boil to heat through. Add salt and pepper to taste.
Strain the liquid out or dip out of the liquid and serve.
FREQUENTLY ASKED QUESTIONS (FAQ) AND TIPS AND TRICKS FOR COOKING CANNED CARROTS
HOW DO YOU MAKE CANNED CARROTS HEALTHY?
Canned carrots are already full of vitamins and minerals, you just need a quick and easy way to cook them up so that they are tasty. Simply follow the recipe in the recipe box below OR follow one of the directions included for cooking in the oven, microwave, crockpot or slow cooker and in a frying pan.
HOW DO YOU COOK SLICED CANNED CARROTS?
You can use the recipe below or any of the other cooking method instructions for either the baby carrot style carrots OR the sliced canned carrots.
CAN I FREEZE MY COOKED CANNED CARROTS?
Yes, if you want, you can freeze your carrots once they are cooked. Simply place in a freezer safe bag, label it with the date and name of your recipe, squeeze out as much of the air as possible and place in the freezer. Your carrots will be good for about 3 months.
HOW DO I REHEAT MY COOKED CANNED CARROTS?
You can reheat them by putting them in a saucepan with a little water (¼- ½ cup) and heat over medium heat until heated through.
HOW LONG WILL MY COOKED CANNED CARROTS BE GOOD FOR?
Once you have cooked your canned carrots, they will keep in the refrigerator for about 5 days. Make sure to keep them covered well in the fridge.
IF YOU ENJOYED THIS RECIPE YOU MIGHT ALSO ENJOY…
HOW TO COOK CANNED PEAS AND CARROTS
HOW TO COOK CANNED GREEN BEANS ON THE STOVE
HOW TO COOK CANNED PINTO BEANS
YA'LL HELP ME OUT NOW, YA HEAR?
Please leave me a 5 star 🌟🌟🌟🌟🌟 comment below in the comment section, all right? I would LOVE to know if you made this recipe or even if you are planning to! Of course, head on over to Pinterest, Facebook and Instagram and tag me with some photos of your creation!
I can't wait!
Ya'll know I love your comments!! ❤
THE RECIPE FOR HOW TO COOK CANNED CARROTS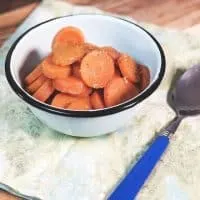 HOW TO COOK CANNED CARROTS
THIS POST DESCRIBES HOW TO COOK CANNED CARROTS AND MAKE THEM TASTE GREAT!
Print
Pin
Rate
Ingredients
1

can of carrots

½

cup

water

2

Tbs

real butter

2

Tbs

honey

can use brown sugar OR see notes below

¼ - ½

tsp

ground cinnamon

based on how much you like cinnamon

Salt and pepper to taste
Instructions
Drain the carrots of the water that they come packed in.

In a medium sized saucepan on the stove top over medium heat, place all of the ingredients listed.

Heat over medium heat until heated through a bubbling. Stir frequently
Notes
If you don't have real butter, just substitute with margarine or country crock.
If you don't have either, substitute vegetable oil.
It is just fine to substitute the following for honey in an equal amount: brown sugar, white sugar, molasses + 1 tsp white sugar. If you don't have cinnamon, it's fine to just leave it out.
Trust me, add just a pinch of the salt and pepper even if you think it doesn't need it, you'll be surprised how this makes it taste even better.
A tiny sprinkle of nutmeg is nice too if you have some.
If you need instructions for how to prepare this in the microwave, oven, crockpot/ slow cooker or frying pan, those instructions are listed in the post.
Nutrition
Nutrition Facts
HOW TO COOK CANNED CARROTS
Amount Per Serving
Calories 160
* Percent Daily Values are based on a 2000 calorie diet.
***A special Thanks to David for requesting this recipe from Loaves and Dishes! If YOU would like to see a recipe on Loaves and Dishes, please email me at wendi(at)loavesanddishes.net and let me know! ***
A VERSE TO SHARE
There's something I just have to share.
The number of times this holiday season that one of you has written to me to say, "I had _____ on my mind and then decided to look up the recipe I needed and found my way to your site only to see the scripture ______ that has real meaning in my life because of _______". Is incredible.
If it weren't the work of my Lord, then I would think it a hoax.
But, it isn't a hoax.
While I LOVE to hear these stories, I want to make sure that you KNOW it isn't ME doing it either. There is a much higher power here at work than me. I just write the recipes, cook the food, caretake the website and wash the dishes. God is steering this ship. Not me.
So, if you have come here and found something worthwhile or that spoke to you, it was from the HIGHEST power of all.
Here on the cusp of a new year (as I write this, it is almost 2019), I am so thankful for each of you, the stories you share with me and this avenue for sharing God's word in whatever way it benefits you.
I am led to share Proverbs 16 with you because God works everything out in His time, so let go and let God
Proverbs 16: 1-3
To humans belong the plans of the heart,
but from the Lord comes the proper answer of the tongue.
All a person's ways seem pure to them,
but motives are weighed by the Lord.
Commit to the Lord whatever you do,
and he will establish your plans.