Tomato Pie is the ultimate Southern Dish.  It literally SCREAMS "Summer Time" and is truly my most favorite dish of the summer.  This is the most scrumptious meal ever if tomatoes are a favorite.
So – if you need a dish that screams, "Southern Charm", this is the one.  The only requirement is a selection of tasty summer tomatoes, some good SHARP cheddar, fresh basil and good mayo.  Go check out your local farmer's market or farm stand – or perhaps your own garden!  That is where the best tomatoes grow.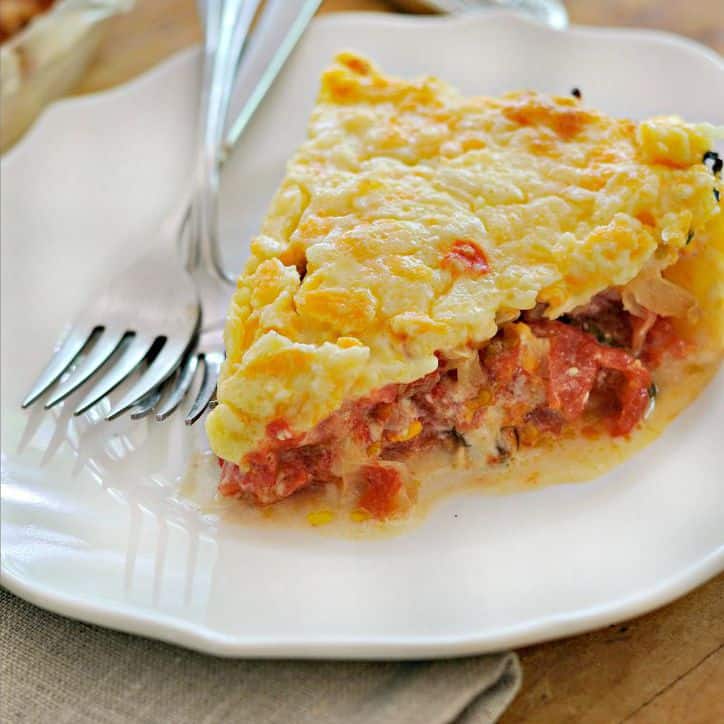 With that, I need to go see about my own garden and collect some tomatoes to take on vacation.  As it turns out, I used my windowsill tomatoes in this recipe and now this dish is going to have to go to a neighbor's house.  I'm sure that will be fine with them. (I called my neighbor to ask if they would be willing to take this tomato pie off my hands – since we wouldn't have time to eat it before leaving for vacation – I said I would deliver it – but before I could even get up from the computer my neighbor arrived at my door – if that tells you how good a tomato pie is!  The best part?  She came with a gift Cookbook!!!  My favorite kind of book!!!)
This recipe requires peeled tomatoes.  You can find out an EASY way to do this right HERE.  Click on over there and find out how.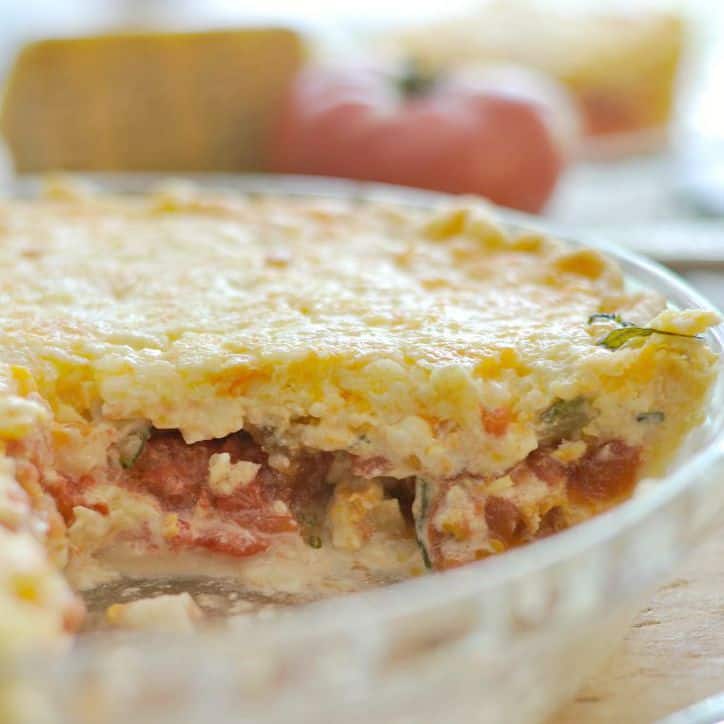 Dear friend, do not imitate what is evil but what is good. Anyone who does what is good is from God. Anyone who does what is evil has not seen God. 3 John 1:11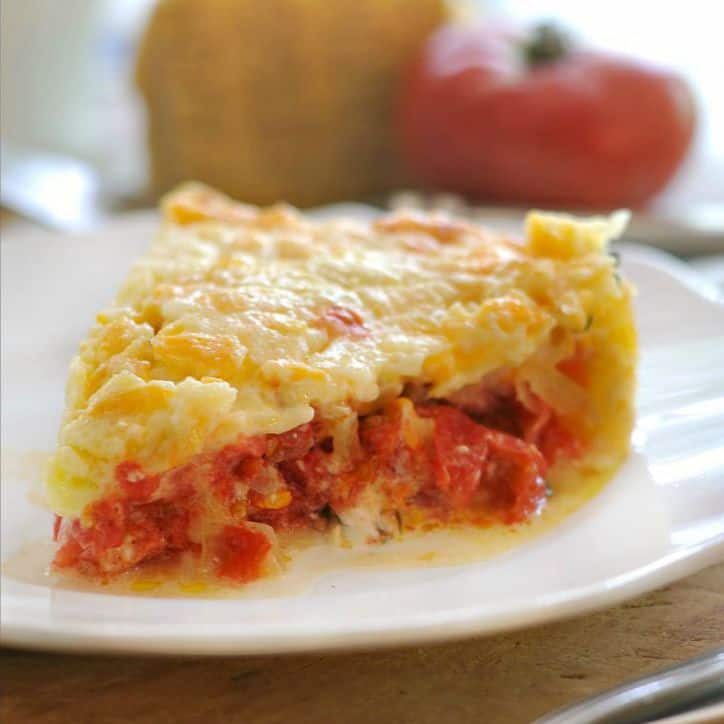 Tomato Pie
Author:
Loaves and Dishes
Ingredients
1 baked deep dish pie crust
5-6 fist sized fresh tomatoes – peeled and sliced ¼ inch slices
1 ½ tsp kosher salt
1 small Vidalia Onion – diced
1 clove garlic – minced
3 cups good quality sharp cheddar cheese – grated
1 cup good quality mayonnaise
10 basil leaves – chopped
Salt and pepper to taste
Instructions
preheat oven to 350. Bake pie shell according to package instructions. Peel the tomatoes and slice into ¼ inch slices. Lay slices out on a sheet tray over 3 layers of paper towels. Sprinkle the tomato slices with kosher salt and allow to drain for at least 30 minutes.
Over medium heat in a skillet, sauté the onions and garlic until they are soft. Remove from the heat and set aside.
When tomatoes appear to have lost most of their water (after more than30 minutes) , blot off the face up side of the tomatoes with paper towels to remove as much of the puddled water as possible (this keeps your pie from becoming soupy).
In a bowl, mix the cheese and the mayo together and set aside.
Place a layer of tomato slices into the bottom of your pie crust – and sprinkle this with pepper. Use about ¼ of the cheese/mayo mix to cover the tomatoes – no need to spread evenly or to try to spread out – just a few spoonfuls here and there will be fine. Cover with ½ of the basil
Place a second layer of tomatoes on top of the first layer, sprinkle with pepper and cover with the rest of the basil. Use the rest of the mayo/cheese mix to cover the tomato layer. Bake in the center of the oven for about 30-35 minutes until the cheese is golden and bubbly. Remove from the oven and allow to rest for 30 minutes before serving. Serve warm.